There are myriad reasons you might dislike one of your group dances for competition. Every dancer prefers a routine that makes her feel like a rock star. But even if you're never going to be in love with that one dance, there are ways to make friends with it, or at least call a truce. Here are six of the most common scenarios—and advice on how to handle them like a pro.
---
Help! I hate the choreography!
In the professional world, dancers are frequently asked to perform things they don't necessarily love. You won't always agree with your teacher's taste, but try to see that as an opportunity to become more versatile.
Often, when dancers dislike choreography, it's because they don't feel they look good doing it. Rather than letting the dance crush your spirit, acknowledge the obstacle and form a plan of action. Donnajean Kline, owner and artistic director of The Dance Academy in Holland, PA, recommends finding a buddy to practice with, videotaping and watching a rehearsal, or taking extra classes in the style. Your teacher or an assistant may even have time to give you private lessons. "It's exciting to be uncomfortable," says Tawney Giles, who teaches at The Southern Strutt in Irmo, SC. "It's tough to see that in the moment, but when you look back at what you've accomplished, you'll see it's a big deal."
Help! My costume is getting in the way of my dancing!
A troublesome costume can throw off an entire dance. It's important to sort this out as early as possible: At your fitting, make sure you have a full range of motion, and don't be afraid to be vocal (in a polite way) if the bodice is so tight you can't breathe, or if you're afraid of "popping out." Test tricks and lifts in costume a few times before dress rehearsal and tell your teacher about any problems. In the end, the sequins might still be scratchy, but the costume shouldn't interfere with your dancing.
If you're worried the costume is unflattering or doesn't fit the dance, that's a decision to leave to your teacher. If you're truly uncomfortable performing in the costume, though, mention it to her one-on-one and see what she advises. And if you're embarrassed by a silly costume like a pony or duck suit, Dana Adames, owner and director of the Talent Factory Performing Arts Centre in North Kingstown, RI, recommends embracing the ridiculousness as a rite of passage. Even your Broadway heroes have been there.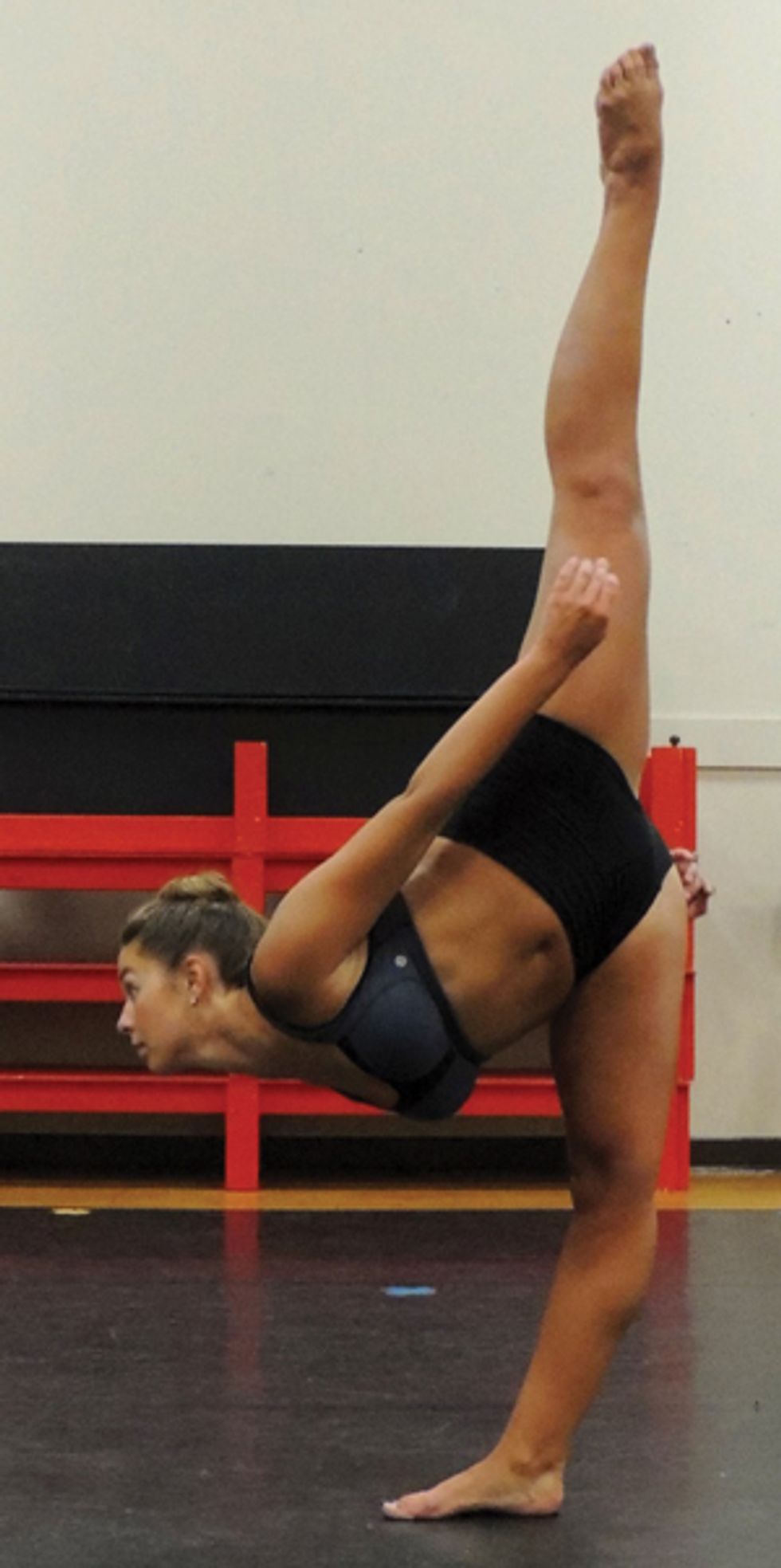 Alayna rehearsing at her studio, Summit Dance Shoppe (by Kendall Meuwissen)
Help! One section of the dance is too hard!
If competition season is coming up and you still aren't nailing that triple pirouette, it's time to talk with your teacher. Ask her to watch you the next time you run the dance. She might have a quick solution—maybe your hip alignment is off. Or she might say you look great and have been worrying unnecessarily.
Kristy Ulmer Blakeslee, owner and director of KJ Dance Designs in Plano, TX, recommends a "five time" rule: After trying a step five times on your own without improvement, ask for help. If competition is right around the corner and you're still struggling, be prepared to step out of that section. But don't feel defeated! Keep working to master it, and show your teacher when you have. She'll be impressed by your persistence and might be able to place you back in the section at some point.
Help! My partner is letting me down!
Open up a productive dialogue by asking your partner if there's anything you can do differently to improve the collaboration. Alayna Carlson, 15, who dances with Summit Dance Shoppe, says if you don't know your partner well, making an effort to befriend him or her can make a big difference. "Open yourself up, and he or she will feel like, 'OK, you're trying to get past this. I should, too,' " she says.
If things don't improve, Blakeslee recommends talking with your teacher. She says partner issues are like a "squeaky wheel"—your teacher might not notice them at first, but when left unresolved, they can get worse and end up bringing the whole team down.
Help! The music makes me want to gouge my eyes out!
Now's the time to remember your job: to make the choreographer's vision look amazing. Rather than going onstage hating life (the audience will notice), take on the challenge of finding something to appreciate. Adames recommends Googling the lyrics. "Every song has a meaning," she says. "You just have to make it mean something to you."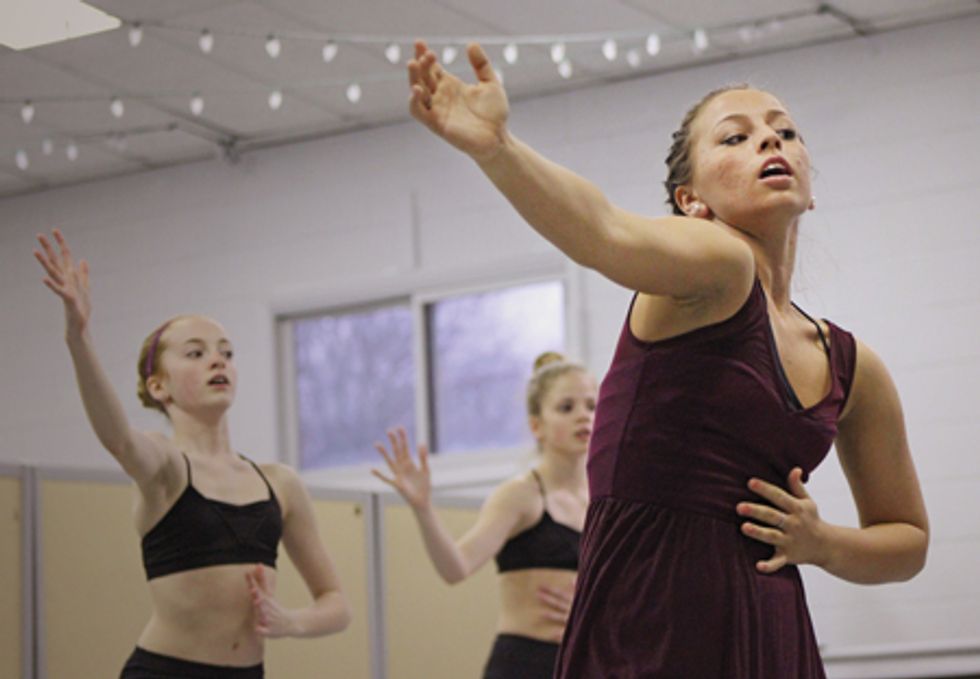 Dancers rehearsing at The Talent Factory Performing Arts Centre in Rhode Island (by Kayla Aucoin)
Help! No one can see me in the back row!
It's never fun to feel hidden, but you'd be surprised how well dancers can be seen on all parts of the stage. In group dances, you have to set aside the competitive "solo" mentality in favor of team spirit, even if that means accepting a supporting role, Blakeslee says. Teachers love it when you're enthusiastic and hardworking, even (and perhaps especially) when you're not in the spotlight. It shows you're humble and easy to work with—and it might inspire the teacher to give you more opportunities in the future.
If you feel overlooked for featured parts, it's OK to speak with your teacher once the creative process is over. Set up a meeting time, share what you've been working on lately and ask something like, "How can I improve in rehearsal? What can I work on to become someone you turn to for featured roles?" That will let your teacher know you're interested in more opportunities, and you're willing to work for them.
Is it ever OK to drop out of a dance?
This is a hot topic at many studios, and each one has its own policy. Some teachers say "absolutely not," while others may be open to it, as long as you have an understudy and let your teacher know far in advance. (If you're in tech or dress rehearsals, it's too late.) Remember, you're on a team, so unless you're injured or sick, it's important to honor your commitment and put the team's best interest above your own tastes. Dropping out at the last minute "could ruin not only the dance, but the team's trust in you," says dancer Alayna Carlson. Sticking with it shows the team they can rely on you, even when things get tough.