Aug. 12, 2015 11:00AM EST
Here's a recipe for a delicious dance movie mash-up: Gather a gaggle of gorgeous ballerinas and a few top-notch hip-hop crews. Mix in a bunch of talented classical musicians. Add killer choreography by Dave Scott. Shake well.
What's this magical cinematic concoction called? High Strung—and it's coming to theaters this summer.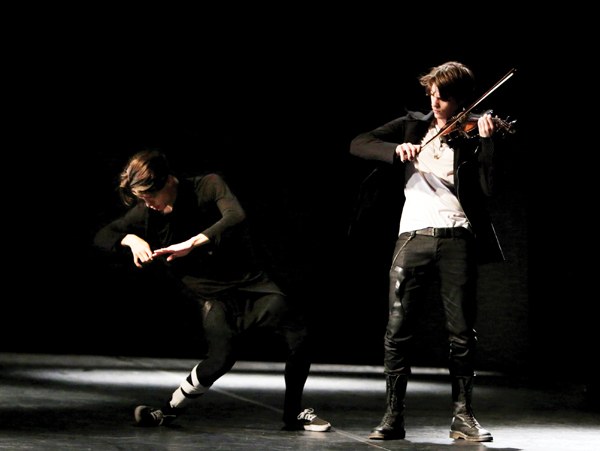 (From left) Rik (Ian Eastwood) and Johnnie (Nicholas Galitzine) break it down in High Strung (photo courtesy Riviera Films)
The film's story goes like this: Johnnie (Nicholas Galitzine) is a brilliant violinist fresh off the boat from Britain who's desperate to get a green card. In the meantime, he's making ends meet by busking in the NYC subways. Luckily, his new friend Ruby (Mariinsky Ballet alum Keenan Kampa), a ballet student at a prestigious performing arts school, has the inside scoop on a strings-and-dance competition that could land him $25,000 and a student visa to stay in the U.S. To wow the judges, Johnnie's going to need not only Ruby's help, but also an assist from his neighbors: the SwitchSteps hip-hop crew.
Per the usual dance movie formula, romance, drama and awesome dancing ensue. But this one just feels different from other dance films. "Having the classical music component really adds a lot," Kampa says. "And the diversity of the dancing makes the movie special, too. It's got everything from ballet dancers to b-boys to tango pros to tappers."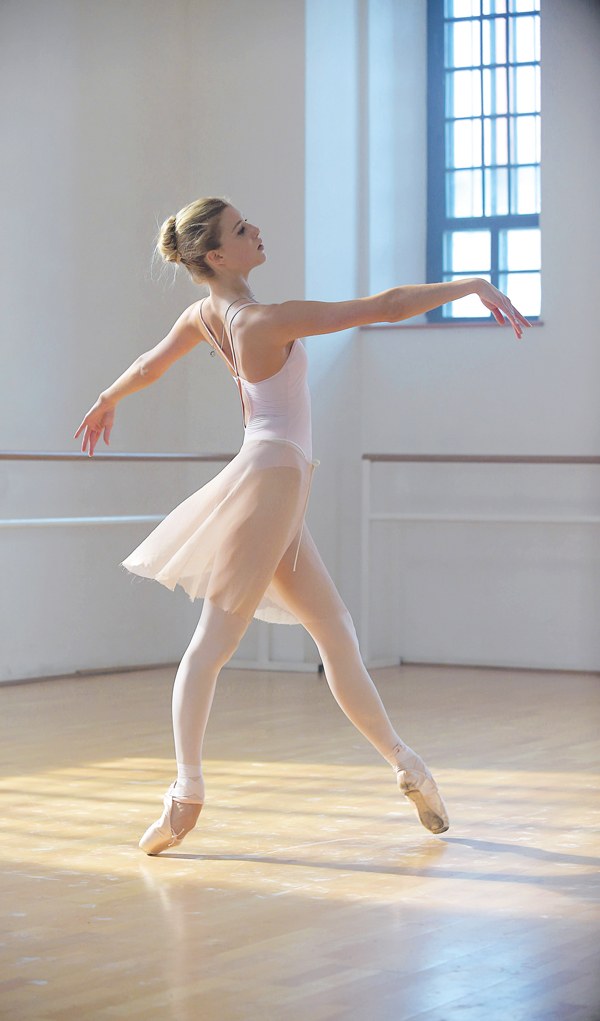 Ruby performing her ballet solo (photo courtesy Riviera Films)
To find all of those accomplished artists, director Michael Damian, writer/producer Janeen Damian (Michael's wife and a former dancer herself) and Scott had to cast a wide net. They held open auditions in L.A., NYC, Paris, London and Bucharest, Romania, and Scott personally recruited many of the dancers, including "So You Think You Can Dance" standout Comfort Fedoke and "America's Best Dance Crew" alum Ian Eastwood.
The High Strung shoot, which took place in both NYC and Bucharest, was full of long, grueling days. But the stream of photos and videos on the film's social media pages prove it definitely wasn't all work and no play. "Imagine taking 60 great dancers to work every day and letting them loose," Scott says. "It was just fun from
beginning to end."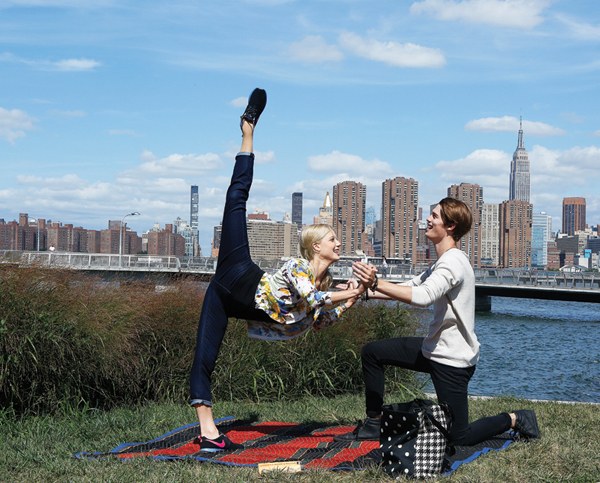 Johnnie romancing Ruby (Keenan Kampa) in NYC (photo courtesy Riviera Films)
High Strung's Best Dance Scenes
The subway showdown: Two underground hip-hop crews throw down in this high-octane, in-your-face dance sequence filmed in a Romanian train station—
a stand-in for NYC's subway. (Look for a cameo from Mr. Dave Scott himself!)
The ballet solo: Keenan Kampa gets the spotlight all to herself in a solo so extraordinary, you'll end up applauding in the movie theater.
The gala: Dueling violins set the soundtrack as the SwitchSteps crew wreaks playful havoc on a formal fundraiser.
The finale: A creative combo of hip hop and classical ballet pulls out all the stops in an over-the-top grand finish.
High Strung's Stars
In a cast packed with dance talent, Keenan Kampa and Ian Eastwood shine especially bright.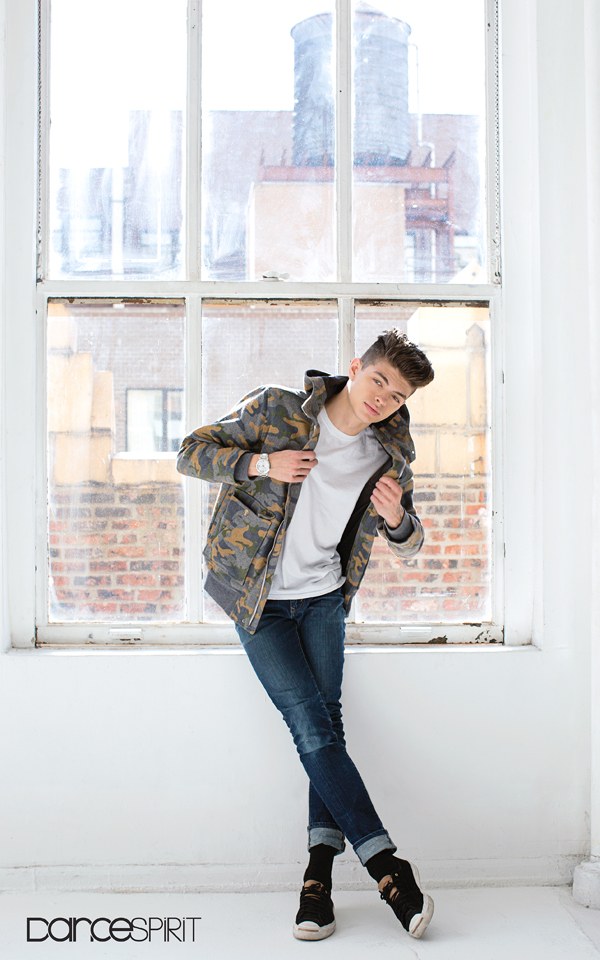 Ian Eastwood (photo by Erin Baiano)
America's Mos Wanted
Maybe you know him from Mos Wanted Crew, which snagged third place on "America's Best Dance Crew" Season 7. Maybe you've watched some of his virtuosic dance videos on YouTube. Or maybe you've caught one of his always-packed classes at The PULSE. Basically, Ian  Eastwood is everywhere—including, these days, in movie theaters.
Eastwood's leap into the acting world started with a call from Dave Scott, whom Eastwood has known since the age of 11, when they met at a Monsters of Hip Hop convention in Chicago. "He said he'd gotten an audition for me, and really wanted me to come," Eastwood says. "I love Dave and was starting to get into film on the directing end, so I was open to the idea of doing some acting."
Eastwood landed the role of Rik, the freestyling king of the SwitchSteps crew. It was familiar territory for the innovative hip-hop dancer, who's trained in a variety of styles. "I drew on real-life experiences I've had being in a crew," he says. "The character felt like a fun, hyped-up version of myself."
Even though the acting came naturally, Eastwood put a lot of pressure on himself to deliver dance-wise—especially in the intense finale. "I knew this was going to live on camera forever," he says, "so I had to make it dope for every take."
Now that the movie has wrapped, Eastwood's setting his sights on his next ambitious project: a "dance mix-tape" he hopes to debut this summer. "It's like a fusion of a dance short film and a music mix-tape," he says of the 25-minute movie, which features a 10-song soundtrack. As the writer, choreographer, director and editor, Eastwood's the main creative force behind the project, and he credits a lot of his newfound moviemaking skills to his High Strung experience. "I learned a ton about the technical side of things on the film," he says. "Now I'm taking that knowledge and using it to make something else great."
From the Mariinsky to the Movies
Ballerina Keenan Kampa was feeling pretty low in January 2014. Though she'd been the first American to join Russia's prestigious Mariinsky Ballet two years earlier, her stellar career with the company was cut short by injury. She'd returned to the U.S. to undergo surgery to repair several labral tears in her left hip. But shortly after her operation, she received a tweet from High Strung director Michael Damian. "He'd seen me in a story NBC did on the 2014 Olympic ceremonies in Russia, which featured the Mariinsky," Kampa says. "I wrote back and said that I'd always wanted to act—and was definitely interested in hearing more details."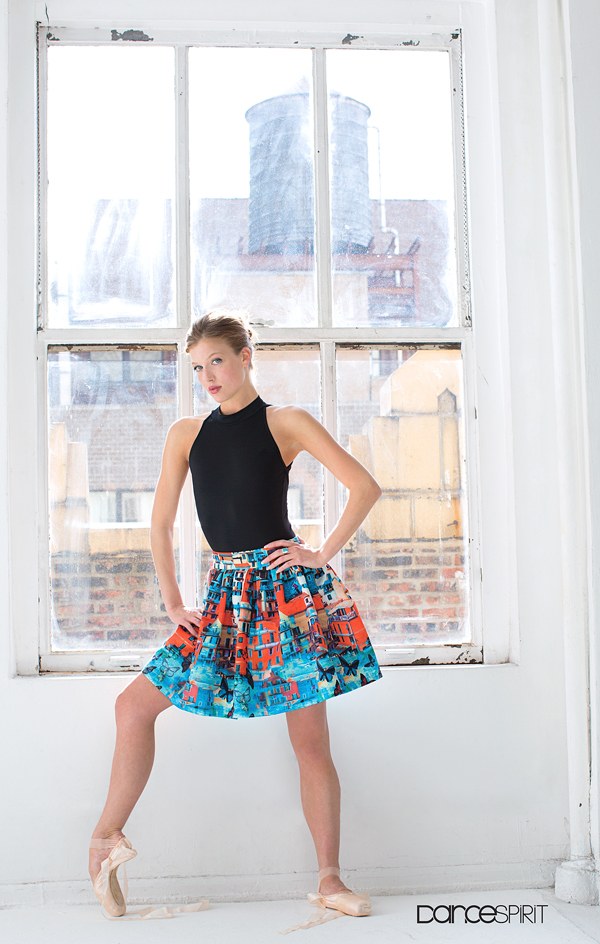 Keenan Kampa (photo by Erin Baiano)
Before Kampa could audition, she had to get well. She spent two months at a rehabilitation center in Vail, reclaiming her ballerina body. "I accelerated my recovery as much as I could," she says. It was hard work, but it paid off: She read for the lead role of Ruby and nailed it, partly because she could relate to the character. "She reminded me of myself when I first started dancing," Kampa says. "There's a maturity and seriousness that comes with time, but Ruby's still in the phase where she's very wide-eyed and optimistic."
Though—unlike Ruby—Kampa is a seasoned professional, she still had a thing or two to learn on set. Dancing for the camera rather than a live audience was an adjustment, as was working with a hip-hop choreographer. "I was a little nervous going in, because Dave and I come from such different backgrounds. But he couldn't have been more fun to work with," Kampa says. "He'd tell me, 'I want this feeling,' and then he'd show me a hip-hop move and ask how I'd translate it to ballet."
Kampa also picked up a few things from the SwitchSteps dancers, who taught her everything from popping and locking to headspins. "It was like a party," she says, laughing. "As ballet dancers, we tend to get lost in aesthetics and the quest for perfection. It was really eye-opening for me to see how much they just loved moving."
Kampa's acting career is now in full force: She recently signed with the company that manages Keira Knightley and Sienna Miller. Her original plan of returning to Russia after healing is now on hold, and she's totally OK with that. "I'm going to take a break from the ballet company and see what happens with acting," she says. "I'm in a very happy place right now!"
Lol, same. (Screenshot via YouTube)
Picture this: You've scored tickets to Ellen DeGeneres' hit show, "Ellen." The day has come, the show is as hysterical as ever, Ellen is debating the biggest hot-button issue since the blue/black or white/gold dress, "Laurel vs. Yanny" (side note: it's LAUREL, people), and tWitch is killing it over at the DJ booth, as always. Ellen decides it's the perfect time to single out an audience member and, lo and behold, that person is "SYTYCD" champ ( and December 2017 cover star!) Lex Ishimoto.
Keep reading...
Show less
via @kyle_vanny on Instagram competing on World Of Dance
Kyle Van Newkirk is a tap dancer you probably remember from the premiere season of NBC's World of Dance. In case you missed it, he is also one of Showstopper's incredible convention teachers. What makes Kyle stand apart from some of today's other incredible tappers? He isn't afraid to change what tap means to his audience and even himself. This modern view of tap dancing is important because it shows us that tap dancers are just as versatile and dynamic as dancers of any other genre. We sat down with Kyle to get his advice on bringing tap dancing into the 21st century.
Keep reading...
Show less
How To
Oct. 01, 2010 04:55PM EST
(Nathan Sayers)
Turnout—a combination of rotational flexibility and the strength to properly hold that rotation—is the foundation of ballet. But it's also a source of frustration for many dancers. After all, not everyone (actually, hardly anyone) is born with 180-degree rotation. "When I first started dancing, my hip flexors were strong, but I was forcing my turnout without using the right muscles," remembers Amanda Cobb, a former dancer with The Washington Ballet.
The good news is that it's possible to both improve your turnout and to dance beautifully with less-than-perfect rotation. But there's a lot of misinformation out there about how turnout works and why it's important. To help separate fact from fiction, DS asked the experts to disprove six turnout myths.
Keep reading...
Show less
University of Minnesota Dance Team (courtesy University of Minnesota)
They say there's no "I" in "team"—and nowhere is that truer than the world of college dance teams, where precision reigns, uniformity is key, and a single misstep from any given "I" can cost a group a championship trophy. So it's unsurprising that securing a spot on one of the best dance teams in the country is no easy feat.
Members of these highly athletic teams rehearse for hours every week—on top of academic classes and commitments—and perform at football and basketball games, annual concerts, and nationally televised competitions (hi, ESPN). And "no I" rule notwithstanding, each of these top teams is made up of highly trained, highly technical, highly hard-core individuals, who come together to create a ready-for-victory pack.
These six teams aren't one-off success stories—they're consistently strong, and earn the top spots at major competitions like UDA and NDA nearly every year. Up for the challenge? Here's what to know before you go to auditions.
Keep reading...
Show less
Marilyn knows what's up.
If diamonds are a girl's best friend, it's safe to say that faux-diamond earrings are a dancer's best friend. A fixture onstage at just about every competition weekend, these blinged-out baubles are also the surest sign that recital season is upon us again. And what better way to get into the sparkly spirit than by drooling over these 5 diamonds in the rough? (Sorry not sorry!)
Keep reading...
Show less
May. 16, 2018 02:26PM EST
Ema Peter
The Glorya Kaufman International Dance Center is the 54,000 square foot home of the USC Glorya Kaufman School of Dance, one of the largest facilities dedicated to dance on a private university campus. Designed for their innovative new curriculum, that supports a range of dance styles, the school's staff designated Harlequin to provide wall-to-wall flooring for the large 3,500 square foot Performance Studio as well as five dance studios in their new state-of-the-art building.
Keep reading...
Show less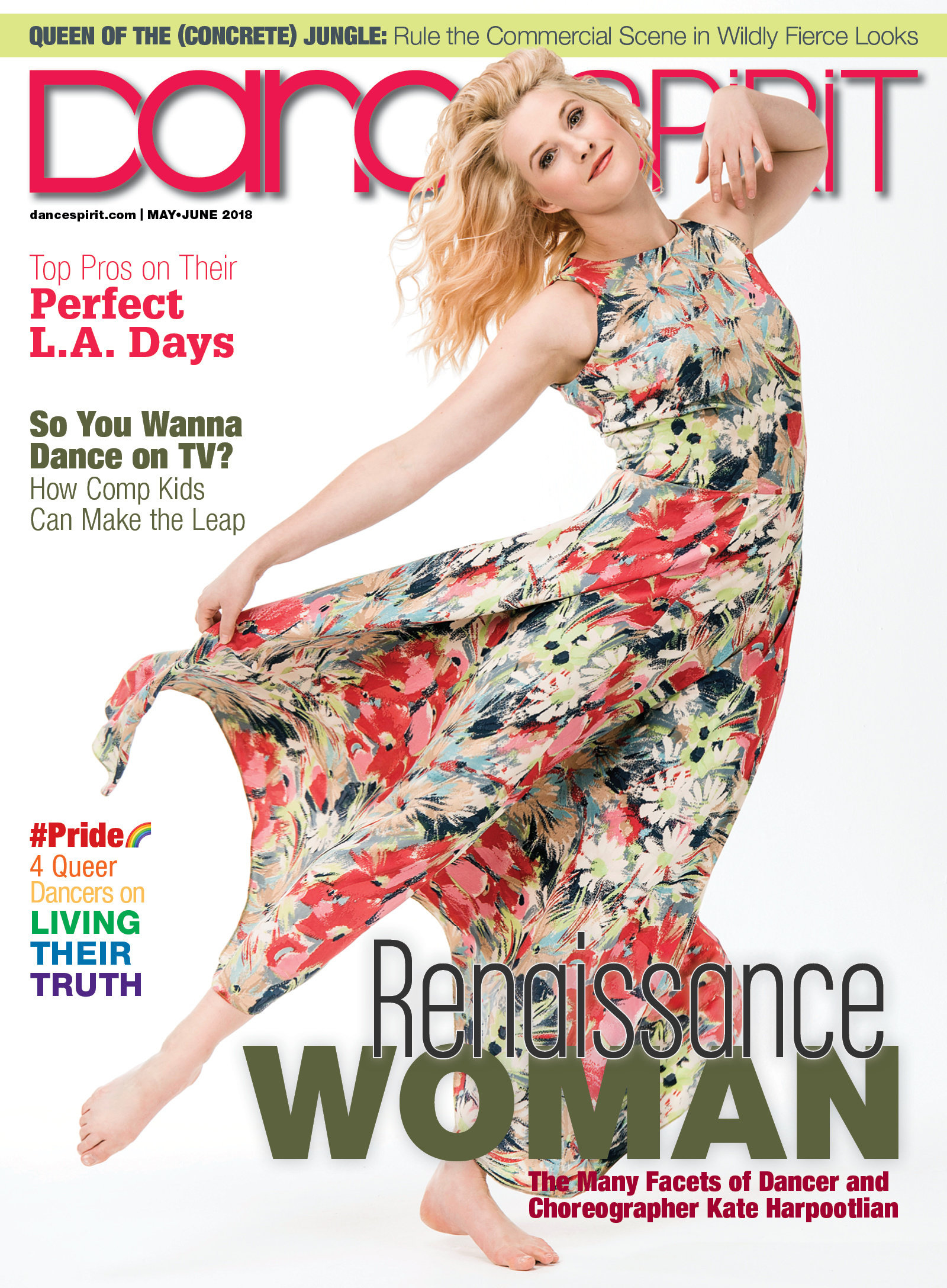 Get Dance Spirit in your inbox