Apr. 14, 2015 05:18PM EST
Hip Hop's Tiniest Talents
The life of a commercial hip-hop dancer can be exhausting—auditions, classes, long video shoots, international tours. But imagine doing all of that when you're just 10 years old! Over the past few years, the hip-hop world has been inundated with pint-sized hip-hop phenoms. These days, dancers like 11-year-old Taylor Hatala can become YouTube sensations overnight, with millions of views and loyal followings of both children and adults (including, in Taylor's case, Ellen DeGeneres). How are so many kids thriving in the very grown-up hip-hop world—and how are teachers catering to the younger students swarming their studios? DS talked to some of the industry's top artists to get the scoop on what it means to be a hip-hop little.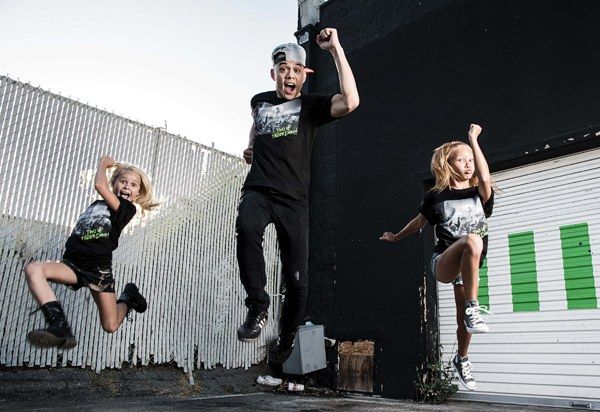 Matt Tayao (center) is the director of mLkids, which gives younger hip-hop dancers an outlet. (Photo by Jino Abad, courtesy mLkids)
Gaining New Visibility
Hip hop, with its powerful, hard-hitting moves that are both fun and physical, has actually been a kid-friendly activity since its inception. "Kids have a lot of emotions, and hip hop really gives them a release," explains choreographer Will "WilldaBeast" Adams.
But anti-dance stigmas used to keep many young hip-hoppers—especially young boys—out of the public eye. "When I was their age, I was dancing in my room to Michael Jackson…and hiding," says Matt Tayao, director and choreographer of youth program mLkids. Adams, afraid of being bullied, didn't start dancing seriously until the age of 18.
Luckily, things have changed in recent years. "Today, dance is everywhere—on dance shows, in movies and on social media," Adams says. Thanks to the increased exposure, he explains, "dancing has become a cool thing for kids—including boys—to do." Now, littles are less afraid to share their love of dance. And they have more outlets to show the world what they can do. Today's 10-year-olds are filming their MJ routines, posting them to their YouTube channels and sharing them on Twitter.
It's also now totally acceptable for the girls to hit as hard as the boys—forget those old "girls do ballet" stereotypes. Taylor has found a special connection with hip hop's harder edge. "The music makes me feel really powerful," she explains. "When we do choreography, sometimes we split into male and female groups, but they're considered completely equal. I never feel like I'm treated differently."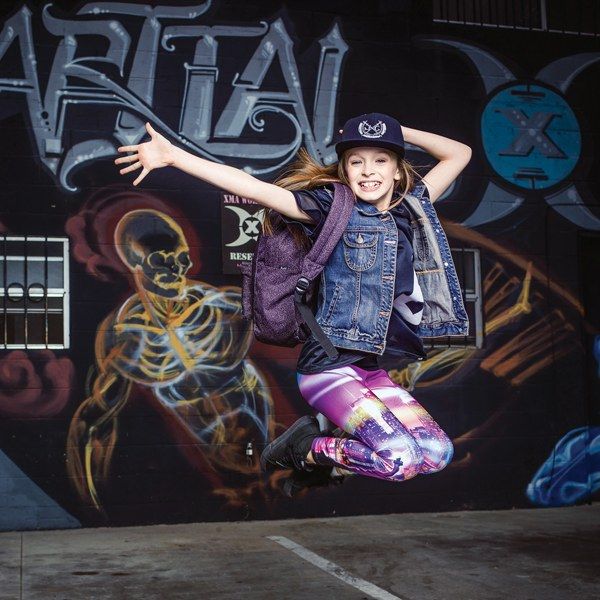 Taylor Hatala is just 11—but thanks to YouTube, she's already a star (Photo courtesy the Hatalas)
Keeping Things Kid-Appropriate
Because they want to work with the best dancers and choreographers in the industry, more and more young hip-hoppers are joining professional crews and taking classes geared toward adults. Taylor, for example, is the youngest dancer in Alexander Chung's crew, NXG. But pro-level hip-hop choreography is frequently provocative. How do littles handle more-mature material?
Very cautiously. Taylor's mother, Teresa, set ground rules early on for how Taylor would deal with age-inappropriate choreo, and vets all the artists Taylor works with. "It's a combination of parenting and finding the right mentors," Teresa says. "We make sure Taylor's choreographers don't put her in more mature pieces, and she knows not to repeat certain lyrics."
Some choreographers have actually created separate crews for their younger students—like Adams' "LilBeasts"—with choreography specifically designed for children. "I wanted these kids to experience working in a group, and to meet and hang out with other dancers their age," Adams says. CEO and founder of Movement Lifestyle, Shaun Evaristo, also created mLkids, a separate hip-hop class designed for young dancers—including gifted 11-year-old Joshua "Red" Guerrero, who was featured in the Michael Jackson/Justin Timberlake music video "Love Never Felt So Good."
Inspiring Their Mentors
It's no surprise that many hip-hop littles have grown-up role models. (Charismatic Stephen "tWitch" Boss is one of the dancers most admired by young hip-hoppers.) But with more kids making it big in the commercial world, older dancers are also finding inspiration in the younger generation. "These kids are bringing things to the table that have never been done before," Tayao says. "Their voices haven't even dropped yet, and they're already accomplishing unbelievable things."
Veterans are getting a boost from littles' optimism and energy, too. "Kids are making people dance full-out again," Adams says. "They're fearless. They can do anything." And that enthusiasm is changing the face of the industry. "Not only are the dancers getting younger, but choreographers are making it big at a younger age, too," Adams says.
Handling Pressure with Grace
Living in the spotlight can put a lot of pressure on younger dancers. Even at the age of 11, Joshua feels the need to prove himself in class. "If there aren't a lot of other kids in a hip-hop class, I really have to step up my game," he says. "You never want to get too proud of yourself."
But with that pressure comes a lot of inspiration. "Every dance class, I'm encouraged by the other dancers to push harder," Joshua says. Taylor agrees: "Yes, there's more competition now, with dancers starting to train at age 5 instead of 15. But competition is just a tool you use to work harder." And young hip-hop dancers' hard work is driving the commercial world to bigger and better places.
Jun. 15, 2019 10:12AM EST
(From left) Darriel Johnakin, Diego Pasillas, and Emma Sutherland (all photos by Erin Baiano)
Congratulations to Dance Spirit's 2019 Cover Model Search finalists: Darriel Johnakin, Diego Pasillas, and Emma Sutherland! One of them will win a spot on Dance Spirit's Fall 2019 cover. Learn more about the dancers on their profile pages, and then vote for your favorite below. You can vote once a day now through July 15.
We also want you to get social! We'll be factoring social media likes and shares into our final tallies. Be sure to show your favorite finalist some love on Facebook, Instagram, and Twitter, sharing their profile pages and using the hashtag #DanceSpiritCMS.
Cover Model Search
Jun. 13, 2019 02:20PM EST
Photo by Erin Baiano
Imagine attending American Ballet Theatre's prestigious NYC summer intensive, training among classical ballet legends. Imagine taking the stage at New York City Dance Alliance Nationals, competing against some of the country's best contemporary dancers. Now, imagine doing both—at the same time.
Welcome to Madison Brown's world. This summer, she's in her third year as a National Training Scholar with ABT, while also competing for NYCDA's Teen Outstanding Dancer title. (She's already won Outstanding Dancer in the Mini and Junior categories.) The logistics are complicated—ABT's five-week intensive overlaps with the weeklong NYCDA Nationals, which translates to a lot of cabs back and forth across Manhattan—but Maddie is committed to making the most of each opportunity. "I love contemporary and ballet equally," she says. "While I'm able to do both, I want to do as much as I can."
Maddie has an expressive face, endless extensions, and a quiet command of the stage. She dances with remarkable maturity—a trait noted by none other than Jennifer Lopez, one of the judges on NBC's "World of Dance," on which Maddie competed in Season 2. Although Maddie didn't take home the show's top prize, she was proud to be the youngest remaining soloist when she was eliminated, and saw the whole experience as an opportunity to grow. After all, she's just getting started. Oh, that's right—did we mention Maddie's only 14?
Cover Story
Jun. 15, 2019 10:00AM EST
Photo by Erin Baiano
There's a story Kate Walker, director of dance at Booker T. Washington High School for the Performing and Visual Arts in Dallas, TX, loves to tell about Emma Sutherland, who just graduated from the program. "We were watching the students run a really long, challenging piece," Walker recalls. "Several kids couldn't quite make it through. But Emma did make it all the way to the end, which is when she walked up to us faculty and very politely asked, 'May I please go throw up?' "
Cover Model Search