When a choreographer finds a composer whose music truly inspires her, it can feel like a match made in dance heaven. Some choreographers work with the same composers so frequently that they become known for their partnerships. New York City Ballet soloist and resident choreographer Justin Peck, for example, has tapped composer Sufjan Stevens numerous times (last spring, the two premiered The Decalogue at NYCB, to rave reviews); L.A. Dance Project's Benjamin Millepied's working relationship with composer Nico Muhly has spanned a decade and two continents; and when tap dancer Michelle Dorrance premiered the first-ever Works & Process Rotunda Project, a site-specific work for New York City's Guggenheim Museum, last year, percussionist Nicholas Van Young was by her side as an equal partner. Successful collaborations require compatibility between artists, direct and honest communication, and flexible, open minds. But when the stars align, working with a composer can be extremely rewarding.
---
Composed to Order
What makes working directly with a composer so wonderful? In a word, flexibility. "With recorded music you're limited to what already exists," says Tommy Neblett, interim dean of dance at The Boston Conservatory at Berklee. "But when you work with a composer, anything is possible. And as a choreographer, there's not much else that's nearly as satisfying."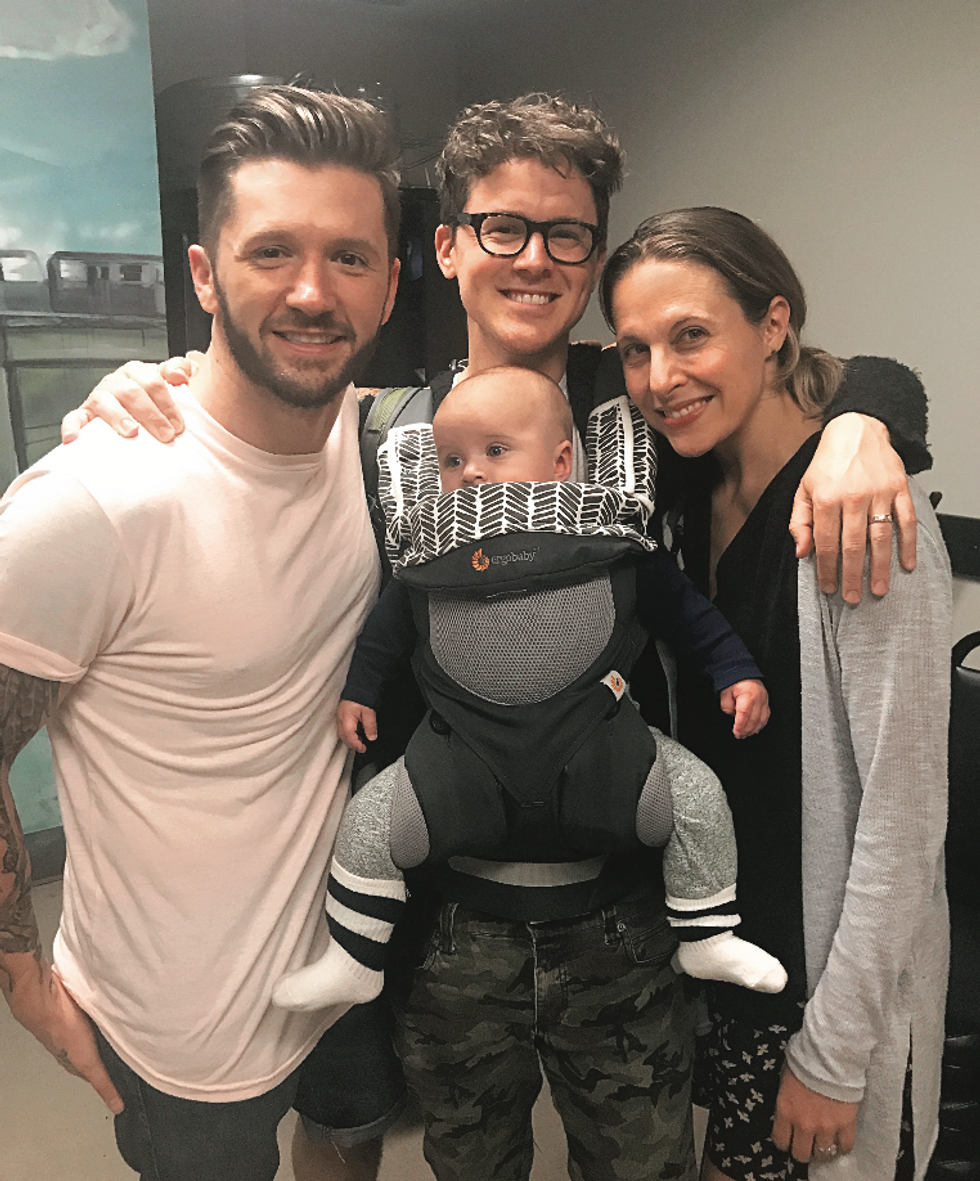 (From left)Travis Wall, Ryan Lott, and Jennifer McQuiston Lott (courtesy Travis Wall)
Emmy Award–winner Travis Wall agrees. "It adds so much to the work, especially in terms of continuity," says Wall, who teamed up with Son Lux's Ryan Lott when creating After the Curtain for his company Shaping Sound. "You can really make your biggest heart's desires a reality. You can say, 'I love this song, but it's missing this.' Getting to participate in the process is amazing."
Getting the Chemistry Right
When Hamilton choreographer Andy Blankenbuehler first met his longtime collaborators, composer Lin-Manuel Miranda and arranger Alex Lacamoire, he felt an immediate connection. "I attended an interview set up by my agent to meet Lin and Alex for In the Heights to see if our personalities clicked," he recalls. "Then I invited the team to watch my class at Broadway Dance Center to get a feel for my movement. My style, tastes, and sense of syncopation were a match with Lin and Alex." Blankenbuehler was especially attracted to the two musicians' musicality. "Alex creates a lot of cool bass lines and pizzicato, tight sounds, which I like. And Lin's ace card is his sense of rhythm."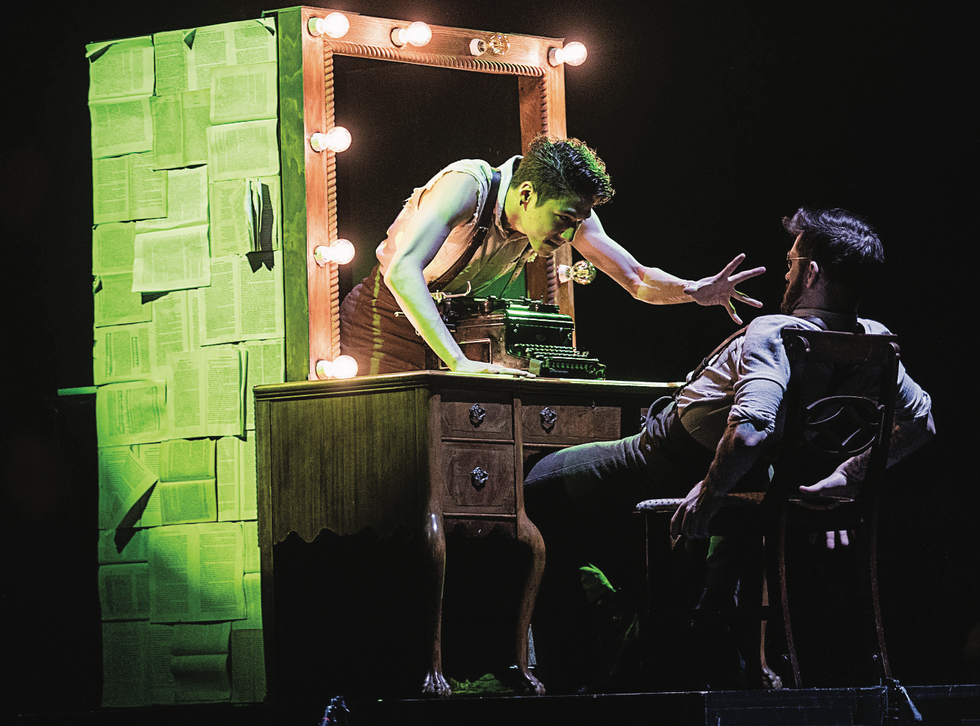 Lex Ishimoto and Travis Wall in "After the Curtain" (photo by Mat Hayward, courtesy Travis Wall)
Communication can be tricky, since musicians and choreographers don't speak the same language. But Blankenbuehler says that process has gotten easier over the years as the team worked together on projects, including In the Heights, Bring It On, and Hamilton. "It's the beginnings of new collaborations that are most difficult," he says. "Once you figure out how you can talk to one another, everything goes much faster. I use my own vocabulary when explaining something to them which helps bridge a gap between us. I'll say to Alex, 'This section should feel like the people are melting,' or 'Now, the people are going up steps.' When making a show, it's important to find a real connection with the composer—but that often happens through the arranger. Ultimately, Alex and I are the biggest of partners, and we have to match one another."

Giving (and Receiving) Notes
One of the most important qualities of a successful choreographer-composer partnership is openness to new ideas. Every year, Neblett's junior-year choreography students are assigned a semester-long project in which they pair with composers to create original work. "One of the biggest pitfalls is when artists aren't willing to compromise," he says. "Some are too headstrong and won't budge," no matter what suggestion or critique a composer might offer. "And that defeats the idea of collaboration." In his own work as co-artistic director of Prometheus Dance in Boston, Neblett and his partner Diane Arvanites have commissioned composer John Kusiak on multiple occasions. Kusiak, who has created scores for shows such as PBS's "American Experience" and HBO's "The Jinx," doesn't have a lot of dance experience, Neblett says. "But we have unconditional respect for his artistry and craft. In rehearsals, he's allowed to say whatever he wants. For instance, if he doesn't think a particular moment fits the music or the concept, we welcome his feedback. It doesn't always mean we'll completely change something, but you have to hear those critiques. He gets input into everything we do, and vice versa."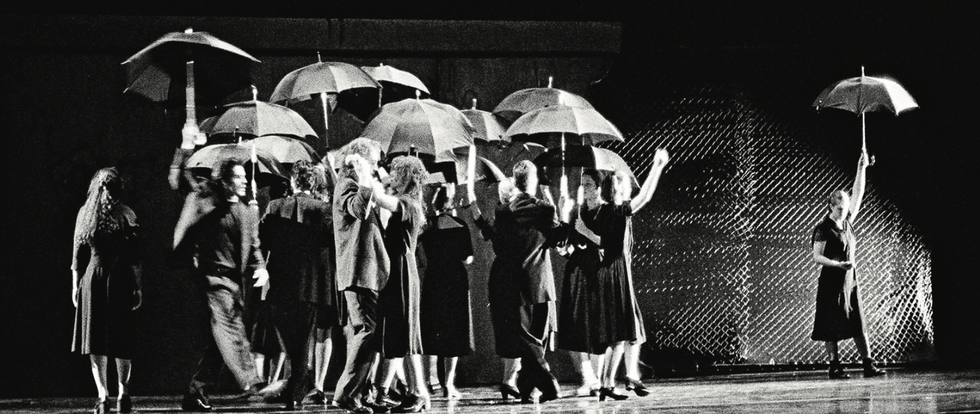 Prometheus Dance Company in "Apokalypsis," which has a score by John Kusiak (photo by Dennis Stein, courtesy Tommy Neblett)
Making It Work
While commissioning a new score from a composer is the dream for many choreographers, that requires funding that can be difficult to come by. "If we could afford it, John would be our go-to for each new work," Neblett says of Kusiak. "It's just not possible." But, Neblett says, less established composers are often willing to work with choreographers for a lower fee in order to gain experience.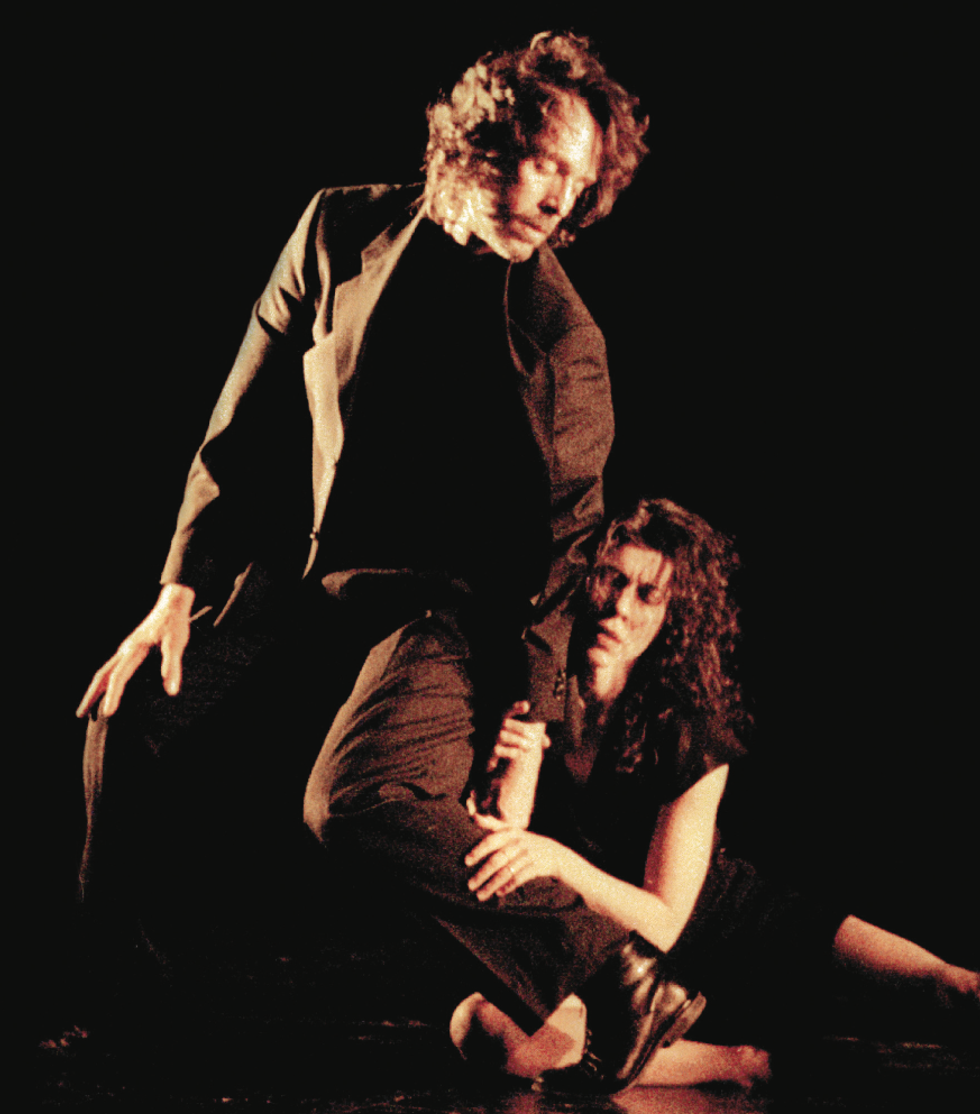 Tommy Neblett and Diane Arvanites in "Apokalypsis" (photo by Dennis Stein, courtesy Neblett)
Scheduling can also be a determining factor in a successful collaboration. When Wall first met with Lott to pitch the idea for After the Curtain, Lott wasn't sure he'd be able to devote enough time to the project. "I told him I was creating a two-hour show and wanted to use his existing music as well as new compositions to fill in a few holes and help the story's flow. He said it sounded incredible, but needed to think—his wife was having a baby in two months." Lott ultimately agreed to Wall's project, but in the end, "Ryan actually never came to a rehearsal," says Wall. "His baby was born, and then time just got away from us. I was getting a song every week or every two weeks and we really only had 30 days to put everything together. It was stressful. I was creating the show not knowing what some of the music was going to sound like. But I think a healthy collaboration requires a lot of confidence and trust. I always knew that when Ryan would give me a song, it was going to be great."

Making Friends (or Not)
Wall was able to stay calm during stressful rehearsal weeks because he and Lott had established a great connection early on. After an initial introduction over Twitter, "we got to know each other over a few lunches in downtown L.A.," he says. "When emotions were heightened, we always found a way to connect. We were compatible on a human level."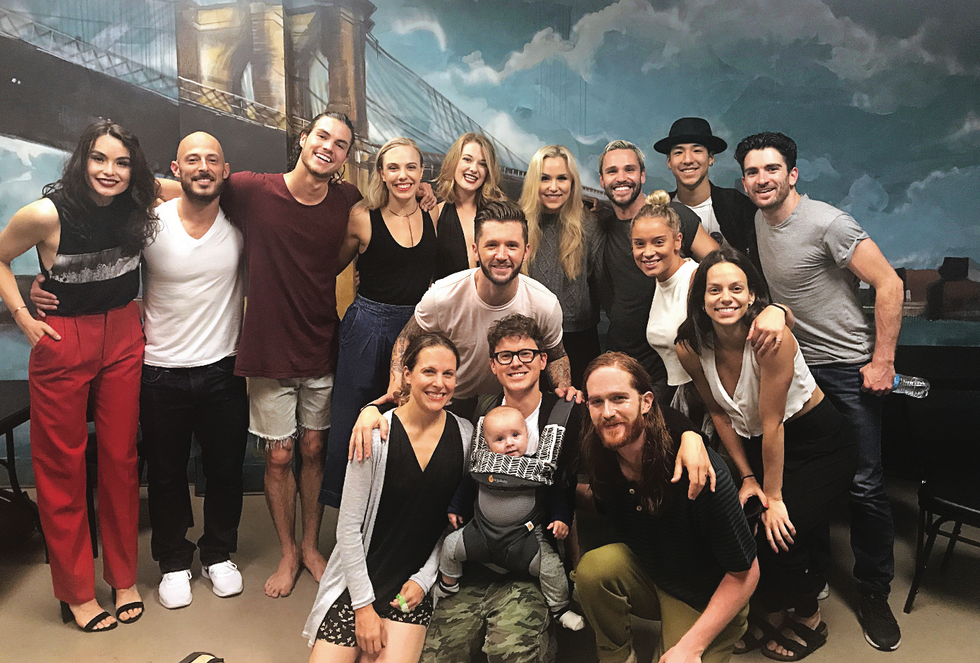 Lott and Wall, surrounded by the cast of "After the Curtain" (courtesy Travis Wall)
Becoming best friends with your collaborator, however, isn't necessary. "I think it's important to share a sense of humor or style," Blankenbuehler says. "What's most crucial, though, is common artistic ground. Lin and I aren't the same age, but we're from the same generation—we've seen the same television and have experienced the same fashion and politics. For example, Lin and I talked about the movie The Matrix a lot, and it ended up becoming a key to both '96,000,' from In the Heights, and the slow-motion bullet in Hamilton."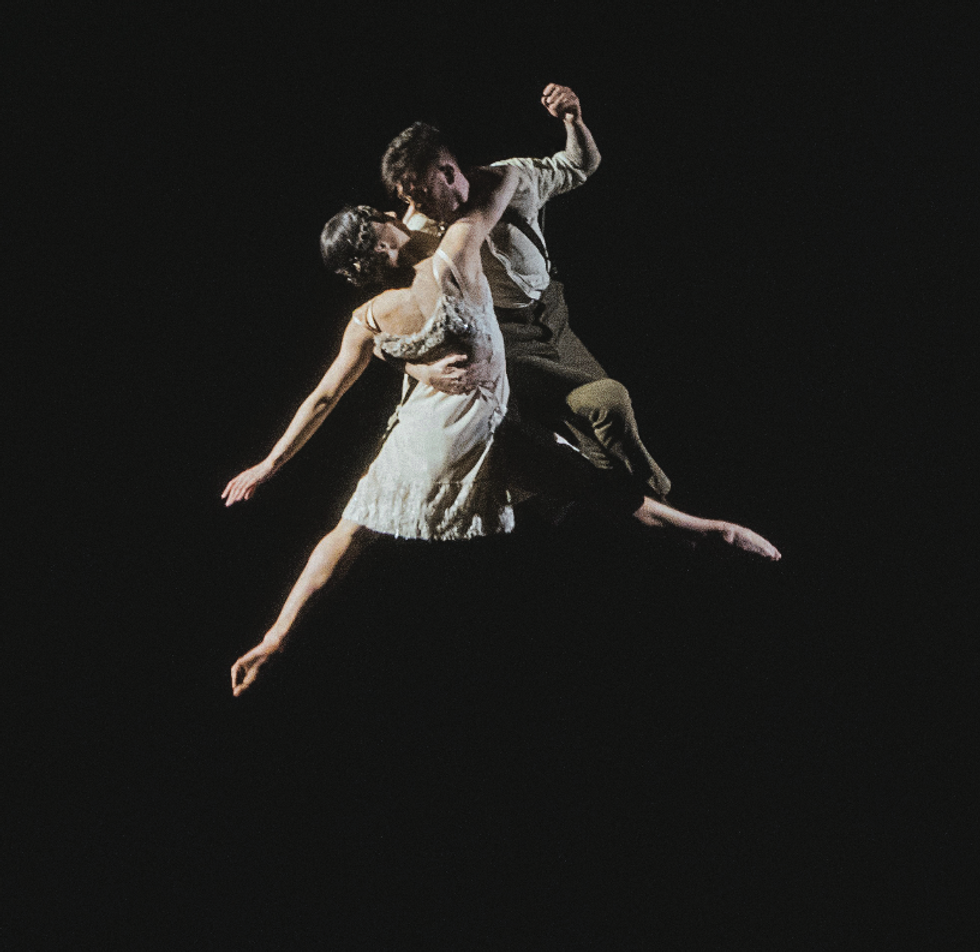 Gaby Diaz and Travis Wall in "After the Curtain" (photo by Kaitlin Chow, courtesy Travis Wall)
Neblett puts it this way: "Friendship is an added bonus. What you need is a strong working relationship that feeds a creative atmosphere. Because even if you don't become buddies, you have to respect and trust the other person."
A version of this story appeared in the November 2017 issue of Dance Spirit with the title "The Choreographer-Composer Connection."