How This Dancer Turned Her Problem Into a Business
Erin Carpenter as a Knicks City Dancer (David Saffran, courtesy Erin Carpenter)
The groundwork for Erin Carpenter's company, Nude Barre, began when she was a teenager. At 16, she earned a spot in the residency program at The Kennedy Center in partnership with Dance Theatre of Harlem. "We were required to wear nude—as in, our actual skin tone—tights and shoes," she remembers. Carpenter brought her "sun tan" tights and a pair of pink ballet shoes with her, because that was all she could find. But she wasn't allowed in class because her dancewear didn't match her skin. "I was so embarrassed," she says. "I looked unprepared. I just didn't have the right nudes." Her teacher explained that the dancers dyed their tights and pancaked their shoes.
---
Every week for the rest of Carpenter's dance career, she spent hours dyeing her tights and pancaking her shoes with foundation makeup. "I was getting really tired of it," she says. "There were a lot of moments where I was either embarrassed or uncomfortable. Your undergarments are your foundation, and as a performer you want to feel confident in them." So, she decided to found Nude Barre, a company offering tights in an expanded range of nude shades.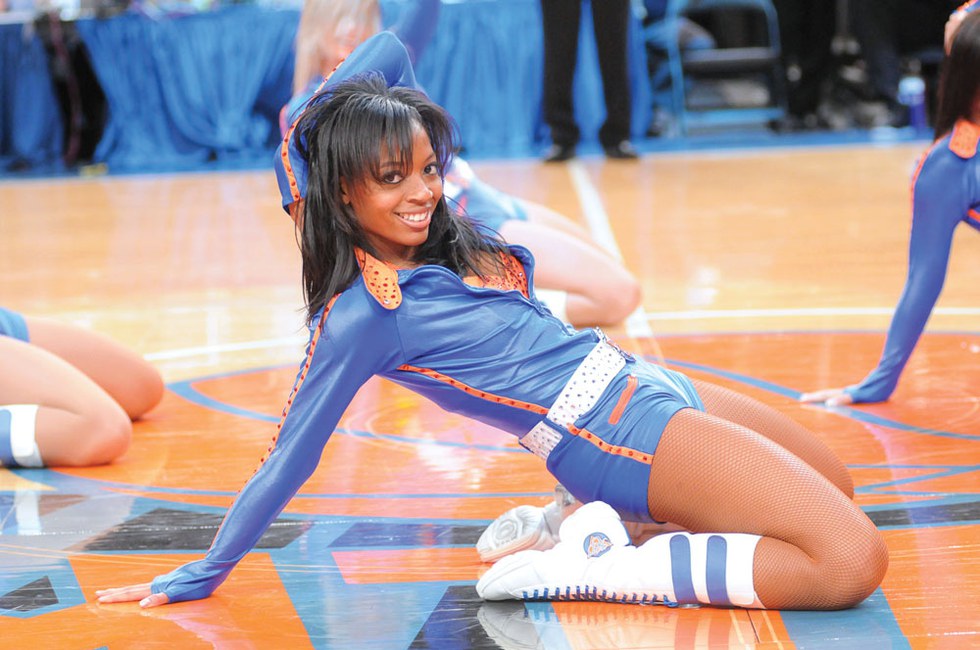 Erin Carpenter as a Knicks City Dancer (photo by David Saffran, courtesy Erin Carpenter)
Budding Ballerina

Carpenter always knew she wanted to be a performer. She attended several schools before enrolling at performing arts school Suitland High School, in Maryland. After graduating, she attended Marymount Manhattan College in NYC, where she majored in ballet and minored in business management. "I knew I wanted to own a company one day," she says. "I've always had an entrepreneurial spirit. I just didn't yet know what that company was." She graduated with several offers from companies outside of NYC, but wanted to stay in the city, so she signed with an agent instead. Shortly after, she became a Knicks City Dancer for the NBA and enjoyed a successful career in commercial dance, including features in national ads for companies like American Airlines.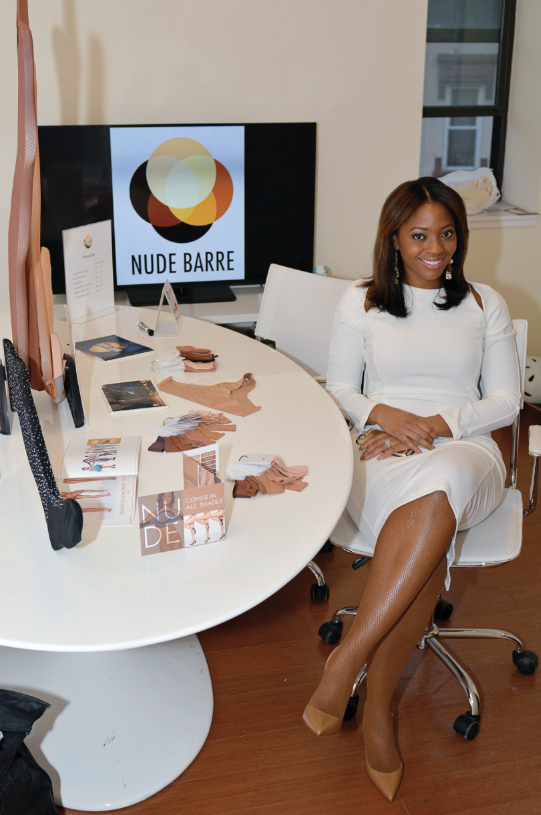 Carpenter, the founder of Nude Barre (photo by K. Kess, courtesy of Erin Carpenter)
A New Hue

By 2009, Carpenter had grown sick and tired of wasting her time pancaking and dyeing her dancewear, and decided she was going to try to create nude tights in shades that actually represent the skin tones of all dancers. She got pointers from a friend in the sock business about manufacturers, and produced the first samples for Nude Barre that same year. "I think I cried over those first samples," she says. "They were so bad. I wasn't sure I could do it." Each batch of samples got better, though, and by 2010 Carpenter had something she could work with.
For Nude Barre's prospective shades, Carpenter looked to the diversity in the ranks of the Knicks City Dancers. "I started by looking at what shades of foundation the dancers were wearing," she says. She also surveyed tons of women. Ultimately, she settled on 12 colors, ranging from the light Lycheetini and Peach Melody to the deeper Bohemian Princess and Mocha. Carpenter currently wears Tapioca Cream as her main shade, and Cocoa when she's tan.
A Cult Following
The first shipment of Nude Barre went out in early 2011. After talk-show host Wendy Williams became a fan, other celebrities, including Tyra Banks, Laverne Cox and the members of pop group Fifth Harmony quickly followed. These days Nude Barre tights are worn by ballet dancers (Erin Chong of BalletNext and Tracy Jones of Colorado Ballet love them, and Nude Barre is an official sponsor of The Black Iris Project), Broadway performers, dancers for Beyoncé and the Knicks City Dancers. The company has also expanded to offer fishnets, sports bras, bralettes and underwear, as well as plus sizes and children's sizes.
For Carpenter, Nude Barre is all about empowering women and young girls to love the color of their skin. "When nude is viewed as one color, and you're not that color, you wonder if your skin tone isn't attractive," she says. "We want women and girls to know they're beautiful, and that their skin color is important and represented on the market."
A version of this story appeared in the July/August 2017 issue of Dance Spirit with the title "Perfect Match."
Photo by Joe Toreno
It's almost 2019 and the ballroom dance scene is positively booming! From prestigious world championships to TV shows, kids are at the core of all this hip-shaking action—and we're so here for it. These eight up-and-comers in particular are shaping the field. They're the next generation of superstars to make the leap from technically exquisite ballroom-ites to bona fide celebrities.
Keep reading...
Show less
Jasmine Harper with Neil Haskell on "So You Think You Can Dance." (Photo by Adam Rose/FOX, courtesy FOX)
Every year, our friends over at Dance Magazine select 25 standout dancers, choreographers, and companies for their "25 to Watch" feature. The list is always overflowing with talent, but this year's iteration was especially exciting—four of the featured dancers have graced the pages of DS at one point or another: former cover star Aran Bell, DS Cover Model Search semi-finalist Sophie Miklosovic, Jasmine Harper, and "You Should Know" alum Easton Payne. It was a totally full-circle moment to see each of them score a coveted spot on this list. Check out their profiles below (which originally appeared in Dance Magazine), and major congratulations to everyone else selected this year!
Keep reading...
Show less
(screenshot via YouTube)
Maddie Ziegler is the kween of dance these days and it seems like there's no move this teen dancing machine can't do...or is there? In a recent video with Teen Vogue, Maddie shows us just how lit her dance skills are by demonstrating 10 iconic music video dance routines. From Britney Spears to Michael Jackson, the "Dance Moms" star gets her groove on as she dissects some of the most popular dances of all time. Though Maddie is a great dancer, it's pretty entertaining watching her do moves that might be a little outside of her comfort zone.
Keep reading...
Show less
Getty Images
The Nutcracker has become an essential part of the holiday season—not to mention a part of most dancers' DNA. These days, the ballet is a beloved tradition, and the lifeblood of many dance companies, whose budgets depend on its reliably great ticket sales. But did you know that it was a flop when it first premiered in Russia? Or that George Balanchine himself once played Drosselmeyer on TV? Here's a timeline of the rich history of The Nutcracker.
Keep reading...
Show less
Dec. 03, 2018 04:07PM EST
Showstopper sees all different dancers from across the world at their dance competitions. They understand sometimes it can hard to know how to stand out among the 100s of dancers that perform on their stages.
Keep reading...
Show less
When Hannahlei Cabanilla rolled up to her Dance Spirit cover shoot—just 36 hours after being named the "So You Think You Can Dance" Season 15 champion—she looked impossibly fresh-faced and well-rested. The Anaheim Hills, CA, native may have had "about eight blisters," as she joked, on her feet; she may barely have slept since the big win; and she may have just performed on "Live with Kelly and Ryan." But she jumped right on set, and quite literally didn't stop jumping for the next five hours. The fabulous technique, irresistible personality, and (especially) boundless energy that earned her the title of America's Favorite Dancer were all on full display.
So what was it actually like for Hannahlei to compete on the show she'd watched since she was a tiny dancer—and what's next for the now–19-year-old? Read on.
Keep reading...
Show less
Photo by Donna Ward, courtesy Alvin Ailey American Dance Theater
On March 30, 1958, at the 92nd Street Y in NYC, dancer Alvin Ailey and a group of African-American dancers performed onstage together for the first time. Since then, Alvin Ailey American Dance Theater, the company Ailey formed, has become legendary in the dance world. To commemorate its 60th anniversary, Ailey has dubbed its annual City Center season "Ailey 60." From Nov. 28–Dec. 30 choreographers including Ronald K. Brown, Jessica Lang, and Rennie Harris will present premieres, alongside the works of current artistic director Robert Battle, Judith Jamison, and over two dozen pieces by Alvin Ailey himself. We asked a few of the company members to share what the anniversary means to them.
Keep reading...
Show less
Get Dance Spirit in your inbox
Photo by Joe Toreno
It's almost 2019 and the ballroom dance scene is positively booming! From prestigious world championships to TV shows, kids are at the core of all this hip-shaking action—and we're so here for it. These eight up-and-comers in particular are shaping the field. They're the next generation of superstars to make the leap from technically exquisite ballroom-ites to bona fide celebrities.
Keep reading...
Show less
Just for Fun
Jun. 29, 2018 10:00AM EST
Colder weather is (finally) here, which means it's time for a good dance movie binge. But which iconic films should you put on? To narrow your search, we went ahead and ranked 30 of the greatest dance movies of all time.
Of course, we know a list like this is bound to be controversial—so if you disagree with our lineup, have at it in the comments!
Keep reading...
Show less
Jim Lafferty
This story originally appeared on dancemagazine.com.
"So why did you quit?"
It's a question I've been asked hundreds of times since I stopped dancing over a decade ago. My answer has changed over the years as my own understanding of what lead me to walk away from greatest love of my life has become clearer.
"I had some injures," I would mutter nervously for the first few years. This seemed like the answer people understood most. Then it became, "I was just not very happy." Finally, as I passed into my 30s, I began telling the uncomfortable truth: "I quit dancing because of untreated depression."
Keep reading...
Show less
Sky Brown and JT Church in the finale of "Dancing with the Stars: Juniors" (via @dancingabc on Instagram)
Last night was a Christmas miracle of epic proportions for one lucky couple on "Dancing with the Stars: Juniors" as they took home the Mirror Star Trophy. But we're getting ahead of ourselves. Four couples competed for the title of champion and each and every performance was lit! With two routines—one holiday themed freestyle and one repeat dance from the season that included their mentors (plot twist!), these dance darlings battled it out on the dance floor. It was truly a night to remember as we enjoyed some of the best performances of the season that got us in the holiday spirit.
Keep reading...
Show less
Courtesy MSG Entertainment
For some it's a holiday tradition, for others its an iconic spectacle, but no matter the reason, more than 1 million people will watch the Rockettes perform in the Radio City Christmas Spectacular each year. And though the production has been around since 1933, much of what goes on behind those velvety curtains and intricate sets remains a mystery. To curb our curiosity and find out what ensues when these leggy ladies aren't doling out their sky-high kicks, we got a backstage tour from the legends themselves.
From hair and makeup, to warm-up exercises, and costume quick changes (the fastest quick change in the show is a #mindblowing 75 seconds, by the way) we got a glimpse into the glamorous (and sometimes not so glamorous) world of the Rockettes.
Keep reading...
Show less
Josefina Scaglione as Maria (with Jeremy Jordan as Tony) in the 2008 Broadway revival of "West Side Story" (via @thelightsonbroadway on Instagram)
Every scrap of news coming from the highly-anticipated West Side Story remake has been nothing short of thrilling, tbh. First, there was the open casting call here in NYC for dancers to play the Jets and Sharks. Next, we heard the unsurprising-yet-awesome news that Justin Peck will choreograph the new movie. Now, there's possibly the most exciting news flash yet: You (yes, YOU) could play the star-making role of Maria opposite the dreamy Ansel Elgort as Tony!
Keep reading...
Show less
via @wholenessmom on Instagram
The holidays are just around the corner and that means it's time to get your wish lists finalized. And while we have no doubt that stylish leos and cozy warm-ups will find their way onto your list, we think you'll want to consider adding some of these lit dance books to your holiday lineup, too. From revamped Nutcracker tales to biographies of your favorite dance stars, we've rounded up the latest and greatest books that every dancer will want to see in their stockings this season.
Keep reading...
Show less
Photo by Gage Crismond, courtesy Cogliandro
Cat Cogliandro's genius is turning paradoxes into powerful art. In her gestural contemporary choreography, vulnerability becomes strength and imperfection is beauty. Born and raised in Houston, TX, Cogliandro earned a BFA in dance from SUNY Purchase before moving to L.A. Cogliandro now teaches in L.A. and nationally, and choreographs for her company CATASTROPHE!, which was the second runner-up at the 2015 Capezio A.C.E. Awards. Here, Cogliandro tells DS where she finds inspiration. —Helen Rolfe
Keep reading...
Show less