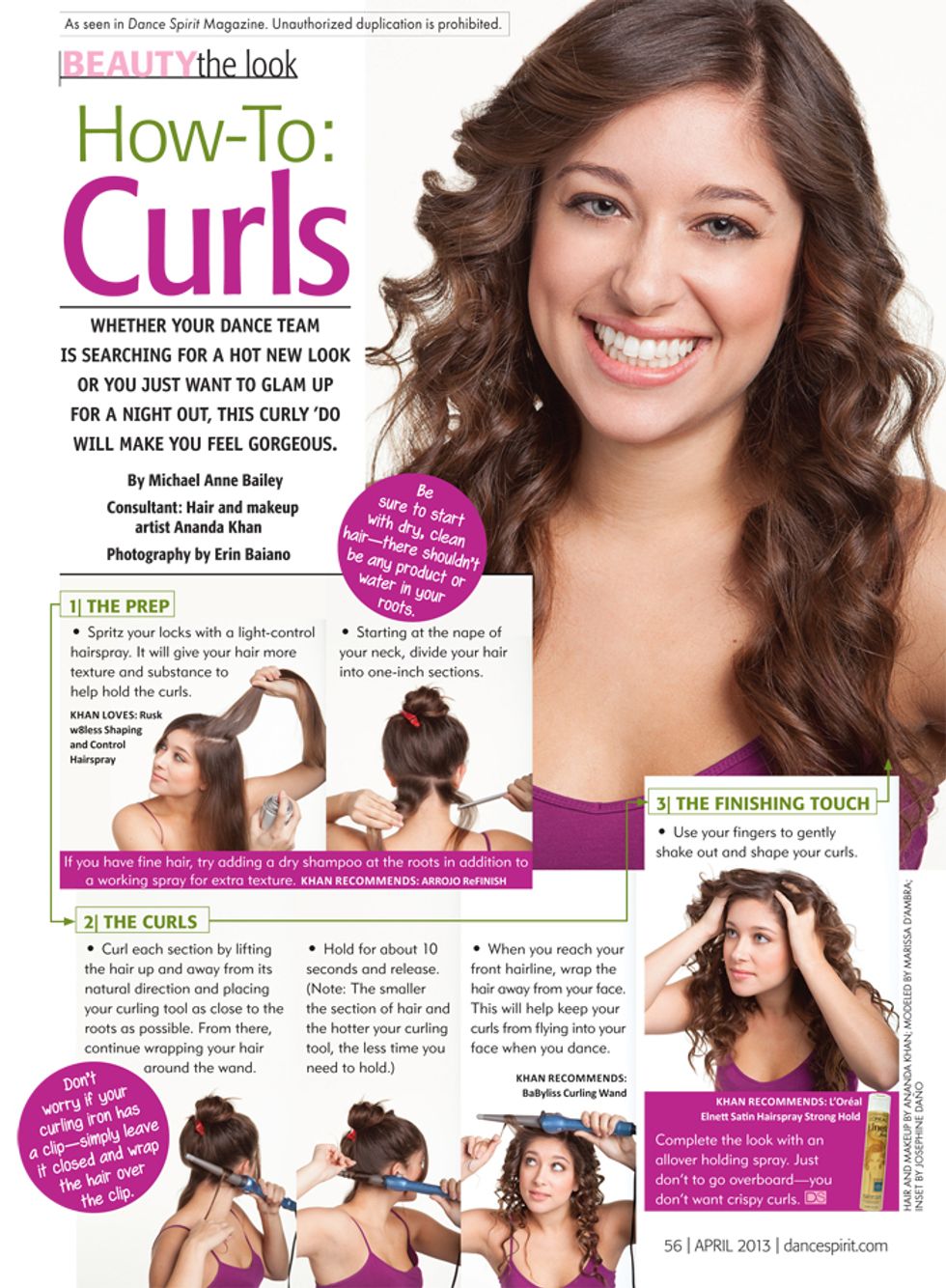 Because all dancers have experienced it at some point or another (Getty Images/patat)
Now that we're more than nine months into the pandemic, there's a big chance you're feeling Zoom-ed out. Read: Totally overusing the video-conferencing app for school and dance classes—and everything else. And according to dance/movement therapist Erica Hornthal, MA, LCPC, BC-DMT, there's good reason for that: "Managing your environment in a virtual space is taxing on the mind, and therefore taxing on the body."
Hornthal attributes these feelings, in part, to a mind–body disconnect that happens when we use the app: Your body knows you are alone in the room, but your mind sees a group of people on screen—and managing this COVID-era reality can be, well, exhausting. But we can also feel Zoom fatigue, Hornthal says, from having to "constantly be present to the third 'person' in the room: the Zoom camera." Uh, relatable!
So if staring at a grid of fuzzy faces—or into the abyss of that cold, dark lens on your device—has you feeling less than energized, here are some ways to cope.
---
Take breaks from tech throughout the day
Tamia Strickland, a sophomore in the Ailey/Fordham BFA dance program, trains both in person (with a mask, of course!) and online but says there are unique challenges that come with the latter. For one, she says, it's hard "to stay focused and motivated when you are in your basement or living room staring at a computer screen all by yourself—and all day long." These feelings can lead to frustration: You want to stay engaged with the class, but after staring at your computer screen for so long, you start to feel unmotivated.
As a remedy, Hornthal suggests taking breaks from your tech devices when you can. "The last thing you want to do," she says, "is exit a Zoom session and then immediately jump onto your phone." Instead, take a breather from everything virtual, and give your mind—and body—time to recalibrate. "Create space to connect or reconnect with your body when you are off technology," Hornthal says. "Take a walk, practice mindful breathing, embrace nature."
Move for yourself—and on your own
Another way to overcome feelings of online-class fatigue, Hornthal says, is to find time to move on your own—away from the camera on your device. As you begin moving for yourself, try to recognize and notice your own body wisdom. As a dancer, this could simply mean taking stock of what feels good and natural to your body as you, say, indulge in an improv sesh.
Tim Roberts, a Maryland dance studio owner and former performer, says giving his students time to turn their cameras off and work through their own movement has helped keep them motivated. "Opening that space for them is so necessary­ and beneficial, and helps them appreciate the time they do have with me," he says.
If you're not feeling up to a movement break, consider cooling down the mind and body by taking some time to stretch out and take up space in the body, Hornthal says. By encouraging greater body awareness, stretching can help give you more insight into what your body needs at any given point—a physical check-in before you head back into The Land of Zoom.
Tap into your other senses
When you're on Zoom, you're constantly using your eyes—to learn choreography, to support fellow dancers, to catch physical cues from teachers—so it's important, Hornthal says, to give yourself screen breaks. As you give your eyes a rest, take time to whet your other senses: Squeeze a stress ball; smell the outside air; gulp a tasty green smoothie; listen to your favorite playlist. The key here is to take in stimuli that trigger your other senses, rather than continuing to use (or overuse) your sense of sight.
And as a golden rule for your overall Zoom-life health, always remember: "It isn't just dance that is happening online—our entire lives are virtual," Hornthal says. "That means we have to be intentional with our downtime, and turn off technology, so we can tune in to ourselves."
Photo by Matthew Murphy, courtesy Cory Lingner
With #SocialDisDancing still very much in place, it's a challenge for dance partners to perform safely, and even harder to perform safely together.
But Broadway's Cory Lingner may have found the solution—on TikTok. He's using the app to tap alongside some of the most iconic movie stars, including Gene Kelly, Gregory Hines, Ann Miller and Shirley Temple. And, no, he doesn't have a time-traveling device.
Lingner has perfected the use of the app's duet feature. On one side of the video is a clip of the tap-dancing icon and on the other is Lingner, dancing in unison. And as a bonus, Lingner's also giving viewers facts about the stars and the performances as they watch.
Lingner's danced in everything from On the Town to An American in Paris, Charlie and the Chocolate Factory, and Carousel. But still, his tapping TikToks may be one of his favorite challenges yet. "I've gotten very lucky to do shows on Broadway," Lingner says, "But I haven't actually gotten to do as much tapping as I'm doing in these videos."
When Broadway shut down last March due to the pandemic, Lingner was in rehearsals for Love Life with New York City Center's Encores! series. Without a stage and a live audience, he's getting his fill of performing from his social media duet series. And it's so popular on TikTok, he's gained more than 8 thousand followers in a mere month.
---
Dance Spirit: How did your "Cory's Duet Series" on TikTok get started?
Cory Lingner: It was kind of just a spur-of-the-moment thing. The very first spark of inspiration was another fellow tapper, Nicole Billow. She actually did the first side-by-side with Gene Kelly from An American in Paris. I watched it and I was like, "This looks really fun." I went ahead and made a TikTok account and made my first duet. I posted that thing with zero followers and by the end of the night, there were 500 followers and it was blowing up with views.
DS: How do you pick which numbers you're going to do?
CL: Well, part of it is going down the YouTube rabbit hole looking up performers that I'm familiar with. The majority of what I've tried to focus on is introducing new performers so I don't repeat dancers too much. The last time that I repeated was with Vera Allen in White Christmas, since it was the holiday.
I also try to find sections where not only I can do the choreography in my limited space, with my little piece of plywood, but also if they're able to stay on a single camera shot for long enough for the 20 to 30 seconds.
DS: How long does it take you to learn the dances?
CL: It depends. If I'm a bit more familiar with it, I can probably pick it up quicker. Sometimes it takes 15 to 30 minutes. One that I worked on that I'm going to share is with Ginger Rogers. That took about an hour and a half. Luckily, I've always been a visual learner.
DS: What do you think about the skill level of some of Shirley Temple's tap steps?
CL: It's remarkable the fact that she did that many films and had that kind of tap dance skill set at such a young age. It is so impressive to me. People were commenting on that video too, writing, "Oh my gosh, I didn't even realize what she can do. That's very impressive."
DS: It seems like we don't see this style of dance anymore, since the Golden Age of the Hollywood movie musical. How do you feel film choreography has changed since then?
CL: This style of dance definitely does feel different. I've always admired it and gravitated towards it. It's fascinating to picture how these choreographers even conceptualized sequences where the stars are dancing all across these sets and sound stages.
I find myself wondering, "Did they have the set to begin with and then worked on it, or did they come up with ideas and then that gave set designers ideas to build?" The rhythms and the tap melodies are pretty bright, and that makes it really fun for me and exciting for anyone watching.
DS: What is some of the feedback you've been getting?
CL: Oh, my goodness. It's so lovely, all the comments and messages. There was a grandmother that said, "I think you just inspired my 3-year-old grandson to start taking dance." It warms my heart. From what I'm reading and seeing, it still resonates with so many people.
DS: What are some dream duets that you need to do?
CL: I've gotten a lot of people up requesting the Nicholas Brothers. They're the best. I'm going to try to see if I can find something to do them justice and try to keep up with them. But with my little piece of plywood, there's no way I can do their iconic jump into the splits because I'd get splinters.
There were other duets people were recommending, like James Cagney. So I'm trying to find a moment when he stays still. I learned "Moses Supposes" from Singin' in the Rain many years ago, which would be really fun to tackle again. Maybe I'd do that one in two separate sections, so I can do one with Gene Kelly and one with Donald O'Connor.
Alvin Ailey American Dance Theater dancer and choreographer Hope Boykin (center) after teaching a master class at the Center for Civil and Human Rights (Emily Hawkins, courtesy Alvin Ailey American Dance Theater)
Social justice has a been a prominent theme in many Black American dancemakers' repertoires. Today, on Martin Luther King, Jr. Day­—and in the midst of ongoing social and political turmoil in America—this theme carries new resonance.
Dr. King's legacy has spurred the creation of many dance works, with many creators using his words to respond to the social issues of the moment. So, today, in celebration of MLK, Jr. Day, here are four of those dances which honor the legacy of the late civil rights leader.
---
"r-Evolution, Dream." by Hope Boykin
Set to a soundscape that includes music by jazz musician Ali Jackson, narration by Tony Award-winner Leslie Odom, Jr., "r-Evolution, Dream.," performed by the Alvin Ailey American Dance Theater, debuted in 2017. Choreographer—and Ailey vet—Hope Boykin was inspired to create the piece on a visit to the Center for Civil and Human Rights in Atlanta. "I got a chance to listen to Dr. King's voice and watch the footage of his funeral with the casket running through the city," Boykin said in an interview with the L.A. Times. Boykin says she was especially stirred by the cadence and sound of his voice.
Moved by the timeliness of Dr. King's teachings (over a half century after he first orated them), Boykin set out to create a ballet that, in effect, translated some of his most famous sermons and teachings into movement. The ensemble piece, which also features solos and sets of pas de deuxs, is a powerful reminder of the long fight ahead for racial equality in America.
"Bodies as a Site of Faith and Protest" by Tommie-Waheed Evans
First performed by Dallas Black Dance Theatre in 2018, "Bodies as Site of Faith and Protest" also transcribes Dr. King's words into dance—only this work zeroes in one particular speech: Dr. King's "We Shall Overcome."
The most resounding imagery in choreographer Tommie-Waheed Evans's work is the clump of dancers at center-center, who march and march with searing purpose oozing from their eyes—yet seem to arrive nowhere. It's as if Evans puts on display the historical, present, and future conditions of the Black American: That the battle for equal protection under the law will be ongoing.
"Dougla" by Geoffrey Holder
In response to the assassination of Dr. King on April 4, 1968, Arthur Mitchell, then a principal dancer with New York City Ballet, felt compelled to take action. His efforts would culminate in the formation of Dance Theatre of Harlem.
The ballet troupe performs everything from classical rep to new works—one of the most iconic is Geoffrey Holder's "Dougla," with movement that depicts the wedding of a Dougla couple, in which one partner is of African descent and the other of Indian descent. The ballet features a spectacle of costume, with a thumping, grounding pulsation of drums beneath movement that, in of itself, is bold and unafraid of making a statement.
Perhaps most memorable about this piece are the moments done in unison, when everything is "working together at once," as Carmen de Lavallade, who helped restage the piece for DTH in 2018, said to theNew York Times. The power in these moments of togetherness conjures scenes of Americans marching in unity for social justice, echoing the very reasons Dr. King worked to lead change before his death.
"Deep Blue Sea" by Bill T. Jones
In an interview with our sister publication Dance Magazine, Jones says the work deals with one overarching question in particular: "Are we really still this beacon, this light on a hill, this conglomerate of disparate groups and stakeholders that we call American democracy?" As a young child, he believed that the Black community could overcome the effects of systematic racism, said Jones to DM. Now, he has less faith—and "Deep Blue Sea" dives into the reasons why.
Intended to be performed at the Park Avenue Armory, the cast included not only the Bill T. Jones/Arnie Zane Company, but also nearly 100 members of the New York City community.
Enter the Cover Model Search