How to Deal With Injuries as a College Dance Major
Thinkstock
Getting injured during college doesn't have to ruin your semester. DS asked a professor, a certified athletic trainer, and a student who's overcome injury how you can deal.
---

Lauren McIntyre, ATC, certified athletic trainer for The Conservatory of Dance at SUNY Purchase through the Harkness Center for Dance Injuries at NYU Langone Health
"Injuries happen around midterms, performances, and finals, when students get busy and fatigued. Fear can keep dancers from getting seen by a medical professional right away: 'How will I be graded? What does this mean for my college career?' Getting a diagnosis helps you figure out how bad it is and how much you can safely work through.
Don't just skip class. You learn so much from observing! If you truly can't participate, figure out how to become a rehearsal assistant. Use the resources on campus. The psychology of injury can be devastating; you should be seeing someone from college counseling if possible.
To prevent injuries, remember you are at school to dance. So you can't live a traditional college life: partying, eating poorly, staying up all night. These lead to fatigue, inflammation, and irritation, not recovery. Plan your cross-training and rest according to when your breaks and concerts will be."

A SUNY Purchase junior who wished to remain anonymous
"I had ankle pain that kept popping up every semester, so I got an MRI. Turns out there was a tear in my FHL [flexor hallucis longus] tendon. Since then I've been out of dance, and I had surgery to repair the tendon at the beginning of this year.
I knew before last fall there was no way I could dance enough to be graded, so I decided instead of
taking the semester off, I would turn my arts management minor into a major. I never really understood how 'normal' college students feel. I've realized how much study time goes into academic classes. I'm glad I've explored subjects other than dance: My mind was opened to things I might want to do after my dance career, and I made amazing friends who aren't dancers."
Ann Murphy, associate professor of dance, Mills College, Oakland, CA
"Talk to professors about modifying class, give your body time to heal, and take the advice of the professionals around you. Be transparent with faculty—treat us as your co-problem-solvers. Come to class early to take care of your body's needs; the professor may not address your particular issues."
A version of this story appeared in the February 2018 issue of Dance Spirit with the title "Intro To... Injury?"
American Ballet Theatre principal dancers Sarah Lane and Daniil Simkin (courtesy ABT)
Last May, we told you about a special exhibition of the Mark Ryden artwork that sparked Alexei Ratmansky's sweet-treat of a ballet, Whipped Cream. Well, hold on to your tiaras, bunheads, because there's a brand-new exhibit featuring actual costumes from this megahit production. The Nutcracker's Land of Sweets has some serious competition!
Keep reading...
Show less
via @kyle_vanny on Instagram competing on World Of Dance
Kyle Van Newkirk is a tap dancer you probably remember from the premiere season of NBC's World of Dance. In case you missed it, he is also one of Showstopper's incredible convention teachers. What makes Kyle stand apart from some of today's other incredible tappers? He isn't afraid to change what tap means to his audience and even himself. This modern view of tap dancing is important because it shows us that tap dancers are just as versatile and dynamic as dancers of any other genre. We sat down with Kyle to get his advice on bringing tap dancing into the 21st century.
Keep reading...
Show less
What did I just hear you say? You think all dancers are weak and delicate? PLEASE SAUT DE CHAT OUT OF MY LIFE. (Giphy)
Sure, dancers definitely have some unique identifying characteristics. (We're all obsessed with Center Stage? FACT.) But we're also subjected to all kinds of annoying, inaccurate stereotyping. Here are 10 dancer stereotypes that we never want to hear again.
Keep reading...
Show less
University of Minnesota Dance Team (courtesy University of Minnesota)
They say there's no "I" in "team"—and nowhere is that truer than the world of college dance teams, where precision reigns, uniformity is key, and a single misstep from any given "I" can cost a group a championship trophy. So it's unsurprising that securing a spot on one of the best dance teams in the country is no easy feat.
Members of these highly athletic teams rehearse for hours every week—on top of academic classes and commitments—and perform at football and basketball games, annual concerts, and nationally televised competitions (hi, ESPN). And "no I" rule notwithstanding, each of these top teams is made up of highly trained, highly technical, highly hard-core individuals, who come together to create a ready-for-victory pack.
These six teams aren't one-off success stories—they're consistently strong, and earn the top spots at major competitions like UDA and NDA nearly every year. Up for the challenge? Here's what to know before you go to auditions.
Keep reading...
Show less
Lol, same. (Screenshot via YouTube)
Picture this: You've scored tickets to Ellen DeGeneres' hit show, "Ellen." The day has come, the show is as hysterical as ever, Ellen is debating the biggest hot-button issue since the blue/black or white/gold dress, "Laurel vs. Yanny" (side note: it's LAUREL, people), and tWitch is killing it over at the DJ booth, as always. Ellen decides it's the perfect time to single out an audience member and, lo and behold, that person is "SYTYCD" champ ( and December 2017 cover star!) Lex Ishimoto.
Keep reading...
Show less
May. 16, 2018 02:26PM EST
Ema Peter
The Glorya Kaufman International Dance Center is the 54,000 square foot home of the USC Glorya Kaufman School of Dance, one of the largest facilities dedicated to dance on a private university campus. Designed for their innovative new curriculum, that supports a range of dance styles, the school's staff designated Harlequin to provide wall-to-wall flooring for the large 3,500 square foot Performance Studio as well as five dance studios in their new state-of-the-art building.
Keep reading...
Show less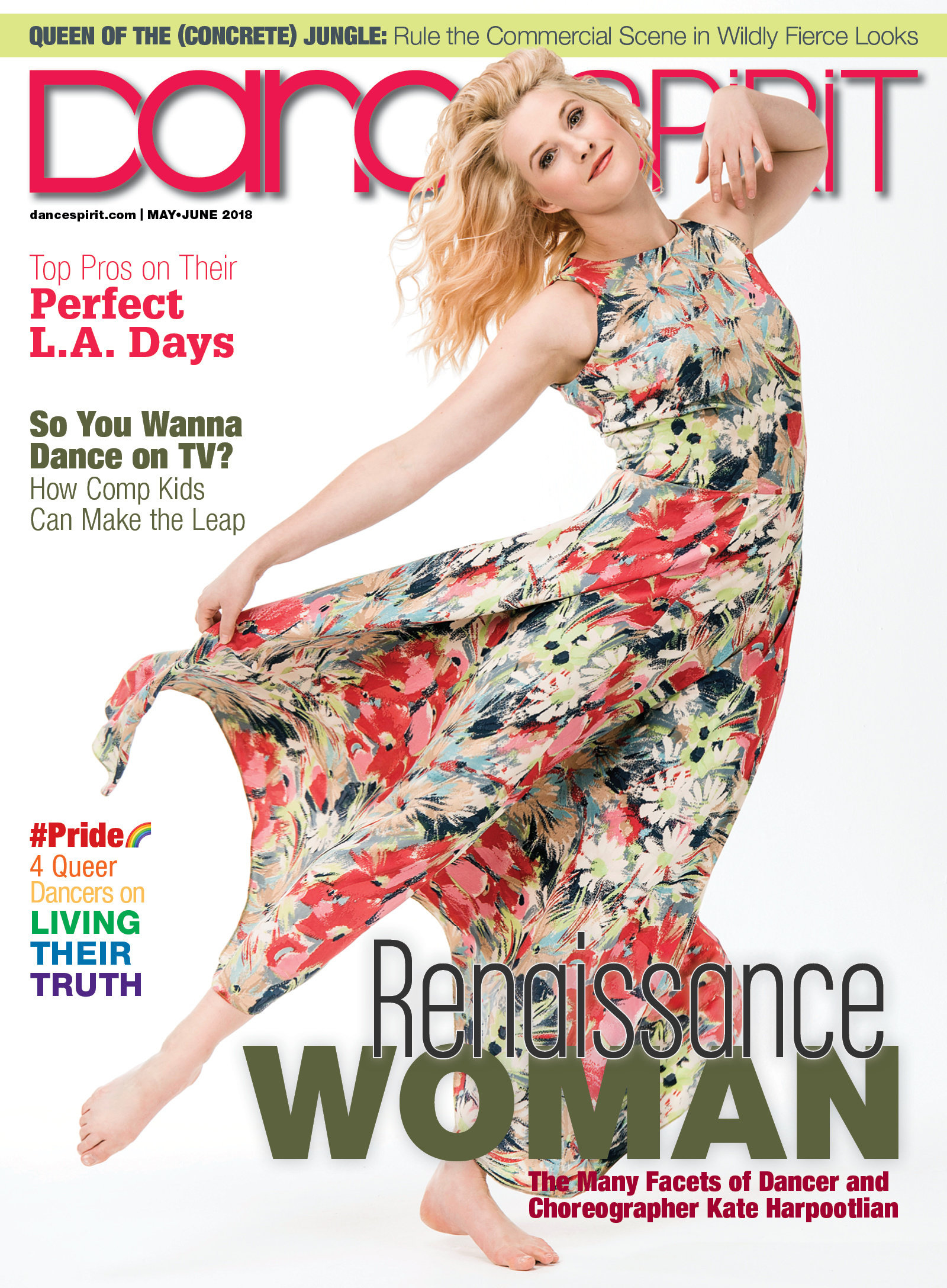 Get Dance Spirit in your inbox