Jan. 25, 2019 04:12PM EST
How to Ace Your Pre-Combo Improv
Rachel Kreiling teaching a workshop at New York City Dance Alliance (Evolve Photo, courtesy NYCDA)
When teaching convention classes, many choreographers start combinations mid-song, allowing dancers the freedom to improvise a few eight counts before the piece begins. How do you use those moments to learn and grow as a dancer, even if you're new to the style of dance? DS spoke with convention teachers about the best way to approach improvisation in a class setting.
---
Before Class
First: Prepare. This advice may seem counterintuitive—how can you prepare for something that's intended to be spontaneous?—but practice will build your confidence and keep you from freezing up during class. "Do your research. You can study that teacher's body of work on Instagram or YouTube, and it'll give you insight to what you might be doing," says Hannah Wintrode, hip-hop instructor with Artists Simply Human.
Before class, practice improvising on your own, using music in that style, to get comfortable moving in a nonprescribed way. "I try to freestyle a couple hours a day. You never know what new paths you're going to discover, or new vocabulary that will come out of you," says Wintrode. Al Blackstone, musical theater instructor at JUMP, recommends putting several different songs on shuffle and moving for 30 seconds to each song, with the goal of making your movement totally different for each piece of music.
At conventions, it's rare to have access to a mirrored space during class, so get comfortable exploring movement without the visual feedback a mirror provides. "Listen to what your body is doing and how it feels, rather than relying on what it looks like," says Rachel Kreiling, contemporary instructor with New York City Dance Alliance.
What's not included in improv prep? Prechoreographing. "Anybody who you watch and you think has great improv—they didn't sit down with a notepad and pen and map out cool new stuff to do, they just started with a simple idea and followed it," says Kreiling.
During Class
While it might feel like there are an infinite number of options when you consider your entire library of movement, you can thoughtfully narrow them down during class using cues from the teacher, choreography, and music. "Key in to what the teacher is telling you the intention of that class is," says Kreiling. Were you working on spirals during most of class? Playing with those shapes in your improvisation will help you make those skills your own. Did your teacher emphasize emoting and connectivity? Make that the intention behind your movement.
While you always want to bring your own voice and strengths to improvisation, what you do should be contextually appropriate: "It should set up what you're about to do, essentially," says Kreiling. Because your improvisation will help frame and introduce the piece, if there's a storyline, that should inform your improv. "Get into character. Whatever dancers do before the first choreographed movement needs to help connect them to whatever that first movement is," says Blackstone. "It's helpful to talk about what happened in the moment before you started dancing."
As when you practice on your own, your greatest guide to in-class improvisation is the music. "Let it inspire you and motivate your movement. If you really open up, most answers will lie in what the music is doing," says Blackstone. "A lot of times in convention we do improv for auditions, and the thing I look for first and foremost is: Are they listening? Are they actually connecting and having a conversation with what the music is doing, or are they just going into autopilot?" Use musical cues to your advantage: Identify moments to accent particular beats or lyrics that can give your improv some structure.
Using improv to make eye contact and share moments with fellow dancers can help combat feelings of pressure or isolation: "The best moments are the moments where you're connecting. Look around and share what you're doing with other people. You will not only feel more comfortable because you'll feel connected to another person, but I think you'll then have more confidence to make good choices," says Blackstone. Kreiling likes to move around the classroom to experience dancing near different people, and finds that her improv changes each time.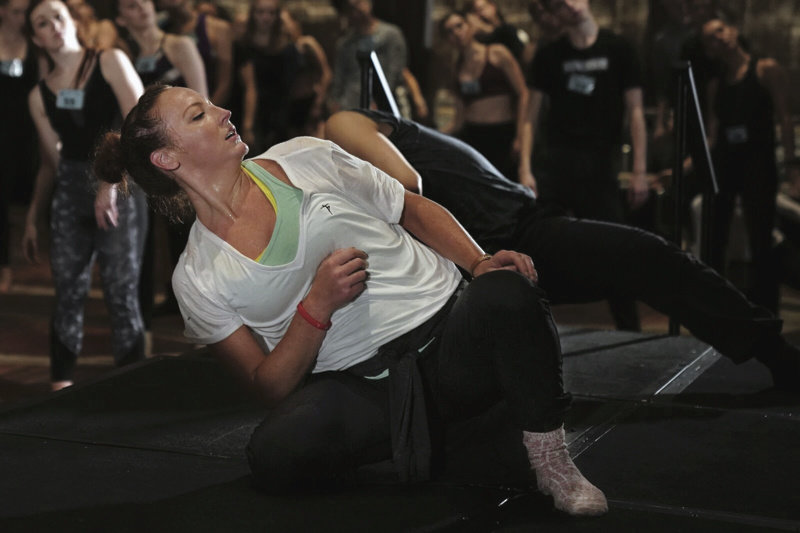 Kreiling teaching class at NYCDA (Eduardo Patino, courtesy NYCDA)
After Class

Overcome fears of "messing up" by reframing improv as a learning opportunity and a work in progress (as opposed to a polished, finished product). "Risk is trying something new, trying something different, trying something and following wherever it leads you, rather than trying to manipulate it or coming out with a prechoreographed improv. My eye goes to those who are willing to take that risk, even if it fails," says Kreiling.
Ultimately, improvisation requires you to trust—and be gentle with—yourself. "There is no wrong answer. Try something! If it doesn't work, it informs the next step. Nobody's going to laugh, and nobody's going to judge you," says Kreiling.
A version of this story appeared in the February 2019 issue of Dance Spirit with the title "Ace Your Improvisation."
How To
Apr. 19, 2019 03:37PM EST
Gabriel Figueredo in a variation from Raymonda. VAM Productions, Courtesy YAGP.
This week, over 1,000 young hopefuls gathered in New York City for the Youth America Grand Prix finals, giving them the chance to compete for scholarships and contracts to some of the world's top ballet schools and companies. Roughly 85 dancers made it to the final round at Lincoln Center's David H. Koch Theater on Wednesday. Today, the 20th anniversary of YAGP came to a close at the competition's awards ceremony. Read on to find out who won!

Dance News
Apr. 19, 2019 07:00AM EST
After a string of ballet-company rejections, Jennifer Sydor (here in Laura Peterson's "Failure") found success in other areas of the dance world. (Stephen Delas Heras, courtesy Jennifer Sydor)
In her senior year at Butler University, Jennifer Sydor auditioned for more than a dozen regional ballet companies—and got a string of "no, thank you" responses. "I have an athletic build, and my movement quality isn't the typical ballet aesthetic," Sydor says. "But I'd been laser-focused on ballet. When I didn't get a ballet contract, I was heartbroken."
Her one job offer came from Kim Robards Dance, a small modern company based in Aurora, CO. After attending KRD's summer intensive, Sydor ended up accepting a yearlong position with the troupe. "I was relieved and happy to begin my career," she says. She's been working as a contemporary dancer ever since.
In the dance world, rejection is part of the package. That doesn't make it any more pleasant. But whether you didn't get the Nutcracker role of your dreams or you weren't picked for a job despite feeling like you aced the audition, you can emerge from even the most gut-wrenching "no" smarter and stronger.
Mind
Apr. 18, 2019 07:13PM EST
Ballet West principal Beckanne Sisk as Kitri (Luke Isley, courtesy Ballet West)
Guess who's baaaaack?! Your resident Dance Spirit astrologers! And on the eve of the Youth America Grand Prix awards ceremony, we thought it was the perfect time to pair each zodiac sign with a variation commonly seen during the competition. After many painstaking hours spent researching, consulting the stars, and staring wistfully into the sky, we compiled our data and present you with the definitive list of each star sign as a YAGP variation! As we said last time, don't @ us if you're not happy with your pairing—the stars don't lie, baby!
Dancer to Dancer