Jan. 25, 2019 04:12PM EST
How to Ace Your Pre-Combo Improv
Rachel Kreiling teaching a workshop at New York City Dance Alliance (Evolve Photo, courtesy NYCDA)
When teaching convention classes, many choreographers start combinations mid-song, allowing dancers the freedom to improvise a few eight counts before the piece begins. How do you use those moments to learn and grow as a dancer, even if you're new to the style of dance? DS spoke with convention teachers about the best way to approach improvisation in a class setting.
---
Before Class
First: Prepare. This advice may seem counterintuitive—how can you prepare for something that's intended to be spontaneous?—but practice will build your confidence and keep you from freezing up during class. "Do your research. You can study that teacher's body of work on Instagram or YouTube, and it'll give you insight to what you might be doing," says Hannah Wintrode, hip-hop instructor with Artists Simply Human.
Before class, practice improvising on your own, using music in that style, to get comfortable moving in a nonprescribed way. "I try to freestyle a couple hours a day. You never know what new paths you're going to discover, or new vocabulary that will come out of you," says Wintrode. Al Blackstone, musical theater instructor at JUMP, recommends putting several different songs on shuffle and moving for 30 seconds to each song, with the goal of making your movement totally different for each piece of music.
At conventions, it's rare to have access to a mirrored space during class, so get comfortable exploring movement without the visual feedback a mirror provides. "Listen to what your body is doing and how it feels, rather than relying on what it looks like," says Rachel Kreiling, contemporary instructor with New York City Dance Alliance.
What's not included in improv prep? Prechoreographing. "Anybody who you watch and you think has great improv—they didn't sit down with a notepad and pen and map out cool new stuff to do, they just started with a simple idea and followed it," says Kreiling.
During Class
While it might feel like there are an infinite number of options when you consider your entire library of movement, you can thoughtfully narrow them down during class using cues from the teacher, choreography, and music. "Key in to what the teacher is telling you the intention of that class is," says Kreiling. Were you working on spirals during most of class? Playing with those shapes in your improvisation will help you make those skills your own. Did your teacher emphasize emoting and connectivity? Make that the intention behind your movement.
While you always want to bring your own voice and strengths to improvisation, what you do should be contextually appropriate: "It should set up what you're about to do, essentially," says Kreiling. Because your improvisation will help frame and introduce the piece, if there's a storyline, that should inform your improv. "Get into character. Whatever dancers do before the first choreographed movement needs to help connect them to whatever that first movement is," says Blackstone. "It's helpful to talk about what happened in the moment before you started dancing."
As when you practice on your own, your greatest guide to in-class improvisation is the music. "Let it inspire you and motivate your movement. If you really open up, most answers will lie in what the music is doing," says Blackstone. "A lot of times in convention we do improv for auditions, and the thing I look for first and foremost is: Are they listening? Are they actually connecting and having a conversation with what the music is doing, or are they just going into autopilot?" Use musical cues to your advantage: Identify moments to accent particular beats or lyrics that can give your improv some structure.
Using improv to make eye contact and share moments with fellow dancers can help combat feelings of pressure or isolation: "The best moments are the moments where you're connecting. Look around and share what you're doing with other people. You will not only feel more comfortable because you'll feel connected to another person, but I think you'll then have more confidence to make good choices," says Blackstone. Kreiling likes to move around the classroom to experience dancing near different people, and finds that her improv changes each time.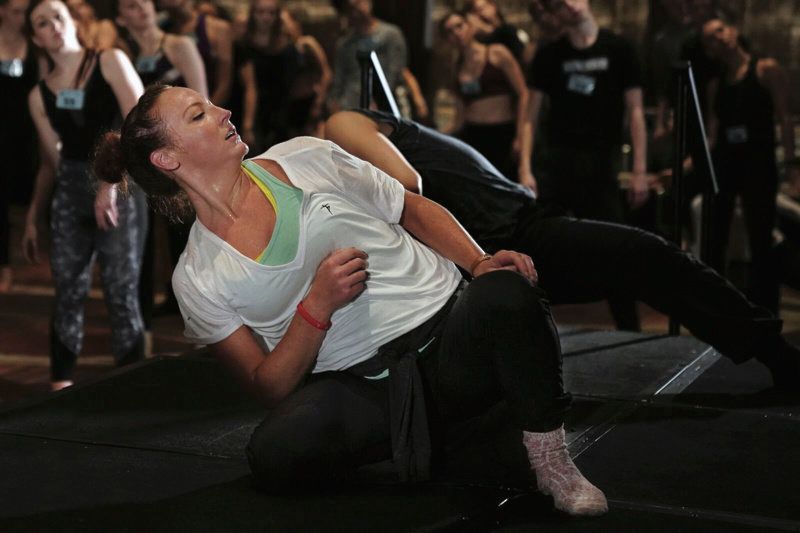 Kreiling teaching class at NYCDA (Eduardo Patino, courtesy NYCDA)
After Class

Overcome fears of "messing up" by reframing improv as a learning opportunity and a work in progress (as opposed to a polished, finished product). "Risk is trying something new, trying something different, trying something and following wherever it leads you, rather than trying to manipulate it or coming out with a prechoreographed improv. My eye goes to those who are willing to take that risk, even if it fails," says Kreiling.
Ultimately, improvisation requires you to trust—and be gentle with—yourself. "There is no wrong answer. Try something! If it doesn't work, it informs the next step. Nobody's going to laugh, and nobody's going to judge you," says Kreiling.
A version of this story appeared in the February 2019 issue of Dance Spirit with the title "Ace Your Improvisation."
Related Articles Around the Web
From Your Site Articles
How To
Jun. 15, 2019 10:12AM EST
(From left) Darriel Johnakin, Diego Pasillas, and Emma Sutherland (all photos by Erin Baiano)
Congratulations to Dance Spirit's 2019 Cover Model Search finalists: Darriel Johnakin, Diego Pasillas, and Emma Sutherland! One of them will win a spot on Dance Spirit's Fall 2019 cover. Learn more about the dancers by clicking on their names here:
And then vote for your favorite below. You can vote once a day now through July 15.
We also want you to get social! We'll be factoring social media likes and shares into our final tallies. Be sure to show your favorite finalist some love on Facebook, Instagram, and Twitter, sharing their profile pages and using the hashtag #DanceSpiritCMS.

Cover Model Search
Jun. 24, 2019 12:29PM EST
Photo by Erin Baiano
When it comes to injury-prone body parts, knees reign supreme for dancers. But a little strengthening can go a long way in preventing painful outcomes. We turned to Dirk Hartog, a physical therapist with Westside Dance Physical Therapy in NYC, for three exercises that'll support and stabilize your knees.
Fitness
Jun. 24, 2019 11:57AM EST
James Whiteside (Jayme Thornton for Dance Magazine)
Say you're perpetually impeccable designer Thom Browne. Say you're planning your Spring 2020 Paris menswear show along a "Versailles country club" theme. Say you want a world-class danseur to open the show with some kind of appropriately fabulous choreography.
Who do you call? James Whiteside, of course. On Saturday, the American Ballet Theatre principal—wearing pointe shoes and a glorious pinstriped tutu—kicked off Browne's presentation at the École des Beaux-Arts with a 15-minute, show-stealing solo. Whiteside choreographed the piece himself, with the help of detailed notes from the designer.
Dance and Fashion