How to Make the Most of Stillness Onstage
Alvin Ailey AmericanDance Theater in Ailey's Masekela Langage (photo by Paul Kolink, courtesy Alvin Ailey American Dance Theater)
There's an iconic moment in Kenneth MacMillan's Romeo and Juliet when Juliet sits on the edge of her bed, staring into the audience. She's completely still—thinking long and hard about her tragic situation—while the emotion of Sergei Prokofiev's score washes over her. If the dancer does it well, this dance-less scene can speak volumes.
As dancers, we tend to focus on mastering steps and speaking through movement. Yet the way we hold ourselves when we're not moving can also be a powerful way to communicate with an audience.
How can you make the most of those quiet moments onstage—and what happens if your muscles cramp, you have a crazy itch, or your mind starts to wander? We gathered tips from industry professionals to help guide you through.
---
Use Your Imagination
Keep your character in mind, and every pose will be infused with meaning. When Alvin Ailey American Dance Theater's Jacqueline Green approaches a role that requires holding still, she thinks about her character's background, motivations, and emotional state to help project the right feeling. "If you're onstage in a role where you have to be quiet or still, it helps to understand why you're doing what you're doing. It makes it more authentic."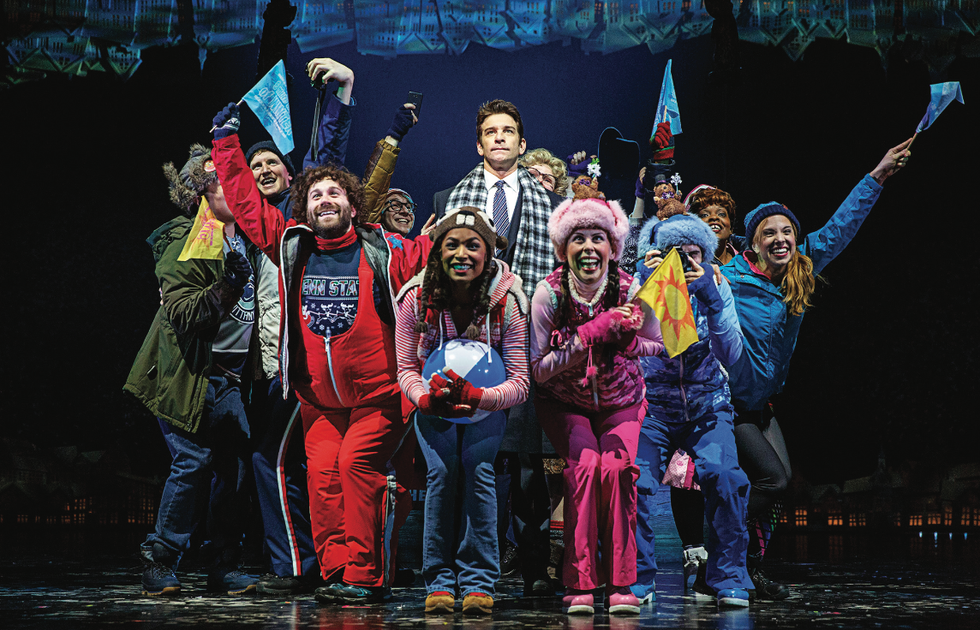 The cast of "Groundhog Day" (photo by Joan Marcus, courtesy Boneau/Bryan-Brown)
Another useful tool is a mime technique called suspension. Commercial dancer and choreographer Dana Wilson describes it as an exercise of the imagination. "Pretend that your body is full of an energy source or color, something that is constantly moving," she says. "Even if your body is still, there's an energy within that idea that keeps you feeling very much in motion."
Stay Active
Just because you're holding a pose doesn't mean your energy dies. "A moment of stillness has to be completely active," says Ellen Kane, co-choreographer of Groundhog Day on Broadway. "What's living inside of you has to be a fully realized thought." Several moments in Groundhog Day play with the idea of stopping time. Dancers have to freeze mid-action, as they're waving to someone or blowing a kiss, and continue to communicate fully during that phrase. "They're never allowed to shrink back into the shell of their body," Kane says. "When the freeze is over, they're released into the fruition of that thought."
Keep from Cramping
Jennifer Goggans, program coordinator for the Merce Cunningham Trust and former company dancer, remembers once having to hold an attitude front onstage for about 45 seconds. "Because I was in plié on one leg, the muscles in front of my shin and ankle would start to get tight," she says. "The leg that was lifted would get so tired." To keep from wobbling or cramping, her physical therapist suggested she make tiny movements that no one would notice. "I tried to gently come up and come down in my plié so it would help the muscle not get stuck. It was very helpful advice."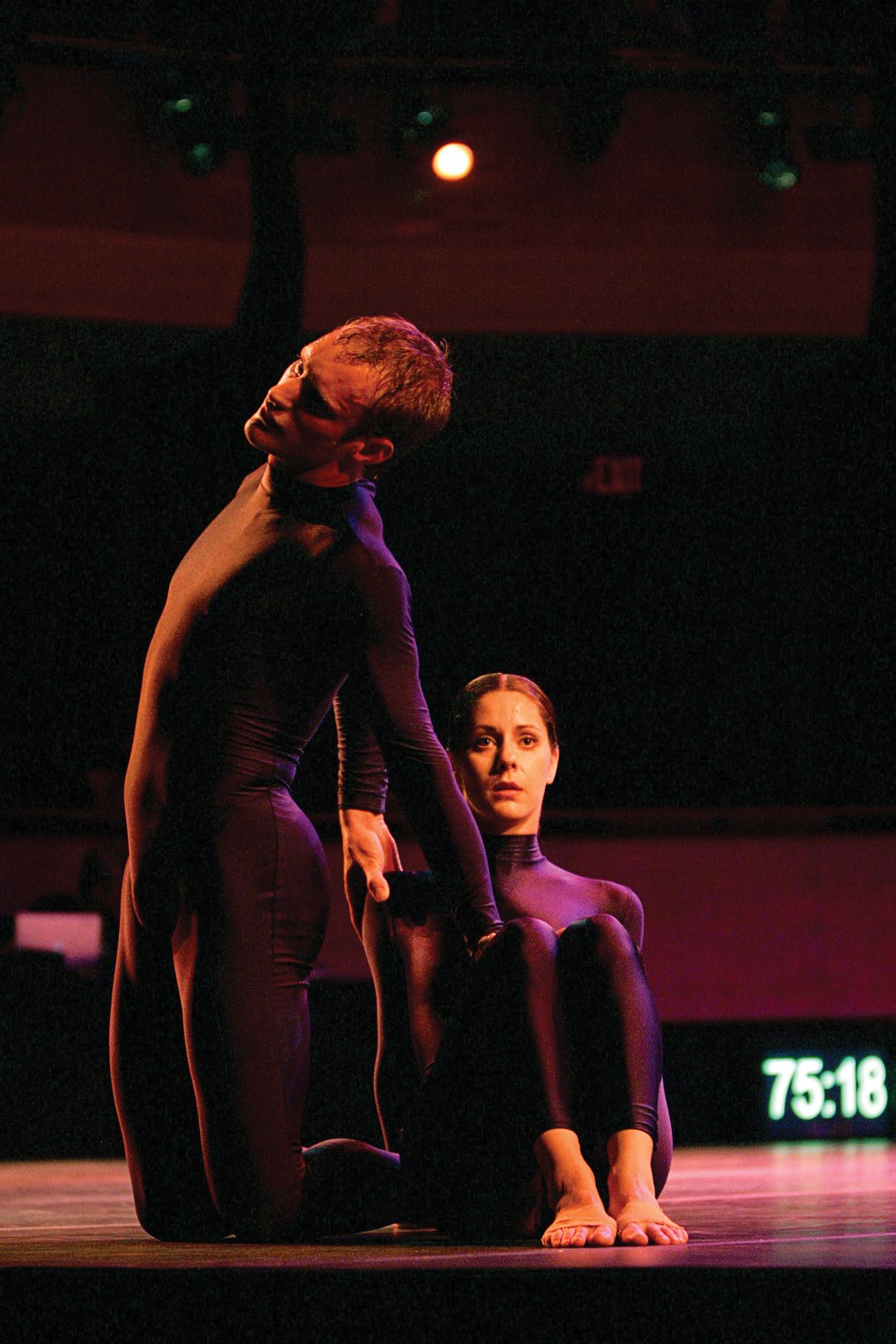 Jennifer Goggans in Merce Cunningham's "Ocean," with Daniel Squire (photo by Tony Dougherty, courtesy Merce Cunningham Trust)
Another trick to prevent cramping is to breathe deeply, like you would in yoga, so that your muscles get enough oxygen. "Use your breath and hold everything from your center," advises San Francisco Ballet corps de ballet dancer Madison Keesler, who had a tough time dancing in the corps of Swan Lake (for eight months straight!) when she was with English National Ballet. "Your feet and calves might be hurting, but you can't put your focus there. Hold your stomach and back so that you take some pressure off the lower legs."
Be Present
Each moment of stillness is different, depending on the choreography and what you're trying to convey. But the more present you are in the pose, the more successful it will be. Your commitment will keep your mind from wandering during the long holds, to a point where even a relentless itch will become secondary. "Someone who is waiting for a count is less interesting than someone who's holding still but their body is full of the galaxy," says Wilson. "That type of imagination really does cross over to an audience."
A version of this story appeared in the November 2017 issue of Dance Spirit with the title "Standing Still."
Sofia Wylie (photo by Dave Brewer, courtesy Disney Channel)
Last week Disney Channel star Sofia Wylie released a behind-the-scenes look at the making of her YouTube dance series. Along with some stellar dancing, the video shows the dance community featured in her "4k Dance Series" and the things they've learned from being a part of the dance project. And though the project features dance, we love that it also emphasizes supporting and building up fellow dancers.

Keep reading...
Show less
Popular
Apr. 02, 2018 10:14AM EST
Showstopper's National Finals Opening Number Performance
Showstopper has been making its impact on the dance world since 1978. Before then, dancers didn't have a stage to perform on, the opportunity to learn from peers, or a competitive outlet like most sports. Debbie Roberts recognized this missing piece in the dance community and that is how America's first and longest running dance competition, Showstopper, was born. Debbie taught dance for over 26 years and owned and operated her own dance studio for 20 years. She is now the owner and National Director of Showstopper, along side her husband, Dave Roberts. Dancer, teacher, business owner, author, and mother, Debbie has made dance her life's career.
Keep reading...
Show less
Apr. 17, 2018 10:27AM EST
Oh, hi, EVERYBODY. (Screenshots via YouTube)
Sometimes, you hear talk about an upcoming class video and it sounds too good to be real. Wait: Todrick Hall made a track featuring RuPaul, and then Todrick personally asked Brian Friedman to choreograph it, and then Brian got Maddie and Charlize and Jade and Kaycee and Sean and Gabe and Larsen and Bailey to come out for the class? I just...that can't be right. Can it?
It is right, friends. It is SO RIGHT.
Keep reading...
Show less
A-DAM RIP-PON [clap, clap, clap clap clap] (with his equally gorgeous partner Jenna Johnson; Craig Sjodin/ABC)
Team USA is totally taking over "Dancing with the Stars" this season! Casting for the upcoming athletes-only "DWTS" cycle, which kicks off April 30, was just announced. And the roster includes a whole bunch of Olympic favorites—including not one, not two, but three figure-skating standouts.
Keep reading...
Show less
Popular
Mar. 26, 2018 09:50AM EST
Winter is drawing to a close and you know what that means -- It's time to really kick this year into gear! Move U has done the research so you can find your best match, look good, and feel great this season with a twist unique to your team! Here are five looks to put your performance on the map in 2018.
Keep reading...
Show less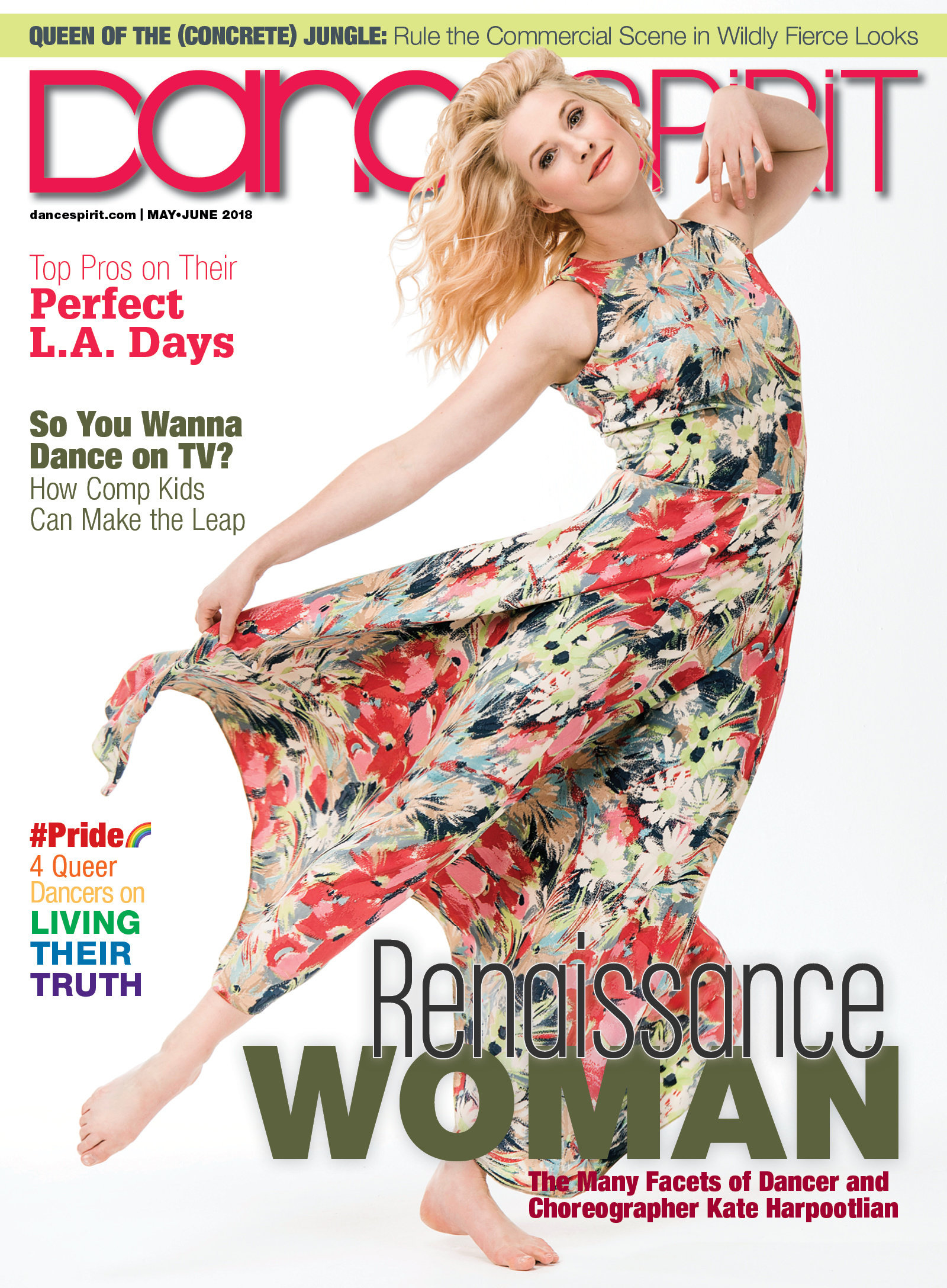 Get Dance Spirit in your inbox