Nov. 15, 2017 11:10AM EST
The Speed Trap: How To Stop Rushing the Music
Ray Batten (left) teaching class at Wagner Dance and Arts in Mesa, AZ (courtesy Batten)
You rehearse your group routine to perfection, but when the big performance rolls around, everyone turns into speed demons. It's the runaway-train effect—and it only takes one loud tapper, or zippy turner, to throw the whole group off the music.
While nerves and excitement are partly to blame, the ability to keep to tempo begins in the studio. A well-developed sense of musicality is your best defense against the dreaded speed trap. "When you understand how the steps fit with the music, going too fast won't just feel like rushing," says Jeremy Arnold, lecturer of tap at the University of Texas at Austin. "It'll feel wrong." How can dancers develop that musicality? It all starts with learning to listen.
---
Music Mindset
"Dancing is moving to music," says Ray Batten of Leggo Monsters Hip-Hop Crew. "If you don't listen to the music, you're just moving." One way to learn to really hear the music you're dancing to is by listening to the way your teacher counts it out. Like many hip-hop teachers and choreographers, Batten, who teaches at Tempe Dance Academy in Arizona, as well as three other studios, emphasizes different aspects of the music each time he counts through the movement. "I'll hum the beats out, beatbox, sing the lyrics, or a mixture of the three," he says. By paying attention to these counts, dancers can begin to hear the layers of the music. Whenever there's a subtle accent in the background, Batten recommends listening to the music on repeat, clapping out or humming that accent until it no longer seems so subtle.
Arnold stresses an understanding of note values. "When you think about tap in terms of musical notes—from the half note to the 32nd note—you build a rhythmic sensibility that'll counter a tendency to rush the beat," he says. To practice note value, Arnold suggests using a tried-and-true model that incorporates fruit names. Clapping a steady tempo with four beats per measure, count out quarter notes with pear, pear, pear, pear; eighth notes with apple, apple, apple, apple; triplets with pineapple, pineapple, pineapple, pineapple; and 16th notes with watermelon, watermelon, watermelon, watermelon.
Once you understand note value, you can practice the different rhythms by improvising across the floor, first using one specific note value, and then, changing values for subsequent trips. "Try to use only quarter notes, then eighth notes, triplets, etc.," Arnold says. "More advanced students can try 32nd notes, or a pattern of multiple note values."
By helping you hear and feel the pockets in the music where each movement sits, this musical training will make rushing feel counterintuitive.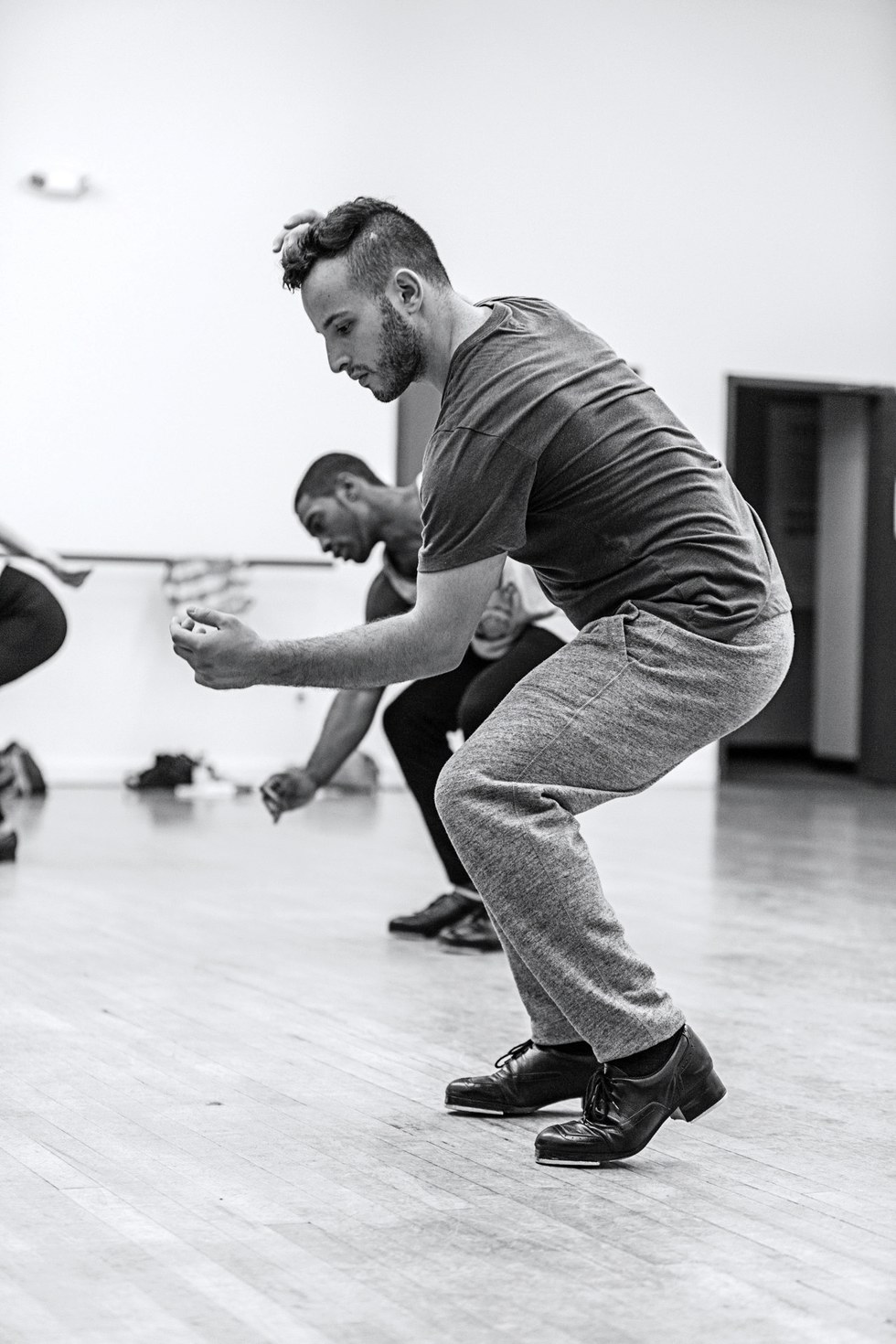 Jeremy Arnold in rehearsal for Tapestry Dance Company (photo by Ryan Montgomery, courtesy Arnold)
Communication Is Key
While internalizing the music with your movement in the studio is the best preventive strategy for rushing, things happen when you hit the stage. You no longer have the mirror or your teacher's counts to fall back on, and sometimes you'll even have to adjust to live musicians. Dana Benton, a principal dancer with Colorado Ballet and an instructor at the Colorado Ballet Academy, stresses that silent communication with your fellow dancers is crucial. "In a corps de ballet, the dancers in the front can usually see the conductor," she says. "As long as they can feel each other, the dancers behind them can follow their tempo." The same thing goes for pas de deux. "You and your partner need to be on the same page musically if the timing of the lifts is going to work out," she says.
It's best to go into a performance expecting the unexpected: music that is difficult to hear from stage, a fellow dancer whose nerves translate into speed, or in the case of live accompaniment, an unfamiliar tempo. "Even a Broadway company can get thrown off when a conductor decides to take it a bit faster during a matinee, for example," says Paige Chambers Rutsche, former Broadway dancer and Radio City Rockette and co-director of Chambers Performing Arts. To prepare for these situations, or for any other surprises that may surface during a performance, Rutsche teaches her students at Chambers Performing Arts to be aware of their surroundings, and to feed off one another's rhythm and energy. "It's about finding that collective feeling," she says. "And there's nothing wrong with having a leader, typically a really strong dancer who feels the rhythm, to pull the group back when they start to rush."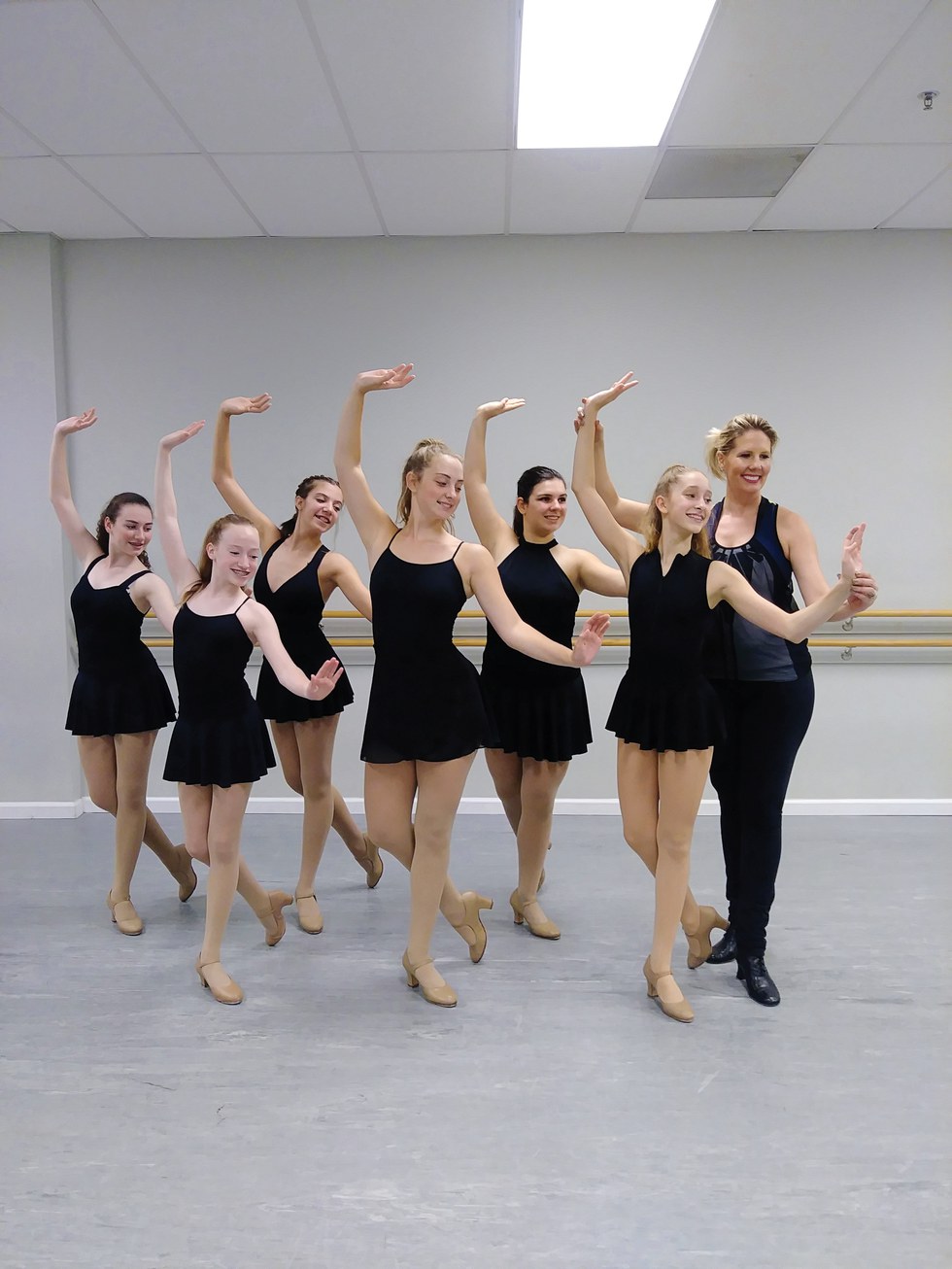 Paige Chambers Rutsche teaching her students (courtesy Rutsche)
A Ca-Slow Down
In an a cappella piece, there's no guiding downbeat, and no pockets of music to sit in. "You're the music that isn't there, and you have to feel the rhythmic structure from your core," Rutsche says. It may seem freeing to be able to create your own tempo, but an audience can notice when shifts happen unintentionally. "I see it a lot as a judge," says Arnold, who is also on faculty at Revive Dance Convention. "When a tempo shift isn't a clear and active choice, it registers as an unfolding disaster, and it can make an audience cringe."
Arnold admits that the ability to internalize time is an advanced skill, and he recommends that dancers practice with a metronome. "The more you work with it, the more you'll be able to sense what different beats per minute feel like," he says. While it may be tempting to concentrate on the faster end of the tempo spectrum, push yourself to practice with uncomfortably slow speeds. "If a dancer can maintain a consistent, slow tempo in the absence of music, I find that far more impressive than a slew of tricks or a super-fast routine," he says.
No matter how much individual work you do, a group a cappella routine isn't going to work if you can't find a collective internal rhythm. Rutsche stresses taking the time as a group to discuss and understand the rhythmic arc of the piece. "Be sure to get clear communication from your choreographer about moments that are slow and moments that are fast," she says. And then, it all comes down to repetition. "Drill it again and again to collectively internalize your choreographer's rhythmic intentions," she says.
A version of this story appeared in the December 2017 issue of Dance Spirit with the title "The Speed Trap."
Dancer to Dancer
Mar. 20, 2019 04:56PM EST
Ballet Academy East student Stella MacDonald (Erin Baiano)
It's the rite of passage every young ballerina dreams of: getting her first pair of pointe shoes. But it's important to remember that a lot (and we mean a lot) of hard work and technique-honing leads up to this moment—not to mention getting the green light from your teacher. Dance Spirit turned to Jenna Lavin, former Miami City Ballet dancer and principal of the pre-professional division at Ballet Academy East in NYC, for three exercises meant to strengthen, train, and stabilize the muscles you'll be using once you're on pointe.
Fitness
Mar. 06, 2019 11:29AM EST
Rochelle Mendoza-Axle, Courtesy Stiskin
In today's dance world, versatility is key. It's not enough to be a master of one style—even when they specialize in one area, dancers are frequently asked to fuse multiple genres, or step out of their comfort zone for specific projects. With their wide variety of summer programs, Joffrey Ballet School aims to prepare dancers for the demands of a professional career. We asked five faculty members to share how they do this:
Sponsored by Joffrey Ballet School
Mar. 19, 2019 04:50PM EST
Kendra Oyesanya, Marcus Mitchell, and Carlito Olivero (courtesy YouTube/Lionsgate)
Happy "Step Up: High Water" eve, y'all! Everyone's favorite internet dance show makes its triumphant Season 2 return tomorrow, March 20th, on YouTube. In anticipation of the premiere, we turned to Kendra Oyesanya (Poppy), Marcus Mitchell (Dondre), and Carlito Olivero (Davis) for the scoop on all things "Step Up"—from on-set shenanigans, to embarrassing stories, to scenes to watch out for this season (hint: Episode 2's dance battle, and the season finale's final number!).
Dance News
Mar. 19, 2019 01:00PM EST
The cast of "Oklahoma!" during last year's run at St. Ann's Warehouse (Teddy Wolff, courtesy DKC/O&M)
You may think you know Oklahoma!, the classic Rodgers and Hammerstein musical that made history when it first opened in 1943 and is best known for Agnes de Mille's groundbreaking dream ballet. But the latest Broadway iteration of the musical isn't your average trip to the frontier. Opening April 7, the revival features new choreography by Mark Morris alum John Heginbotham, and swaps the traditional windswept-prairie set and full orchestra for an intimate, minimalistic staging and a bluegrass band. Coming fresh off an acclaimed run at St. Ann's Warehouse in Brooklyn, the daring, unconventional production is sure to turn heads when it begins previews on Broadway tonight. Dance Spirit caught up with Heginbotham to get all the details on the dancing, and what it was like choreographing his first Broadway show.
Trending-posts
Mar. 19, 2019 10:00AM EST
BLACKPINK has worked with A-list choreographers, including Kyle Hanagami and Parris Goebel.
K-pop is in the middle of a stateside takeover. South Korea's boy bands and girl groups can always be counted on to produce catchy, upbeat songs—and, most importantly for us dance fans, to feature colorful choreography prominently in their music videos. Over the past few years, the K-pop machine has been churning out a seemingly endless stream of talented groups with choreography worth watching on repeat, and some of them are starting to make names for themselves in the U.S. Check out our list of the dancetastic K-pop bands you need to know.

Commercial
Mar. 18, 2019 11:14AM EST
Briar Nolet did NOT come to play. (NBC)
Have you ever felt that the Duels round on NBC's "World of Dance" was a bit unfair? During the Duels, each act's success hinges not on how objectively good they are, but on how good they are relative to a single challenger. Which means that mediocre acts can move forward if they best slightly-more-mediocre opponents, while frontrunners who're given tougher matchups end up knocked out.
Newly-engaged goddess J.Lo and her team get that. Which is why, last night, "WOD" introduced a twist designed to make the Duels more just: a redemption round. Formerly, five acts were eliminated in each division during the Duels. But from here out, the two highest scorers of those five will go head-to-head to earn a wild card spot. And that made last night's Upper Division Duels significantly more exciting.
Who just dueled it? Who was redeemed? Who made Derek Hough scream like a teenage girl? Onward to the episode highlights!
Dance on TV
Mar. 18, 2019 10:43AM EST
American Ballet Theatre principal Devon Teuscher (left) meeting with Bloch owner David Fox (right) in NYC. (Marius Bugge for Bloch)
For professional ballet dancers, the search for the perfect pointe shoe is a lifelong quest. Even the smallest adjustment in manufacturing can make the difference between a shoe that allows a ballerina to soar and a shoe that detracts from her dancing. So what goes into creating the perfect fit? A lot of hard work, patience, and masterful attention to detail. We got the inside scoop on how a Bloch pointe shoe is made from beginning to end, and went inside one of American Ballet Theatre principal Devon Teuscher's touch-up fittings with Bloch owner David Fox in NYC.
Ballet
Mar. 15, 2019 01:03PM EST
Martina Sandionigi as Giselle
We updated your favorite story-ballet tutus with modern details that'll please any 21st-century prima ballerina. Who needs a cavalier, anyway?
Dance Fashion
Get Dance Spirit in your inbox
Feb. 22, 2019 10:53AM EST
Mar. 20, 2019 04:56PM EST
Ballet Academy East student Stella MacDonald (Erin Baiano)
It's the rite of passage every young ballerina dreams of: getting her first pair of pointe shoes. But it's important to remember that a lot (and we mean a lot) of hard work and technique-honing leads up to this moment—not to mention getting the green light from your teacher. Dance Spirit turned to Jenna Lavin, former Miami City Ballet dancer and principal of the pre-professional division at Ballet Academy East in NYC, for three exercises meant to strengthen, train, and stabilize the muscles you'll be using once you're on pointe.
Fitness
Aug. 30, 2018 09:52AM EST
The ultimate dance mom: Debbie Allen with her daughter, Vivian Nixon (courtesy Nixon)
Dance moms: Where would we be without them? We all know how much support and help they give us—in addition to loads of love. Here are 10 reasons real-life dance moms are undeniably the best.
Dancer to Dancer
Mar. 08, 2019 01:15PM EST
Photo by Samantha Little
It's the fall of 2018. As the Brigham Young University Cougarettes step onto the field at LaVell Edwards stadium in Provo, UT, a crowd of nearly 64 thousand erupts into cheers. The dancers take their places, and a feeling of anticipation hangs in the air: Their reputation precedes them.
The music—Ciara's banger "Level Up"—begins, and unbelievable precision ensues. Eighteen dancers attack the highly technical choreography, which nods at viral social-dance sensations and continuously builds in energy. The school's mascot, Cosmo the Cougar, joins the team on the field, and the audience goes wild. As the piece ends, the sound in the stadium is deafening. The 16-time national-title-winning group has proved once again why they're the standard for college dance team success—they're just that good.
Dance Team
Mar. 15, 2019 11:33AM EST
Paloma Garcia-Lee (center, in gold) and the cast of "Fosse/Verdon" (FX)
The extraordinary Paloma Garcia-Lee, who's danced in no fewer than five Broadway shows, can adapt to any choreographer's style. And before heading back to Broadway this spring in Moulin Rouge! (choreographed by Sonya Tayeh), she's tackling the work of one of the most iconic choreographers of all time: Bob Fosse.
Garcia-Lee plays Adrienne in the new FX limited series "Fosse/Verdon," premiering April 9, which follows the romantic and creative relationship of Fosse (Sam Rockwell) and his muse Gwen Verdon (Michelle Williams). Hamilton's Lin-Manuel Miranda, Thomas Kail, Steve Levenson, and Andy Blankenbuehler serve as executive producers, with Kail directing and Blankenbuehler choreographing.
With the exception of performing on The Tony Awards, "Fosse/Verdon" marks Garcia-Lee's TV debut. "I'm really setting my sights on more on-camera work," she says. "Getting the chance to flex my muscles as an actress in this different medium, but still have the dance part, is all really exciting." (She's got real acting chops, too: While a student at the North Carolina School of the Arts, she actually quit dance briefly to study acting instead.)
Dance Spirit spoke to Garcia-Lee about "Fosse/Verdon"'s epic final callback, how she got cast, and the transition from stage to screen.
Dance on TV