How to Take Care of Your Feet When You Aren't Dancing
Thinkstock
Let's face it, no matter how many precautions you take in the dance studio each day, your feet are inevitably going to get trashed. Between pointe shoes, petit/grand allegro, and stretching beyond what is natural, those puppies take a genuine beating. All that impact may tempt you to ask, "Is there any hope for performers to avoid injuries at all?" As it turns out, yes! According to Dr. Bryan Hersh, DPM, of the Center for Pediatric Medicine in Chicago, IL, dancers can seriously reduce the likelihood of injury by taking care of their feet outside of the studio. Read on for his tips on how to keep your feet safe and strong.
---
1. Wear appropriate shoes.
Dr. Hersh, who's worked with performers from Joffrey Ballet and Hubbard Street Dance Chicago, recommends you wear shoes with supportive arches, a stable heel counter, and a wide toe box. Good tennis shoes are likely to have all of these things, and can help you keep your feet safe from needless, daily wear and tear.
"These shoes can get the pressure off of dancers feet the rest of the day, in a way that will make a huge difference for them," Hersh says.
If you have to wear high heels for any reason, try to wear platforms or wedges that aren't above two inches. Finally, limit how much you wear them by wearing tennis shoes to and from your destinations.
2. Talk to your podiatrist about orthotics.
Although orthotics can't be worn inside your dance shoes, Hersh says wearing orthotics outside of rehearsal can support a wide range of dance related feet problems in class.
"Whether dancers over pronate (flattened-out feet) or have a high cavus (high-arched feet), I give them orthotics to bring their feet back into a neutral position with the most support when they aren't dancing."
Talk with your doctor about whether or not orthotics would be appropriate for your feet and their particular ailments.
3. Do strengthening exercises.
According to Dr. Hersh, you should never discount the simple stretch and strengthening exercises most dancers are familiar with. Be consistent with them in order to keep the stability and strength in your feet that help prevent injuries. Here's a reminder of what some of those are:
Basic calf muscle stretch
Push against a wall with one leg bent forward and the other leg lengthened behind you with both heels completely on the floor.
Resistance band exercises
To work those small intrinsic foot muscles, wrap the band around your foot and pull back on the ends of the band with both arms so that your toes face the sky. Move through half point, full point, half point, and flex for multiple reps. Then move your ankle between a bevel and a sickle for multiple reps as you pull the band in the opposite direction of where your feet are working.

Towel grabs
Place a towel on the floor in front of you, and use your toes to repeatedly crunch and grip it toward you. Continue doing this until the towel is entirely bunched. This exercise will be helpful in strengthening your big toe. This is important as it bears much of your weight as you perform.
4. Talk to your doctors immediately after the onset of pain.
Because dance is such a competitive field, fear of falling behind due to injury can tempt some performers to dance at times when it's dangerous for the health of their bodies. Dr. Hersh warns against this practice, and encourages dancers to be forthright with their doctors, teachers, and parents about any pain they experience.
"Soreness is normal, but pain is not," Hersh says. "You should not be afraid to tell someone, and get your injuries treated appropriately before they become a bigger problem."
Patients often come to Hersh months after the initial pain is experienced. Much of the time, the injury would have been less severe and easier to treat had the dancer expressed their concerns earlier on.
Taking care of your feet outside of the classroom can make a big difference in your longevity as a performer. Be kind to your body, and take this advice from Dr. Hersh.
American Ballet Theatre principal dancers Sarah Lane and Daniil Simkin (courtesy ABT)
Last May, we told you about a special exhibition of the Mark Ryden artwork that sparked Alexei Ratmansky's sweet-treat of a ballet, Whipped Cream. Well, hold on to your tiaras, bunheads, because there's a brand-new exhibit featuring actual costumes from this megahit production. The Nutcracker's Land of Sweets has some serious competition!
Keep reading...
Show less
via @kyle_vanny on Instagram competing on World Of Dance
Kyle Van Newkirk is a tap dancer you probably remember from the premiere season of NBC's World of Dance. In case you missed it, he is also one of Showstopper's incredible convention teachers. What makes Kyle stand apart from some of today's other incredible tappers? He isn't afraid to change what tap means to his audience and even himself. This modern view of tap dancing is important because it shows us that tap dancers are just as versatile and dynamic as dancers of any other genre. We sat down with Kyle to get his advice on bringing tap dancing into the 21st century.
Keep reading...
Show less
University of Minnesota Dance Team (courtesy University of Minnesota)
They say there's no "I" in "team"—and nowhere is that truer than the world of college dance teams, where precision reigns, uniformity is key, and a single misstep from any given "I" can cost a group a championship trophy. So it's unsurprising that securing a spot on one of the best dance teams in the country is no easy feat.
Members of these highly athletic teams rehearse for hours every week—on top of academic classes and commitments—and perform at football and basketball games, annual concerts, and nationally televised competitions (hi, ESPN). And "no I" rule notwithstanding, each of these top teams is made up of highly trained, highly technical, highly hard-core individuals, who come together to create a ready-for-victory pack.
These six teams aren't one-off success stories—they're consistently strong, and earn the top spots at major competitions like UDA and NDA nearly every year. Up for the challenge? Here's what to know before you go to auditions.
Keep reading...
Show less
How To
Oct. 01, 2010 04:55PM EST
(Nathan Sayers)
Turnout—a combination of rotational flexibility and the strength to properly hold that rotation—is the foundation of ballet. But it's also a source of frustration for many dancers. After all, not everyone (actually, hardly anyone) is born with 180-degree rotation. "When I first started dancing, my hip flexors were strong, but I was forcing my turnout without using the right muscles," remembers Amanda Cobb, a former dancer with The Washington Ballet.
The good news is that it's possible to both improve your turnout and to dance beautifully with less-than-perfect rotation. But there's a lot of misinformation out there about how turnout works and why it's important. To help separate fact from fiction, DS asked the experts to disprove six turnout myths.
Keep reading...
Show less
Lol, same. (Screenshot via YouTube)
Picture this: You've scored tickets to Ellen DeGeneres' hit show, "Ellen." The day has come, the show is as hysterical as ever, Ellen is debating the biggest hot-button issue since the blue/black or white/gold dress, "Laurel vs. Yanny" (side note: it's LAUREL, people), and tWitch is killing it over at the DJ booth, as always. Ellen decides it's the perfect time to single out an audience member and, lo and behold, that person is "SYTYCD" champ ( and December 2017 cover star!) Lex Ishimoto.
Keep reading...
Show less
May. 16, 2018 02:26PM EST
Ema Peter
The Glorya Kaufman International Dance Center is the 54,000 square foot home of the USC Glorya Kaufman School of Dance, one of the largest facilities dedicated to dance on a private university campus. Designed for their innovative new curriculum, that supports a range of dance styles, the school's staff designated Harlequin to provide wall-to-wall flooring for the large 3,500 square foot Performance Studio as well as five dance studios in their new state-of-the-art building.
Keep reading...
Show less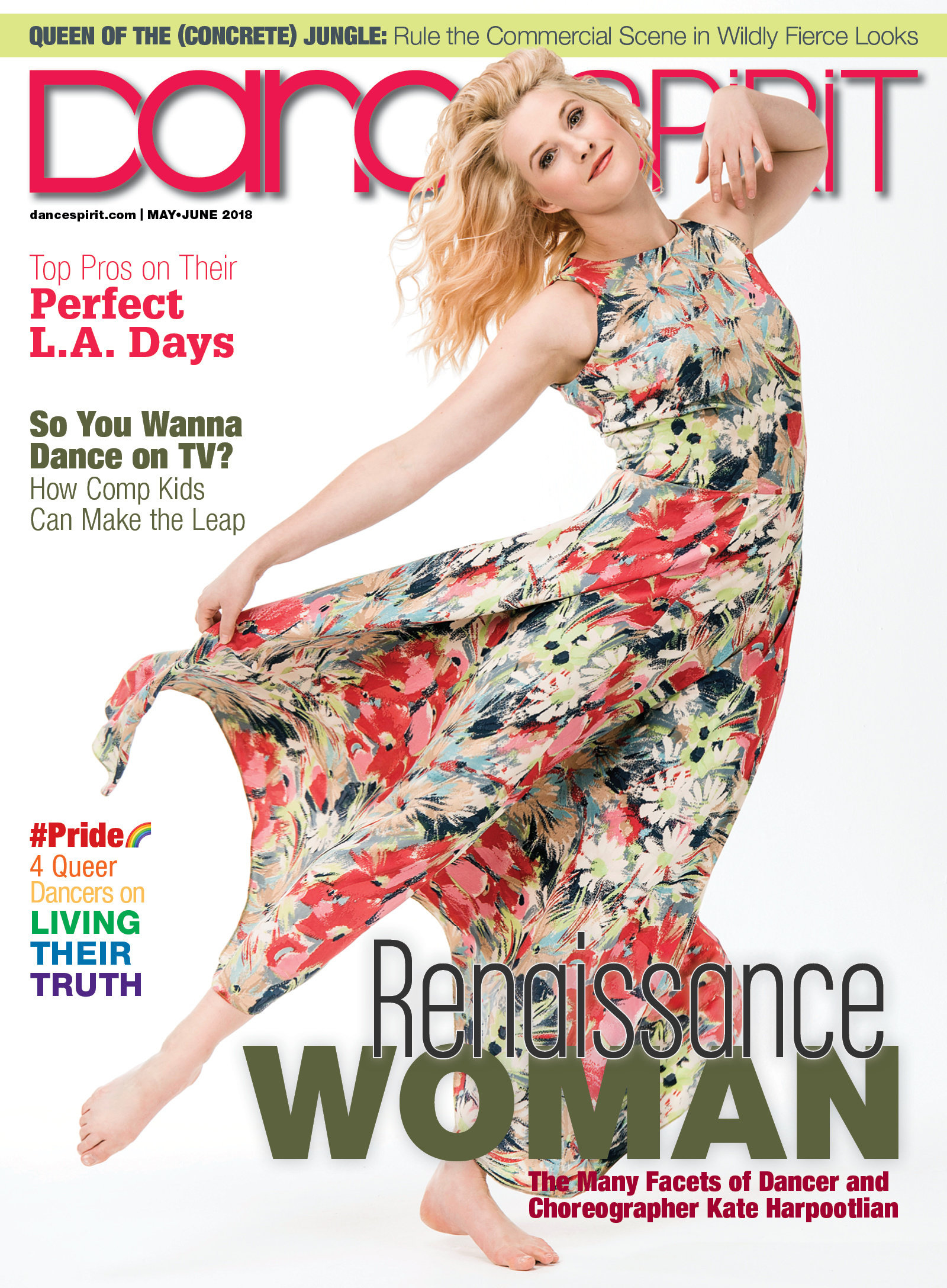 Get Dance Spirit in your inbox