Dec. 11, 2012 01:30PM EST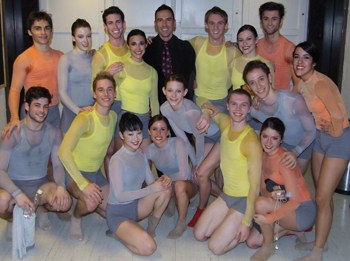 Kyle Robinson (bottom row, left) and Brandon Cournay (top row, fourth from right) with their Juilliard class
Brandon Cournay and Kyle Robinson are pretty similar. They both grew up in small towns, moved to NYC to attend The Juilliard School, received their BFAs in Dance in 2009 and went on to have majorly successful dance careers. They also both learned early on that being a male dancer comes with a lot of stereotypes. 
Brandon is gay. Kyle is straight. Even though that difference hasn't changed the way they dance, it's affected their lives as dancers. Their stories don't represent every gay or straight male dancer, but they're real. And Brandon and Kyle agreed to share them with DS.
"I'm Gay" —Brandon Cournay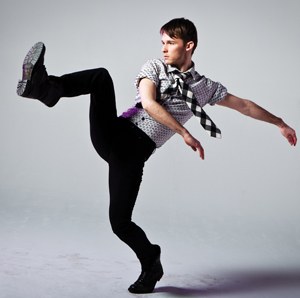 Brandon for KEIGWIN + COMPANY (Matt Murphy)
As soon as I bought my first pair of Capezio jazz sneakers, I was hooked on dance. I was 10 years old, and I'd wear my dance shoes to school instead of tennis shoes. Yes, I was kind of a weird kid, but I'd found something to look forward to every day.
School was terrible for me. I was constantly being pushed into lockers, and kids would call me "gay" just because I was a dancer. I felt very alone. But I never tried to defend myself, and I didn't tell anyone about the bullying—not even my parents. I was called gay so frequently I started to wonder, "Am I gay?" when I was still too young to comprehend what that actually meant. I didn't know anyone in small-town Walled Lake, MI, who was gay and could have told me it was OK.
Every day at four o'clock, I found solace in dance class. I was lucky to go to a studio with a lot of boys. It was unspoken, but we knew we were all going through the same thing at school, and that bonded us.
For the last three years of high school, I had a girlfriend. It's hard to explain: Looking back, I knew at that point that I was gay. But at the time, I didn't realize it. I was too afraid and embarrassed to acknowledge it, even to myself.
My girlfriend and I were still dating when I started college at The Juilliard School in NYC. Suddenly, I was meeting people my age and older who were openly gay and totally cool with it. But I was confused through my whole freshman year. I was constantly worried I wasn't acting straight enough. I was going crazy thinking, What do I do? What is this feeling?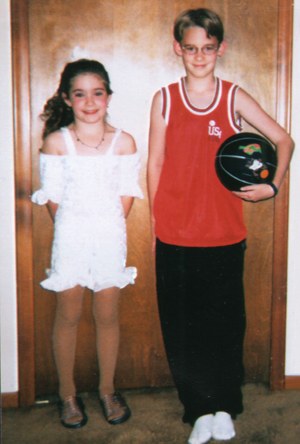 Brandon, with his sister, in his first dance costume
I had a breakthrough when I went back to Michigan the summer after my freshman year. I was acting like a different person back home than I was at school, and I finally understood why. I realized and accepted who I was—a gay man. I felt like a new person, starting over at the age of 19. In a way, it was terrifying.
I never officially came out to my family or friends. There was no big announcement—I just stopped hiding it. When I talked about it with my mom, she just said, "I love you. You're amazing." To this day, I still haven't come out to my extended family. I feel like I don't have to. I know they know, but I don't want it to define their perception of me.
After college, I stayed in NYC to audition for roles in both commercial and concert dance. I performed in the Radio City Christmas Spectacular and did some gigs with Mark Morris. Then Larry Keigwin—who'd choreographed Runaway on my class during my senior year—emailed to say his company was doing Runaway again and he needed extra dancers. I took the job, and the next season I officially joined KEIGWIN + COMPANY. Larry's work expands what it means to be a male dancer. For example, Mattress Suite features a love triangle between three men. This company feels like home. These dancers are my family.
As a whole, the dance community in NYC is an open one. But that doesn't mean I don't struggle with the stereotypes that come with being a gay male dancer. There's this idea that we're all promiscuous and flamboyant. Sure, some men act like that, but not all of them.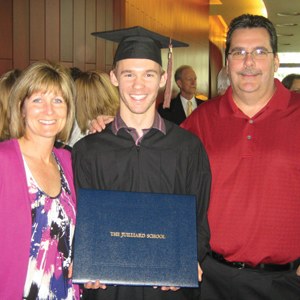 Brandon with his parents at his Juilliard graduation
When I go back home to Michigan, I'm still self-conscious about how I dress and act. I don't wear skinny jeans to the mall. I'd rather put on a sweatshirt and "mom jeans" to avoid being called names. In August, I ran into someone from high school in my hometown. I said, "How are you?" and he said, "What's up, homo?" That still hurts.
Luckily, experiences like that are rare these days. One of my closest friends, who's straight, just visited me for my birthday, and I'm going to another friend's wedding next week—my first gay wedding. My sister recently started a serious relationship, which sparked a conversation between my mom and me. She asked, "Why don't you ever talk to me about your relationships?" I was like, "I didn't think you wanted to know!" She surprised me. When I meet the right person, I'll bring him home to meet my parents.
Overall, I don't think being gay has affected me professionally in a negative way or a positive way. Gay or straight, we're all just dancers.
"I'm Straight" —Kyle Robinson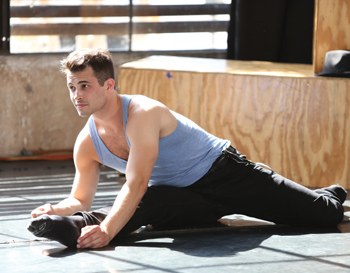 Kyle Robinson (Tyler Golden/Oxygen Media)
I loved acting as a kid, especially musical theater, so when I was 10 my mom suggested I join my sister at the dance studio. My dad would've liked me to stick to baseball and football. But as soon as I took my first dance class, sports became secondary. It took about a year before my dad really started to understand and accept my dancing. By the time I stopped playing sports altogether to focus on dance, my parents had become my biggest fans.
When anyone gave me a hard time at school for being a dancer, I had ways of dealing with it. If someone called me names like "gay" or "fairy," I'd say, "Is it gay that I'm hanging out with lots of hot girls after school?" That would shut them up.
I had my first girlfriend at 14—a dancer at my studio. But I'd never really given my sexuality much thought. My hometown, Duxbury, MA, was conservative. Things like that just weren't discussed.
It wasn't until starting college at The Juilliard School that I really thought about what it meant to be gay or straight. I felt surrounded by gay men. I think I was one of two straight men in my class and one of five in the division. I suddenly had friends who were questioning their sexualities or coming out for the first time.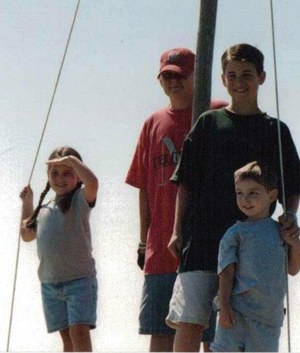 Kyle (third from left) with his family
It felt like there was a big gay party I wasn't invited to. I even wondered, "Am I gay because I dance? Or because I can admit that that's a good-looking guy?" It didn't take long to realize that, while I loved my male friends, I wasn't interested in them in a romantic way. At first, I was uncomfortable changing in front of gay guys in the dressing room. But once I got to know the people I was dancing with, there was so much mutual respect that it wasn't a problem. They knew I was straight, and we wouldn't make a big deal out of each other's sexualities.
I realized how far I'd come when some friends from home visited me in NYC. I brought them to a party with all my dancer friends. In the elevator, I warned them, "No matter what, don't say anything like 'homo' or 'fairy' at this party." We stepped off the elevator, and the first person we saw was one of my gay friends—this tall, gorgeous black man—wearing a tiara and running toward me screaming, "Kyyyle!" My friends from home were in shock. But I loved how out and free people were at Juilliard. I'm glad they didn't feel the need to conceal it or feel guilty about it.
Still, I found myself hanging out with actors rather than dancers at school. There were more straight guys in that major, and we'd watch sports and meet girls together. I don't think I realized exactly what I was doing, but there were definitely times I went out of my way to "prove" I was straight. The side effect was that I was a little promiscuous with the ladies.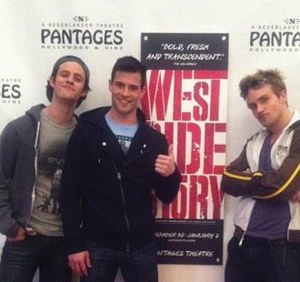 Kyle (second from left) at the L.A. premiere of West Side Story
Since graduation, I've danced with Aszure & Artists and Lar Lubovitch Dance Company, traveled with the first national tour of West Side Story and starred on the reality show "All the Right Moves" with Shaping Sound. I've seen how quickly people judge professional  dancers. I'm told all the time I look more like a hockey player that a dancer, which I think stops people from automatically assuming I'm gay. Still, after I tell people what I do for a living, they'll ask, "So are you gay or straight?" Nowadays it doesn't hurt my feelings.
While filming "ATRM," we had two straight guys (Teddy Forance and me) and two gay guys (Travis Wall and Nick Lazzarini) living in one house, and the producers had us talk about sexuality to no end. I'm pretty matter-of-fact about it, but I have to admit, discussing it constantly made me a little uncomfortable—mostly because it really wasn't an issue for us. I loved living with those boys. Yes, Nick liked to get a little frisky with me; he's definitely grabbed my butt once or twice. But a firm punch to the arm usually dissuades him from doing it again. I know he's doing it in a playful way. And frankly, I find it flattering that he spends so much time throwing admiration my way.
My advice for any boy who loves to dance, regardless of whether he's gay or straight, is to follow his passion. And definitely don't let other people rain on your parade.
Dancer to Dancer
Apr. 19, 2019 03:37PM EST
Gabriel Figueredo in a variation from Raymonda. VAM Productions, Courtesy YAGP.
This week, over 1,000 young hopefuls gathered in New York City for the Youth America Grand Prix finals, giving them the chance to compete for scholarships and contracts to some of the world's top ballet schools and companies. Roughly 85 dancers made it to the final round at Lincoln Center's David H. Koch Theater on Wednesday. Today, the 20th anniversary of YAGP came to a close at the competition's awards ceremony. Read on to find out who won!

Dance News
Apr. 19, 2019 07:00AM EST
After a string of ballet-company rejections, Jennifer Sydor (here in Laura Peterson's "Failure") found success in other areas of the dance world. (Stephen Delas Heras, courtesy Jennifer Sydor)
In her senior year at Butler University, Jennifer Sydor auditioned for more than a dozen regional ballet companies—and got a string of "no, thank you" responses. "I have an athletic build, and my movement quality isn't the typical ballet aesthetic," Sydor says. "But I'd been laser-focused on ballet. When I didn't get a ballet contract, I was heartbroken."
Her one job offer came from Kim Robards Dance, a small modern company based in Aurora, CO. After attending KRD's summer intensive, Sydor ended up accepting a yearlong position with the troupe. "I was relieved and happy to begin my career," she says. She's been working as a contemporary dancer ever since.
In the dance world, rejection is part of the package. That doesn't make it any more pleasant. But whether you didn't get the Nutcracker role of your dreams or you weren't picked for a job despite feeling like you aced the audition, you can emerge from even the most gut-wrenching "no" smarter and stronger.
Mind
Apr. 18, 2019 07:13PM EST
Ballet West principal Beckanne Sisk as Kitri (Luke Isley, courtesy Ballet West)
Guess who's baaaaack?! Your resident Dance Spirit astrologers! And on the eve of the Youth America Grand Prix awards ceremony, we thought it was the perfect time to pair each zodiac sign with a variation commonly seen during the competition. After many painstaking hours spent researching, consulting the stars, and staring wistfully into the sky, we compiled our data and present you with the definitive list of each star sign as a YAGP variation! As we said last time, don't @ us if you're not happy with your pairing—the stars don't lie, baby!
Dancer to Dancer