What It Takes to Be a Musical's Dance Captain
The cast of Kinky Boots (photo by Matthew Murphy, courtesy DKC/O&M)
Once a Broadway show officially opens, most choreographers direct their attention to a new project, and in high school productions, frequently the choreographer can't be present during the entire rehearsal process. That's where the dance captain comes in: Their job is to maintain the integrity of a show's choreo as originally set by the choreographer. "I'm always very careful about who our dance captains are because they're representing me," says choreographer and director Rob Marshall, known for the 2014 Cabaret revival and the 2002 Chicago film.
Working as a dance captain can seriously pay off career-wise. "It's a wonderful job because you learn how to run a show after the director and choreographer leave," Marshall says. "It's a really important position, especially if you're interested in something further in the directorial or choreographic world."
So, what are the steps to dance captain success? We asked pros from across Broadway to weigh in.
---
Becoming a Dance Captain
In order to become a dance captain, first you'll have to stand out as a dancer. Prove your worth by performing at a high level in multiple shows with the same choreographer. Allow your relationship with them to grow over time—don't try to force anything.
You can also take advantage of specific programs that allow dance captains to flourish naturally, like those at the Professional Performing Arts School in NYC. "We have a number of performance opportunities that offer the possibility to assist choreographers in a dance captain capacity," says Chuck Vassallo, director of performing arts at PPAS.
Sometimes, though, opportunity doesn't come knocking unless you speak up. That was the case for Nathan Peck, who was made dance captain in La Cage aux Folles on Broadway after he straight-up asked for the job. "After our first big dance rehearsal, Jerry Mitchell, the choreographer, called me over and said, 'I hear you would like to be my dance captain,' " Peck says. The two developed a professional friendship. Peck is now dance captain for Mitchell's newest Broadway musical, Kinky Boots. "A lot of it was based on my prior relationship with him. When you're in the business for a while, it's nice to make those connections," Peck says.
Pay Attention
Being a dance captain is a difficult, multifaceted job. The role requires taking extensive notes and giving feedback to the other performers. It also involves making sure the spacing and intent of the movement is still intact, as well as fielding concerns from company members. And when a newcomer joins the production, the dance captain is responsible for teaching the dancer the choreography. In some shows, the dance captain needs to know 30 dancers' parts inside and out, in addition to their own role.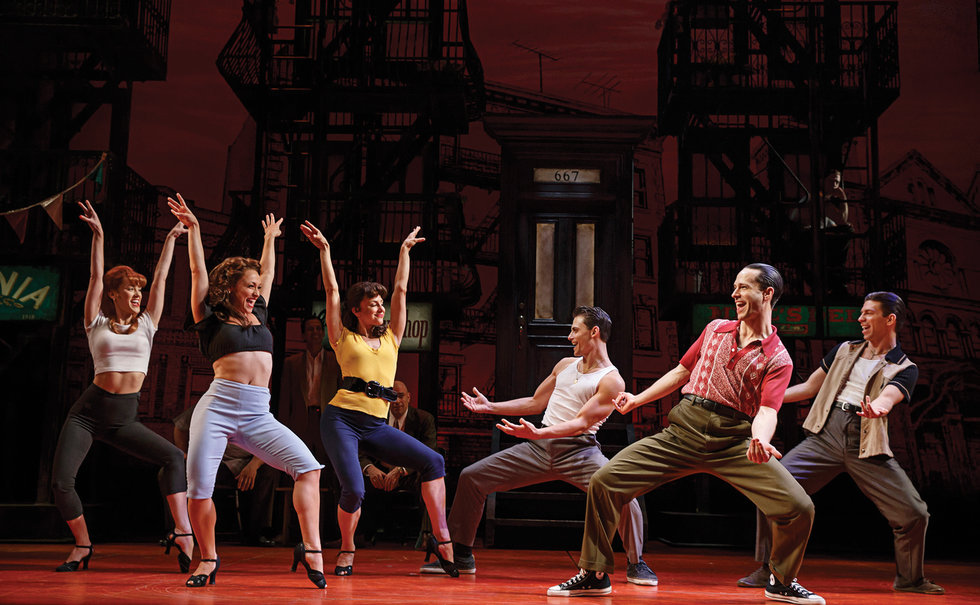 Dance captain Brittany Conigatti (second from left) with the cast of "A Bronx Tale" (photo by Joan Marcus, courtesy Boneau/Bryan-Brown)
All of this means a dance captain has to be especially detail-oriented. "You have to watch how the choreographer sets the choreography and then be able to share that information with other castmates," explains Peck. "I usually go through the show, track every move, and write it all down."
Think Like a Choreographer
To do the job efficiently, a dance captain also has to be able to speak to the cast the same way a choreographer does. "It's like being a follower and a leader," Marshall says. "You have to follow what a choreographer is doing, and then you have to take over. So, it's crucial you speak the same language as the choreographer." Pay attention to the choreographer's tone and the words he uses to describe movements and steps, which will help you articulate direction to other members in the company.
But be careful not to scrutinize everything all the time—doing so could lead to micromanagement of the cast. "If you watch something too much, your perspective becomes skewed," Peck says. At first, he used to watch performances of Kinky Boots regularly, but now that the show's been running a few years, he takes notes on staging only once a week so it doesn't lead to constant nitpicking.
Be Confident, Not Bossy
Being appointed dance captain doesn't mean you're suddenly everyone's boss. And while it's flattering to be asked to lead, don't use your new job as a power trip. "Rather than saying 'You've been doing this step wrong,' I try to frame it as, 'You bring a lot of energy to the show. But there are some things you're doing that are detracting from the original choreography, so let's work on this,' " says Brittany Conigatti, the dance captain for A Bronx Tale.
Be respectful of your colleagues' feelings. "You need to make sure to show the cast that your concerns are their concerns, so they can respect you while you lead," says Robert Fairchild, who starred in An American in Paris. Understand how different actors take feedback, and be aware of how they might perceive your notes. "People take criticism in different ways, and you have to navigate how they'll respond," Peck says. "It's an art to gently guide performers into doing what you want them to do."
A version of this story appeared in the February 2018 issue of Dance Spirit with the title "The Dance Captain Playbook."
Fraser dancing in the NYC Subway (photo by Underground NYC, courtesy Fraser)
Paige Fraser has performed on world-class stages and alongside Beyoncé—yet some of her most meaningful dance moments happened in tiny classrooms on a small island 1,000 miles from America. This past spring, Fraser, who's danced with Ailey II and is a founding member of Visceral Dance Chicago, teamed up with the non-profit Milk Carton on a String to bring dance to underprivileged children in Haiti. Fraser taught daily ballet and modern dance classes and used YouTube videos and social media to introduce the students to other aspects of dance they hadn't been exposed to.
Now, Fraser plans to continue to use dance to give back through her own newly-funded non-profit, The Paige Fraser Foundation. But instead of traveling outside the country, Fraiser will be helping kids in her childhood home: the Bronx. She wants her foundation to assist aspiring dancers no matter their color or abilities.
Read our interview with the dancer and do-gooder—and discover the life-changing diagnosis that inspired her to help other dancers achieve their dreams.
Keep reading...
Show less
via @kyle_vanny on Instagram competing on World Of Dance
Kyle Van Newkirk is a tap dancer you probably remember from the premiere season of NBC's World of Dance. In case you missed it, he is also one of Showstopper's incredible convention teachers. What makes Kyle stand apart from some of today's other incredible tappers? He isn't afraid to change what tap means to his audience and even himself. This modern view of tap dancing is important because it shows us that tap dancers are just as versatile and dynamic as dancers of any other genre. We sat down with Kyle to get his advice on bringing tap dancing into the 21st century.
Keep reading...
Show less
What did I just hear you say? You think all dancers are weak and delicate? PLEASE SAUT DE CHAT OUT OF MY LIFE. (Giphy)
Sure, dancers definitely have some unique identifying characteristics. (We're all obsessed with Center Stage? FACT.) But we're also subjected to all kinds of annoying, inaccurate stereotyping. Here are 10 dancer stereotypes that we never want to hear again.
Keep reading...
Show less
University of Minnesota Dance Team (courtesy University of Minnesota)
They say there's no "I" in "team"—and nowhere is that truer than the world of college dance teams, where precision reigns, uniformity is key, and a single misstep from any given "I" can cost a group a championship trophy. So it's unsurprising that securing a spot on one of the best dance teams in the country is no easy feat.
Members of these highly athletic teams rehearse for hours every week—on top of academic classes and commitments—and perform at football and basketball games, annual concerts, and nationally televised competitions (hi, ESPN). And "no I" rule notwithstanding, each of these top teams is made up of highly trained, highly technical, highly hard-core individuals, who come together to create a ready-for-victory pack.
These six teams aren't one-off success stories—they're consistently strong, and earn the top spots at major competitions like UDA and NDA nearly every year. Up for the challenge? Here's what to know before you go to auditions.
Keep reading...
Show less
You can never go wrong with a classic black leotard. Discount Dance's long-sleeve mesh leo will add a sleek edge to your studio style. Pair it with tights and a skirt for ballet class, or layer some leggings and sweats for contemporary class. Enter below for your chance to win it!
Keep reading...
Show less
May. 16, 2018 02:26PM EST
Ema Peter
The Glorya Kaufman International Dance Center is the 54,000 square foot home of the USC Glorya Kaufman School of Dance, one of the largest facilities dedicated to dance on a private university campus. Designed for their innovative new curriculum, that supports a range of dance styles, the school's staff designated Harlequin to provide wall-to-wall flooring for the large 3,500 square foot Performance Studio as well as five dance studios in their new state-of-the-art building.
Keep reading...
Show less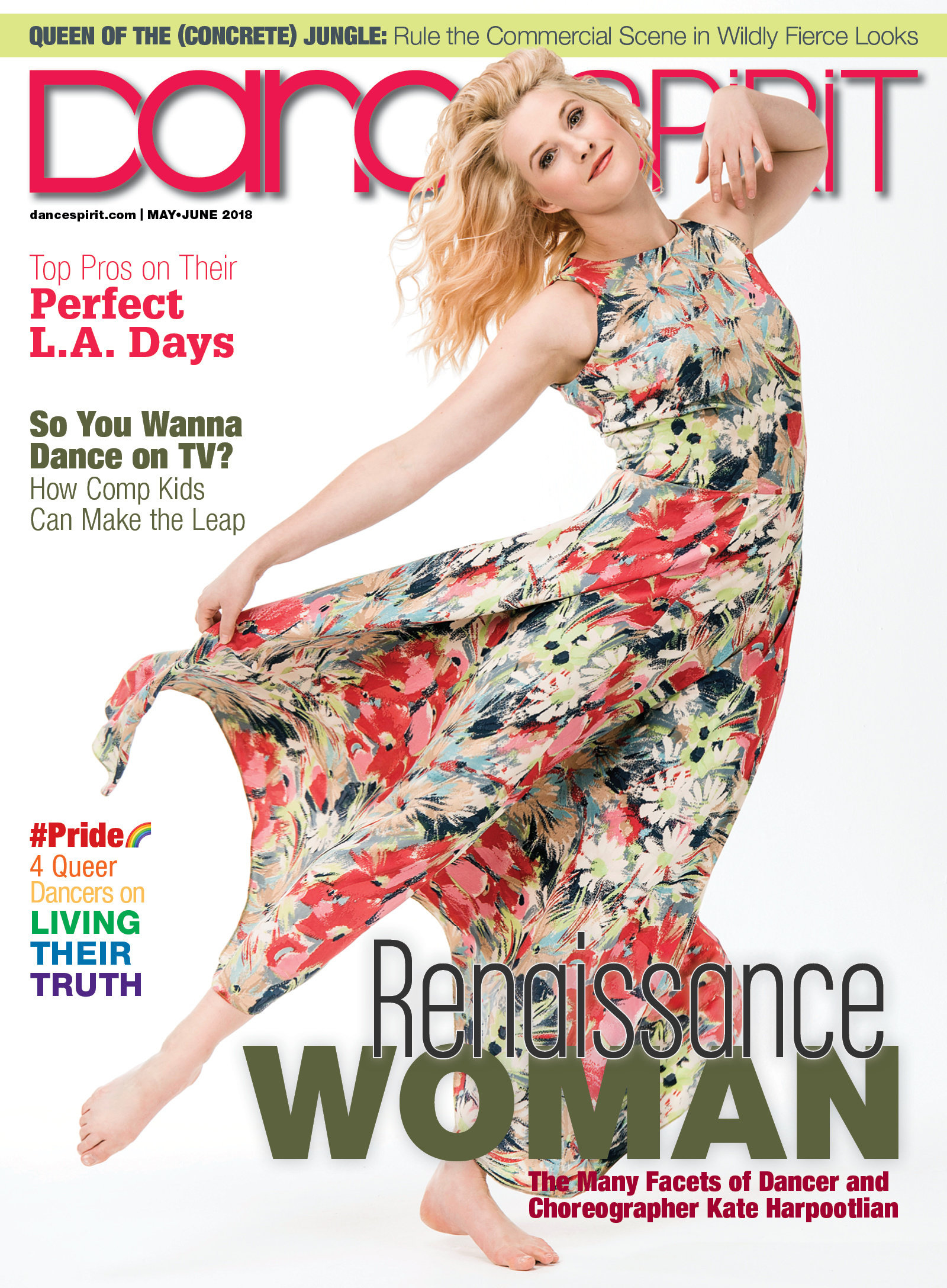 Get Dance Spirit in your inbox