Quinn Starner is no stranger to competitions. The 16-year-old "So You Think You Can Dance: The Next Generation" alum has been slaying the contemporary circuit for years, winning Best Teen Dancer at The Dance Awards in 2017. But lately she's been more focused on ballet, relocating from Florida to train at the Indiana Ballet Conservatory two years ago. And while she's won awards at ballet competitions like ADC|IBC and Youth America Grand Prix, in June she upped the stakes by going to the USA International Ballet Competition in Jackson, MS—an audition-only event that's one of the world's most prestigious comps. We followed Quinn on her Jackson journey.
---
Quinn and her teacher, Alyona Yakovleva-Randall, both agreed that the USA IBC would be an invaluable learning opportunity. "The best dancers from all over the world are there," says Yakoleva-Randall. "It's a lot of pressure and a lot of work, but we thought it would be a great challenge." Unlike most competitions, USA IBC requires dancers to submit an audition video of their variations. "That was kind of scary," Quinn says. "It looks different when you do your variation in just your leotard and tights, rather than on a big stage with costumes and makeup!"

Courtesy Starner
In the weeks leading up to the competition, Quinn rehearsed her classical and contemporary variations for two hours a day with Yakovleva-Randall. "She expects a lot, and what I love is that she doesn't let anything go," Quinn says. "She's, like, the pickiest teacher ever—but to become a ballet dancer, that's exactly what you need."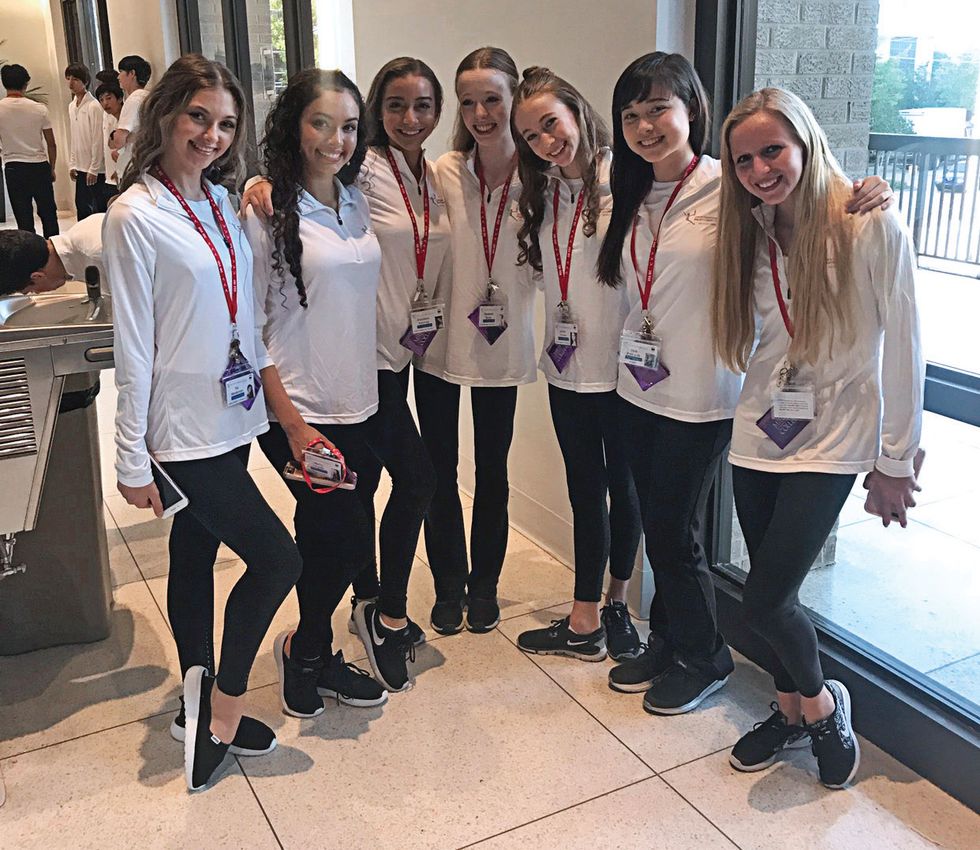 Fun with friends at the competition's opening ceremony (courtesy Starner)
Quinn and the 119 other competitors moved into dorms at Belhaven University when they arrived in Jackson. "At most competitions, you'd just stay with family members in a hotel, but this system kept you totally involved," Quinn says. The set-up was a great way to make new friends. "At night we'd play movies, and everyone would just come and hang out."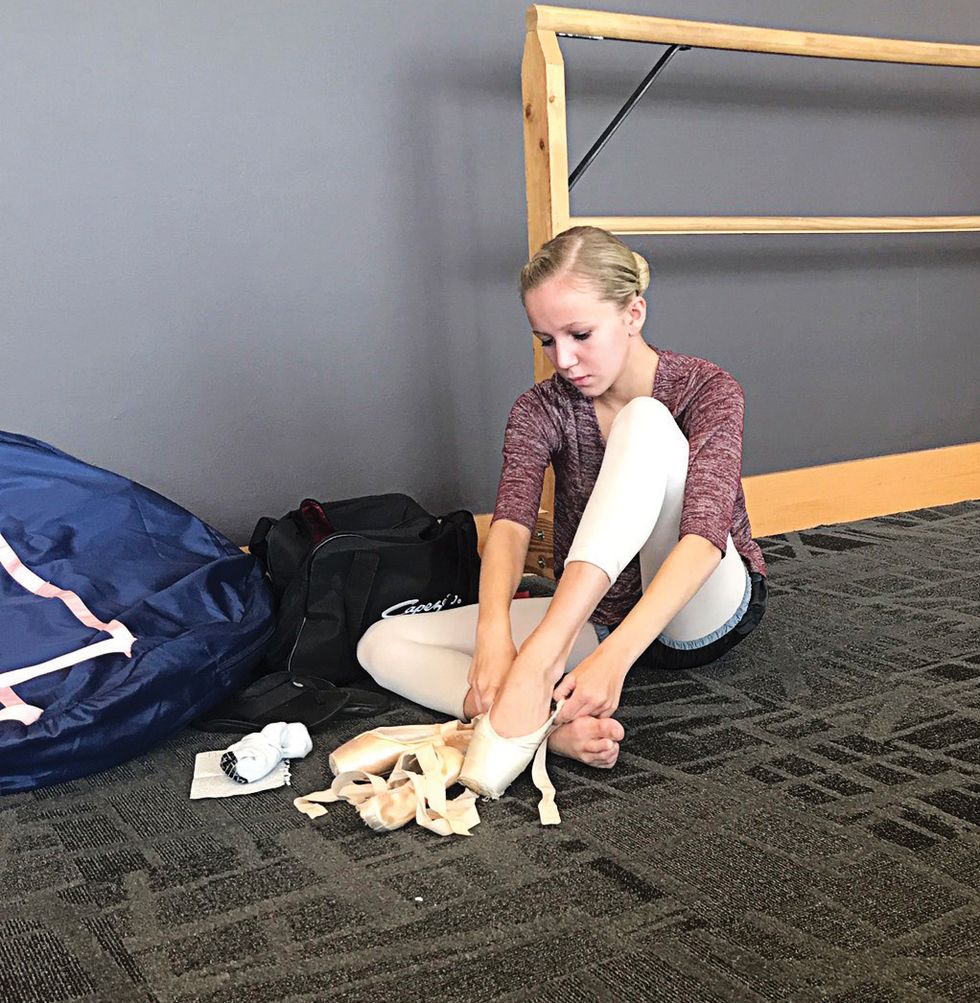 Getting ready for rehearsal (courtesy Starner)
Each day, after an early breakfast, the competitors caught a shuttle bus to the downtown convention center for 9 am class. "The cool thing about class was we weren't separated by category. You were with everyone, even the seniors," says Quinn, who competed in the junior category. "It was so inspiring to see the professional dancers there!" She especially loved watching Soobin Lee and Sangmin Lee, two dancers from South Korea.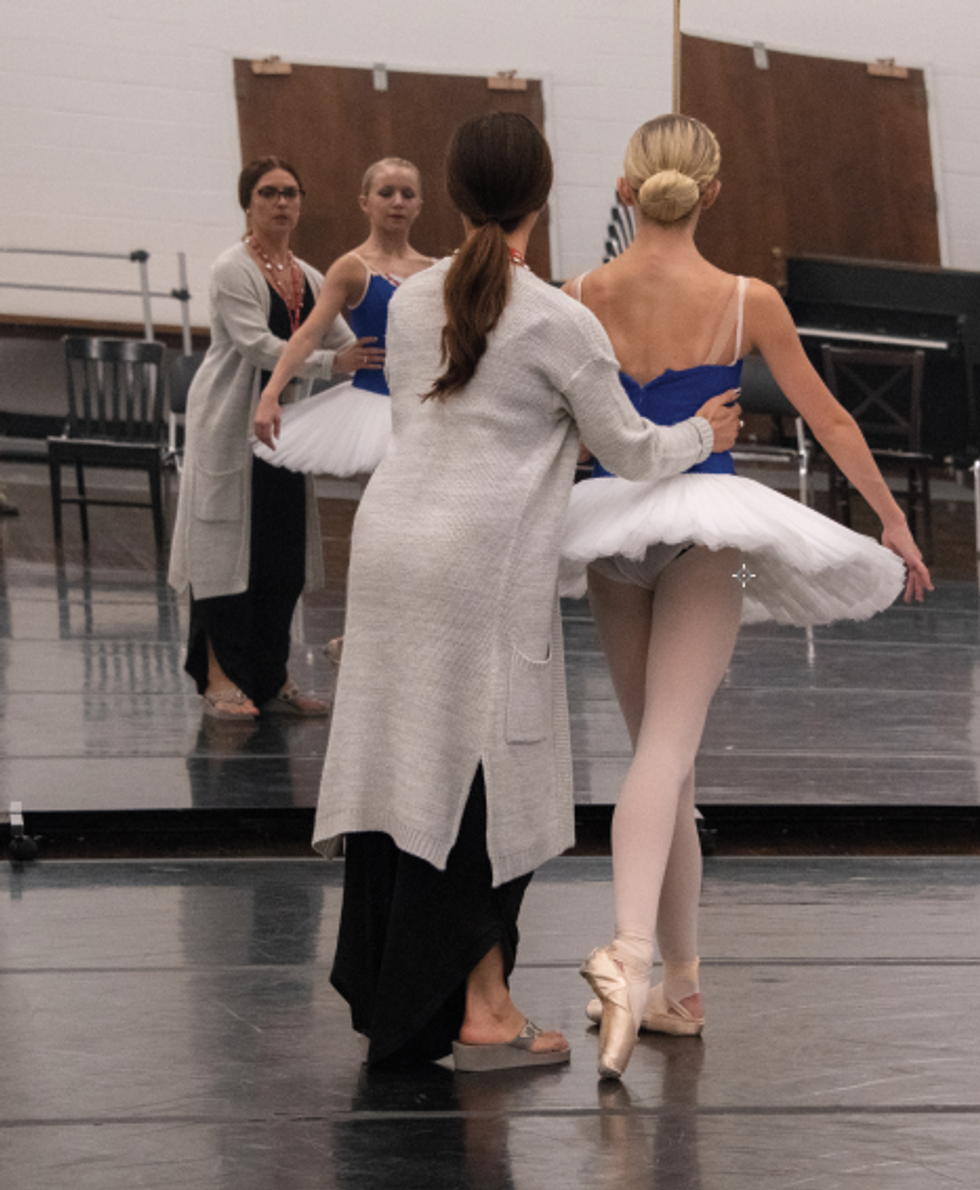 Quinn and her coach, Alyona Yakovleva-Randall, rehearsing at USA IBC (photo by Richard Finkelstein, courtesy USA IBC)
After class, Quinn checked the schedule to find out her rehearsal time. Each IBC competitor was given one hour a day to work privately with their coach. "It didn't feel like enough time, especially with the way my teacher coaches," she says. "That was challenging."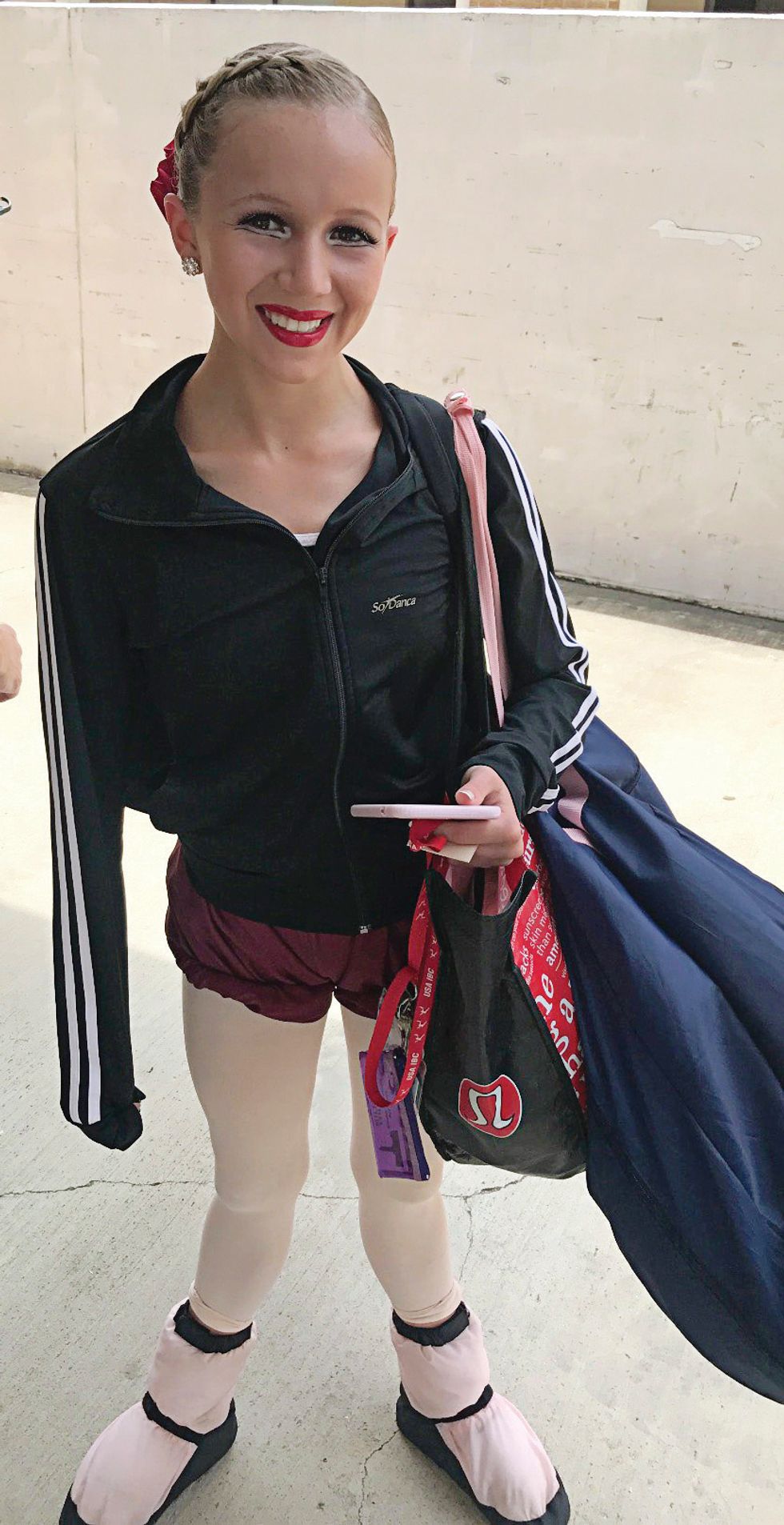 Getting ready to perform (courtesy Starner)
Round I of the competition included both classical variations. "Before I compete, I do a full ballet barre and sit-ups and a floor barre to make sure everything is working right," Quinn says. She then puts on her headphones and goes through her variations with the music, practicing her port de bras and expression. "I try to tell myself positive thoughts."
"Quinn displayed a good work ethic," says Rinat Imaev, a teacher from The Washington Ballet School who taught the competitors' daily class. "She has wonderful physical ability, but needs to work on the fluidity of her movements."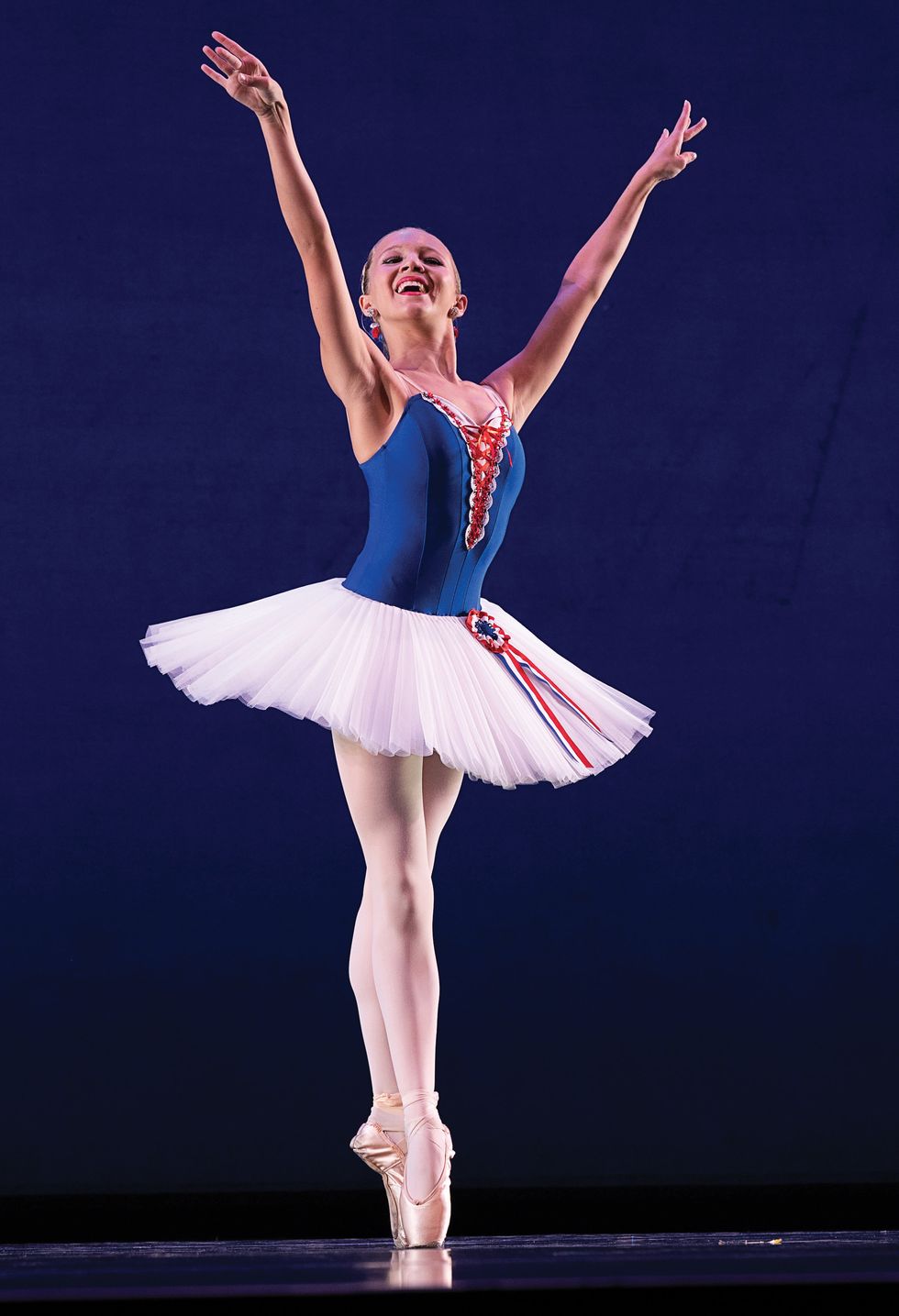 Performing a variaton from "Flames of Paris" (photo by Richard Finkelstein, courtesy USA IBC)
For the classical portion, Quinn prepped variations from Flames of Paris and Paquita. "Both are difficult, particularly Flames of Paris," says Yakovleva-Randall, citing the solo's challenging hops on pointe and speedy tempo. "I chose Paquita for Quinn because she has incredible flexibility, and it not only shows off her beautiful écartés, but also her allegro." For her contemporary solos, Quinn selected "Into the Storm," by Jason Parsons, and "Humans Rush By," by Teddy Forance—both of which have earned her accolades on the contemporary competition circuit.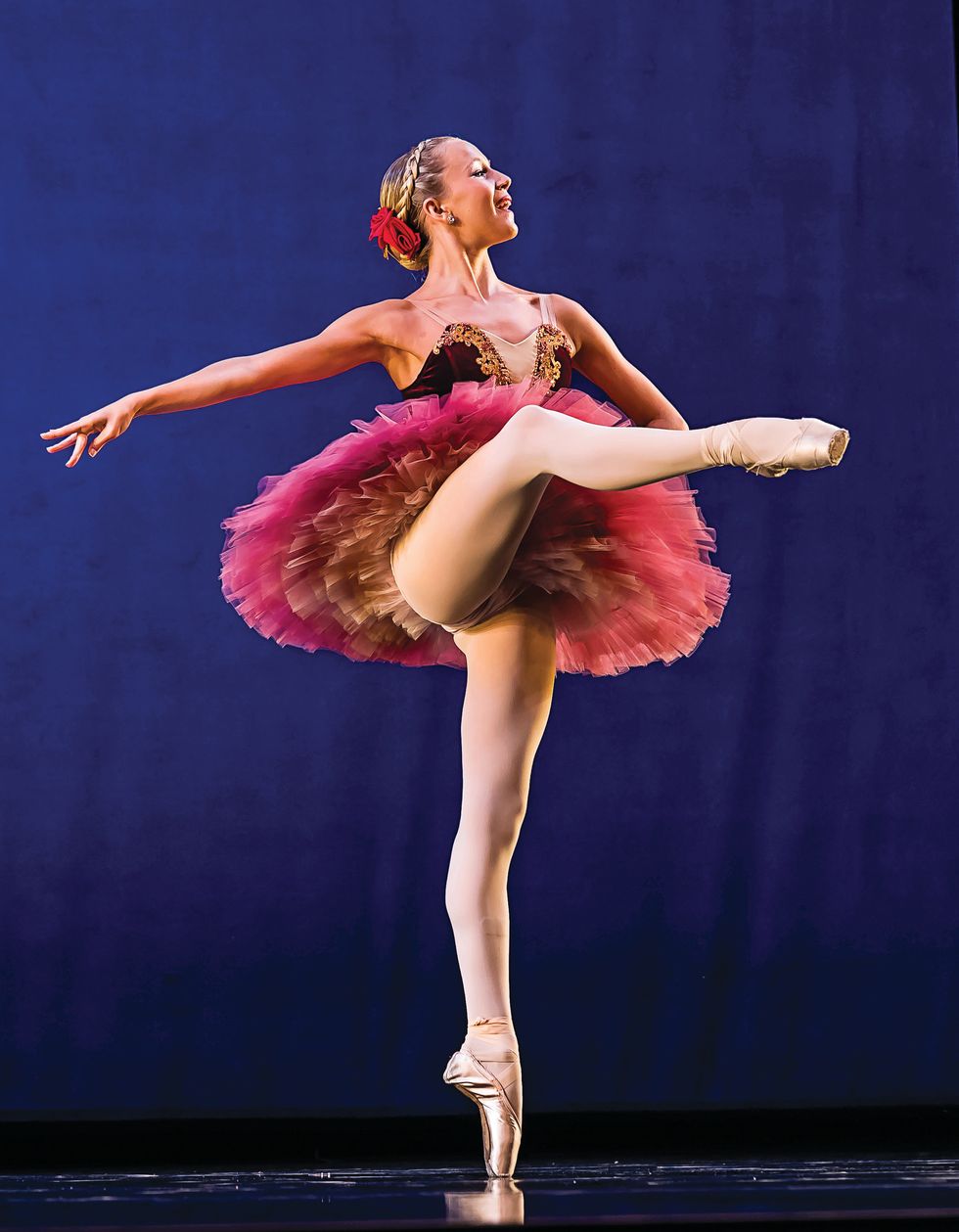 Performing a variaton from "Paquita" (photo by Richard Finkelstein, courtesy USA IBC)
"My Paquita variation was definitely one of my best runs," Quinn says. But she admits that her Flames of Paris solo could have gone better. "I think I just got a little nervous. It happens to everyone."
Quinn was disappointed to learn she didn't make it to Round II (contemporary). "But really it just motivated me even more," she says. "I went through everything that happened and tried to figure out what I need to do to fix it." She plans to continue to work towards her ultimate dream: to someday join a ballet company like New York City Ballet or American Ballet Theatre.
A version of this story appeared in the October 2018 issue of Dance Spirit with the title "That (Ballet) Comp Life."