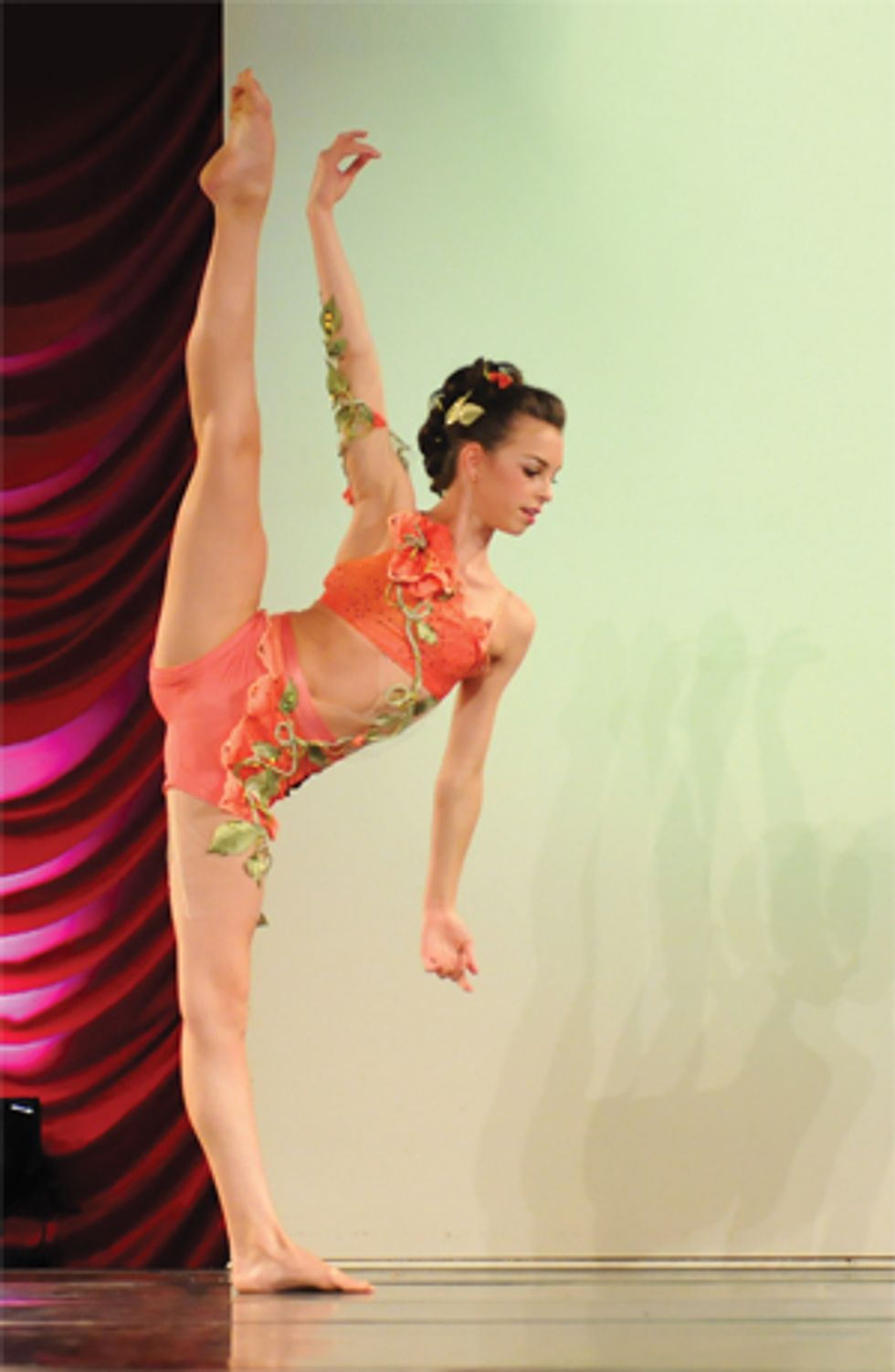 Jayci performing her solo at The 2011 Dance Awards in NYC. (courtesy The Dance Awards)
At just 14 years old, Jayci Kalb is already living the competition dancer's dream: She's performed solos choreographed by convention kings Travis Wall and Nick Lazzarini, she regularly walks away from Nationals with a top title and she spends her weekends touring as a demonstrator with JUMP, where she gets to train alongside Stacey Tookey, Katy Spreadbury and Teddy Forance. But Jayci isn't just a comp kid—she also has a handful of professional jobs under her tiny belt.
It's no surprise Jayci is excelling. She has enviably archy feet, a wildly bendy back and an onstage maturity that makes it hard to believe she's a teenager. So how has this humble dancer risen to competition superstardom? "I just love it a lot, and I work really hard," she says.
Jayci's mother was a dancer, so enrolling 2-year-old Jayci in classes at The Dance Centre in her hometown of Tuscaloosa, AL, was an easy decision. Jayci took a short-lived dance break when she was 5 to try her hand at gymnastics—and even won a state-level competition. She reenrolled in dance at 6. Now she trains in ballet, jazz, hip hop and acro, and says contemporary is her favorite style. "But ballet is the most important part of my training, so I love it," she adds.
At 12, Jayci won her first National title: Junior Outstanding Dancer at New York City Dance Alliance. "It was overwhelming," she says. "There were so many good dancers, and I was nervous. But I learned to go out there and have a good time." Not long after, she started winning titles at JUMP and performed as Clara in the Radio City Christmas Spectacular. Most recently, she won Best Junior Dancer at The Dance Awards for her contemporary solo Life of a Flower, choreographed by Wall.
It doesn't hurt that Jayci has a huge fan in Wall: He hired her to perform in his company Shaping Sound's (DS May/June 2012) show last December. "In the show, I did my solo in front of all the professional dancers, actors and agents in the audience. I was so nervous," she says. Afterwards, she was approached by an agency representative, and now she's signed with Clear Talent Group.
What's next for Jayci? "I want to become a better dancer, taking in all the corrections from these amazing teachers," she says. She'll compete at The Dance Awards this summer as a teen, and she's looking toward the future: "I want to be on Broadway and on the cover of Dance Spirit!"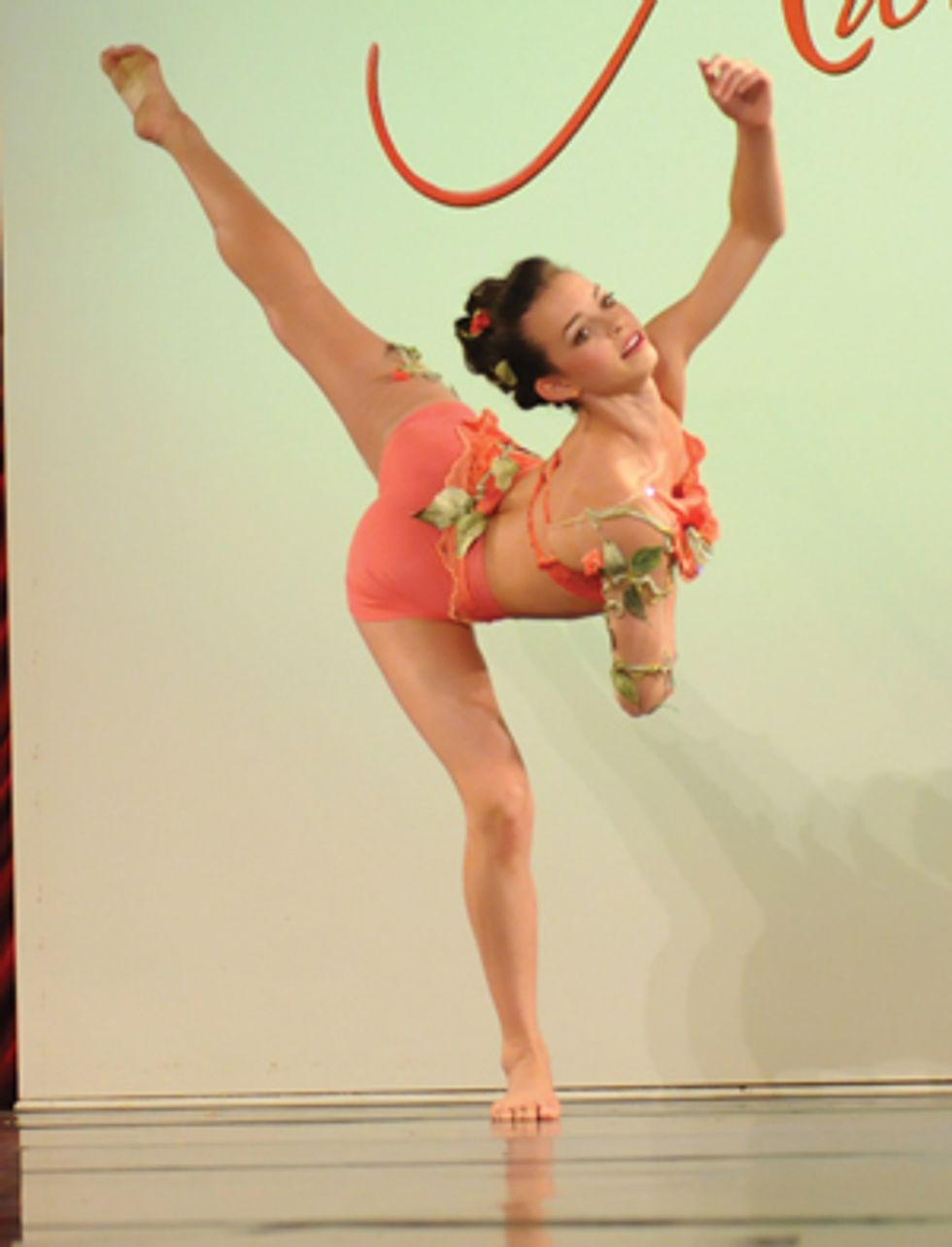 FAST FACTS
Favorite food: Reese's Peanut Butter Cups
Most-played song on her iPod:
"A Thousand Years" by Christina Perri
Who would play her in a movie? Selena Gomez. "She's not a dancer, but she's a good actress and she's really pretty!"
If she could be a superhero, what would her power be? Super strength. "I would use it in our competition dances. When we have to lift girls, it's hard for me because I'm so small."
Dance crush: Nick Lazzarini
Favorite book: The Hunger Games by Suzanne Collins
Favorite TV show: "Wizards of Waverly Place"
Favorite dancer of all time: Travis Wall
Favorite teacher: Stacey Tookey
Three words that describe her dancing: "Heart, soul, love"
the first thing she does in the morning: Eats a bagel and bacon.