Feb. 04, 2015 02:09PM EST
Justin Peck Talks about Ballet 422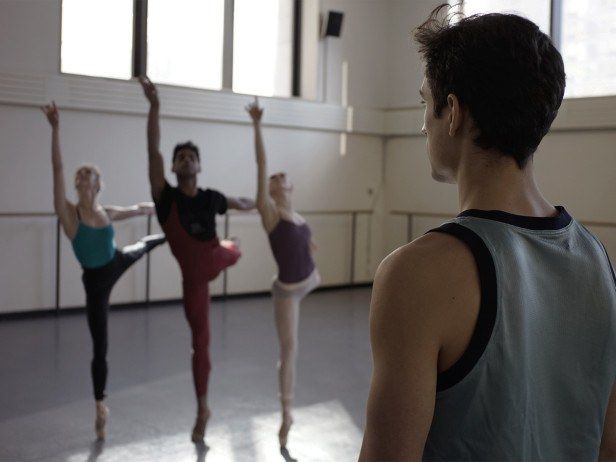 Justin Peck in Ballet 422 (Courtesy Magnolia Pictures)
For Justin Peck, the journey to the top didn't end with a soloist contract at New York City Ballet: He caught the choreography bug, and he didn't close up shop after creating one piece for the company. Instead, Peck—who at 27, is only the second person to be named NYCB's resident choreographer—is up to ballet number eight, which the company premieres tonight at Lincoln Center. (That's not even counting all the work he's made for other companies around the globe—seriously, creativity just pours out of him.) And there's yet another impressive addition to Peck's list of achievements: Ballet 422.
Ballet 422, a documentary following the creation of Peck's Paz de la Jolla (NYCB's 422nd work), hits movie theaters this Friday. And guys, it's phenomenal. There's not a lot of dialogue, and there could have been more dancing, but what you do get is 75 minutes of a real-world ballet company at work. Ballet 422 is a true portrait of the world we know and love. Dance Spirit spoke with Peck about what it's like to be at the center of it all.
Dance Spirit: What was it like seeing yourself on screen?
Justin Peck: At first it was a little jarring, sort of like having an out-of-body experience. I'm not used to witnessing myself working in the studio environment. But as the movie progressed, I got used to it—or at least just engrossed in what was going on in the film itself.
DS: Were any parts hard for you to watch?
JP: There are definitely a few funny and awkward moments when I'm trying to figure out how to flex my muscles as a choreographer. But what's so interesting about the film is that Jody [Lee Lipes, Ballet 422's filmmaker] captured a very specific time in my development as an artist. So those moments are when I'm trying to figure out how to navigate working in the NYCB institution, and how to coordinate all the different elements that go into making a new ballet.
DS: Did seeing the film affect your choreographic process for Heatscape, which you're making for Miami City Ballet, or for your newest work for NYCB?
JP: I think I've just continued to develop and become more comfortable in my own skin. At the time of Ballet 422, I'd only done two ballets, so it was certainly a different phase in my life. It's been a constant ebb and flow of figuring out exactly the right way to work in the studio and communicate with the dancers and artists in the costume shop, orchestra and more.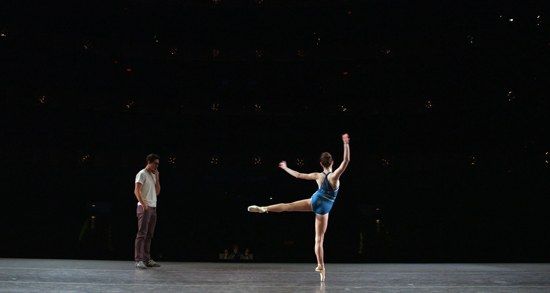 Justin Peck rehearsing NYCB principal Tiler Peck onstage in Ballet 422 (courtesy Magnolia Pictures)
DS: I wish the film had made more clear that on top of all the pressure surrounding the creation of this ballet, you were still taking company class, rehearsing and performing.
JP: I'm not too upset that the film didn't show more of that. It's a really detailed and full documentation of the process of making a new ballet. For me, balancing my two roles—as a dancer and a choreographer—has been challenging, especially physically. Switching between rehearsals where I'm dancing and rehearsals where I'm a choreographer takes its toll on a day-to-day basis, because the two roles target different areas of the body. That said, it's tremendously rewarding. I get to know my fellow company members in a much more intimate way by being their peer. I get to know their strengths and weaknesses, which works to my advantage as a choreographer. And getting to dance in ballets by George Balanchine is educational. I can watch a ballet over and over again, but to fully understand it, I need to experience it from the inside out.
DS: In a couple scenes, we see you recording movement on your iPhone and then watching the footage at home. Is there any new technology you've been using in the last few years?
JP: I found an attachment for the iPhone that you can get in Apple stores. It attaches to the camera lens and creates a sort of fish-eye focus—I'm able to capture the entire studio from the center front and see everything in a very symmetrical way. It's been a huge help for my process. Not only can I take it home and assess everything I worked on that day, but it also gives a broader perspective. I see everything so close-up in the studio, but the lens gives me a better understanding of how the whole piece will look from a distance.
DS: What do you want people to walk away with after seeing Ballet 422?
JP: The work ethic of dancers, and of NYCB dancers in particular. The company is focused on the work and the output. It's not so much about reveling in the successes. And that's what the film shows. My ballet premieres, and you see me going straight back into the dressing room and getting ready to dance onstage. It's a great representation of how this company works. To be honest, I was a little skeptical at first about someone filming us, but I feel like Jody captured the process and the institution in a really honest way.
Check out Ballet 422's trailer below, then click here to see where the film is showing near you.
Dance News
Jun. 15, 2019 10:12AM EST
(From left) Darriel Johnakin, Diego Pasillas, and Emma Sutherland (all photos by Erin Baiano)
Congratulations to Dance Spirit's 2019 Cover Model Search finalists: Darriel Johnakin, Diego Pasillas, and Emma Sutherland! One of them will win a spot on Dance Spirit's Fall 2019 cover. Learn more about the dancers on their profile pages, and then vote for your favorite below. You can vote once a day now through July 15.
We also want you to get social! We'll be factoring social media likes and shares into our final tallies. Be sure to show your favorite finalist some love on Facebook, Instagram, and Twitter, sharing their profile pages and using the hashtag #DanceSpiritCMS.
Cover Model Search
Jun. 17, 2019 04:05PM EST
Jun. 13, 2019 02:20PM EST
Photo by Erin Baiano
Imagine attending American Ballet Theatre's prestigious NYC summer intensive, training among classical ballet legends. Imagine taking the stage at New York City Dance Alliance Nationals, competing against some of the country's best contemporary dancers. Now, imagine doing both—at the same time.
Welcome to Madison Brown's world. This summer, she's in her third year as a National Training Scholar with ABT, while also competing for NYCDA's Teen Outstanding Dancer title. (She's already won Outstanding Dancer in the Mini and Junior categories.) The logistics are complicated—ABT's five-week intensive overlaps with the weeklong NYCDA Nationals, which translates to a lot of cabs back and forth across Manhattan—but Maddie is committed to making the most of each opportunity. "I love contemporary and ballet equally," she says. "While I'm able to do both, I want to do as much as I can."
Maddie has an expressive face, endless extensions, and a quiet command of the stage. She dances with remarkable maturity—a trait noted by none other than Jennifer Lopez, one of the judges on NBC's "World of Dance," on which Maddie competed in Season 2. Although Maddie didn't take home the show's top prize, she was proud to be the youngest remaining soloist when she was eliminated, and saw the whole experience as an opportunity to grow. After all, she's just getting started. Oh, that's right—did we mention Maddie's only 14?
Cover Story