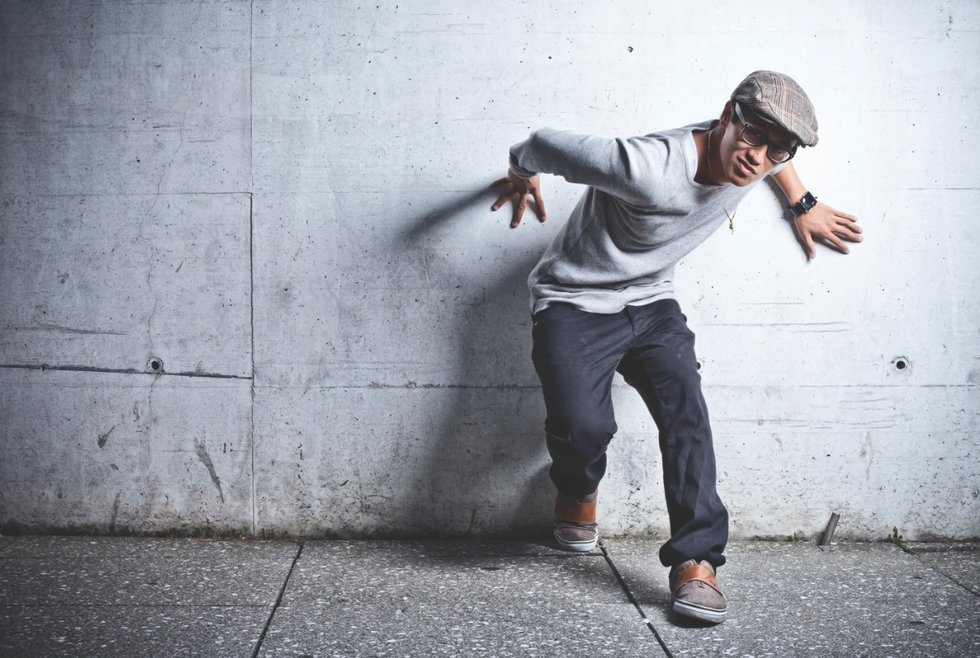 Photo by Little Shao/Urban Dance Showcase
Watching Keone Madrid on the dance floor, it's no surprise the 24-year-old's first love was basketball: He exudes athleticism. But look closer and you'll see hints of Michael Jackson and even Gene Kelly. This juxtaposition is true of his choreography, too. He uses music ranging from hardcore hip hop to Adele, and alternates between syncopated hits and smooth control, with the occasional Fosse-esque isolation.
Keone grew up a self-proclaimed jock in San Diego, CA. He was always a fan of dance, reenacting Michael Jackson and *NSYNC videos with friends. But he didn't train formally until age 15, when he followed a friend to a hip-hop class taught by KJ Gonzales. "I started taking that one class every week, but it wasn't enough," he says. "I would go home and choreograph on my own so I could dance more."
A natural mover, Keone found that performance opportunities came quickly. Soon after his first class, he joined Future Shock San Diego (the apprentice crew of Culture Shock San Diego) and eventually became its director. There, he trained with Jabbawockeez member Rynan Paguio and began to expand his skill set from "'90s party dancing" to include jazz, contemporary and even salsa and tango. After Keone graduated from high school, his FSSD students started encouraging him to get his choreography out into the world. At first, he resisted posting videos online, but one of his students started uploading clips from class that garnered Keone fans around the world—and earned him his first international gig, teaching workshop classes in Norway.
Soon, the offers began flooding in. Keone traveled the world, including much of Europe and Asia—eventually meeting his dance partner, collaborator and wife, Mariel, at Urban Legends in Temecula, CA, where she was also teaching. He joined the San Diego–based dance crew Choreo Cookies, which he now co-directs, and choreographed for musical artists in the U.S. and Asia.
Today, Keone and Mari (who were married in June) have signed with Go 2 Talent Agency as a choreographic team and are well on their way to becoming the next Nappytabs. Their collaborations are not only packed with smooth, intricately woven moves, but the narratives behind them are heartfelt and relatable, often leaving you feeling as though you've just watched a romantic comedy rather than a dance number. The duo have also put humanitarian plans in motion, founding Kingdom Made, an arts charity that sells clothing and accessories to fund its international missions, during which they plan to build homes and offer dance and art workshops for the locals. "I've been given so much through dance," Keone says. "It's time to give back."
Fast Facts
Birthday: June 30, 1988
Favorite food: Korean barbecue
Most-played on his iPod: "At the moment, I'm listening to a lot of Frank Ocean. And I'm pretty sure MJ is the top-played artist on my iTunes."
Artists he'd love to work with: "Justin Timberlake Chris Brown, Usher—all those guys who can really get down."
His style in three words: "Athletic, smooth, experimental"