Leap! National Dance Competition — Where Dancers Leap! for the Stars
Leap! National Dance Competition offers dancers of all skill levels an opportunity to showcase their talents in an event where the focus is on fun and competing is just a bonus!
---
Drew Vamosi, a professional dancer and former studio owner, founded Leap! and serves as its Executive Director. Vamosi, who fell in love with dance at the age of three, attended Oklahoma City University as a dance major and has numerous professional credits in television commercials and national and European touring productions. He served as the Director of CAM Talent Agency in Cincinnati, Ohio and is the co-founder and former Owner/Director of BravO! National Dance and Talent Competition.
Vamosi's dedication to instilling the love of dance in teachers, students and parents led him to found Leap! National Dance Competition, which is based in Omaha, Nebraska. This exciting dance competition provides the stage for recreational and professional-dancers-in-training to shine with more than a dozen events scheduled annually from coast to coast.
Leap! offers two levels of competition for participants to choose from, a unique adjudication system, and an exclusive leaping competition are just some of the elements that put Leap! in a category all its own when it comes to national dance competitions.
Leap! competitions are open to dancers of all skill levels. SKIP! level competition is for recreational dancers who spend less than five hours a week in the studio. Serious dancers with an eye toward a career in the dance industry can enter the Leap! level competition for a bigger challenge.
Leap!'s panel of judges is unique to the dance competition industry. By coincidence, the first event featured three male judges, and according to Vamosi, it was positive participant feedback about that all-male panel that led Leap! to continue the tradition. All judges are professional dancers and teachers, and they are selected for their diverse knowledge in all areas of dance.
Leap! judges evaluate dancers according to a star ranking instead of the traditional bronze, silver, gold, and platinum awards seen in other competitions. This unique adjudication system diverts focus away from winning and losing and puts more of an emphasis on dancers embracing the opportunity to be the best they can be with a chance to go home with a top honor. Vamosi feels that this helps keep dancers and their parents from fixating on the competition side of the Leap! experience.
The Leap! for the Stars competition is the only one of its kind in the industry. Dancers who enter this special showcase competition have an additional opportunity to show off their leaping abilities. Participants compete in two groups, ages 12-19, and ages 11 and under. Dancers are free to do a series of leaps across the stage or focus their efforts on a single leap. Leapers are judged on height, style and creativity. The winner receives a cash award, merchandise credit, a special prize from sponsor Dream Duffel, and the honor of having their award-winning leap featured on the home page of the Leap! website.
Vamosi believes that above all else, dance should be fun for the participants as well as the spectators. Leap! competitions are high energy from beginning to end with the dancers' performances enhanced by a state-of-the-art professional light and sound system. Music videos between dance routines and exciting audience giveaways ensure everybody dances away with precious memories and a positive and uplifting experience.
For more information about performance guidelines, rules, and the current Leap! National Dance Competition schedule, please visit www.leapcompetition.com or call 1-800-790-LEAP (5327).
American Ballet Theatre principal dancers Sarah Lane and Daniil Simkin (courtesy ABT)
Last May, we told you about a special exhibition of the Mark Ryden artwork that sparked Alexei Ratmansky's sweet-treat of a ballet, Whipped Cream. Well, hold on to your tiaras, bunheads, because there's a brand-new exhibit featuring actual costumes from this megahit production. The Nutcracker's Land of Sweets has some serious competition!
Keep reading...
Show less
via @kyle_vanny on Instagram competing on World Of Dance
Kyle Van Newkirk is a tap dancer you probably remember from the premiere season of NBC's World of Dance. In case you missed it, he is also one of Showstopper's incredible convention teachers. What makes Kyle stand apart from some of today's other incredible tappers? He isn't afraid to change what tap means to his audience and even himself. This modern view of tap dancing is important because it shows us that tap dancers are just as versatile and dynamic as dancers of any other genre. We sat down with Kyle to get his advice on bringing tap dancing into the 21st century.
Keep reading...
Show less
What did I just hear you say? You think all dancers are weak and delicate? PLEASE SAUT DE CHAT OUT OF MY LIFE. (Giphy)
Sure, dancers definitely have some unique identifying characteristics. (We're all obsessed with Center Stage? FACT.) But we're also subjected to all kinds of annoying, inaccurate stereotyping. Here are 10 dancer stereotypes that we never want to hear again.
Keep reading...
Show less
University of Minnesota Dance Team (courtesy University of Minnesota)
They say there's no "I" in "team"—and nowhere is that truer than the world of college dance teams, where precision reigns, uniformity is key, and a single misstep from any given "I" can cost a group a championship trophy. So it's unsurprising that securing a spot on one of the best dance teams in the country is no easy feat.
Members of these highly athletic teams rehearse for hours every week—on top of academic classes and commitments—and perform at football and basketball games, annual concerts, and nationally televised competitions (hi, ESPN). And "no I" rule notwithstanding, each of these top teams is made up of highly trained, highly technical, highly hard-core individuals, who come together to create a ready-for-victory pack.
These six teams aren't one-off success stories—they're consistently strong, and earn the top spots at major competitions like UDA and NDA nearly every year. Up for the challenge? Here's what to know before you go to auditions.
Keep reading...
Show less
Lol, same. (Screenshot via YouTube)
Picture this: You've scored tickets to Ellen DeGeneres' hit show, "Ellen." The day has come, the show is as hysterical as ever, Ellen is debating the biggest hot-button issue since the blue/black or white/gold dress, "Laurel vs. Yanny" (side note: it's LAUREL, people), and tWitch is killing it over at the DJ booth, as always. Ellen decides it's the perfect time to single out an audience member and, lo and behold, that person is "SYTYCD" champ ( and December 2017 cover star!) Lex Ishimoto.
Keep reading...
Show less
May. 16, 2018 02:26PM EST
Ema Peter
The Glorya Kaufman International Dance Center is the 54,000 square foot home of the USC Glorya Kaufman School of Dance, one of the largest facilities dedicated to dance on a private university campus. Designed for their innovative new curriculum, that supports a range of dance styles, the school's staff designated Harlequin to provide wall-to-wall flooring for the large 3,500 square foot Performance Studio as well as five dance studios in their new state-of-the-art building.
Keep reading...
Show less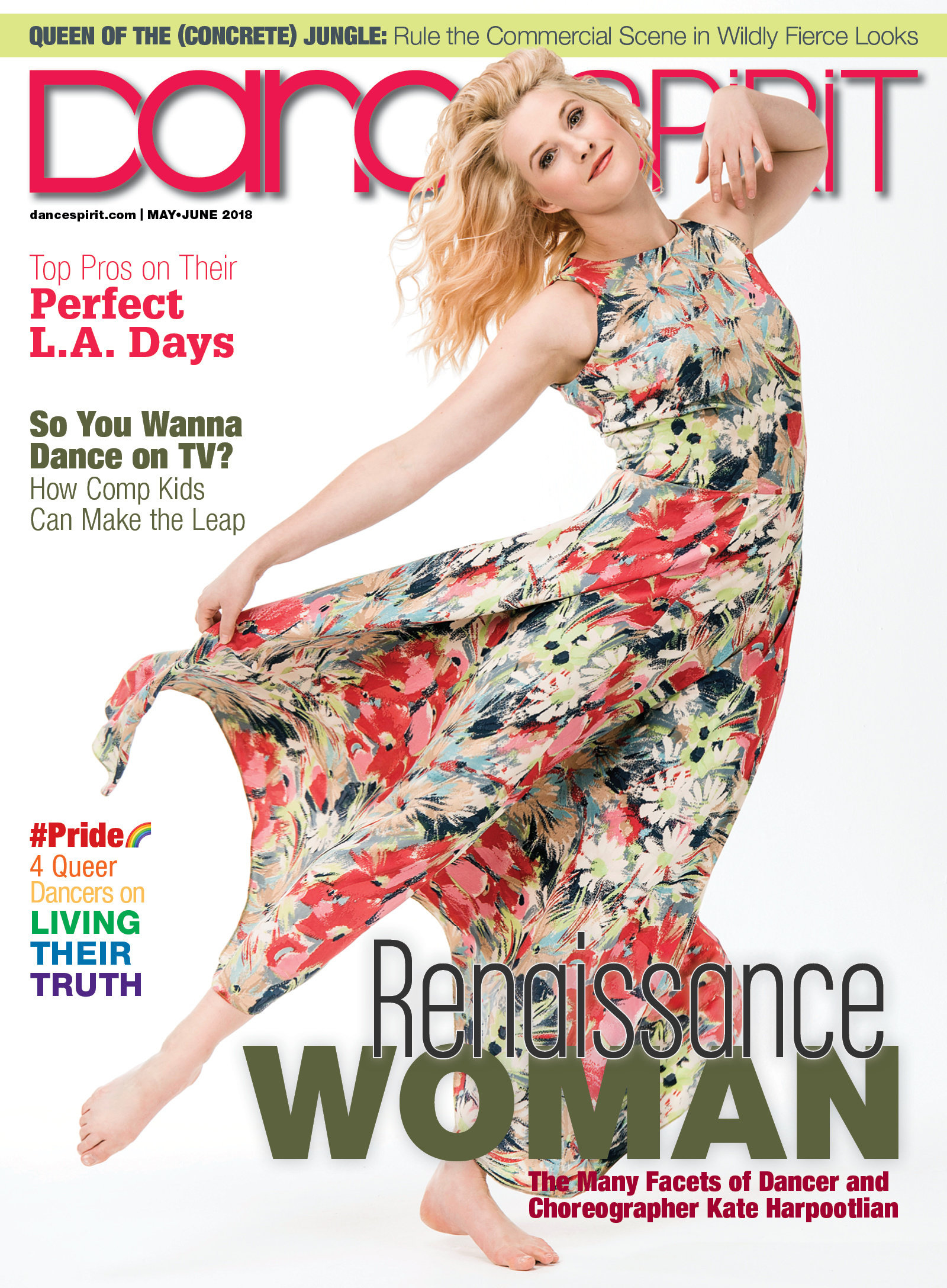 Get Dance Spirit in your inbox