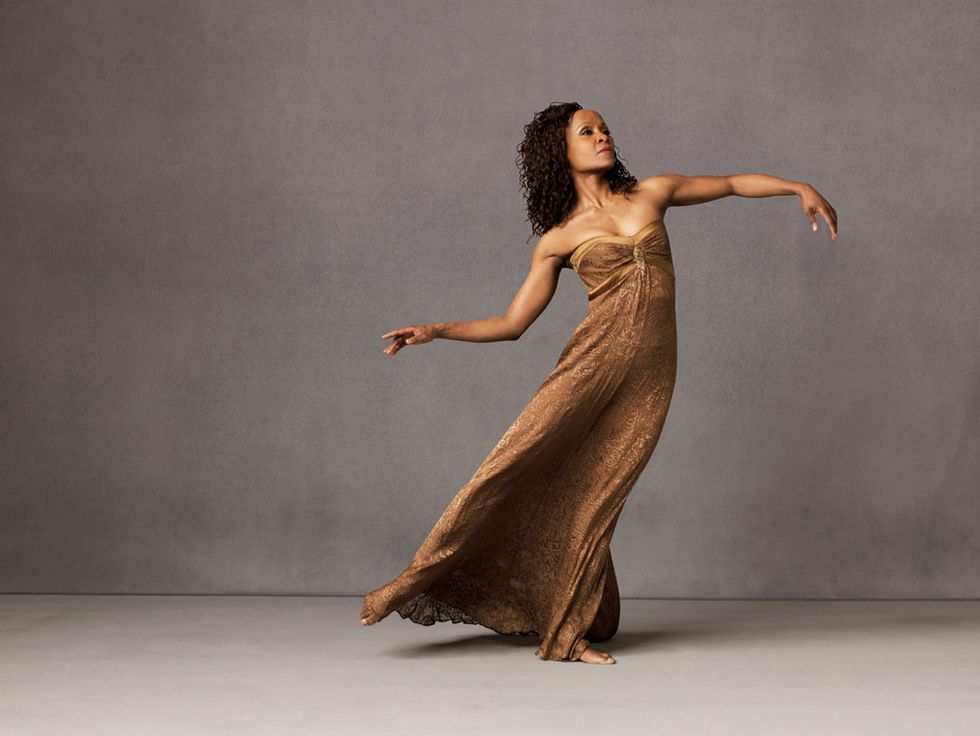 (Photo by Andrew Eccles)
A vision of power, grace and beauty, Renée Robinson has become one of the most respected modern dancers of our time. Growing up in Washington, D.C., she began taking ballet classes at the Jones-Haywood School of Ballet at age 10. She went on to study at the School of American Ballet, the Dance Theatre of Harlem and The Ailey School, receiving full scholarships to each, and was a member of Ailey II from 1979 to 1980. In 1981, Robinson joined Alvin Ailey American Dance Theater. She is now in her 29th season with AAADT—the longest tenure of any female dancer in the company's history—and is the only remaining member of the troupe who was hand-picked by Alvin Ailey himself. In addition to dancing with the company, Robinson has performed at the Kennedy Center Awards, President Bill Clinton's first inauguration and the 2003 White House State Dinner. Don't miss your chance to see her as AAADT wraps up its 20-city U.S. tour at the Brooklyn Academy of Music, June 10–20.  —Michael Anne Bailey
Dear Renée,
You are an individual. Remember that you have something to offer that is beautiful and unique. 
The classes you take every day will give you the strength needed for a long and successful career. In addition to ballet, explore a wide variety of dance techniques, including Horton. You will need a diverse vocabulary for all the works you will one day perform onstage.
As your body is an instrument through which many different choreographers will share their voices, it must always be ready to sing. Cross-training will help you stay strong, balanced and in tune. You need to be able to work your muscles properly and with the right intensity. Knowing how to use your energy in a balanced way will keep the body intelligent.
Continue to grow as a person. A dancer who can bring herself fully to the stage will have something to say to the audience. So never stop learning. Keep your eyes, ears and heart open.  Go to the theater, to museums, to concerts—and read everything!
Dance with joy and have faith that your journey will be full of grace and revelations.  Feel the music and let the stage lights bathe your body as your story unfolds. The curtain is up and the world awaits.
Love,
Renée Robinson
From top to bottom photo by Andrew Eccles; courtesy Renée Robinson