Nov. 01, 2014 08:30PM EST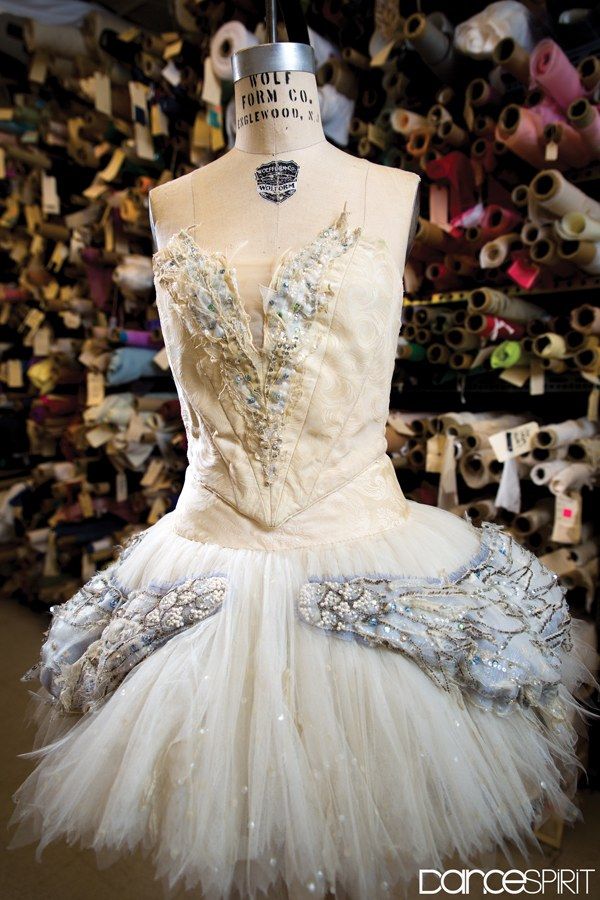 (Photo by Travis Magee)
If tutus could talk, they'd tell some pretty amazing stories. According to Jason Hadley, New York City Ballet's costume shop manager, tutus often "live" for several decades, lending their transformative powers to multiple generations of ballerinas. Sometimes that history can even act as a good luck charm. What young dancer wouldn't want to perform in a tutu once worn by Suzanne Farrell?
DS went inside the NYCB costume shop to get a detailed look at an especially spectacular tutu: Odette's costume from George Balanchine's one-act Swan Lake. This particular tutu was "born" in 1986, the year designer Alain Vaes reimagined the production's sets and costumes. Since then, it's been worn by three remarkable ballerinas: Darci Kistler, Monique Meunier and Wendy Whelan.
"The first time I danced Odette, it was at the School of American Ballet Workshop Performance, so I didn't have a tutu of my own. I wore one of the company's corps de ballet swan costumes. It was very simple, and it didn't have any real feathers. This tutu was my first real Swan Queen costume, and one of my favorite tutus of all time. I loved the little jewels and the low cut in the front—and, of course, the feathers. When I put it on, I instantly felt like a bird." —Darci Kistler
Like any 28-year-old piece of clothing, the tutu looks a little shabby these days. (Odette does a lot of intense dancing, after all.) But every tiny tear tells a story. And that special tutu-y magic? It's more powerful than ever.
"Wearing other dancers'  tutus was so special. The first time I danced Dewdrop in The Nutcracker, George Balanchine put me in a costume worn previously by ballerina Tanaquil LeClercq, which had an extra-short skirt to show off your legs. That was a huge compliment!" —Darci Kistler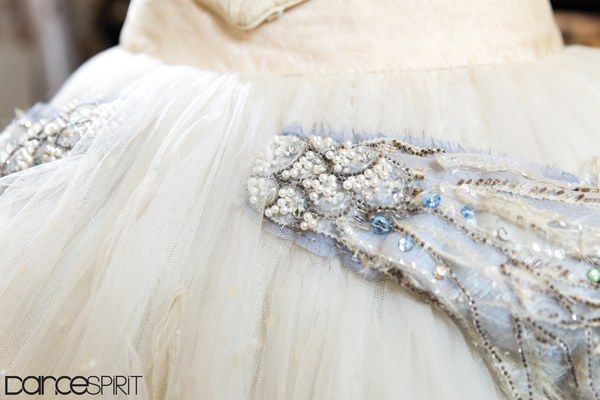 (Photo by Travis Magee)
Tutu Care
New York City Ballet's tutus don't survive into their 20s and 30s without a lot of help. After each performance, says NYCB costume shop manager Jason Hadley, every tutu is inspected for rips and stains, which are addressed immediately. It's difficult to wash a whole tutu, but the wardrobe department has special potions that can get makeup and sweat out of even the most delicate silk fabrics.
Many tutus constructed more recently also have "pit pads" in the armpit areas, to help prevent sweat from seeping to the outside of the costume; the pads are changed out
and washed between each performance, too. Then, at the end of the season, every tutu is sent to a special dry cleaner for a more thorough cleaning.
Storage poses another interesting challenge. Some tutus are hung upside-down, to help preserve their shape. Newer tutus, though, are often stored in specialized containers. In 2012, for example, NYCB created 36 Swarovski-crystal–encrusted tutus for its production of Symphony in C. "They live in customized crates, where they lie flat on individual shelves," Hadley says. "That keeps them nice and perky." Some tutus are stored in the basement of the company's home, Lincoln Center's David H. Koch Theater. But costumes for bigger productions—like A Midsummer Night's Dream and The Sleeping Beauty—are kept in NYCB's warehouse in New Jersey.
Jun. 15, 2019 10:12AM EST
(From left) Darriel Johnakin, Diego Pasillas, and Emma Sutherland (all photos by Erin Baiano)
Congratulations to Dance Spirit's 2019 Cover Model Search finalists: Darriel Johnakin, Diego Pasillas, and Emma Sutherland! One of them will win a spot on Dance Spirit's Fall 2019 cover. Learn more about the dancers on their profile pages, and then vote for your favorite below. You can vote once a day now through July 15.
We also want you to get social! We'll be factoring social media likes and shares into our final tallies. Be sure to show your favorite finalist some love on Facebook, Instagram, and Twitter, sharing their profile pages and using the hashtag #DanceSpiritCMS.
Cover Model Search
Jun. 17, 2019 04:05PM EST
Jun. 13, 2019 02:20PM EST
Photo by Erin Baiano
Imagine attending American Ballet Theatre's prestigious NYC summer intensive, training among classical ballet legends. Imagine taking the stage at New York City Dance Alliance Nationals, competing against some of the country's best contemporary dancers. Now, imagine doing both—at the same time.
Welcome to Madison Brown's world. This summer, she's in her third year as a National Training Scholar with ABT, while also competing for NYCDA's Teen Outstanding Dancer title. (She's already won Outstanding Dancer in the Mini and Junior categories.) The logistics are complicated—ABT's five-week intensive overlaps with the weeklong NYCDA Nationals, which translates to a lot of cabs back and forth across Manhattan—but Maddie is committed to making the most of each opportunity. "I love contemporary and ballet equally," she says. "While I'm able to do both, I want to do as much as I can."
Maddie has an expressive face, endless extensions, and a quiet command of the stage. She dances with remarkable maturity—a trait noted by none other than Jennifer Lopez, one of the judges on NBC's "World of Dance," on which Maddie competed in Season 2. Although Maddie didn't take home the show's top prize, she was proud to be the youngest remaining soloist when she was eliminated, and saw the whole experience as an opportunity to grow. After all, she's just getting started. Oh, that's right—did we mention Maddie's only 14?
Cover Story