"Dancing with the Stars" pro Lindsay Arnold has become a mainstay on the hit show—this fall marks her ninth season! America has fallen in love with her larger-than-life stage presence and vivacious personality. Specializing in Latin ballroom, Arnold trained in Utah with teachers including fellow "DWTS" veterans Shirley and Mark Ballas. After high school, Arnold planned to study physical therapy on a full academic scholarship at Utah Valley University—until landing a spot on "So You Think You Can Dance" Season 9.
---
What's your biggest fear?
I'm terrified of spiders! It's actually a little embarrassing how scared I get.
Who's your dance role model?
When I was younger and competing ballroom my favorite latin dancer was Yulia Zagoruychenka. I wanted to be just like her. My mom bought one of her old latin dresses for me to compete in and I never wanted to take it off.
What's your favorite dance movie?
One of the first dance movies I remember watching was "Shall We Dance." I fell in love with ballroom dancing after this movie and immediately asked my mom if I could get a ballroom partner and start competing.
Who can always make you laugh?
My husband, Sam Cusick, always knows exactly what to do or say to make me laugh. "Dancing with the Stars" can be a stressful job but Sam always reminds me to enjoy myself and have fun.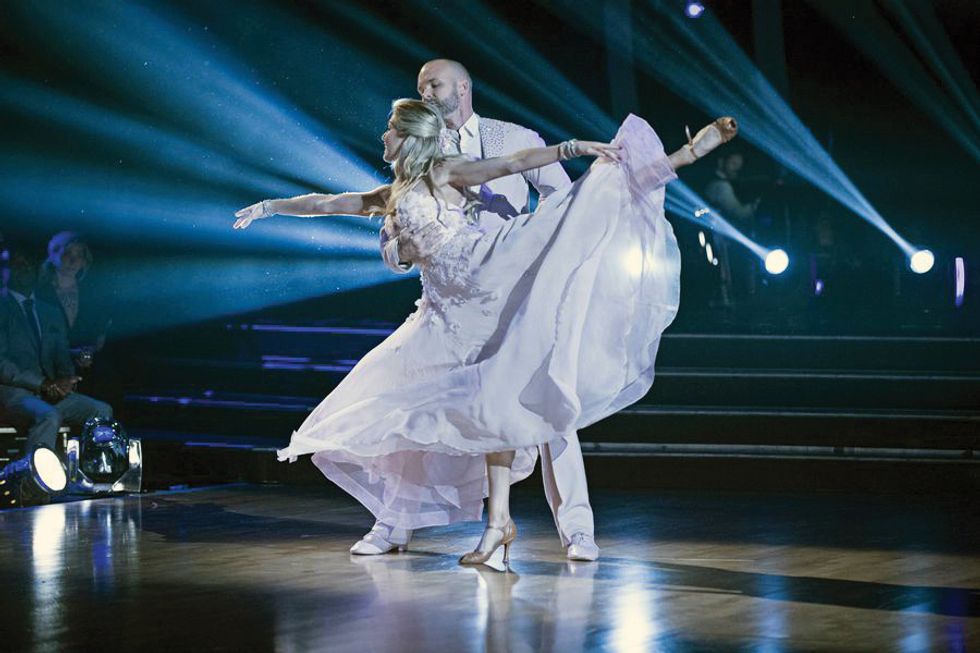 Arnold Performing on "Dancing with the Stars" (photo by Eric McCandless, courtesy ABC)
What's one food you can't live without?
Steak. I love steak and mashed potatoes with gravy. It's one of my favorite meals.
Have you had any embarrassing moments onstage?
During a dress rehearsal for "Dancing with the Stars," I was doing my solo part on stage during a group number and I did a fan kick and fell flat on my back. Everyone was watching and started laughing so hard. It was pretty hilarious. They had captured it on camera , so they put it on repeat on the big screens for everyone to see.
If you could go anywhere in the world, where would you go?
I really want to do a backpacking trip through Europe. I would love to explore and be in a different place everyday.
What's the strangest thing in your dance bag?
I have a collection of necklaces and chokers in my bag at all times, just in case I need to spruce up my outfit a little.