Mar. 23, 2017 07:41AM EST
Little Girls in a B-Girl World
They're masters of headspins, freezes and all things hip hop. They're booking professional dance jobs in between completing homework assignments. They're the rising young stars of the commercial dance world—and they're taking the West Coast by storm (with killer style to boot).
Meet Simrin Player, Jade Chynoweth, Camren Bicondova, Jordyn Jones, Larsen Thompson, Taylor Knight and Emily Hoffman. These seven girls are sweet, cute and giggly—until the music comes on. Then sweetness turns to down-low grit, and giggles are traded for charismatic swagger.
It's obvious why choreographers and directors are eager to work with these mini divas. They can certainly dance, most of them can act and a few can even sing. Read on to meet the newest—and most hirable—kids in the industry.
SIMRIN PLAYER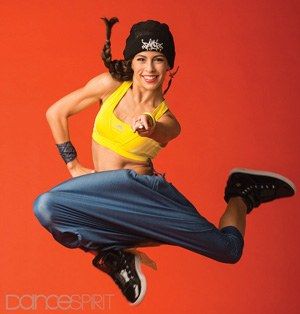 Simrin Player (by Erin Baiano)
…but you can call her: Simi or Simba ("And my mom calls me Poodle," she says.)
Age: 15
Hometown: Phoenix, AZ
Where she trains: Club Dance and Master Ballet Academy
Street cred: Simrin toured with Justin Bieber and Willow Smith in the U.K. and had roles on "Bunheads" and in Step Up 3D. She recently appeared in the short film F.E.A.R. Not, which "showcases my kung fu skills," she says. This summer, Simrin won the Teen Maximum Velocity Artist award at Velocity Dance Competition Nationals, and she'll spend the year assisting the convention faculty on tour.
Signature moves: Headspins and windmills
Her freestyle song: "Angels" by The xx
Why you need to know her: Simrin does it all. She's trained in hip hop, break dancing, tap, ballet, jazz, contemporary, pointe and partnering. She takes acting classes, plays piano and does kung fu. "We get to use weapons like swords, staffs and double daggers," she says. "Thankfully, they aren't too sharp, so I don't beat myself up too badly!"
"When I first met Simi, she was so tiny. But when she danced, she became this big ball of energy. She was on fire, lighting up the dance floor at just 7 years old. Now, she's one of the most incredible, gifted and well-rounded performers in the industry. Mark my words, Simrin Player is going to be a worldwide force." —Hi-Hat
JADE CHYNOWETH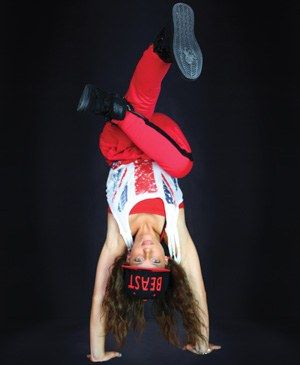 Jade Chynoweth (by Will Simons)
…but you can call her: JaDeBug
Age: 15
Hometown: Park City, UT
Where she trains: Pioneer High School for the Performing Arts
Street cred: Jade was an Elite Protégé at The PULSE On Tour during its 2010–11 season and performed in L.A. as a member of E-Kidz, a youth hip-hop group run by Dave Scott. She was a featured dancer in Mindless Behavior's "My Girl (Remix)" and "Girls Talkin Bout" music videos, and performed at the 2011 and 2012 Nickelodeon Kids' Choice Awards. She danced at the 2011 MTV Video Music Awards in the Britney Spears tribute piece ("I stood next to Beyoncé while waiting backstage—too cool!" she says), was a featured dancer in the 2012 Microsoft Surface commercial and was a cast member in the Monsters of Hip-Hop show Shadows this summer. Jade has appeared on "The Ellen DeGeneres Show" and filmed a Toyota commercial that airs this year. Next, she'll appear on the big screen as the young queen Artemisia in 300: Rise of an Empire.
Signature move: The backwards worm. "At least that's what I call it," Jade says.
Her freestyle song: "Black Skinhead" by Kanye West
Her go-to audition look: "If they're looking for younger kids, I'll wear bright colors, but if they want teens, I'll wear something like black leather with bright accessories and a pair of colored Converse sneakers," she says.
Why you need to know her: Don't be fooled by her cute curls and face full of freckles: Jade's a total tough-girl tomboy. Her dance style is quirky and experimental—think Mark Kanemura plus Tucker Barkley—and she can do every trick in the book. Jade won't just do a cartwheel: She'll do a cartwheel on her head over a chair. She's also a battle master, having dominated at NUVO Dance Convention, the L.A. Hip Hop Dance Intensive, Bobby's Beat Camp and Urban Dance Organization.
"Jade is one of the most outstanding dancers I've seen in a long time. Her maturity and versatility are rare, as is her respect for others at such a young age—it's beautiful. She is definitely one to watch out for." —Tyce Diorio
CAMREN BICONDOVA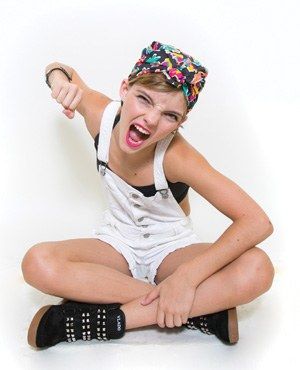 Camren Bicondova (by Louise Flores)
…but you can call her: Cam or CamCam
Age: 14
Hometown: L.A. Camren's dad is active-duty military and their family just transferred to California after four years in Hawaii.
Where she trains: Movement Lifestyle, Millennium Dance Complex, EDGE Performing Arts Center and Academy of Dance Westlake Village
Street cred: Camren's a member of the 8 Flavahz Crew, which took second place on "America's Best Dance Crew" Season 7 and performed in Ciara's "Got Me Good" music video. She was an Elite Protégé for The PULSE On Tour's 2011–12 season and was nominated for a 2012 The Industry Voice Prodigy award. She has performed at the Kids' Choice Awards, with Ciara on 2012 VH1 Divas and at the Dizzy Feet Foundation's gala. Most recently she's been assisting Tessandra Chavez and performing with the immaBEAST hip-hop dance company formed by Willdabeast Adams.
Signature move: "I like whacking and love to add a simple pose after a really hard set," Camren says. "The shablam is a personal fave."
Her freestyle song: "No Diggity" by Blackstreet featuring Dr. Dre
Her go-to audition look: "Usually capris and a crop top with my comfy shoes."
Why you need to know her: She's a survivor. Camren started dancing because she was having seizures and her parents thought dance classes might help. They did, and Cam was hooked. Today, Camren's a self-described "edgy nerd" with a cute bob haircut ("It's a great accessory, but it has a mind of its own," she says) and a unique style that mixes girly movements with masculine, hard-hitting moves.
"It's been a pleasure seeing Camren mature into a dancer with talent far beyond her years. She has a genius understanding of timing and is a tremendous, dependable assistant. She's as good as the professional adults I have assisting me. Plus, she's extremely captivating onstage." —Tessandra Chavez
JORDYN JONES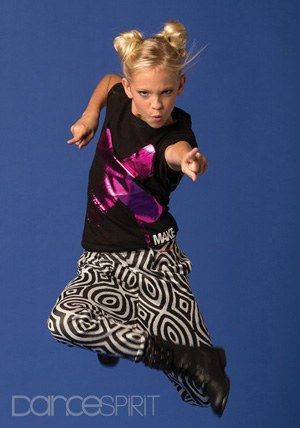 Jordyn Jones (by Erin Baiano)
…but you can call her: J-Dawg, J or JJ
Age: 13
Hometown: L.A. Jordyn's family relocated from Three Rivers, MI, two years ago so Jordyn could pursue her Hollywood dreams while being home-schooled.
Where she trains: Millennium Dance Complex and Movement Lifestyle. She also takes private ballet lessons.
Street cred: Jordyn has danced with Will Smith, Christina Aguilera and Pitbull at the Kids' Choice Awards, and with Zendaya on Disney Channel's "Shake It Up" and in two of her music videos. She's a member of collectiveUth, a hip-hop company run by Andrea Jasper, and just filmed a Jordache commercial with Heidi Klum. Jordyn is also recording music with producer Andrew Lane and plans to have her songs on iTunes soon.
Signature moves: Alphas, baby swipes and suicides
Her freestyle song: "#thatPOWER" by will.i.am featuring Justin Bieber
Her go-to audition look: "My Nappytabs pants and Heyday Footwear along with a swagged-out top and crimped hair. No look is ever complete without awesome shoes—gotta be ready to hip hop wherever I am."
Why you need to know her: Tiny Jordyn is a punked-out princess: She has the highly bookable blonde-haired, doe-eyed look that's needed on almost any commercial set, but she's also a fireball just waiting to explode in a hip-hop battle.
"You can't help but be a fan of Jordyn. She has the cutest face and the goods to back it up with her dancing. She's the perfect package for casting directors and choreographers. The camera absolutely loves her." —Brian Friedman
LARSEN THOMPSON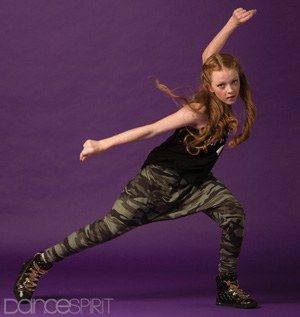 Larsen Thompson (by Erin Baiano)
…but you can call her: L-Pop
Age: She turns 13 this month!
Hometown: Thousand Oaks, CA
Where she trains: Millennium Dance Complex, International Dance Academy of Hollywood, Academy of Dance Westlake Village and Movement Lifestyle
Street cred: Larsen has done several national commercials, including Jon M. Chu's Microsoft Surface spot last year and ads for Walmart, Target, Nintendo and McDonald's. She has danced backup on "The X Factor" and performed with tWitch, Sophia Grace and Rosie on "The Ellen DeGeneres Show." This summer, Larsen danced on "Shake It Up" and performed at the Kids' Choice Awards with Christina Aguilera and Pitbull, and now she's touring as an Elite Protégé with The PULSE On Tour while taking acting and singing lessons and modeling.
Signature moves: Suicides and alphas
Her freestyle songs: "Put Your Graffiti on Me" by Kat Graham and "I'm Legit" by Nicki Minaj featuring Ciara
Her go-to audition look: Harem pants, crop tops and "cool shoes from unique designers."
Why you need to know her: Larsen can hold her own in hip hop, but she's also passionate about contemporary dance. She's a gifted technician with a quiet intensity.
"Most people think of Larsen as a hip-hop dancer, but I saw her do a contemporary solo and was blown away—I didn't know she had that in her. She surprises me every time I see her move." —Brian Friedman
TAYLOR KNIGHT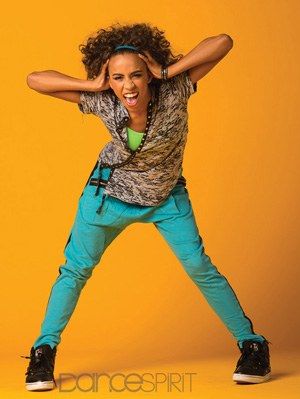 Taylor Knight (by Erin Baiano)
…but you can call her: Taye or T.Knight
Age: 14
Hometown: Gilbert, AZ
Where she trains: Dance Studio 111
Street cred: Taylor's first job was with Dave Scott's E-Kidz, performing at street basketball games. She danced on "The Ellen DeGeneres Show" with Kat Graham, was an Elite Protégé at The PULSE On Tour last year, and has recently been assisting Brian Friedman and Tricia Miranda at master classes and intensives. She's also a member of her school's senior dance team.
Signature move: The sideways moonwalk
Her freestyle song: "Anything Michael Jackson!"
Her go-to audition look: "Cool shoes and an outfit with a funky vibe."
Why you need to know her: Taylor's got that laid-back, effortlessly cool thing going for her, and she can isolate like a pro. She's double-jointed in her elbows and shoulders and is known for her "bone crusher" move and her ability to contort herself into outrageous positions.
EMILY HOFFMAN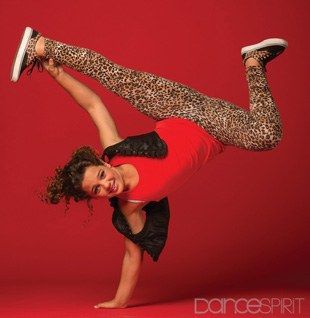 Emily Hoffman (by Erin Baiano)
…but you can call her: Em
Age: 13
Hometown: Costa Mesa, CA
Where she trains: Visions Dance Company, Boogiezone Utopia and Orange County School of the Arts
Street cred: Emily played the role of Darla in Gigi Torres' The Little Rascals and has appeared in commercials for Old Navy, Hasbro Twister Rave and Living Spaces Furniture. She's the American ambassador for the ivivva athletica line, trains with collectiveUth and won this year's battle at the L.A. Hip Hop Dance Intensive.
Signature move: The checkmark
Her freestyle song: "Wrecking Ball" by Miley Cyrus
Her go-to audition look: "A tight, bright shirt or printed crop top with harem pants and my favorite pair of Vlados."
Why you need to know her: This girl can flip. Emily started training in gymnastics as soon as she could walk, which is how she got her start as a dancer. "One day after watching the movie Stick It, I went to the gym and danced on the balance beam. My coach told my mom I should try hip hop, so I started taking classes," she says. Now, Emily describes her style as "hard and grimy. But I can also do smooth and soft."
Jun. 15, 2019 10:12AM EST
(From left) Darriel Johnakin, Diego Pasillas, and Emma Sutherland (all photos by Erin Baiano)
Congratulations to Dance Spirit's 2019 Cover Model Search finalists: Darriel Johnakin, Diego Pasillas, and Emma Sutherland! One of them will win a spot on Dance Spirit's Fall 2019 cover. Learn more about the dancers on their profile pages, and then vote for your favorite below. You can vote once a day now through July 15.
We also want you to get social! We'll be factoring social media likes and shares into our final tallies. Be sure to show your favorite finalist some love on Facebook, Instagram, and Twitter, sharing their profile pages and using the hashtag #DanceSpiritCMS.
Cover Model Search
Jun. 13, 2019 02:20PM EST
Photo by Erin Baiano
Imagine attending American Ballet Theatre's prestigious NYC summer intensive, training among classical ballet legends. Imagine taking the stage at New York City Dance Alliance Nationals, competing against some of the country's best contemporary dancers. Now, imagine doing both—at the same time.
Welcome to Madison Brown's world. This summer, she's in her third year as a National Training Scholar with ABT, while also competing for NYCDA's Teen Outstanding Dancer title. (She's already won Outstanding Dancer in the Mini and Junior categories.) The logistics are complicated—ABT's five-week intensive overlaps with the weeklong NYCDA Nationals, which translates to a lot of cabs back and forth across Manhattan—but Maddie is committed to making the most of each opportunity. "I love contemporary and ballet equally," she says. "While I'm able to do both, I want to do as much as I can."
Maddie has an expressive face, endless extensions, and a quiet command of the stage. She dances with remarkable maturity—a trait noted by none other than Jennifer Lopez, one of the judges on NBC's "World of Dance," on which Maddie competed in Season 2. Although Maddie didn't take home the show's top prize, she was proud to be the youngest remaining soloist when she was eliminated, and saw the whole experience as an opportunity to grow. After all, she's just getting started. Oh, that's right—did we mention Maddie's only 14?
Cover Story
Jun. 17, 2019 12:14PM EST