Mar. 23, 2017 07:41AM EST
Little Girls in a B-Girl World
They're masters of headspins, freezes and all things hip hop. They're booking professional dance jobs in between completing homework assignments. They're the rising young stars of the commercial dance world—and they're taking the West Coast by storm (with killer style to boot).
Meet Simrin Player, Jade Chynoweth, Camren Bicondova, Jordyn Jones, Larsen Thompson, Taylor Knight and Emily Hoffman. These seven girls are sweet, cute and giggly—until the music comes on. Then sweetness turns to down-low grit, and giggles are traded for charismatic swagger.
It's obvious why choreographers and directors are eager to work with these mini divas. They can certainly dance, most of them can act and a few can even sing. Read on to meet the newest—and most hirable—kids in the industry.
SIMRIN PLAYER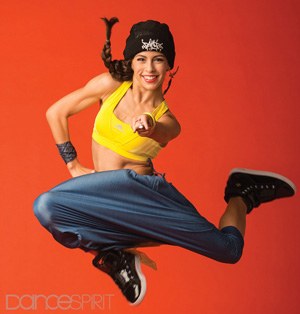 Simrin Player (by Erin Baiano)
…but you can call her: Simi or Simba ("And my mom calls me Poodle," she says.)
Age: 15
Hometown: Phoenix, AZ
Where she trains: Club Dance and Master Ballet Academy
Street cred: Simrin toured with Justin Bieber and Willow Smith in the U.K. and had roles on "Bunheads" and in Step Up 3D. She recently appeared in the short film F.E.A.R. Not, which "showcases my kung fu skills," she says. This summer, Simrin won the Teen Maximum Velocity Artist award at Velocity Dance Competition Nationals, and she'll spend the year assisting the convention faculty on tour.
Signature moves: Headspins and windmills
Her freestyle song: "Angels" by The xx
Why you need to know her: Simrin does it all. She's trained in hip hop, break dancing, tap, ballet, jazz, contemporary, pointe and partnering. She takes acting classes, plays piano and does kung fu. "We get to use weapons like swords, staffs and double daggers," she says. "Thankfully, they aren't too sharp, so I don't beat myself up too badly!"
"When I first met Simi, she was so tiny. But when she danced, she became this big ball of energy. She was on fire, lighting up the dance floor at just 7 years old. Now, she's one of the most incredible, gifted and well-rounded performers in the industry. Mark my words, Simrin Player is going to be a worldwide force." —Hi-Hat
JADE CHYNOWETH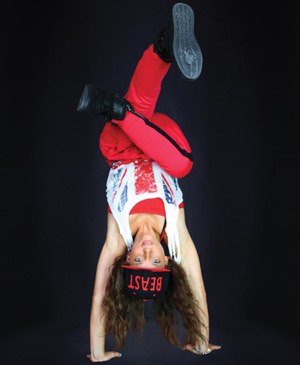 Jade Chynoweth (by Will Simons)
…but you can call her: JaDeBug
Age: 15
Hometown: Park City, UT
Where she trains: Pioneer High School for the Performing Arts
Street cred: Jade was an Elite Protégé at The PULSE On Tour during its 2010–11 season and performed in L.A. as a member of E-Kidz, a youth hip-hop group run by Dave Scott. She was a featured dancer in Mindless Behavior's "My Girl (Remix)" and "Girls Talkin Bout" music videos, and performed at the 2011 and 2012 Nickelodeon Kids' Choice Awards. She danced at the 2011 MTV Video Music Awards in the Britney Spears tribute piece ("I stood next to Beyoncé while waiting backstage—too cool!" she says), was a featured dancer in the 2012 Microsoft Surface commercial and was a cast member in the Monsters of Hip-Hop show Shadows this summer. Jade has appeared on "The Ellen DeGeneres Show" and filmed a Toyota commercial that airs this year. Next, she'll appear on the big screen as the young queen Artemisia in 300: Rise of an Empire.
Signature move: The backwards worm. "At least that's what I call it," Jade says.
Her freestyle song: "Black Skinhead" by Kanye West
Her go-to audition look: "If they're looking for younger kids, I'll wear bright colors, but if they want teens, I'll wear something like black leather with bright accessories and a pair of colored Converse sneakers," she says.
Why you need to know her: Don't be fooled by her cute curls and face full of freckles: Jade's a total tough-girl tomboy. Her dance style is quirky and experimental—think Mark Kanemura plus Tucker Barkley—and she can do every trick in the book. Jade won't just do a cartwheel: She'll do a cartwheel on her head over a chair. She's also a battle master, having dominated at NUVO Dance Convention, the L.A. Hip Hop Dance Intensive, Bobby's Beat Camp and Urban Dance Organization.
"Jade is one of the most outstanding dancers I've seen in a long time. Her maturity and versatility are rare, as is her respect for others at such a young age—it's beautiful. She is definitely one to watch out for." —Tyce Diorio
CAMREN BICONDOVA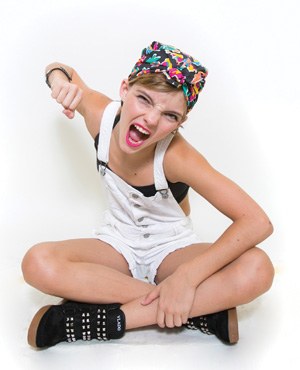 Camren Bicondova (by Louise Flores)
…but you can call her: Cam or CamCam
Age: 14
Hometown: L.A. Camren's dad is active-duty military and their family just transferred to California after four years in Hawaii.
Where she trains: Movement Lifestyle, Millennium Dance Complex, EDGE Performing Arts Center and Academy of Dance Westlake Village
Street cred: Camren's a member of the 8 Flavahz Crew, which took second place on "America's Best Dance Crew" Season 7 and performed in Ciara's "Got Me Good" music video. She was an Elite Protégé for The PULSE On Tour's 2011–12 season and was nominated for a 2012 The Industry Voice Prodigy award. She has performed at the Kids' Choice Awards, with Ciara on 2012 VH1 Divas and at the Dizzy Feet Foundation's gala. Most recently she's been assisting Tessandra Chavez and performing with the immaBEAST hip-hop dance company formed by Willdabeast Adams.
Signature move: "I like whacking and love to add a simple pose after a really hard set," Camren says. "The shablam is a personal fave."
Her freestyle song: "No Diggity" by Blackstreet featuring Dr. Dre
Her go-to audition look: "Usually capris and a crop top with my comfy shoes."
Why you need to know her: She's a survivor. Camren started dancing because she was having seizures and her parents thought dance classes might help. They did, and Cam was hooked. Today, Camren's a self-described "edgy nerd" with a cute bob haircut ("It's a great accessory, but it has a mind of its own," she says) and a unique style that mixes girly movements with masculine, hard-hitting moves.
"It's been a pleasure seeing Camren mature into a dancer with talent far beyond her years. She has a genius understanding of timing and is a tremendous, dependable assistant. She's as good as the professional adults I have assisting me. Plus, she's extremely captivating onstage." —Tessandra Chavez
JORDYN JONES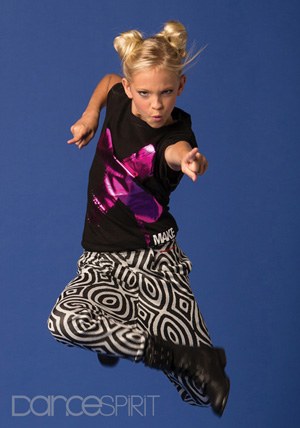 Jordyn Jones (by Erin Baiano)
…but you can call her: J-Dawg, J or JJ
Age: 13
Hometown: L.A. Jordyn's family relocated from Three Rivers, MI, two years ago so Jordyn could pursue her Hollywood dreams while being home-schooled.
Where she trains: Millennium Dance Complex and Movement Lifestyle. She also takes private ballet lessons.
Street cred: Jordyn has danced with Will Smith, Christina Aguilera and Pitbull at the Kids' Choice Awards, and with Zendaya on Disney Channel's "Shake It Up" and in two of her music videos. She's a member of collectiveUth, a hip-hop company run by Andrea Jasper, and just filmed a Jordache commercial with Heidi Klum. Jordyn is also recording music with producer Andrew Lane and plans to have her songs on iTunes soon.
Signature moves: Alphas, baby swipes and suicides
Her freestyle song: "#thatPOWER" by will.i.am featuring Justin Bieber
Her go-to audition look: "My Nappytabs pants and Heyday Footwear along with a swagged-out top and crimped hair. No look is ever complete without awesome shoes—gotta be ready to hip hop wherever I am."
Why you need to know her: Tiny Jordyn is a punked-out princess: She has the highly bookable blonde-haired, doe-eyed look that's needed on almost any commercial set, but she's also a fireball just waiting to explode in a hip-hop battle.
"You can't help but be a fan of Jordyn. She has the cutest face and the goods to back it up with her dancing. She's the perfect package for casting directors and choreographers. The camera absolutely loves her." —Brian Friedman
LARSEN THOMPSON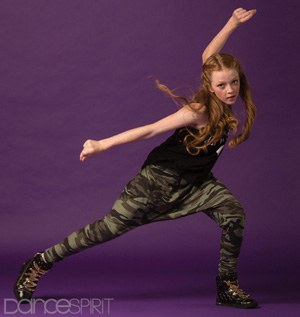 Larsen Thompson (by Erin Baiano)
…but you can call her: L-Pop
Age: She turns 13 this month!
Hometown: Thousand Oaks, CA
Where she trains: Millennium Dance Complex, International Dance Academy of Hollywood, Academy of Dance Westlake Village and Movement Lifestyle
Street cred: Larsen has done several national commercials, including Jon M. Chu's Microsoft Surface spot last year and ads for Walmart, Target, Nintendo and McDonald's. She has danced backup on "The X Factor" and performed with tWitch, Sophia Grace and Rosie on "The Ellen DeGeneres Show." This summer, Larsen danced on "Shake It Up" and performed at the Kids' Choice Awards with Christina Aguilera and Pitbull, and now she's touring as an Elite Protégé with The PULSE On Tour while taking acting and singing lessons and modeling.
Signature moves: Suicides and alphas
Her freestyle songs: "Put Your Graffiti on Me" by Kat Graham and "I'm Legit" by Nicki Minaj featuring Ciara
Her go-to audition look: Harem pants, crop tops and "cool shoes from unique designers."
Why you need to know her: Larsen can hold her own in hip hop, but she's also passionate about contemporary dance. She's a gifted technician with a quiet intensity.
"Most people think of Larsen as a hip-hop dancer, but I saw her do a contemporary solo and was blown away—I didn't know she had that in her. She surprises me every time I see her move." —Brian Friedman
TAYLOR KNIGHT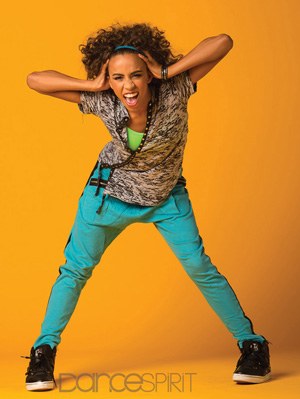 Taylor Knight (by Erin Baiano)
…but you can call her: Taye or T.Knight
Age: 14
Hometown: Gilbert, AZ
Where she trains: Dance Studio 111
Street cred: Taylor's first job was with Dave Scott's E-Kidz, performing at street basketball games. She danced on "The Ellen DeGeneres Show" with Kat Graham, was an Elite Protégé at The PULSE On Tour last year, and has recently been assisting Brian Friedman and Tricia Miranda at master classes and intensives. She's also a member of her school's senior dance team.
Signature move: The sideways moonwalk
Her freestyle song: "Anything Michael Jackson!"
Her go-to audition look: "Cool shoes and an outfit with a funky vibe."
Why you need to know her: Taylor's got that laid-back, effortlessly cool thing going for her, and she can isolate like a pro. She's double-jointed in her elbows and shoulders and is known for her "bone crusher" move and her ability to contort herself into outrageous positions.
EMILY HOFFMAN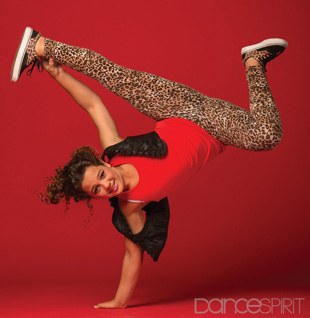 Emily Hoffman (by Erin Baiano)
…but you can call her: Em
Age: 13
Hometown: Costa Mesa, CA
Where she trains: Visions Dance Company, Boogiezone Utopia and Orange County School of the Arts
Street cred: Emily played the role of Darla in Gigi Torres' The Little Rascals and has appeared in commercials for Old Navy, Hasbro Twister Rave and Living Spaces Furniture. She's the American ambassador for the ivivva athletica line, trains with collectiveUth and won this year's battle at the L.A. Hip Hop Dance Intensive.
Signature move: The checkmark
Her freestyle song: "Wrecking Ball" by Miley Cyrus
Her go-to audition look: "A tight, bright shirt or printed crop top with harem pants and my favorite pair of Vlados."
Why you need to know her: This girl can flip. Emily started training in gymnastics as soon as she could walk, which is how she got her start as a dancer. "One day after watching the movie Stick It, I went to the gym and danced on the balance beam. My coach told my mom I should try hip hop, so I started taking classes," she says. Now, Emily describes her style as "hard and grimy. But I can also do smooth and soft."
Dear Katie
May. 24, 2018 01:29PM EST
Photo by Travis Kelley, courtesy Kathryn Morgan
In our "Dear Katie" series, former NYCB soloist Kathryn Morgan answers your pressing dance questions. Have something you want to ask Katie? Email dearkatie@dancespirit.com for a chance to be featured!
Keep reading...
Show less
May. 16, 2018 02:26PM EST
Ema Peter
The Glorya Kaufman International Dance Center is the 54,000 square foot home of the USC Glorya Kaufman School of Dance, one of the largest facilities dedicated to dance on a private university campus. Designed for their innovative new curriculum, that supports a range of dance styles, the school's staff designated Harlequin to provide wall-to-wall flooring for the large 3,500 square foot Performance Studio as well as five dance studios in their new state-of-the-art building.
Keep reading...
Show less
Popular
Jun. 15, 2012 05:44PM EST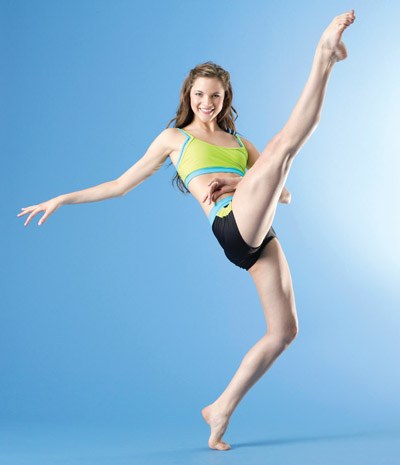 When watching Megan Skalla dance, several things are immediately obvious. She has legs for days and the archy feet to match. Her core is rock-solid, and her sweet smile is contagious. But the longer you spend with her, the more something else becomes clear: Megan's got sass. Whether it's a sharp shoulder roll during a hip-hop class or an intense stare during a sky-high développé, there's a certain something extra that makes this 16-year-old pop. And her steadfast devotion to dance means she's only getting better.
Megan started dancing when she was 3 at a small ballet studio near her hometown of Draper, UT, and was hooked immediately. At 7, she switched to a new studio, Pulse 31, and started to compete, but she still wasn't dancing as much as she wanted. Finally, she came to The Dance Club in Orem, where she currently trains. She takes ballet, jazz, tap, hip hop, contemporary and lyrical, and sometimes supplements her training with private ballet classes at nearby Barlow Arts Conservatory. "I've always loved ballet," says Megan, who has attended summer intensives at Pacific Northwest Ballet School on scholarship for the past two years. "It's the foundation for everything, and it makes me a stronger dancer in other genres."
Though she dances from morning until night, Megan admits to boogying through her kitchen when she gets home, and would still do more if she could. "There's a dance company that's a big deal at my high school, but there just aren't enough hours in the day to do both," she says. Devoting her time to The Dance Club, she says, is more conducive to her goal of dancing professionally. The studio is full of mega-talented dancers, and Megan shines among them. Her secret? "In class, some dancers will avoid going across the floor with someone they think is better than they are," she says. "But I like to go across the floor with the best dancer in class. That way, I can push myself to come up to her level."
Megan's strategy is working. She won the Teen High Score Solo award at New York City Dance Alliance regionals and was a Top 10 Outstanding Dancer finalist at NYCDA Nationals. She has performed as Clara in the Radio City Christmas Spectacular and was one of four Capezio NYCDA Model Search winners. As for the future, Megan knows one thing for sure: She's going to keep dancing. "I want to go to college for dance, maybe to Brigham Young University, Marymount Manhattan or Juilliard," she says. "But I still have a while to decide." Until then, she'll stick to her busy schedule. "It's a lot of late nights and early mornings," she says. "But it's worth it. I wouldn't give it up for anything."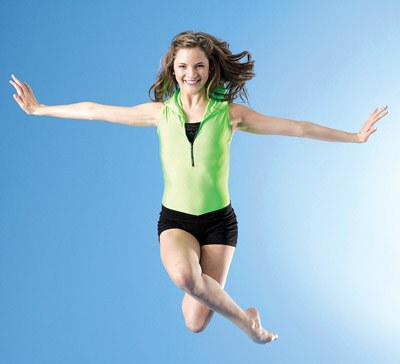 FAST FACTS:
Birthday: March 6, 1996
Favorite food: Pasta
Most-played on her iPod: "I Won't Give Up" by Jason Mraz
Dream dance role: "It would be really fun to be a Rockette. I want to do the Rockette summer intensive this year."
Three words that describe her dancing: "Soft, passionate, aggressive"
Dream dance company: Complexions Contemporary Ballet
Favorite dance movie: Step Up
Who would play her in a movie: Nina Dobrev from "The Vampire Diaries"
First thing she does in the morning: "Hit the snooze button so I can sleep for 10 more minutes."
Favorite dancers of all time: Travis Wall and Joey Dowling
Hidden talent: "I like to sing, but I'm only OK. I'd like to take voice lessons."
Performer she'd die to work with: Celine Dion
Must-see TV shows: "Pretty Little Liars" and "The Lying Game"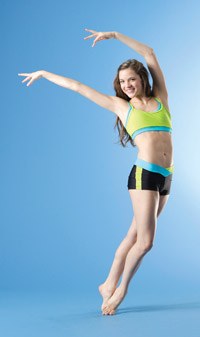 WHAT PEOPLE ARE SAYING ABOUT MEGAN:
Allison Thornton, Megan's teacher at The Dance Club: "Megan has the body that every dancer dreams of: long legs, beautiful feet, great extension. But the best thing about Megan is that she knows how to use it all. She works really hard, and as good as she is in rehearsal, she's even better onstage. Megan is very humble. She always has a smile on her face, she gets along with the other girls and she's easy to work with. She's a good person who has been blessed with great talent."
Joanna Numata, street jazz instructor at Broadway Dance Center: "The first thing I noticed about Megan were her beautiful lines. She also had a really good, positive energy during class. She took direction and corrections well, which is so important."
Love Megan? Go to dancespirit.com//cms to vote for her!
Click here to read all about Alyssa Ness!
Click here to read all about Hannah Bettes!
Oregon Ballet Theatre's Jacquline Straughan (with Brian Simcoe) showing off her beautiful epaulment in Swan Lake (photo by Jingzi, courtesy Oregon Ballet Theatre)
It's in Odette's gracefully arched neck, the Lilac Fairy's regal bearing, even a contemporary dancer's extreme lines. The "it" in question? Épaulement—the nuanced positioning of the head, shoulders, and neck. Using your épaulement (which translates, literally, as "shouldering") does more than make your dancing prettier: It makes it better, richer, and more artistic. But achieving effortless épaulement is easier said than done, especially since technique classes tend to focus on the legs and feet.
Keep reading...
Show less
Fraser dancing in the NYC Subway (photo by Underground NYC, courtesy Fraser)
Paige Fraser has performed on world-class stages and in a video with Beyoncé—yet some of her most meaningful dance moments happened in tiny classrooms on a small island 1,000 miles from America. This past spring, Fraser, who's danced with Ailey II and is a founding member of Visceral Dance Chicago, teamed up with the non-profit Milk Carton on a String to bring dance to underprivileged children in Haiti. Fraser taught daily ballet and modern dance classes and used YouTube videos and social media to introduce the students to other aspects of dance they hadn't been exposed to.
Now, Fraser plans to continue to use dance to give back through her own newly-funded non-profit, The Paige Fraser Foundation. But instead of traveling outside the country, Fraser will be helping kids in her childhood home: the Bronx. She wants her foundation to assist aspiring dancers no matter their color or abilities.
Read our interview with the dancer and do-gooder—and discover the life-changing diagnosis that inspired her to help other dancers achieve their dreams.
Keep reading...
Show less
DancerPalooza, America's Largest Dance Festival, is moving to sunny SAN DIEGO, California from July 24-29, 2018.
Check out all of the NEW Intensives DancerPalooza has to offer this year!
Keep reading...
Show less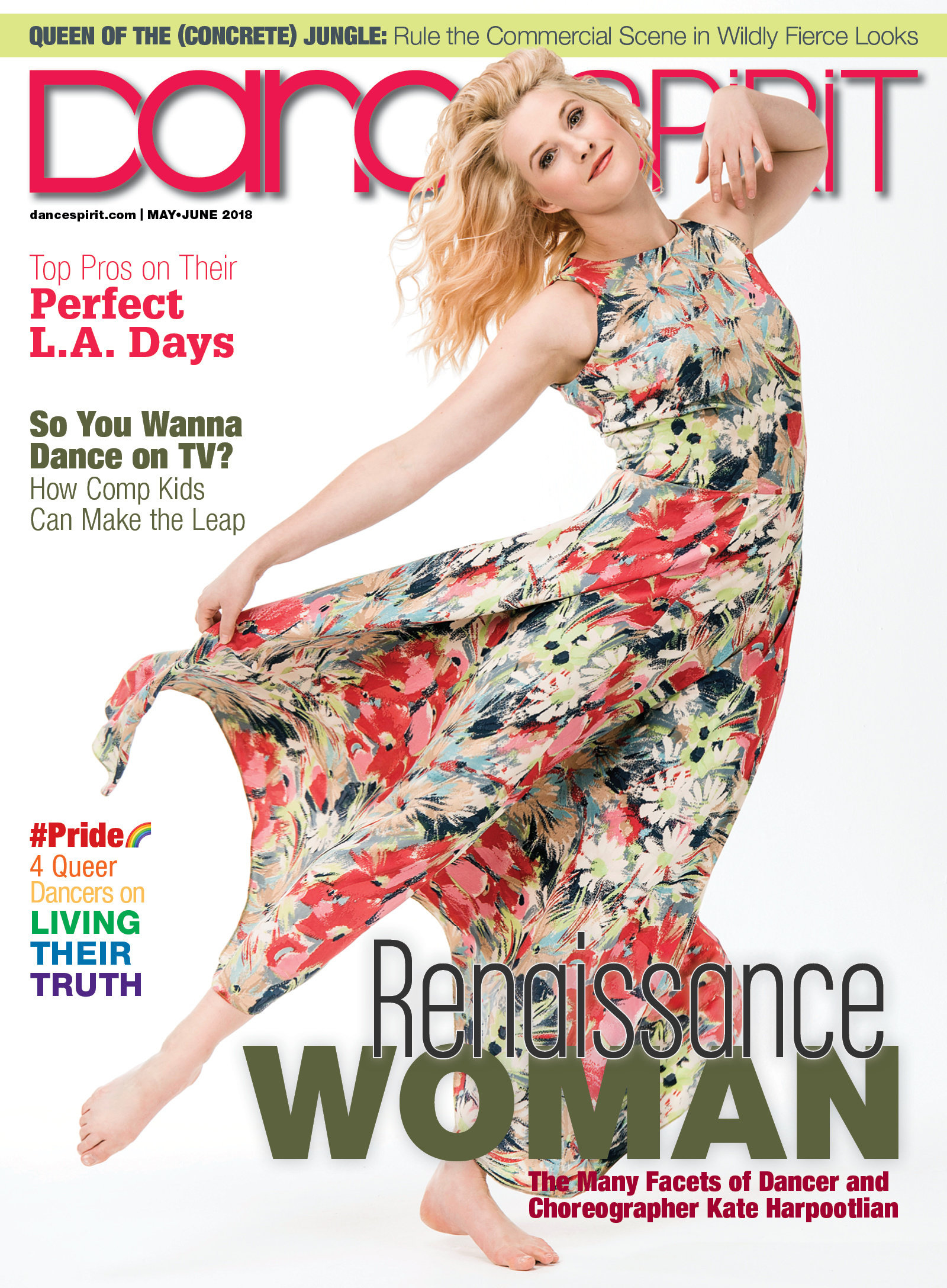 Get Dance Spirit in your inbox