Jan. 17, 2019 11:15AM EST
Competition Star Lucy Vallely Is in a League of Her Own
Photo by Joe Toreno
It started with an Instagram and a leap of faith. Lucy Vallely was only 15 when she created a post voicing her desire to choreograph solos for the 2018 competition season. "I wasn't really sure what would come of it," remembers the comp-circuit standout. Soliciting choreographic opportunities via Instagram might sound like a gamble, but it's also very much in character for this now-17-year-old from Long Beach, CA. "She thrives on risks, on breaking boundaries she's previously created for herself," says Jessie Riley, Lucy's dance teacher and the owner of Westside Dance Project in Laguna Hills, CA.
In the end, the gamble paid off. Madison Taylor, who trains at The Project @ HTX in Houston, TX, was one of many dancers who jumped at the Insta post, and after a few hours in a studio together, Lucy's first professional choreographic endeavor was born. The solo, "All of Me," was an impressive debut, filled with seamless, fluid transitions and infused with an innate sense of musicality. (It was also refreshingly free of flashy tilts and turn sequences.) "All of Me" perfectly complemented Madison's sweeping movement quality—she ended up clinching first place at Radix—and it showcased Lucy's choreographic chops.
Fast-forward nearly 12 months, and the success of "All of Me" has led to an influx of choreographic opportunities. Lucy spent this past fall state- and studio-hopping, setting dozens of solos and group dances. And as she wraps up her yearlong reign as The Dance Awards' Senior Female Best Dancer, Lucy finds herself at a unique crossroads. She's still a comp kid, yet she's also on the brink of an exciting professional career. But if there's one thing this California girl knows how to do, it's go with the flow.
---
Cover Star | Lucy Vallely | February 2019 www.youtube.com
A Bona Fide Comp-Kid

Lucy first found herself in a dance studio around the age of 2 1/2 thanks to her older sister Emily, who was enrolled in classes at the time. "One day, my mom just threw me in, too," she remembers. Lucy started entering competitions at age 6 and taking ballet, jazz, tap, and hip hop recreationally, but after some YouTube browsing at age 11, her eyes opened to the possibilities of the scene and she decided to start competing more seriously. Lucy watched video after video from events like Showstopper and NUVO, and something clicked. "I thought to myself, 'I want to dance like that,' " she says. "From there, everything began to snowball. I switched studios and started putting in way more work than I had before."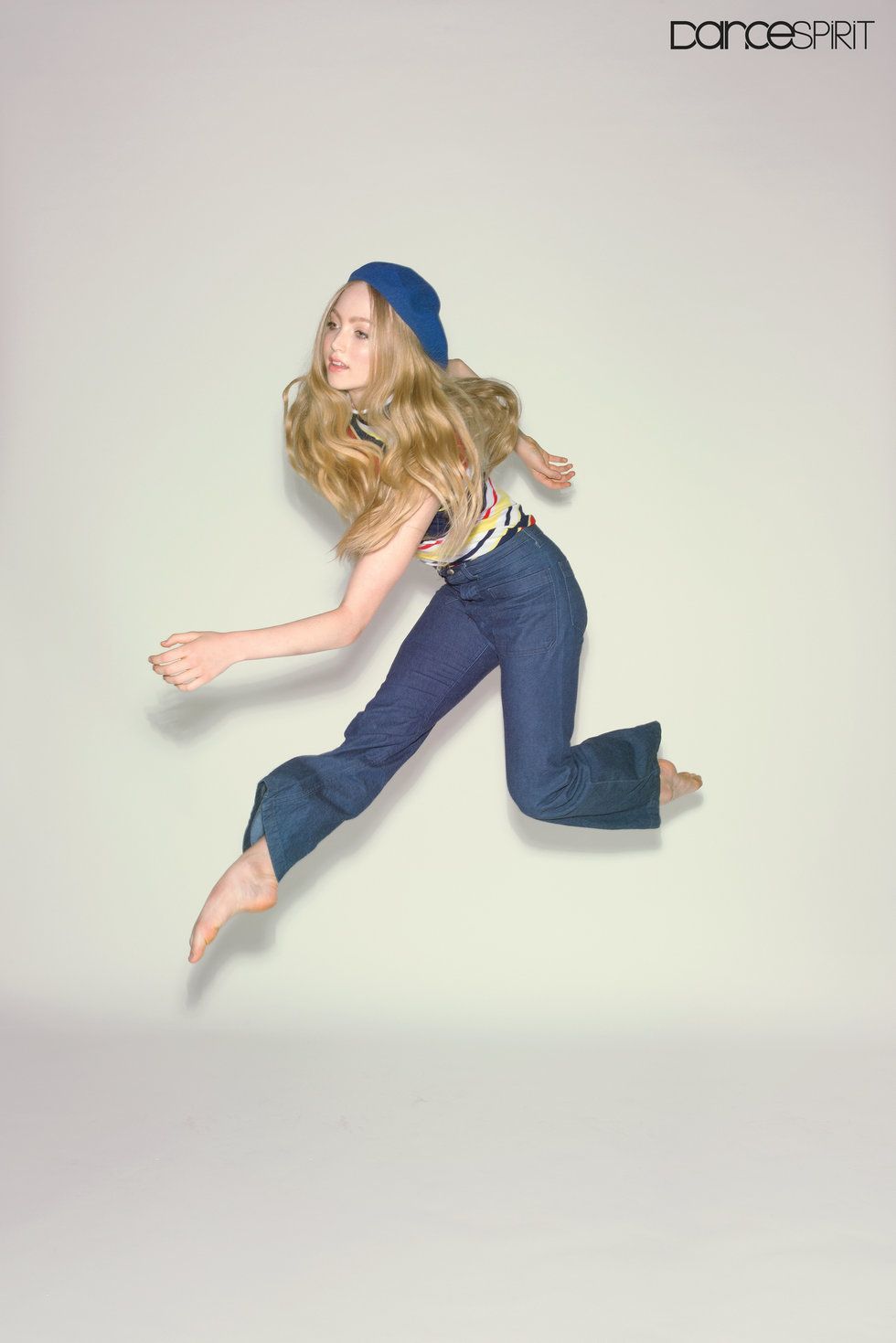 Photo by Joe Toreno
Just a year later, Lucy was spending weekend after weekend in hotel ballrooms. "I loved conventions because they were my chance to show everyone the work I was putting into my craft," she says. She also got to take class from and assist numerous big-name choreographers, including Teddy Forance, co-founder of CLI Studios, and a founding member of Shaping Sound Dance Co. "She was probably 12 years old, but she had a natural work ethic and persistence," Forance says, recalling the first time he met Lucy at JUMP Dance Convention. "She seemed bound to make a strong impact on the dance community."
As a performer, Lucy is the complete package: the lines and feet of a ballerina, a chameleon-like ability to transition from hip hop to contemporary without skipping a beat, and the stage presence of a veteran. She snagged her first Best Dancer title at the Dance Awards in 2015, and since her second Best Dancer win in 2018, Lucy has all but cemented her status as a comp-circuit celebrity. Hundreds of thousands of fans on Instagram and YouTube consistently praise her stunning technique, gorgeous facility, and storytelling abilities. (Her winning Dance Awards solo, choreographed by Travis Wall, for example, was an intense portrayal of the dangers of plastic surgery.) But even with all the recognition, she keeps her trademark cool and humility. "For Lucy, it's never been about getting ahead of someone else," Riley says. "She continues to be open-hearted and supportive. She looks up to so many people and wants to learn from everybody."
Stop, Collaborate, and Listen

For Lucy, learning from and working with a wide range of choreographers is paramount. She has a long wish list of dream collaborators, with Emma Portner in the number-one slot. "I'm still so young, and I feel like it's key to be open to collaborating," she says. "If you subscribe to the idea that you're a specific type of dancer, that's when you stop growing."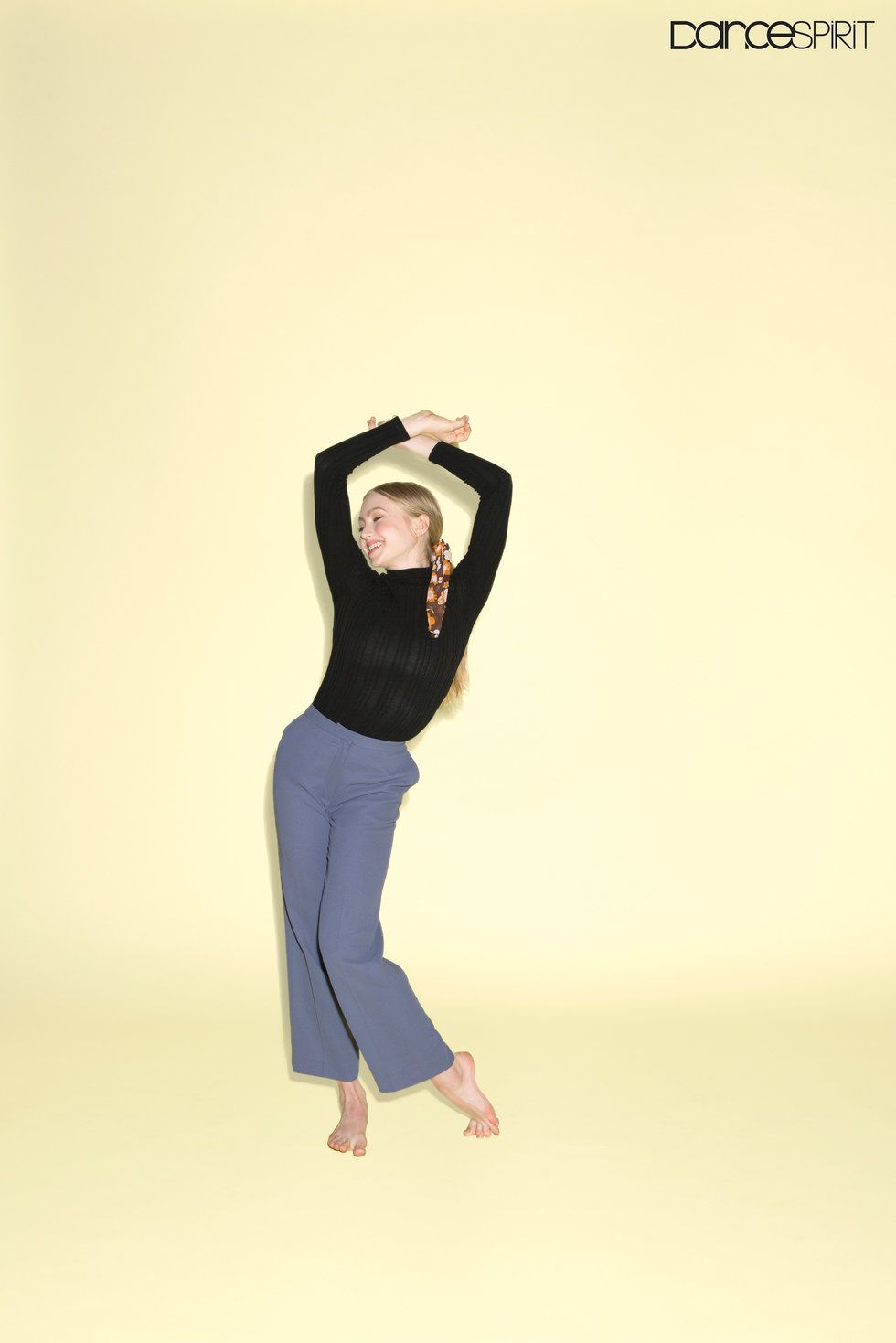 Photo by Joe Toreno
Lucy is close friends with 22-year-old choreographer Easton Payne, a former comp kid whose own work has earned him somewhat of a cult following. They first met in person at DancerPalooza in 2016 (after months of interacting on Instagram) and clicked immediately, thanks in large part to a shared love of unconventional movement styles, music by artists like Billie Holiday and The Smiths, and an insatiable need to create. "Everything Easton does comes from somewhere deep within him—it's so genuine, and that's how I hope to be as a choreographer one day," Lucy says. The two work together frequently, and it's clear Lucy is something of a muse to Payne. "She's always testing the limits of her artistry," Payne says. "Lucy invites you into her head, and you can't help but want to know more about her."
Next Steps
Last April, Lucy—who's been homeschooled since seventh grade—took and passed the CHSPE test (California's version of the GED), allowing her to check "high school graduation" off the to-do list. Since college isn't on the agenda for the time being ("It just doesn't feel right for me"), she's dipping her toes into everything she can. In addition to wrapping up her final year at Westside Dance Project with Riley, spending her weekends at conventions, and hanging out with her über-cool family (they all run a skateboard company out of their home's garage in Long Beach), Lucy dreams big. "I really want to travel and take class all over the world," she says. "I'd love to do the Nederlands Dans Theater and Batsheva Dance Company intensives. I want to dive into the concert-dance world. But a major goal is to continue choreographing."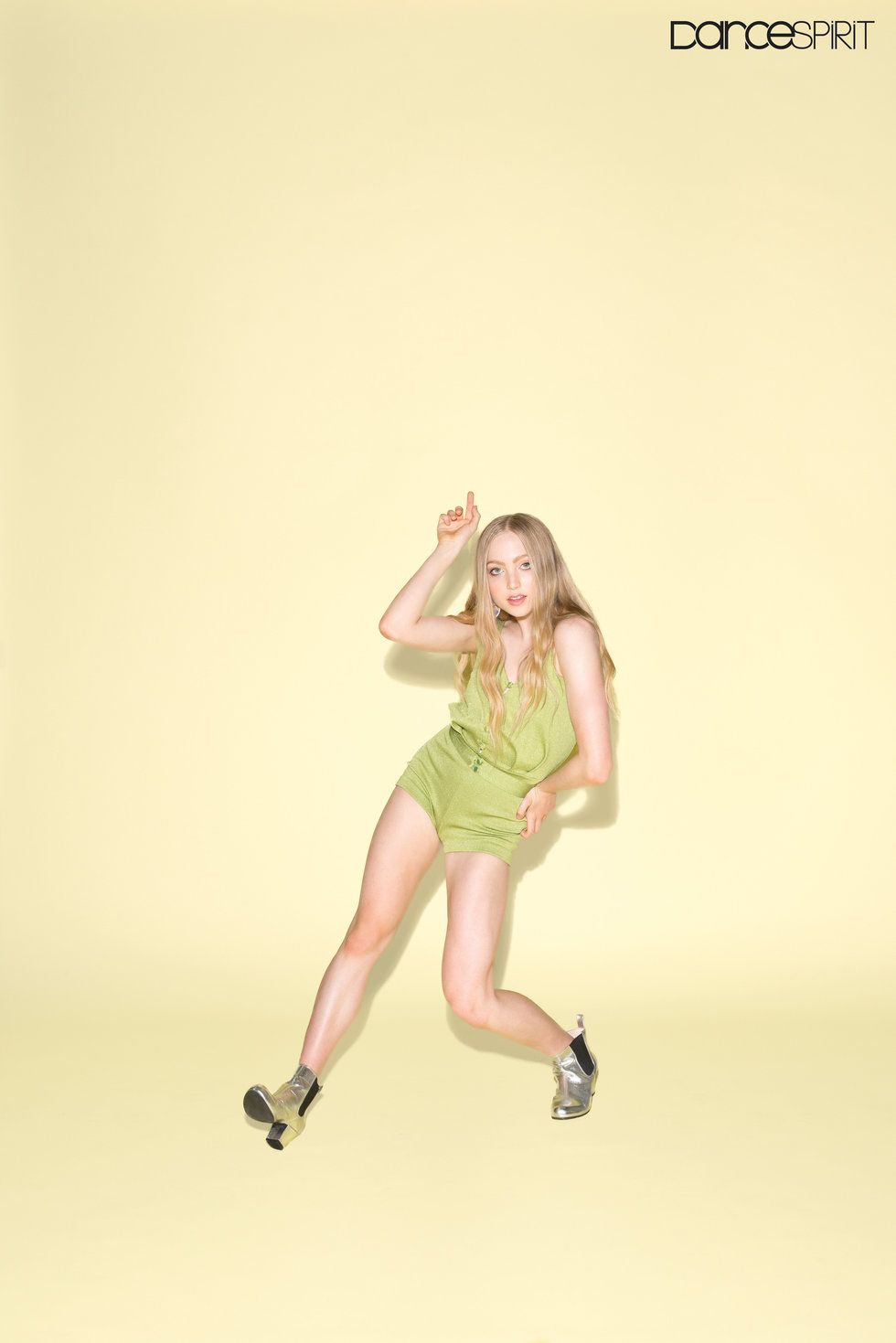 Photo by Joe Toreno
Choreography is something Riley hopes Lucy will continue exploring, too. "When Westside has visiting teachers, she's always asking questions about the choreographic process, absorbing as much as she can. She understands, probably better than any student I've ever had, that one path isn't going to dictate her life." Wherever Lucy's choices take her, one thing's for sure: Everything she does will always be for the love of dance. "All I want is to fill my soul, and at the end of the day, I can do that by dancing," she says. "I'm not sure what 'everything' looks like yet, but I know that's what I want to do."
A version of this story appeared in the February 2019 issue of Dance Spirit with the title "Everyone Loves Lucy."

Related Articles Around the Web
From Your Site Articles
Trending-posts
Jun. 15, 2019 10:12AM EST
(From left) Darriel Johnakin, Diego Pasillas, and Emma Sutherland (all photos by Erin Baiano)
Congratulations to Dance Spirit's 2019 Cover Model Search finalists: Darriel Johnakin, Diego Pasillas, and Emma Sutherland! One of them will win a spot on Dance Spirit's Fall 2019 cover. Learn more about the dancers on their profile pages, and then vote for your favorite below. You can vote once a day now through July 15.
We also want you to get social! We'll be factoring social media likes and shares into our final tallies. Be sure to show your favorite finalist some love on Facebook, Instagram, and Twitter, sharing their profile pages and using the hashtag #DanceSpiritCMS.
Cover Model Search
Jun. 13, 2019 02:20PM EST
Photo by Erin Baiano
Imagine attending American Ballet Theatre's prestigious NYC summer intensive, training among classical ballet legends. Imagine taking the stage at New York City Dance Alliance Nationals, competing against some of the country's best contemporary dancers. Now, imagine doing both—at the same time.
Welcome to Madison Brown's world. This summer, she's in her third year as a National Training Scholar with ABT, while also competing for NYCDA's Teen Outstanding Dancer title. (She's already won Outstanding Dancer in the Mini and Junior categories.) The logistics are complicated—ABT's five-week intensive overlaps with the weeklong NYCDA Nationals, which translates to a lot of cabs back and forth across Manhattan—but Maddie is committed to making the most of each opportunity. "I love contemporary and ballet equally," she says. "While I'm able to do both, I want to do as much as I can."
Maddie has an expressive face, endless extensions, and a quiet command of the stage. She dances with remarkable maturity—a trait noted by none other than Jennifer Lopez, one of the judges on NBC's "World of Dance," on which Maddie competed in Season 2. Although Maddie didn't take home the show's top prize, she was proud to be the youngest remaining soloist when she was eliminated, and saw the whole experience as an opportunity to grow. After all, she's just getting started. Oh, that's right—did we mention Maddie's only 14?
Cover Story
Jun. 16, 2019 07:00AM EST
Corbin Bleu in rehearsal for "Kiss Me, Kate" (Jenny Anderson, courtesy Roundabout Theatre Company)
If you're a hardcore Broadway baby, today is the worst Sunday of the year. Why, you ask? The Tony Awards were last Sunday, so basically there's nothing to look forward to in life anymore—no James Corden being James Corden, no teary acceptance speeches from newly minted stars, no thrilling excerpts from the hottest new shows. Oh yeah, and there are 50 more Sundays to go before our humdrum lives are once again blessed with the next annual iteration of Broadway's biggest night.
Musical Theater