Trending-posts
Jan. 17, 2019 11:15AM EST
Competition Star Lucy Vallely Is in a League of Her Own
Photo by Joe Toreno
It started with an Instagram and a leap of faith. Lucy Vallely was only 15 when she created a post voicing her desire to choreograph solos for the 2018 competition season. "I wasn't really sure what would come of it," remembers the comp-circuit standout. Soliciting choreographic opportunities via Instagram might sound like a gamble, but it's also very much in character for this now-17-year-old from Long Beach, CA. "She thrives on risks, on breaking boundaries she's previously created for herself," says Jessie Riley, Lucy's dance teacher and the owner of Westside Dance Project in Laguna Hills, CA.
In the end, the gamble paid off. Madison Taylor, who trains at The Project @ HTX in Houston, TX, was one of many dancers who jumped at the Insta post, and after a few hours in a studio together, Lucy's first professional choreographic endeavor was born. The solo, "All of Me," was an impressive debut, filled with seamless, fluid transitions and infused with an innate sense of musicality. (It was also refreshingly free of flashy tilts and turn sequences.) "All of Me" perfectly complemented Madison's sweeping movement quality—she ended up clinching first place at Radix—and it showcased Lucy's choreographic chops.
Fast-forward nearly 12 months, and the success of "All of Me" has led to an influx of choreographic opportunities. Lucy spent this past fall state- and studio-hopping, setting dozens of solos and group dances. And as she wraps up her yearlong reign as The Dance Awards' Senior Female Best Dancer, Lucy finds herself at a unique crossroads. She's still a comp kid, yet she's also on the brink of an exciting professional career. But if there's one thing this California girl knows how to do, it's go with the flow.
---
Cover Star | Lucy Vallely | February 2019 www.youtube.com
A Bona Fide Comp-Kid

Lucy first found herself in a dance studio around the age of 2 1/2 thanks to her older sister Emily, who was enrolled in classes at the time. "One day, my mom just threw me in, too," she remembers. Lucy started entering competitions at age 6 and taking ballet, jazz, tap, and hip hop recreationally, but after some YouTube browsing at age 11, her eyes opened to the possibilities of the scene and she decided to start competing more seriously. Lucy watched video after video from events like Showstopper and NUVO, and something clicked. "I thought to myself, 'I want to dance like that,' " she says. "From there, everything began to snowball. I switched studios and started putting in way more work than I had before."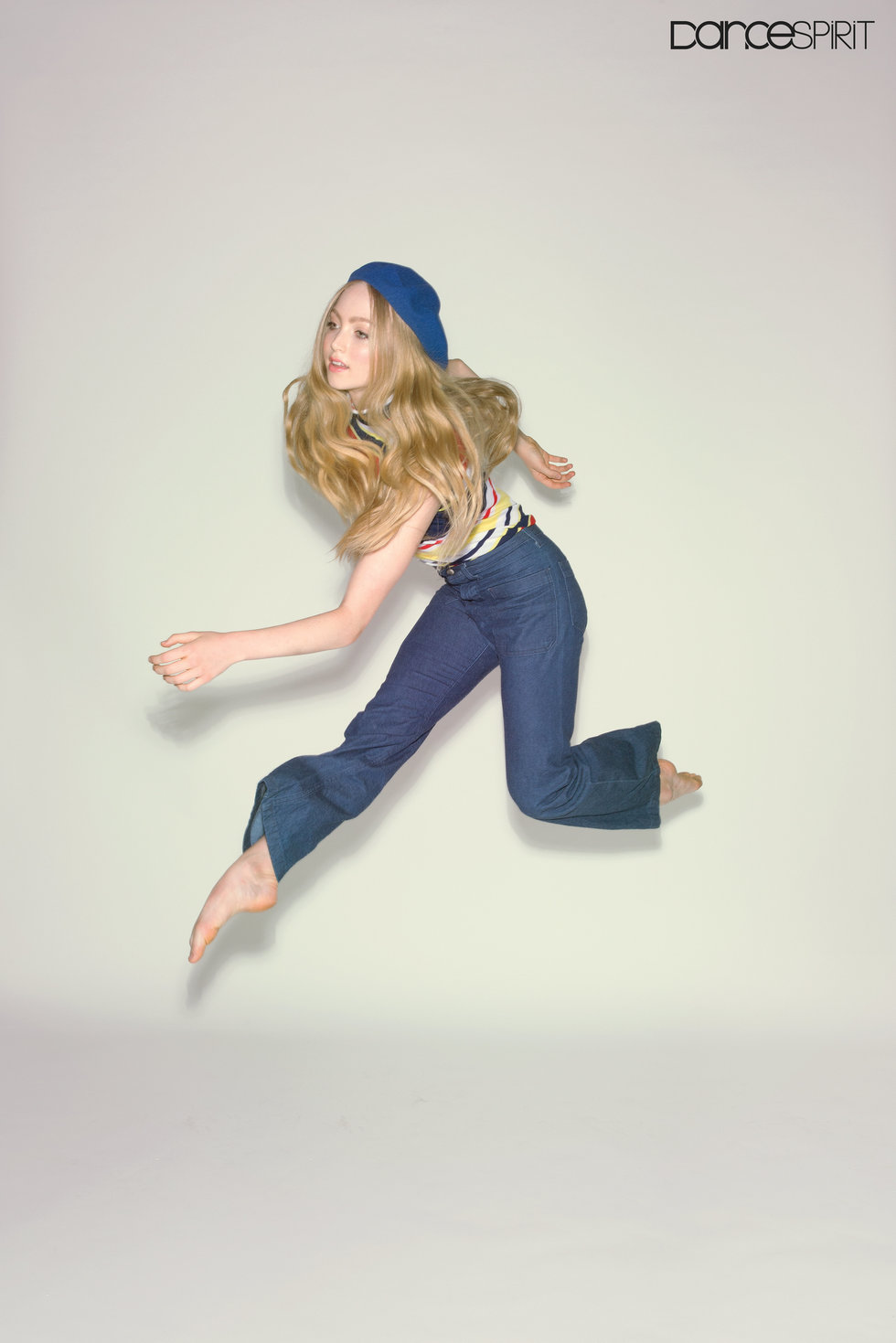 Photo by Joe Toreno
Just a year later, Lucy was spending weekend after weekend in hotel ballrooms. "I loved conventions because they were my chance to show everyone the work I was putting into my craft," she says. She also got to take class from and assist numerous big-name choreographers, including Teddy Forance, co-founder of CLI Studios, and a founding member of Shaping Sound Dance Co. "She was probably 12 years old, but she had a natural work ethic and persistence," Forance says, recalling the first time he met Lucy at JUMP Dance Convention. "She seemed bound to make a strong impact on the dance community."
As a performer, Lucy is the complete package: the lines and feet of a ballerina, a chameleon-like ability to transition from hip hop to contemporary without skipping a beat, and the stage presence of a veteran. She snagged her first Best Dancer title at the Dance Awards in 2015, and since her second Best Dancer win in 2018, Lucy has all but cemented her status as a comp-circuit celebrity. Hundreds of thousands of fans on Instagram and YouTube consistently praise her stunning technique, gorgeous facility, and storytelling abilities. (Her winning Dance Awards solo, choreographed by Travis Wall, for example, was an intense portrayal of the dangers of plastic surgery.) But even with all the recognition, she keeps her trademark cool and humility. "For Lucy, it's never been about getting ahead of someone else," Riley says. "She continues to be open-hearted and supportive. She looks up to so many people and wants to learn from everybody."
Stop, Collaborate, and Listen

For Lucy, learning from and working with a wide range of choreographers is paramount. She has a long wish list of dream collaborators, with Emma Portner in the number-one slot. "I'm still so young, and I feel like it's key to be open to collaborating," she says. "If you subscribe to the idea that you're a specific type of dancer, that's when you stop growing."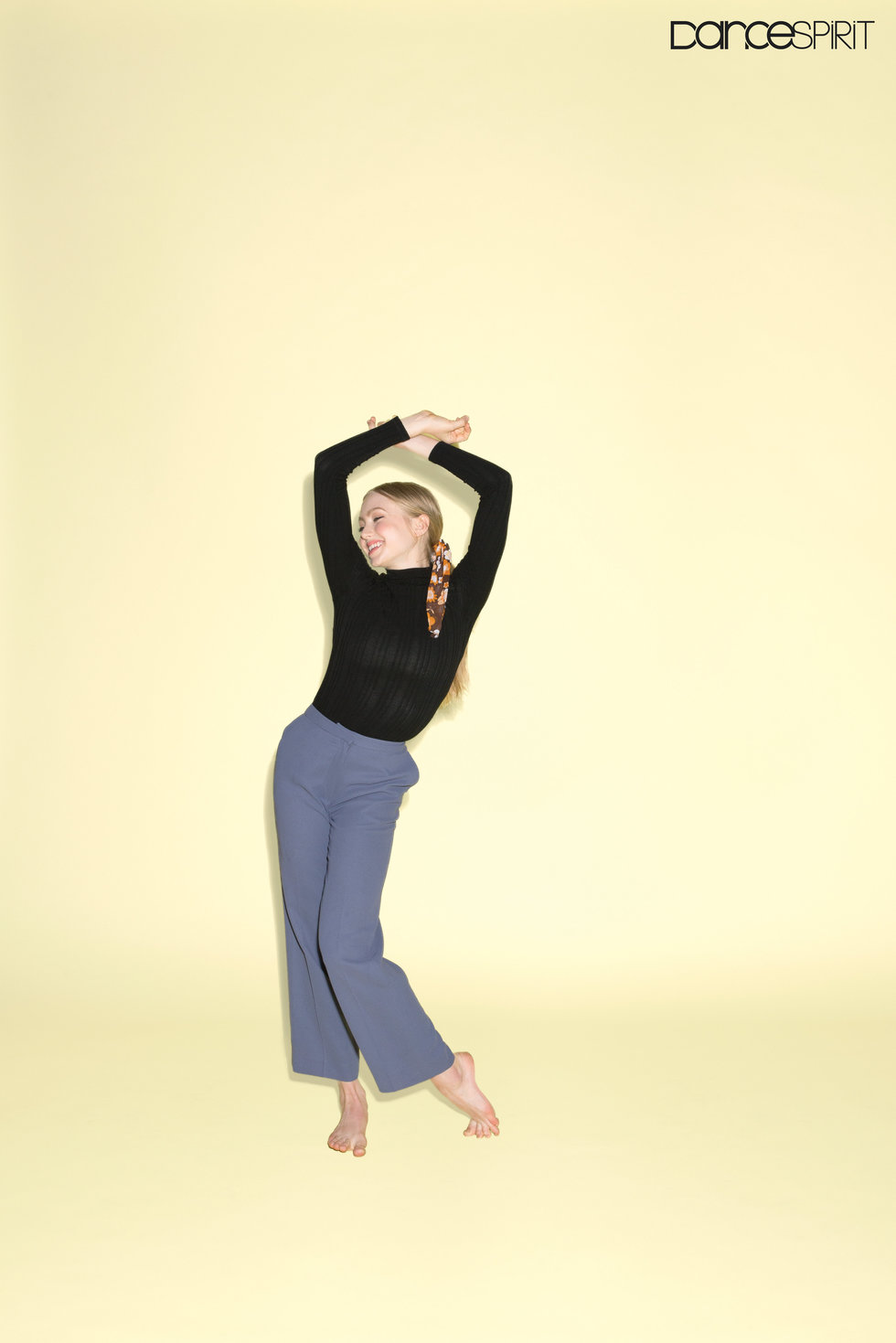 Photo by Joe Toreno
Lucy is close friends with 22-year-old choreographer Easton Payne, a former comp kid whose own work has earned him somewhat of a cult following. They first met in person at DancerPalooza in 2016 (after months of interacting on Instagram) and clicked immediately, thanks in large part to a shared love of unconventional movement styles, music by artists like Billie Holiday and The Smiths, and an insatiable need to create. "Everything Easton does comes from somewhere deep within him—it's so genuine, and that's how I hope to be as a choreographer one day," Lucy says. The two work together frequently, and it's clear Lucy is something of a muse to Payne. "She's always testing the limits of her artistry," Payne says. "Lucy invites you into her head, and you can't help but want to know more about her."
Next Steps
Last April, Lucy—who's been homeschooled since seventh grade—took and passed the CHSPE test (California's version of the GED), allowing her to check "high school graduation" off the to-do list. Since college isn't on the agenda for the time being ("It just doesn't feel right for me"), she's dipping her toes into everything she can. In addition to wrapping up her final year at Westside Dance Project with Riley, spending her weekends at conventions, and hanging out with her über-cool family (they all run a skateboard company out of their home's garage in Long Beach), Lucy dreams big. "I really want to travel and take class all over the world," she says. "I'd love to do the Nederlands Dans Theater and Batsheva Dance Company intensives. I want to dive into the concert-dance world. But a major goal is to continue choreographing."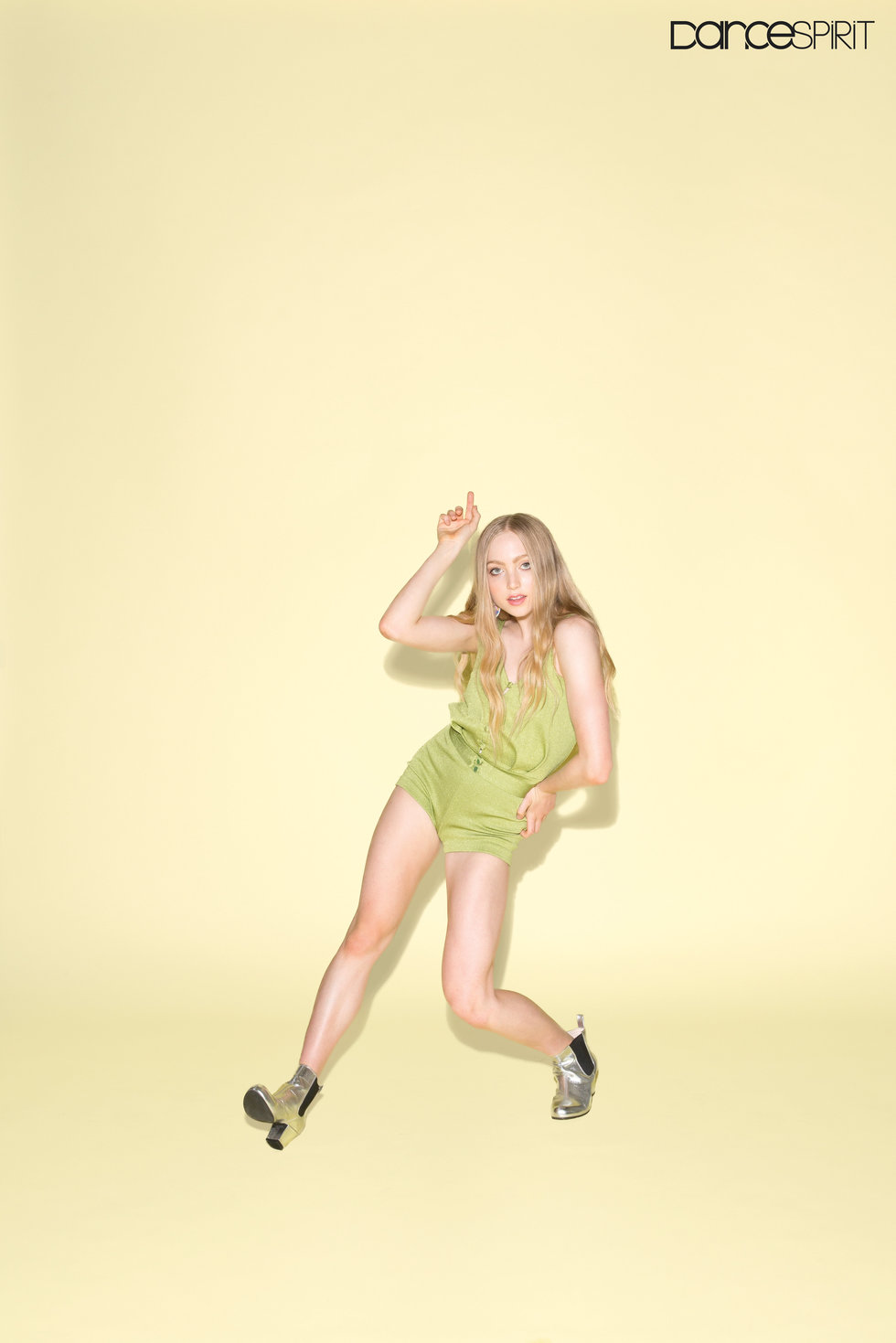 Photo by Joe Toreno
Choreography is something Riley hopes Lucy will continue exploring, too. "When Westside has visiting teachers, she's always asking questions about the choreographic process, absorbing as much as she can. She understands, probably better than any student I've ever had, that one path isn't going to dictate her life." Wherever Lucy's choices take her, one thing's for sure: Everything she does will always be for the love of dance. "All I want is to fill my soul, and at the end of the day, I can do that by dancing," she says. "I'm not sure what 'everything' looks like yet, but I know that's what I want to do."
A version of this story appeared in the February 2019 issue of Dance Spirit with the title "Everyone Loves Lucy."

Getty Images
Ever since starting her professional career, Broadway dancer Amber Ardolino has cupped. Using the holistic wellness practice to improve performance and take care of her body, Ardolino cupped before it was cool—even beating the 2016 Rio Olympics' purple polka-dotted athletes to the punch. But Ardolino's only one dancer who has put this therapy to regular use. Dance Spirit asked Carrie Gaerte, PT, DPT, ATC, and performance rehab specialist with St. Vincent Sports Performance who works with Indianapolis' Dance Kaleidoscope; and Thomas Droge, Chinese-medicine doctor and founder of Pathfinder Institute in NYC, to explain the ins and outs of cupping therapy.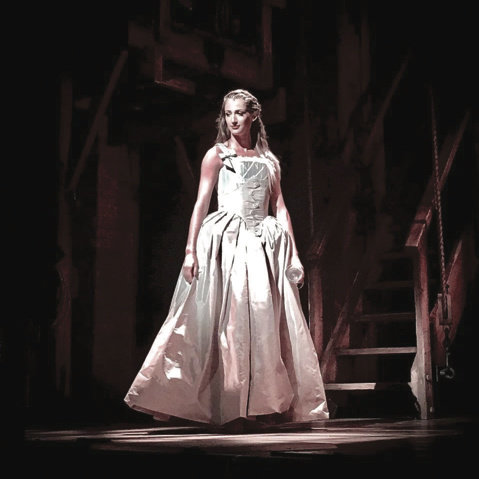 Amber Ardolino in "Hamilton" (courtesy Ardolino)
Keep reading...
Show less
via joffreyballetschool.com
It's never too early to start thinking about your dream job. And summer intensives are an essential step down the road to achieving your dance dreams—whether you want to perform in music videos, ballet companies or Broadway shows.
With 19 programs across the U.S. (plus additional international programs) Joffrey Ballet School offers options for all types of dancers with all types of goals. Whatever you may be working toward this summer, there's a program that will help you get that much closer. We put together a guide to help you find the right one, based on your dream job:
Keep reading...
Show less
Just for Fun
Feb. 15, 2019 02:40PM EST
Inside a Rockette audition (Amanda Schwab/Starpix)
Let's be real: Auditions can be rough. No matter how prepared you are, a lot of variables go into every audition—which means even the best of us mess up sometimes! Here are 7 audition fails every dancer has experienced at one point or another.
Keep reading...
Show less
Via YouTube
Oh, baby I'm a wreck (wreck) after watching Kinjaz's new music video.
Set to Post Malone's "Sunflower," the lead single from the Spider-Man: Into the Spider-Verse soundtrack, the vid features the dance crew's ever-fabulous men—who appear to have Spidey senses, because seriously, how else do they stay down-to-the-fingertips in sync?—performing Vinh Nguyen's super-tight choreography, with an overlay of comic-book-esque graphics by editor Jonathan Shih.
Keep reading...
Show less
See photo credits below
What inspires you most as a dancer? What keeps you going on the days when the motivation just isn't there, and makes you feel like all the hard work, rejection and sacrifice is worth it for the pursuit of your dream? What makes you want to run into an empty studio and create something new?
Cindy Clough, executive director of Just For Kix and a studio owner with over four decades of experience, often hangs posters with dance-related quotes on the walls of her studio, on everything from creativity to the hustle to the importance of teamwork. Sometimes the right words from dancers who have been there are just the push you need to spark your imagination and remind yourself why you love what you do.
In that spirit, here are 10 inspiring quotes from dancers on what their art form means to them, and why it's worth fighting through the hard parts:
Keep reading...
Show less
Photo by Nathan Sayers
Chloe Misseldine has every reason to be nervous as she and her partner run through the challenging wedding pas de deux from Don Quixote. Their performance is just days away and the two American Ballet Theatre Studio Company dancers have only had a week to prepare. Add to that the fact that ABT principal Gillian Murphy, one of the world's most famous ballerinas, is at the front of the studio taking notes.
Keep reading...
Show less
Body Buzz
Feb. 14, 2019 07:00AM EST
Getty Images
If you haven't followed through on your New Year's resolution to practice more self-care, then Valentine's Day is the perfect time to start. Below, we rounded up the best ways to pamper, indulge, and heal everything from your muscles, to your skin, to your mind. Your body (and your dancing) will thank you.
Keep reading...
Show less
Get Dance Spirit in your inbox
via joffreyballetschool.com
It's never too early to start thinking about your dream job. And summer intensives are an essential step down the road to achieving your dance dreams—whether you want to perform in music videos, ballet companies or Broadway shows.
With 19 programs across the U.S. (plus additional international programs) Joffrey Ballet School offers options for all types of dancers with all types of goals. Whatever you may be working toward this summer, there's a program that will help you get that much closer. We put together a guide to help you find the right one, based on your dream job:
Keep reading...
Show less
"SYTYCD" hopefuls at The Academy (Adam Rose/FOX)
"So You Think You Can Dance" just kicked off Season 15 with a fabulous audition episode. Unfortunately, as always, some of the gifted dancers we just met won't make it to the live shows. In fact, so many talented artists have tried out for "SYT," it can be hard to remember standout auditionees from the past who didn't reach the Top 20. But many of them have gone on to have fantastic careers. Here are five amazing dancers who you probably don't remember auditioning for "SYTYCD."
Keep reading...
Show less
Just for Fun
Jun. 29, 2018 10:00AM EST
Colder weather is (finally) here, which means it's time for a good dance movie binge. But which iconic films should you put on? To narrow your search, we went ahead and ranked 30 of the greatest dance movies of all time.
Of course, we know a list like this is bound to be controversial—so if you disagree with our lineup, have at it in the comments!
Keep reading...
Show less
State Ballet of Siberia dancer Yury Kudriavtsev wearing Siberian Swan shoes (courtesy Siberian Swan)
As ballet's gender roles grow increasingly blurred, more men than ever are reaching new heights: the tips of their toes.
It's no longer just Les Ballets Trockadero de Monte Carlo and the few pointe-clad male character parts, like in Cinderella or Alexei Ratmansky's The Bright Stream. Some male dancers are starting to experiment with pointe shoes to strengthen their feet or expand their artistry. Michelle Dorrance even challenged the men in her cast at American Ballet Theatre to perform on pointe last season (although only Tyler Maloney ended up actually doing it onstage).
The one problem? Pointe shoes have traditionally only been designed for women. Until now.
Keep reading...
Show less
Are you a college student curious about what goes on behind the scenes at your favorite magazine? You're in luck—because Dance Spirit is searching for an editorial intern for summer 2019!
We'll be accepting applications through March 1. Internships pay an hourly stipend and require a minimum two-day-a-week, onsite commitment in our NYC office from June to August. (We do not provide assistance securing housing.)
If you're interested, please send a cover letter, resumé and two writing samples to Margaret Fuhrer at mfuhrer@dancemedia.com. Be sure to put "Summer Internship Application" in the subject line. All attachments must be formatted as PDFs.
We will interview selected candidates in March in person or by phone, and let candidates know by mid-April if they have been chosen. Please note that we do not accept high school students, or any students under 18, and that we give preference to college juniors and seniors.
We can't wait to meet you!
Rising Stars
Feb. 09, 2019 07:00AM EST
Images by Norelle, courtesy Jennifer Falcione
When we asked what her proudest accomplishment so far is, Kiarra Waidelich paused for a moment. That's because she has so many to choose from: In the past two years, Kiarra's earned Mini and Junior Female Best Dancer at The Dance Awards, snagged Youth America Grand Prix's Hope Award, and made it to the divisional finals on Season 2 of "World of Dance." Equally gifted in ballet ("I love the mental and physical challenge") and contemporary, it's the latter that made Kiarra realize dance was her passion. "If something bad or stressful happens in my day, I use contemporary as a way to express and release what I'm feeling," she says. "Dance is a way for me to emote and let things go."
Keep reading...
Show less
Branch Out
Feb. 12, 2019 05:16PM EST
Adrienne Gregorek working on physical therapy exercises with a patient (courtesy Gregorek)
When Adrienne Gregorek was 14, she injured her hamstring and was sent to physical therapy. "I was super frustrated," she remembers. "I went to a clinic where there were mostly older people being treated and felt like the staff didn't understand the needs of a dancer. When they were re-testing me at the end, they said, 'You're good,' even though I really wasn't where I needed to be for optimal strength and flexibility."
For many dancers looking for their next step beyond the stage, a career that continues to connect them to the art is a no-brainer. In Gregorek's case, her interest in the human body, coupled with her passion for dance, led her to a career in physical therapy and landed her a job at Westside Dance Physical Therapy in NYC, where she treats dancers, including members of New York City Ballet and students at the School of American Ballet.
Keep reading...
Show less