Dec. 01, 2009 01:07PM EST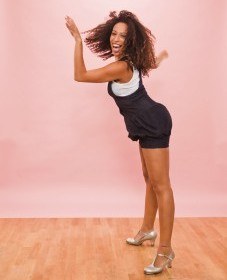 When you meet Maud Arnold, the first thing you notice is her enormous smile. Then maybe her hair—a mass of spiral curls that radiate out to frame her beaming face. But once she starts moving, it's all about the dance. Her taps are crisp, and she finds interesting rhythms within the music. As a performer, she's alternately soft and sassy, delicate and hard-hitting, sometimes a little wild but always intent and invested. She's a natural entertainer.
Maud's stage presence and charisma have earned her the respect and admiration of her peers. "What I admire about Maud is how excited I get watching her move," says fellow tapper Michelle Dorrance. "Her lines are huge! She's borderline flamboyant, but it's not contrived. It's genuine and controlled."
Maud started learning that style and control at age 7, studying with Toni Lombre in her hometown of Washington, D.C. But when Lombre's studio closed in 1998, Maud began visiting NYC to take classes at Broadway Dance Center. It also happened that her big sister, tap superstar Chloe Arnold, was also there studying at Columbia University. Maud then went to high school at D.C.'s Duke Ellington School of the Arts, where she majored in musical theater. Determined to keep her dance training up to par, she traveled to L.A. each summer to attend the Debbie Allen Dance Academy, and was offered a scholarship to study at DADA full-time during her senior year. For college, Maud headed to Columbia, from which she graduated in 2008 with a degree in film studies.
Though she is trained in other dance forms—including African, jazz, ballet, hip hop, flamenco and samba—Maud set her sights on tap as a career before she even took her first class. "I realized that tap was 'it' when I was little and used to watch Chloe and her friends," she recalls. Once she started training, she knew she'd made the right decision. "I love how dynamic tap is. It's an ever-evolving form," she explains. "It's based on improvisation, like jazz, so it can never stop growing. I can make it my own and use it to express myself."
Now, Maud works hard to share her love of tap with the world. At just 23, she's already been on faculty at Broadway Dance Center, the L.A. Tap Festival and the Brazil International Tap Festival, as well as the D.C. Tap Festival, which she co-founded with Chloe. She's performed with Jared Grimes in Broadway Underground, on "The Today Show," with singer Mya on TV's "Secret Talents of the Stars" and in music videos—including a non-tap gig working as Beyoncé's stand-in for the "Single Ladies (Put a Ring on It)" video! She's also finishing writing her first film, a feature-length coming-of-age story about a young man who finds himself through tap dance.
Maud often collaborates with her sister, and in January 2009, the two launched Chloe and Maud Productions—an umbrella company that includes the D.C. Tap Festival, Chloe's Tap Couture clothing line, the instructional and workout DVDs they've choreographed and produced and several other ventures. "Chloe is my other half," Maud says. "We're like yin and yang, very different but with similar values and goals. I know that she has my best interests at heart." And don't think that Chloe, who's six years her senior, cuts Maud any slack in rehearsals because they're related: "Chloe is harder on me than anyone else," Maud says. "She's always on me, but it's with love.
Chloe has nothing but praise for her sister. "Maud lights up every space she enters, from the studio to the stage. She exudes a joie de vivre that is contagious," Chloe says. "Also, she's fearless. She dives in with her whole being, allowing herself to be vulnerable and completely in the moment. When I'm performing with Maud she inspires my energy. We have a bond that expresses our lifelong connection and shared passion.
Maud's plans for the future reflect the fact that she grew up with such a great support system. "My dream is to be in a position where I can work with my family and friends in a creative environment," she says. "I'd love to be a producer/director for stage, TV and film, like Debbie Allen." Beyond that, Maud hopes to open a dance school and community center in Washington, D.C. "I want to help people through art," she says
It's obvious that she's in this business for the long haul. "It's an amazing thing to look at tap's elders and see the possibility of longevity in this career," Maud says. "I feel like I'm part of something very important, and I want the world to understand the importance of tap. That's why I'm always looking into other forms of media—to help tap reach a broader audience. My goal is to spread dance and my love for it."
Fast Facts:
 Birthday: April 24, 1986
On Her iPod: The Jackson 5
What She's Reading: Miles Davis' autobiography, Miles, and The Secret
Favorite Movie: "This is hard—I was a film major! But I'll say The Wiz."
Favorite Color: Orange
Favorite Food: Cupcakes
Dance Idol: "My sister!"
Favorite Tap Step: Cramp roll
Dance Dream: "I'd love to teach Sasha and Malia Obama tap! I'm going to invite the first family to the D.C. Tap Festival this year."
Most Embarrassing Onstage Moment: "At the L.A. Tap Festival, my foot got caught on the stage and I fell. Jimmy Slyde used to say that when you fall, it shows that you're trying really hard!"
Advice for DS Readers: "Don't let anything stop you or discourage you. Also, keep a great foundation of family and friends around—it's not an easy lifestyle that we lead, but with love and support it can be amazing."
Sofia Wylie (photo by Dave Brewer, courtesy Disney Channel)
Last week Disney Channel star Sofia Wylie released a behind-the-scenes look at the making of her YouTube dance series. Along with some stellar dancing, the video shows the dance community featured in her "4k Dance Series" and the things they've learned from being a part of the dance project. And though the project features dance, we love that it also emphasizes supporting and building up fellow dancers.

Keep reading...
Show less
Popular
Apr. 02, 2018 10:14AM EST
Showstopper's National Finals Opening Number Performance
Showstopper has been making its impact on the dance world since 1978. Before then, dancers didn't have a stage to perform on, the opportunity to learn from peers, or a competitive outlet like most sports. Debbie Roberts recognized this missing piece in the dance community and that is how America's first and longest running dance competition, Showstopper, was born. Debbie taught dance for over 26 years and owned and operated her own dance studio for 20 years. She is now the owner and National Director of Showstopper, along side her husband, Dave Roberts. Dancer, teacher, business owner, author, and mother, Debbie has made dance her life's career.
Keep reading...
Show less
Apr. 17, 2018 10:27AM EST
Oh, hi, EVERYBODY. (Screenshots via YouTube)
Sometimes, you hear talk about an upcoming class video and it sounds too good to be real. Wait: Todrick Hall made a track featuring RuPaul, and then Todrick personally asked Brian Friedman to choreograph it, and then Brian got Maddie and Charlize and Jade and Kaycee and Sean and Gabe and Larsen and Bailey to come out for the class? I just...that can't be right. Can it?
It is right, friends. It is SO RIGHT.
Keep reading...
Show less
A-DAM RIP-PON [clap, clap, clap clap clap] (with his equally gorgeous partner Jenna Johnson; Craig Sjodin/ABC)
Team USA is totally taking over "Dancing with the Stars" this season! Casting for the upcoming athletes-only "DWTS" cycle, which kicks off April 30, was just announced. And the roster includes a whole bunch of Olympic favorites—including not one, not two, but three figure-skating standouts.
Keep reading...
Show less
Popular
Mar. 26, 2018 09:50AM EST
Winter is drawing to a close and you know what that means -- It's time to really kick this year into gear! Move U has done the research so you can find your best match, look good, and feel great this season with a twist unique to your team! Here are five looks to put your performance on the map in 2018.
Keep reading...
Show less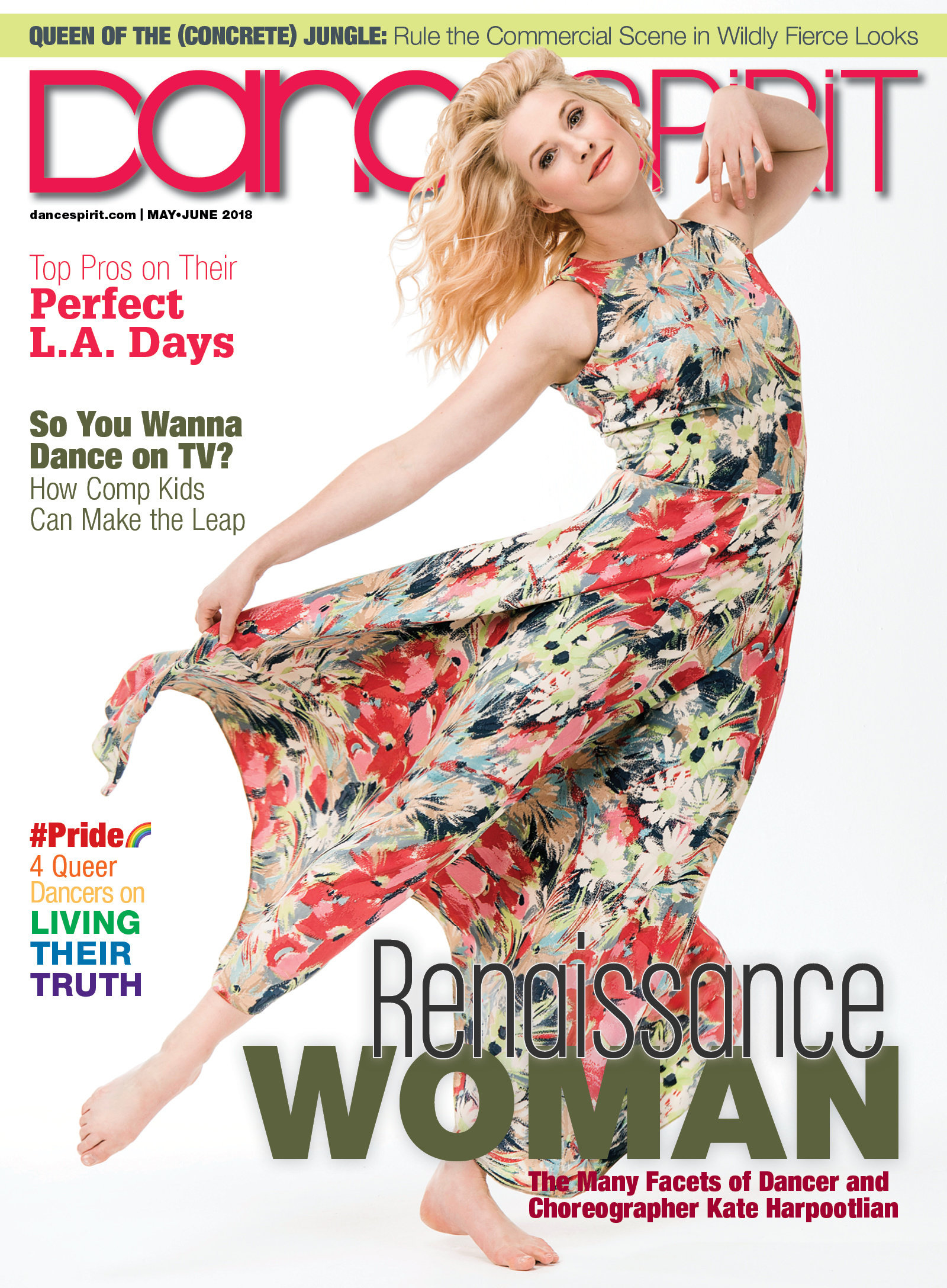 Get Dance Spirit in your inbox