Mar. 23, 2017 10:19AM EST
There are tons of amazing things about conventions—the celebrity teachers, the variety of styles taught, the chance to bond with friends from across the country. The floors, on the other hand, generally aren't so amazing. Dancing on carpet or a slippery parquet floor can seriously hinder your movement. More important, it can lead to injury (and we're not just talking rug burn). How can you get the most out of convention classes despite the floor you're dancing on? Dance Spirit investigates.
Carpet Cons
When you enter most convention classes, you have a choice: Find a spot on the central ballroom floor or spread out on the carpet. Sixteen-year-old convention regular Morgan Geraghty, who dances at Millennium Dance Complex, Movement Lifestyle and EDGE in L.A., usually heads straight for the carpet. "I tend to find the ballroom floors too slick," she says.
But while that carpet may look soft and forgiving, looks can be deceiving. It's likely just a thin plush layer atop hard concrete. Katie Lemmon, an athletic trainer with Athletico Physical Therapy in Chicago, warns that for those used to dancing on sprung studio floors, surprisingly hard surfaces can cause a jolt to their bodies—especially when jumping. "Since there's not as much give, it's important that dancers really use their plié before and after a jump to absorb some of the shock," says Lemmon, who works with dancers at The Joffrey Ballet. "Keep strong through the core to avoid strain on the lower legs, feet, back and hips."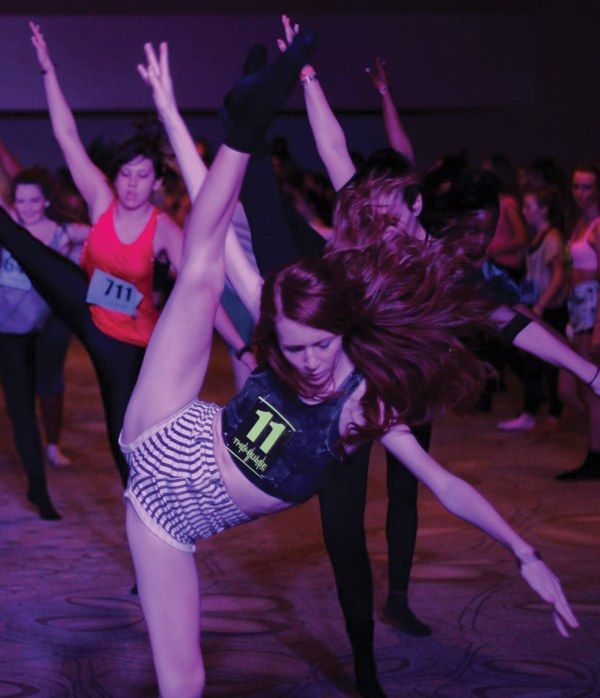 Morgan Geraghty prefers the extra friction provided by carpet to slick ballroom floors (photo by Mario Sinclair, courtesy Morgan Geraghty)
Turns and quick direction changes can also be problematic on carpeted floors. "Because of friction, carpeting doesn't let your feet move as much," Lemmon warns. "So you might need to limit what you're doing." And, trust us, your favorite teacher will understand why you opted for a slow double pirouette instead of a quadruple. "You have to be careful," says NUVO Dance Convention faculty member Ray Leeper. "I hate seeing twisted knees or rolled ankles because dancers threw themselves into a turn on a carpet."
Parquet Problems
At conventions, Erin Smith, 17, who dances with CC & Co. Dance Complex in Raleigh, NC, prefers parquet floors—the laminate wood-like surfaces that are generally in the middle of the ballroom. "It's easier to turn and it's more stable than the carpet, where I sometimes have trouble finding my center," she says.
But that parquet floor comes with a list of problems as well. First of all, like the carpet, it's not going to have as much give as a sprung studio floor, so the same rules about using your core and your deepest pliés still apply. And parquet presents
another potential hazard: cracks and crevices. Erin remembers cutting herself several times on the cracks between the panels,
especially during floor work.
"The worst part to dance on is that little strip of metal on the floor's perimeter
between the wood and the carpet," says New York City Dance Alliance and Monsters of Hip Hop teacher Tony Testa. "If you're near it, be careful of rolling your ankles." Testa warns that even when the metal is covered by tape, the tape will usually peel back as the weekend goes on. After tap classes, especially, the metal might stick up at odd angles. "It's possible to catch your foot on one of those metal edges," he says. "And that will quickly ruin your day."
Lemmon also recommends being aware of the slip factor: "Your foot sticks differently than it does on a marley surface," she says. "You might have to modify your movement based on how slippery it is." But, she warns, that doesn't mean clenching your toes to the floor, which may be your body's first instinct. "Focus on using the core to hold your balance, and try to actually be more relaxed through your standing feet and toes," she says. "Gripping the floor may lead to shin splints or tendonitis of the foot and ankle."
Shoe Solutions
What you put on your feet can make all the difference when dancing on a strange floor—and that might mean going against popular trends. "Socks are all the rage right now," says Ray Leeper of NUVO Dance Convention. "But we advise dancers at NUVO not to wear them, because we've seen too many kids in socks go down on a parquet floor. Going barefoot or wearing the right shoes is better."
L.A. dancer Morgan Geraghty likes to be barefoot, no matter which surface she's dancing on, but she'll opt for thick-soled boots or sneakers in hip-hop class. Erin Smith, a dancer with CC & Co. Dance Complex in North Carolina, uses a more broken-in pair of jazz shoes (since new shoes can be slick) for jazz class on the ballroom floor.
Tap can be tricky. Of course, you'll be in tap shoes, but those soles can be a slide-y mess on a parquet floor. On the other hand, you won't be able to hear your taps on a carpeted floor. "The hard floor is always really crowded because everyone wants to hear their sounds, but if you think about it, with all those people crammed onto a small space, you're not going to be able to hear yourself anyway," says Erin. "If you're on the carpet to avoid slipping, you can still know if you're making the right sounds based on what they're doing onstage." And if you're slipping uncontrollably on the parquet floor, remember that tapping quietly with bare feet is better than face-planting in tap shoes.
Ultimately, the shoes you choose for each class will depend on where you're standing and what the choreography is like—so your footwear decisions will need to be made at the last second. "Always bring all the shoes you could possibly want for each class, then feel it out once you get there," advises Morgan. "It's all about testing the waters and seeing what works."
Competition
Jun. 15, 2019 10:12AM EST
(From left) Darriel Johnakin, Diego Pasillas, and Emma Sutherland (all photos by Erin Baiano)
Congratulations to Dance Spirit's 2019 Cover Model Search finalists: Darriel Johnakin, Diego Pasillas, and Emma Sutherland! One of them will win a spot on Dance Spirit's Fall 2019 cover. Learn more about the dancers on their profile pages, and then vote for your favorite below. You can vote once a day now through July 15.
We also want you to get social! We'll be factoring social media likes and shares into our final tallies. Be sure to show your favorite finalist some love on Facebook, Instagram, and Twitter, sharing their profile pages and using the hashtag #DanceSpiritCMS.
Cover Model Search
Jun. 18, 2019 01:27PM EST
Photo by Erin Baiano
In our "Dear Katie" series, Miami City Ballet soloist Kathryn Morgan answers your pressing dance questions. Have something you want to ask Katie? Email dearkatie@dancespirit.com for a chance to be featured!
Dear Katie,
When I sit with the soles of my feet together, my knees easily touch the floor, and most exercises to improve turnout are easy for me. But when I'm actually dancing, my turnout is terrible, especially on my standing leg. Why doesn't my flexibility translate to turnout?
Chrissy
Dear Katie
Jun. 18, 2019 10:59AM EST
Via Twitter
Would that we could all live in Taylor Swift's Pride-topia, booty-popping with Todrick Hall and sharing snow cones with Adam Rippon in our rainbow-flag-bedecked RV park. But much as we're loving "You Need to Calm Down" and other similarly upbeat celebrations of Pride month, this is also a time to recognize the battles the members of the LGBTQIA+ community have fought—and are still fighting. That's one of the reasons why "I'm Gay," a new dance video by Eugene Lee Yang of The Try Guys, is so important.
The dark, deeply personal video is Yang's coming-out moment. We see Yang being rejected by his family, condemned by a preacher, and attacked by a hostile mob after attempting to express himself as a gay man. Though not a professional dancer (as we found out in "The Try Guys Try Ballet"), Yang is a gifted mover; he choreographed the project himself, and gathered a group of talented performers to bring the story to life.
Dance Videos