Apr. 14, 2015 05:13PM EST
Picture this: Your high school drama club is about to do West Side Story, and you know you're destined to follow in Chita Rivera's footsteps as Anita. But you're already locked into a crazy-full dance schedule with your studio. Will the musical's director respect your commitment to dance? Will your studio teachers understand your desire to sing and act? And how in the world will you make time for friends, homework—even sleep?
Don't give up on your musical theater dreams! Doing both is possible. But pulling off double duty won't happen without some serious planning, compromise and a lot of sweat. Dance Spirit talked to dance teachers, musical directors and a few pros who've made it work to get their tips for aspiring triple threats.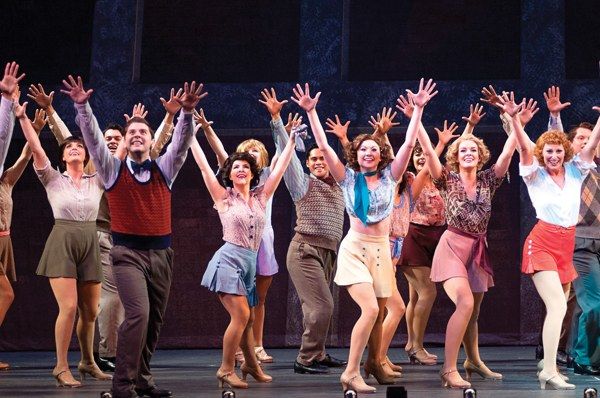 Katie Wesler (wearing blue scarf) in Music Theater Wichita's 42nd Street (© Christopher Clark Photography, courtesy of Music Theatre Wichita)
Get Organized
Before you even think about auditioning for the musical, do a little research and compare its schedule to your dance studio's. Generally, musical theater rehearsals happen directly after school, so you may be able to make it to dance classes later in the evening. "I ask students to find out as much logistical information as they can so they can make smart decisions," says Denise Latimer, director of DanceMakers of Atlanta.
Don't forget to factor in the time spent commuting, and be honest with yourself about your workload outside of the studio. "Remember that your dance or theater work doesn't end when you walk out of class or rehearsal," says Katie Wesler, a graduate of University of Cincinnati College-Conservatory of Music, who juggled dance and musical theater in high school and is now performing professionally. "You'll still have lines to memorize and steps to polish." That's in addition to your homework and chores, too.
Talk It Out
The sooner you go to teachers and directors to explain your situation, the more likely it is they'll be willing to help. And they'll trust your decisions more if you bring them solutions—planned schedule adjustments, makeup class suggestions, etc.—instead of just conflicts. Wesler says she got teachers on board by laying out how both commitments supported her long-term plans. "Explain that each area helps you in the other," she says. "Dance training helped me get roles in professional shows, and training in acting helped my concert dance work."
In fact, studio teachers may see many benefits from your added interest. "Musical theater teaches dancers performance quality," says Brian Young, director of Sweatshop in Denver, CO. About 60 percent of Young's company dancers participate in high school musicals. "I don't let them skip much, and they have to make up all missed classes. But if students collaborate with me, it works."
Stevi Marks, who's been directing high school and professional musicals for over 35 years in Illinois, says she's willing to make some sacrifices in order to include strong dancers in dance-heavy shows. "My job is to get the best possible cast," Marks says. "I'm willing to compromise with dancers who come to me and say honestly, 'Dance is my priority, but I'd like to be in this musical.' "
Take Care of Yourself
If you do end up doing both, taking care of your body is crucial. Broadway dancer Gabrielle Ruiz learned that the hard way in high school, when an injury derailed her commitments to both dance and musical theater. "I was so tired, but I pushed myself anyway. I slipped in rehearsal and broke my foot," she says. "Instead of saying 'no' to one thing, I was out of everything for five months."
Listen to your body—and make sure to eat well and get enough sleep. "You have to take breaks even though you don't want to," Young adds. "And if you feel exhausted or burned out, you need to communicate that to your teachers."
Know When to Say No
Big roles in school musicals have much larger rehearsal loads than smaller ones—so pick parts strategically on audition day. Instead of going out for leading lady Laurey in Oklahoma!, for example, it might be smarter to set your sights on her dancing alter ego, Dream Laurey, who's only in one scene.
The hard truth is that sometimes it might not be possible to take on everything—and that's OK, too. Wesler, who's now a swing on Pippin's national tour, remembers having to skip her studio's holiday recital one year to focus on musical theater rehearsals. And Ruiz passed on her high school's production of Little Shop of Horrors during her senior year to make time for college auditions. (It paid off—she ended up at the prestigious Oklahoma City University.) "Whatever you decide," Latimer says, "you have to commit to it fully."
Musical Theater
Jun. 15, 2019 10:12AM EST
(From left) Darriel Johnakin, Diego Pasillas, and Emma Sutherland (all photos by Erin Baiano)
Congratulations to Dance Spirit's 2019 Cover Model Search finalists: Darriel Johnakin, Diego Pasillas, and Emma Sutherland! One of them will win a spot on Dance Spirit's Fall 2019 cover. Learn more about the dancers on their profile pages, and then vote for your favorite below. You can vote once a day now through July 15.
We also want you to get social! We'll be factoring social media likes and shares into our final tallies. Be sure to show your favorite finalist some love on Facebook, Instagram, and Twitter, sharing their profile pages and using the hashtag #DanceSpiritCMS.
Cover Model Search
Jun. 13, 2019 02:20PM EST
Photo by Erin Baiano
Imagine attending American Ballet Theatre's prestigious NYC summer intensive, training among classical ballet legends. Imagine taking the stage at New York City Dance Alliance Nationals, competing against some of the country's best contemporary dancers. Now, imagine doing both—at the same time.
Welcome to Madison Brown's world. This summer, she's in her third year as a National Training Scholar with ABT, while also competing for NYCDA's Teen Outstanding Dancer title. (She's already won Outstanding Dancer in the Mini and Junior categories.) The logistics are complicated—ABT's five-week intensive overlaps with the weeklong NYCDA Nationals, which translates to a lot of cabs back and forth across Manhattan—but Maddie is committed to making the most of each opportunity. "I love contemporary and ballet equally," she says. "While I'm able to do both, I want to do as much as I can."
Maddie has an expressive face, endless extensions, and a quiet command of the stage. She dances with remarkable maturity—a trait noted by none other than Jennifer Lopez, one of the judges on NBC's "World of Dance," on which Maddie competed in Season 2. Although Maddie didn't take home the show's top prize, she was proud to be the youngest remaining soloist when she was eliminated, and saw the whole experience as an opportunity to grow. After all, she's just getting started. Oh, that's right—did we mention Maddie's only 14?
Cover Story
Jun. 15, 2019 10:00AM EST
Photo by Erin Baiano
There's a story Kate Walker, director of dance at Booker T. Washington High School for the Performing and Visual Arts in Dallas, TX, loves to tell about Emma Sutherland, who just graduated from the program. "We were watching the students run a really long, challenging piece," Walker recalls. "Several kids couldn't quite make it through. But Emma did make it all the way to the end, which is when she walked up to us faculty and very politely asked, 'May I please go throw up?' "
Cover Model Search