Sep. 24, 2011 10:59AM EST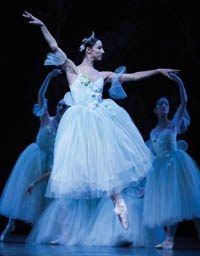 Chapman as Myrta in "Giselle." Photo by Angela Sterling.
With her serene stage presence and powerful, statuesque frame, Pacific Northwest Ballet principal Maria Chapman embodies both grace and strength. The ballerina began studying dance intensively at Terpsichore Co., Ltd., in Atlanta, GA, and continued her training on full scholarship at the School of American Ballet in NYC. Chapman first came to PNB as an apprentice in 1995, joined the main company in 1996 and steadily climbed through the ranks, achieving the title of soloist in 2005 and principal in 2009. Though Seattle audiences know her for her vibrant performances of George Balanchine's A Midsummer Night's Dream and Twyla Tharp's Nine Sinatra Songs, her work extends beyond the theater: In 1998 she helped create Second Stage, a PNB program that supports dancers transitioning into other careers. Check out Chapman performing this month in PNB's "Love Stories" program.  —Amy Smith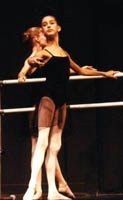 Chapman at age 12 in the Boston Ballet summer program. Photo courtesy Maria Chapman.
Dearest Maria,
You are growing up so fast—slow down! You are in a wonderful phase of your life and it will be gone before you realize it. You have the skills you need to take care of yourself, but you don't have to act like an adult yet. Don't take yourself so seriously!

Realize that your friends are going through the same things you are. Don't be afraid to talk to them about your feelings. You will all be friends for life, so you should begin supporting each other now.
Don't be embarrassed about starting your intensive ballet training a little "late." You will still make it! You don't realize it now, but you actually started preparing for your ballet career before you knew it. Gymnastics, running track, playing the violin—these things gave you great tools. Use them. And keep running. It will help you get through that crazy growth spurt!
Whenever you're frustrated, do something that makes you happy. Taking pleasure in ballet class—or even just homework—will make your problems easier to handle. You are going to dance for a long time, through many ups 
and downs; keeping a positive attitude will make a huge difference.
Be sweet to and confident in yourself. Know that just being you 
is enough. You don't have to change anything!  


Love,
The grown-up, ballerina you,
Maria Chapman
Jun. 15, 2019 10:12AM EST
(From left) Darriel Johnakin, Diego Pasillas, and Emma Sutherland (all photos by Erin Baiano)
Congratulations to Dance Spirit's 2019 Cover Model Search finalists: Darriel Johnakin, Diego Pasillas, and Emma Sutherland! One of them will win a spot on Dance Spirit's Fall 2019 cover. Learn more about the dancers on their profile pages, and then vote for your favorite below. You can vote once a day now through July 15.
We also want you to get social! We'll be factoring social media likes and shares into our final tallies. Be sure to show your favorite finalist some love on Facebook, Instagram, and Twitter, sharing their profile pages and using the hashtag #DanceSpiritCMS.
Cover Model Search
Jun. 17, 2019 04:05PM EST
Jun. 13, 2019 02:20PM EST
Photo by Erin Baiano
Imagine attending American Ballet Theatre's prestigious NYC summer intensive, training among classical ballet legends. Imagine taking the stage at New York City Dance Alliance Nationals, competing against some of the country's best contemporary dancers. Now, imagine doing both—at the same time.
Welcome to Madison Brown's world. This summer, she's in her third year as a National Training Scholar with ABT, while also competing for NYCDA's Teen Outstanding Dancer title. (She's already won Outstanding Dancer in the Mini and Junior categories.) The logistics are complicated—ABT's five-week intensive overlaps with the weeklong NYCDA Nationals, which translates to a lot of cabs back and forth across Manhattan—but Maddie is committed to making the most of each opportunity. "I love contemporary and ballet equally," she says. "While I'm able to do both, I want to do as much as I can."
Maddie has an expressive face, endless extensions, and a quiet command of the stage. She dances with remarkable maturity—a trait noted by none other than Jennifer Lopez, one of the judges on NBC's "World of Dance," on which Maddie competed in Season 2. Although Maddie didn't take home the show's top prize, she was proud to be the youngest remaining soloist when she was eliminated, and saw the whole experience as an opportunity to grow. After all, she's just getting started. Oh, that's right—did we mention Maddie's only 14?
Cover Story