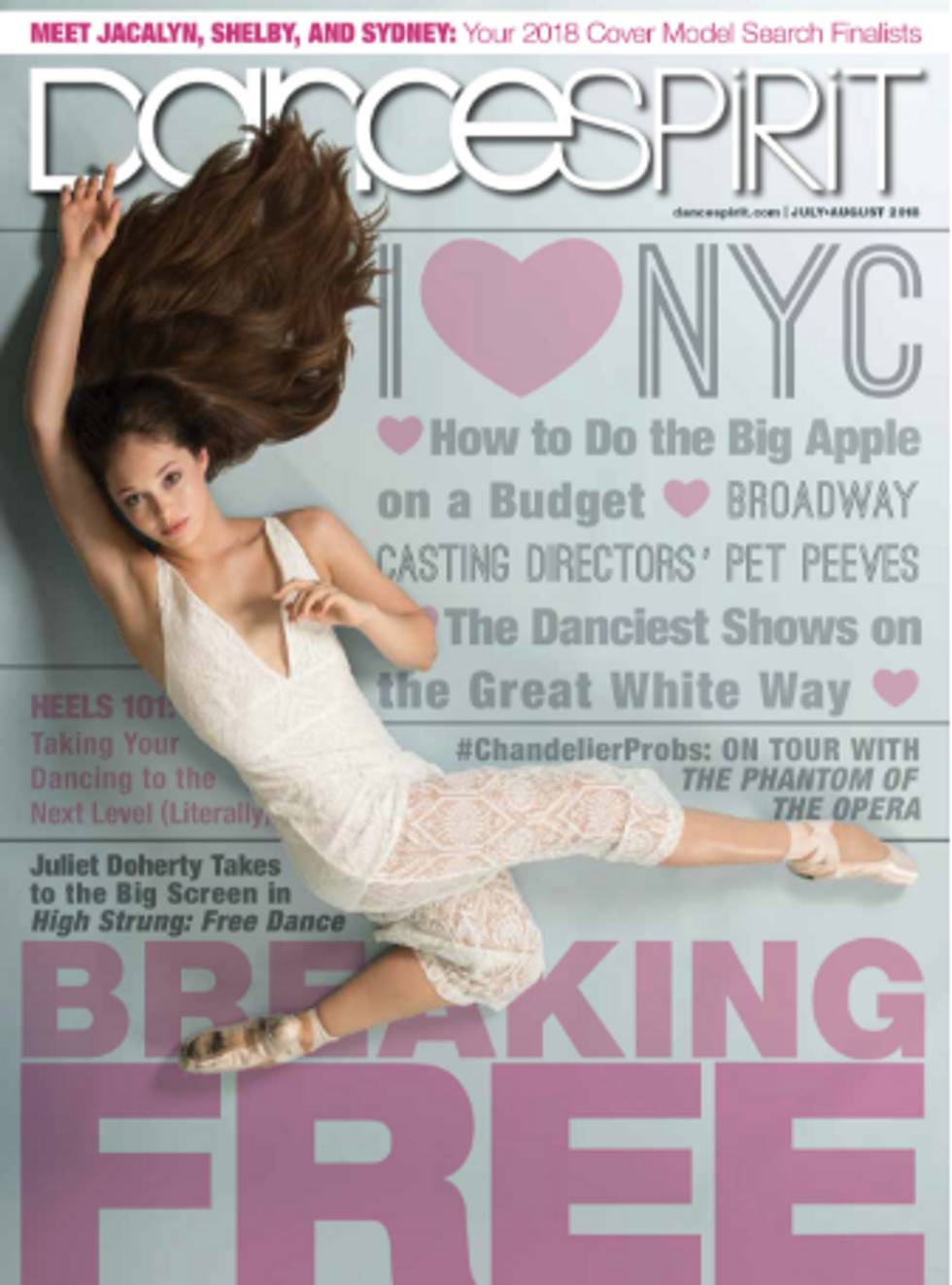 Sky High
High Strung: Free Dance, the sequel to 2016's epic High Strung, is about to hit theaters. We've got all the details on the super-dancy film—and its drop-dead-gorgeous star, ballerina Juliet Doherty.
The Big Apple on a Bite-Sized Budget

Follow your NYC dance dreams without breaking the bank.
Presenting Dance Spirit's Annual Jazz Hand Awards
We rate the hottest new Broadway shows according to danciness.
Broadway Casting Director's Pet Peeves
Four directors share their biggest audition "don'ts"—and what to do instead.
Let's Take This Show on the Road

The intricate behind-the-scenes logistics of The Phantom of the Opera's North American tour.
Living the High (Heels) Life
Dancing confidently in heels isn't just fun—it's also one of the keys to a successful commercial career.
Meet the 2018 Cover Model Search Finalists
Introducing Sydney Burtis, Shelby Patterson, and Jacalyn Tatro.
The Buzz
The scoop on Isabella Boylston's Ballet Sun Valley Festival.
The Dirt
Carousel's Jess LeProtto.
Letter to My Teenage Self
Norwegian National Ballet soloist Whitney Jensen.
Dear Katie
Kathryn Morgan answers your pressing dance questions.
Diary
We went behind the scenes of NBC's live taping of Jesus Christ Superstar.
Body Buzz
Everything you need to know about knee pain.
Fitness
Exercises to strengthen and stretch your quads.
Fashion
Groovy jazz looks that channel the 1970s.
Spotlight: Modern
The keys to mastering release technique.

College Corner

What happens when your college doesn't have a dance department.
Branch Out
How Kelly Schmutte of PerfectFit Pointe created an innovative pointe shoe pad solution.
You Should Know
Contemporary standout Bella Klassen.