Oct. 16, 2018 11:43AM EST
Meet 4 of Our Fave Dance Comp BFFs
Dance besties Findlay McConnell (left) and Payton Johnson (courtesy McConnell and Johnson)
Two dancers from different studios on opposite ends of the country meeting at a dance competition may sound like the formula for a cheesy teen-rivalry movie. But it's actually real life for lots of dancers on the comp circuit. Meet four sets of adorable BFFs who found winning friendships at a competition.
---
Jada Pate & Peyton Criscione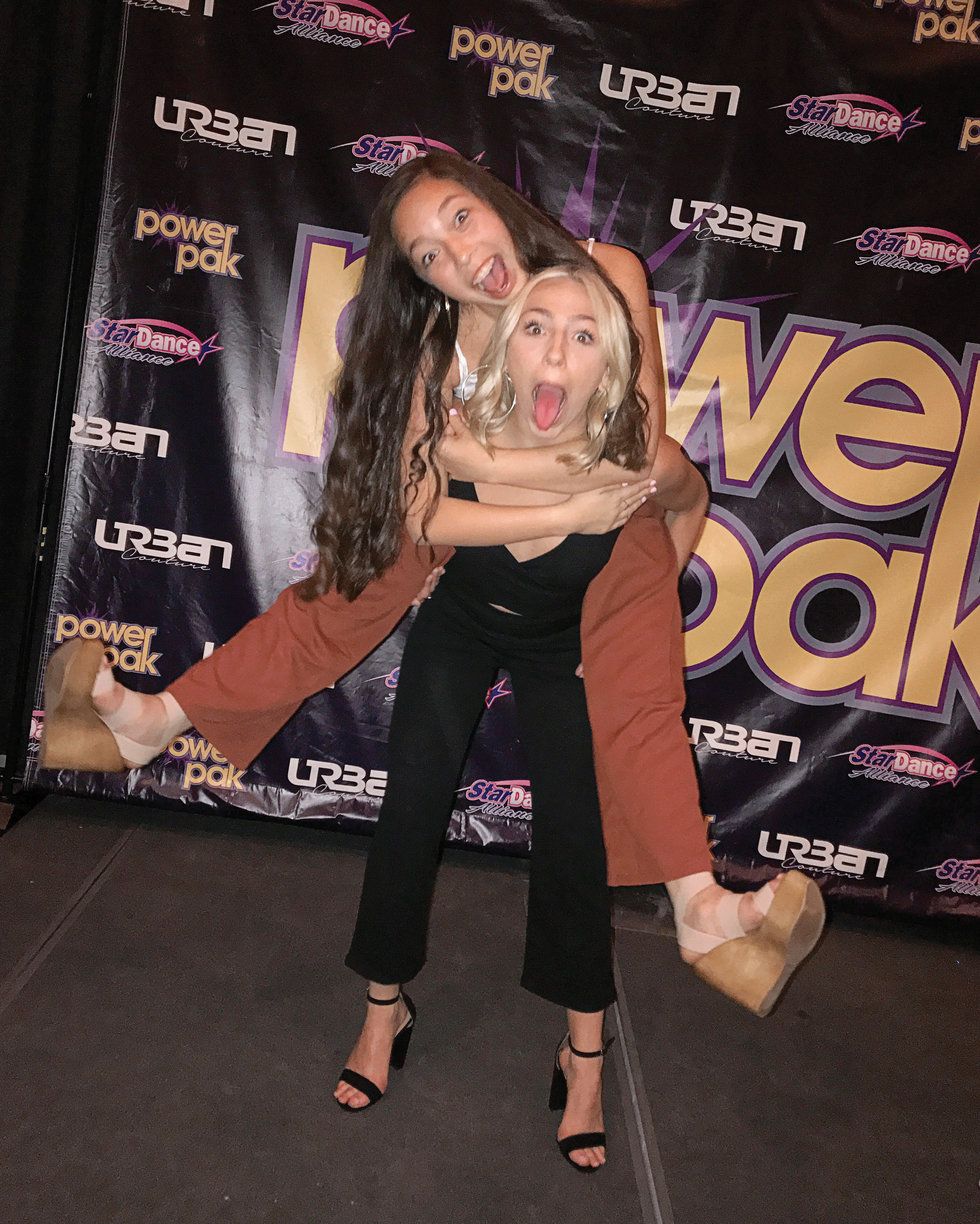 Jada Pate (top) and Peyton Criscione (courtesy Pate and Criscione)
Whenever Jada and Peyton see each other, they hug, scream, jump, and break out their secret handshake. Jada lives in Ashburn, VA (where she trains at Studio Bleu Dance Center), and Peyton lives on Staten Island, NY (where she trains at Star Struck Dance Studio), but they've been besties ever since they first met at Starpower's Power Pak in 2012.
That's no shocker, considering they both have dance in their blood. Peyton's mom is the director at Star Struck, while Jada's dad owns Starpower—so, as Peyton puts it, "our parents are very involved in the dance world and have passed their insane passion down to us."
At competition, the pair have "the best time taking classes with incredible choreographers in all different genres," says Peyton. "We love sharing our summer vacations together." And when they're not meeting up in different cities, they're glued to FaceTime and Snapchat. "When we finally see each other, it feels like we've never been apart," says Jada.
Findlay McConnell & Payton Johnson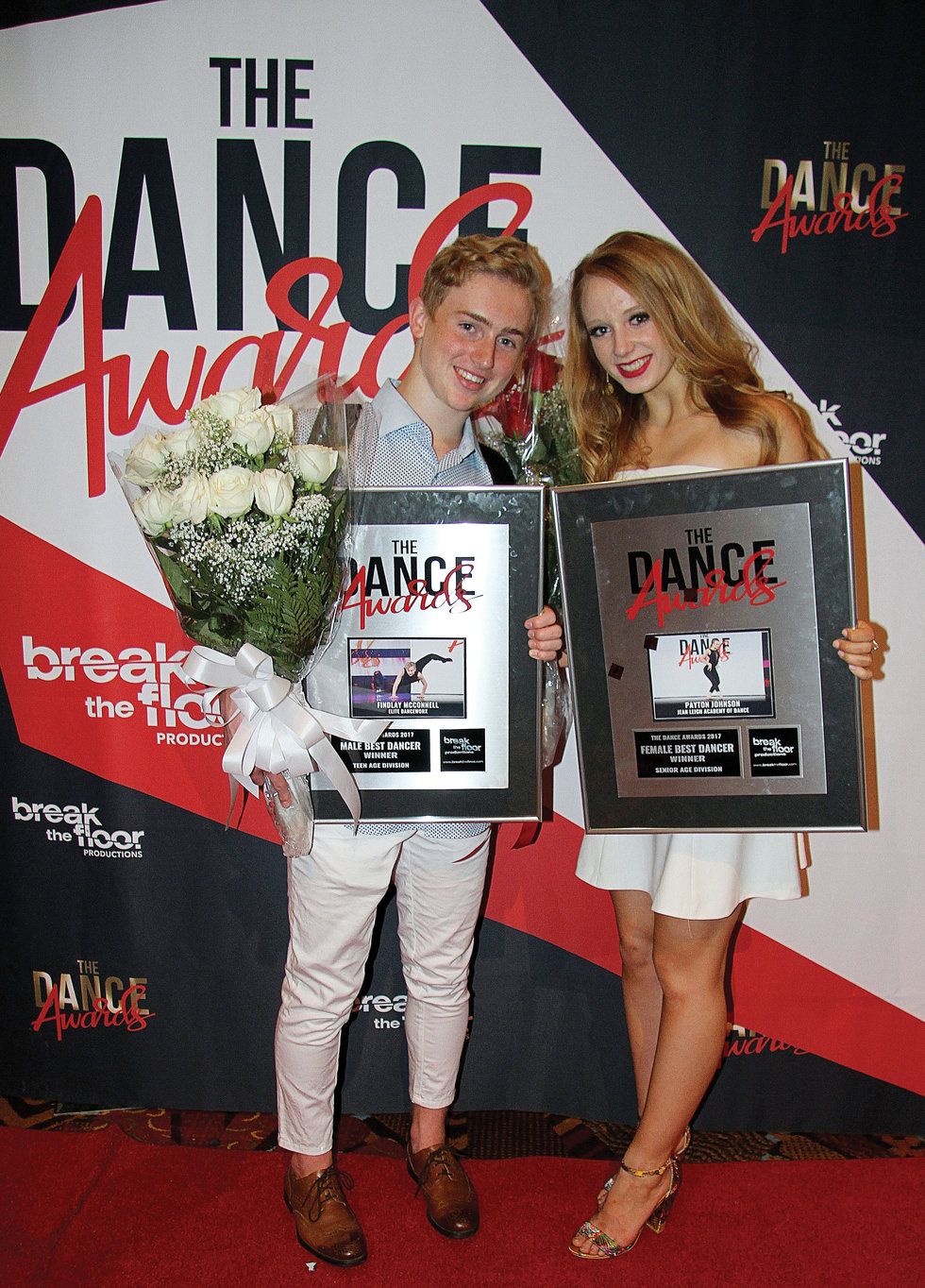 Findlay McConnell (left) and Payton Johnson (courtesy McConnell and Johnson)
Findlay and Payton's tight-knit friendship has spanned five years, two countries, and a whole lot of Cardi B dance jams. The pair first met at DancerPalooza's The Collective convention in 2013, and have been tearing it up together ever since. Some of their shared adventures include visiting Toronto's Wonderland, going to aquariums and water parks, and winning national titles at The Dance Awards last year (Teen Male Best Dancer and Senior Female Best Dancer).
Though Findlay lives in Toronto, where he trains at Elite Danceworx, and Payton now attends The Juilliard School in NYC, Findlay says they "make every second count" when they see each other. Luckily, that happens a lot more often now that they're both touring with Break the Floor Productions as demonstrators and assistants.
Payton says that she and Findlay fit so well because they know how to balance fun and focus. "As hard as we train, you have to be able to let off steam," says Payton, "and when we're together, we kind of become two sides of the same person."

Aiden Pressel & Tanner Frisbey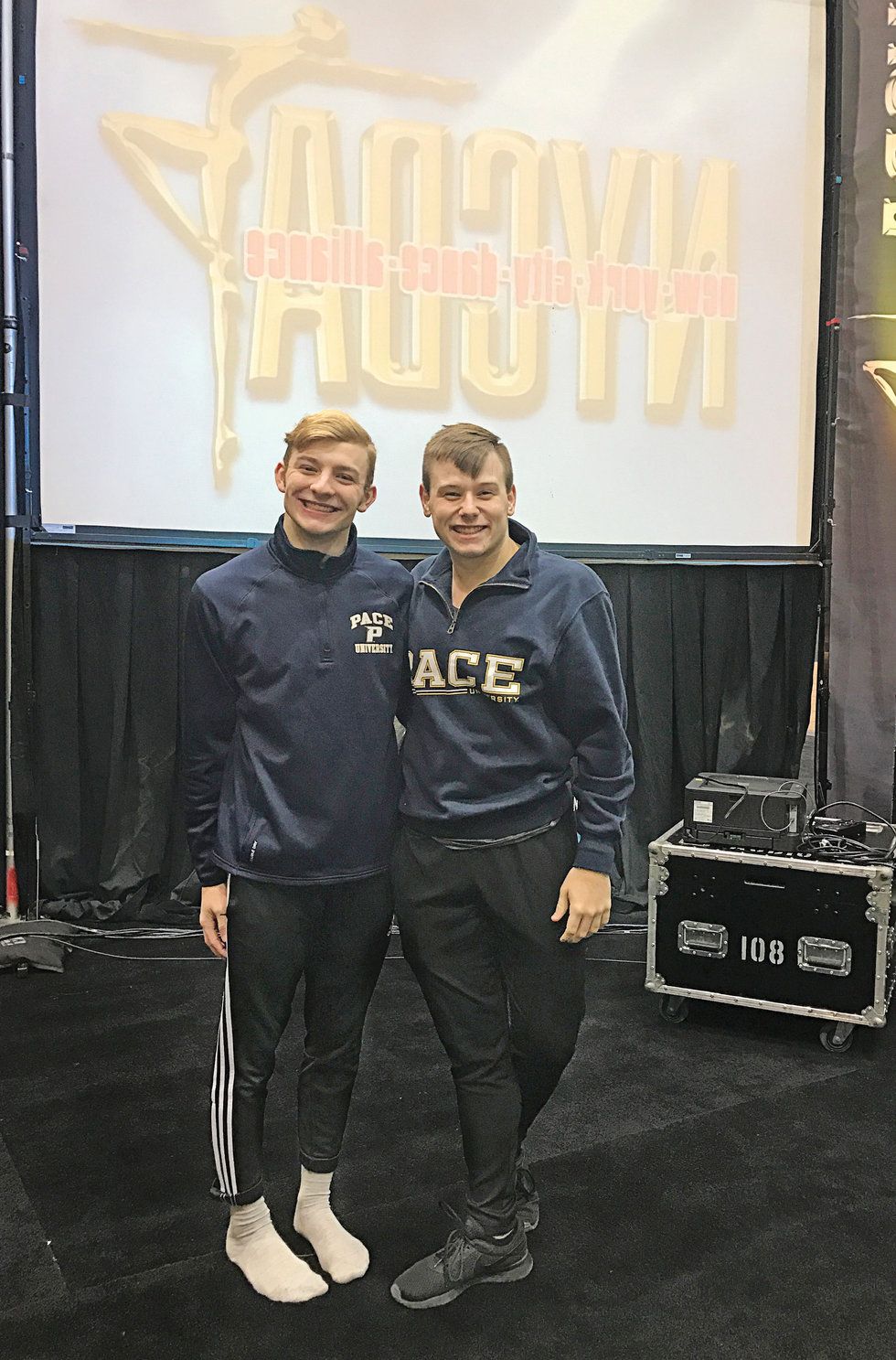 Aiden Pressel (left) and Tanner Frisbey (courtesy Pressel and Frisbey)
For Aiden and Tanner, Pace University holds extra-special significance: It's both the place where they first met, in 2015 at a New York City Dance Alliance summer dance intensive, and the school where they're now both enrolled—and roommates!
"Early on, we promised each other that if we both made it into Pace's dance program, we'd live together," says Aiden. "So after having a screaming celebration on the phone when we both got accepted, we confirmed we'd do just that."
On the path to Pace, Aiden and Tanner spent lots of time together on the competition circuit, meeting up at NYCDA's regional convention in Lansing, MI. Along the way, they developed a healthy appreciation for each other's talent. Tanner admires Aiden's fluidity, while Aiden is amazed at Tanner's ability to captivate an audience.
As the only boy at his studio, Aiden also gained more confidence through getting to know Tanner: "Being able to see a strong and confident male dancer as a role model really gave me the drive to become the best I can be, so that maybe I can inspire someone else someday."
Now they're doing the roomie thing and loving it—from quoting Vines to doing face masks to sharing "frequent and deep life talks." Lots of laughs are also in the equation, as Tanner says Aiden is "the kind of funny that makes your sides hurt in the best way possible."
Ezra Sosa & Tori Caro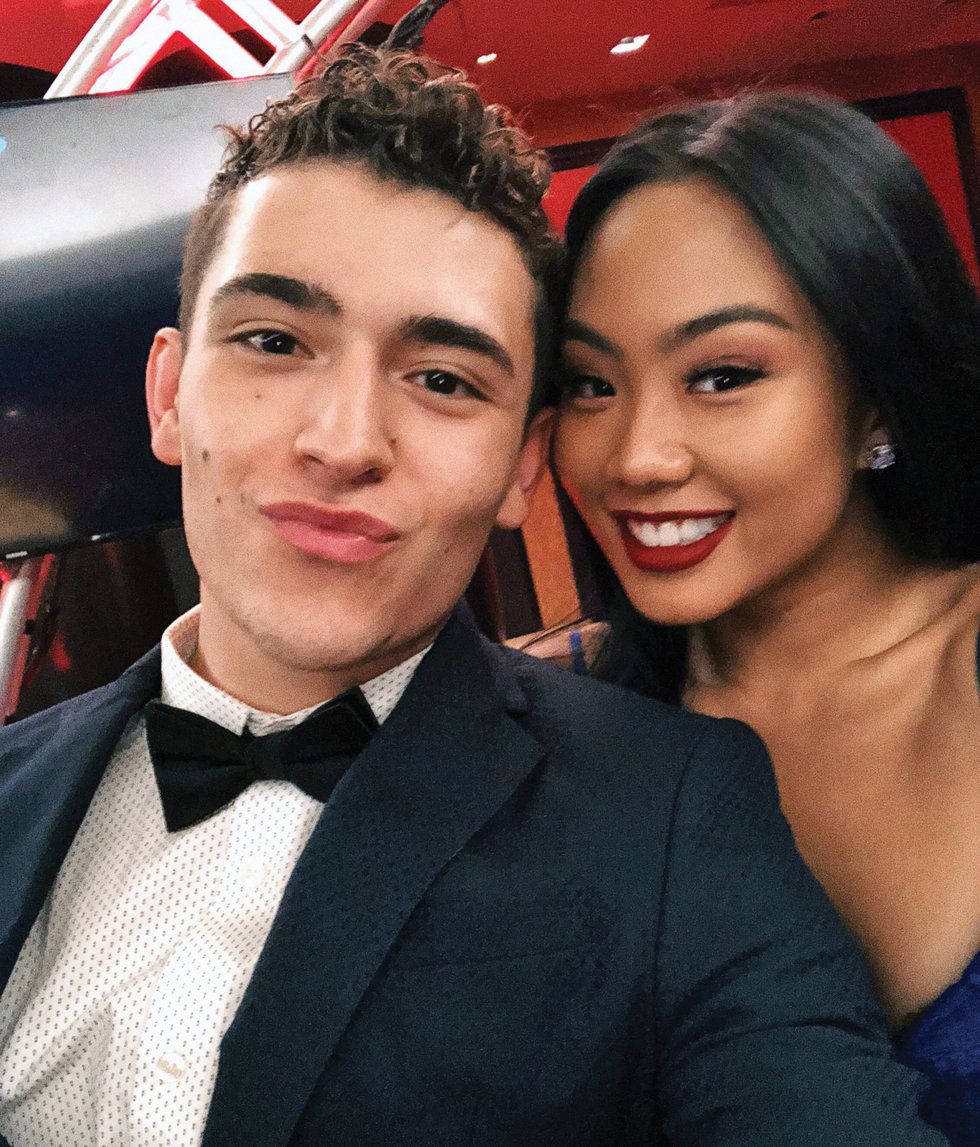 Ezra Sosa (left) and Tori Caro (photo courtesy Sosa and Caro)
Tori vividly remembers the first time Ezra caught her eye. It was at Radix Santa Clara a few years ago, when they were both competing duets with different partners. "His duet was stunning," says Tori.
But the pair didn't actually meet until the next year, at Radix Utah, where they ended up in some of the same call-out groups. Tori was so impressed that she made it a goal to partner with Ezra in the future—and when she finally did, at IamForce, they made quite an impression.
They realized they had a real dance connection when they improvised during a combo together. "We were both really feeling it, and I literally sent her flying!" says Ezra. Adds Tori, "It was magical. It was raw, and we both said we felt like it overtook us."
As it turns out, both of them were destined for dance greatness: Tori won National Teen Female Core Performer at Radix in 2017 and Ezra got first runner-up in 2018. "Our relationship really grew seeing each other at all of Radix's regional cities," says Ezra.

Now that Tori lives in L.A., Ezra's goal is to join her there and become roommates. In the meantime, they're staying connected via social media. Tori also plans to visit Ezra in Utah, and he's counting down the days. "She's like my big Asian teddy bear," says Ezra. "Her hugs are amazing, and she offers so much love and light in my life."
A version of this story appeared in the October 2018 issue of Dance Spirit with the title "Competition Besties."
Dancer to Dancer
Jun. 15, 2019 10:12AM EST
(From left) Darriel Johnakin, Diego Pasillas, and Emma Sutherland (all photos by Erin Baiano)
Congratulations to Dance Spirit's 2019 Cover Model Search finalists: Darriel Johnakin, Diego Pasillas, and Emma Sutherland! One of them will win a spot on Dance Spirit's Fall 2019 cover. Learn more about the dancers on their profile pages, and then vote for your favorite below. You can vote once a day now through July 15.
We also want you to get social! We'll be factoring social media likes and shares into our final tallies. Be sure to show your favorite finalist some love on Facebook, Instagram, and Twitter, sharing their profile pages and using the hashtag #DanceSpiritCMS.
Cover Model Search
Jun. 13, 2019 02:20PM EST
Photo by Erin Baiano
Imagine attending American Ballet Theatre's prestigious NYC summer intensive, training among classical ballet legends. Imagine taking the stage at New York City Dance Alliance Nationals, competing against some of the country's best contemporary dancers. Now, imagine doing both—at the same time.
Welcome to Madison Brown's world. This summer, she's in her third year as a National Training Scholar with ABT, while also competing for NYCDA's Teen Outstanding Dancer title. (She's already won Outstanding Dancer in the Mini and Junior categories.) The logistics are complicated—ABT's five-week intensive overlaps with the weeklong NYCDA Nationals, which translates to a lot of cabs back and forth across Manhattan—but Maddie is committed to making the most of each opportunity. "I love contemporary and ballet equally," she says. "While I'm able to do both, I want to do as much as I can."
Maddie has an expressive face, endless extensions, and a quiet command of the stage. She dances with remarkable maturity—a trait noted by none other than Jennifer Lopez, one of the judges on NBC's "World of Dance," on which Maddie competed in Season 2. Although Maddie didn't take home the show's top prize, she was proud to be the youngest remaining soloist when she was eliminated, and saw the whole experience as an opportunity to grow. After all, she's just getting started. Oh, that's right—did we mention Maddie's only 14?
Cover Story
Jun. 16, 2019 07:00AM EST
Corbin Bleu in rehearsal for "Kiss Me, Kate" (Jenny Anderson, courtesy Roundabout Theatre Company)
If you're a hardcore Broadway baby, today is the worst Sunday of the year. Why, you ask? The Tony Awards were last Sunday, so basically there's nothing to look forward to in life anymore—no James Corden being James Corden, no teary acceptance speeches from newly minted stars, no thrilling excerpts from the hottest new shows. Oh yeah, and there are 50 more Sundays to go before our humdrum lives are once again blessed with the next annual iteration of Broadway's biggest night.
Musical Theater