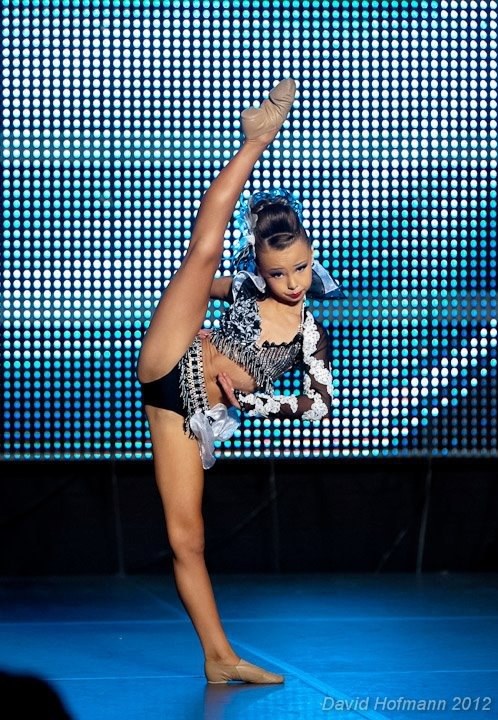 Sophia wows audiences with her  solid technique and stellar showmanship. Isn't she adorable? Photo by David Hoffman.
At just 10 years old, Sophia Lucia has made quite the name for herself in the dance community. If you know her simply as one of Abby Lee Miller's "replacements" on "Dance Moms," you're missing out! Winner of countless titles and star of viral YouTube videos—she holds a record of 54 pirouettes in tap shoes!—this tiny turner takes her training seriously. We caught up with this rising superstar, who studies primarily with Kristen Hibbs at San Diego Dance Center, to find out some little-known facts about her impressive career. And yes, she's just as sweet and adorable in real life as she is on TV!
Dance Spirit: What was working with Abby Lee really like?
Sophia Lucia: She's really sweet! When I went to do my movie, she bought me a whole new outfit to wear to the set! And when the replacements came, she paid for all of us to get our nails done.
DS: Did you get along with the girls on the show?
SL: The ALDC girls are super sweet—I wish I could dance with them every day. We'd have moments where we'd blank out and start laughing. Everyone was so excited to learn the group dance, and everyone was so friendly.
DS: What has been your best dance moment?
SL: Dancing in MDA's (Muscular Dystrophy Association) telethon with a little girl in a wheelchair.
DS: Who is your favorite teacher or choreographer to work with?
SL: Every teacher is great because they're always friendly and very nice. But, if I had to pick, I'd choose Mark Meismer (choreographer of my 'Turn to Stone' solo), Tiffani King (choreographer of my 'Pulse' solo) and Rachel Sebastian, who I train with every day for technique and ballet.
DS: What are your best turning tips?
SL: Always find your spot and pull your stomach in—tightening it up! That always helps me if I'm falling off my balance. And I strengthen my core every day.
DS: Your YouTube videos have thousands of views! How do you think they got so popular?
SL: "One day, my mom and I just started to post videos, and they blew up. When my 40 turns video came out on my tap teacher's YouTube channel, it just went bonkers!" (Sophia's "40 turns" video now has 872,000 views!)
One night, my dad was watching "Tosh.0" and woke me up in the middle of the night yelling, "Sophie! You're on Tosh.0! Come see!" and I was on for my 40 turns. He [Daniel Tosh] called me a bad word, but I didn't care, because I was on TV!
DS: What do you do to calm your nerves before a performance?
SL: My best friend, Cela Dadian, is always with me at competitions, and she's the funniest person. I'm always so nervous, but she makes me laugh and get over the nerves. If she's not there, I usually just shake it out and say a little prayer.
DS: Do you have any upcoming projects we can look out for?
SL: I have my own clothing line coming out for California Kisses, and they're sponsoring me, along with Kids Artistic Revue, to break the world record for pirouettes. I'll officially be in the Guinness Book of World Records this April!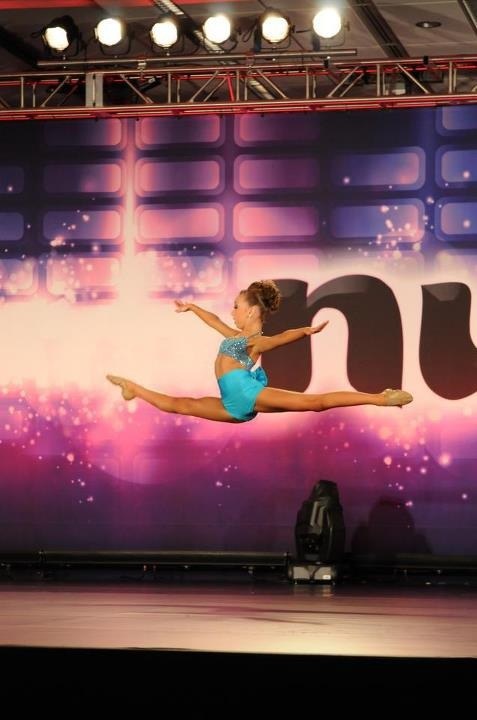 Sophia performing at NUVO. Courtesy Jaclyn Lucia.
FAST FACTS:
Favorite solo: "Pulse" and "Turn to Stone"
Must-see TV shows: Disney channel shows, "Here Comes Honey Boo Boo" and "Keeping Up With the Kardashians"—"When my parents let me watch!"
Dream choreographers to work with: Travis Wall, Nick Lazzarini and Stacey Tookey
Dance idol and role model: Hayden Hopkins and Travis Wall. "I hope that one day my legs go as high as Hayden's! And Travis is just an amazing person to be around."
Dream dance role: "To dance and act on TV—like on Disney's 'Shake It Up!' But long-term, I'd like to go to Juilliard and be on Broadway!"
Dance BFFS: Cela Dadian, Audrey Olaes, Kylie Yamane and Autumn Miller
Three words to describe you: "sassy, funny, cute" ("According to my mom!")
Something most people don't know about you: "I was born missing one rib on each side!"
Artyon Celestine and Paige Glenn showing their lift skills (photo by Kristin Glenn, courtesy Glenn)
Yes, they're quite possibly the cutest dance duo since, well, ever. But put Paige Glenn and Artyon Celestine onstage, and it's immediately clear they mean business. That was apparent to millions across the country last summer, when Artyon and Paige's unbelievable extensions, fearless turning, and infectious energy propelled them to the quarterfinals of "America's Got Talent." They've also appeared (together or individually) on "Little Big Shots," "Lip Sync Battle Shorties," "The Ellen DeGeneres Show," and "Access Hollywood Live"—not to mention the competition titles they've won as a pair.
"Simon Cowell came backstage during 'AGT' and told us, 'Go out there and do your best. They're going to like you.' "—Artyon
Keep reading...
Show less
Popular
Apr. 02, 2018 10:14AM EST
Showstopper's National Finals Opening Number Performance
Showstopper has been making its impact on the dance world since 1978. Before then, dancers didn't have a stage to perform on, the opportunity to learn from peers, or a competitive outlet like most sports. Debbie Roberts recognized this missing piece in the dance community and that is how America's first and longest running dance competition, Showstopper, was born. Debbie taught dance for over 26 years and owned and operated her own dance studio for 20 years. She is now the owner and National Director of Showstopper, along side her husband, Dave Roberts. Dancer, teacher, business owner, author, and mother, Debbie has made dance her life's career.
Keep reading...
Show less
Lealand Eve
As a teenager, contemporary dancer Eveline Kleinjans felt like nothing she did was good enough. Auditioning for university dance programs paralyzed her: "I was so focused on every move I made and what people would think that I wasn't able to be free, to be myself," she says. And her intense perfectionism had real repercussions. "I'd get negative feedback saying, 'We don't see you.' "
Perfectionism is extremely common in the dance world, because dancers hold themselves to terrifically high standards. It's easy to get a little discouraged when you aren't improving as quickly as you want. But there's a difference between healthy self-criticism and an unhealthy obsession with perfection. How can you tell when your drive to be better has crossed the line—and what can you do to get back on track?
Keep reading...
Show less
Sarah Pippin assisting in a convention class at New York City Dance Alliance (courtesy NYCDA)
To her high school classmates, Sarah Pippin was a regular girl: a good student and a friendly face around campus. But on the weekends—at dance competitions and conventions across the country—Pippin was a bona fide celeb, adored by her fellow competitors and faculty members alike.
By the time she graduated high school, Pippin had racked up major accomplishments, including performances with Janet Jackson and Shaping Sound, a role on Dance Spirit's own reality series "Road to Nationals," titles such as New York City Dance Alliance's National Mini, Junior and Senior Outstanding Dancer, and, most recently, a college scholarship on behalf of Dance Magazine through the NYCDA Foundation.
There's no doubt that Pippin, now a freshman at The Juilliard School, is among a rising generation of competition and convention stars. And while "celebrity" isn't a term they'd give themselves, you know who they are. These dancers are adored by legions of real-life fans hoping to watch and dance alongside them, not to mention the thousands of social media followers ready to double-tap everything they post.
Being so popular on the circuit has its perks—traveling every weekend, internet fame, working with big-name choreographers—but it also comes with its share of struggles. Here's a peek at what it's really like at the top.
Keep reading...
Show less
Moira Shearer as Victoria Page in the 1948 film The Red Shoes
Q: "Why do you want to dance?"
A: "Why do you want to LIVE?"
Ahhh, so iconic! If you know those lines (slash, embody them on a daily basis), you're already a fan of the 1948 film The Red Shoes. The second line, as spoken by Red Shoes heroine Victoria Page, just perfectly captures the kind of crazy, all-consuming love so many of us feel for this incredible art form.
The Red Shoes turns 70 (!) this year. And Harper's Bazaar decided to celebrate that birthday in an oh-so-glamorous fashion: They decked out three of today's most beautiful ballerinas—American Ballet Theatre's Misty Copeland and Isabella Boylston and New York City Ballet's Tiler Peck—in gorgeous couture inspired by the film. (Obviously, Louboutins were involved.)
Keep reading...
Show less
Popular
Mar. 26, 2018 09:50AM EST
Winter is drawing to a close and you know what that means -- It's time to really kick this year into gear! Move U has done the research so you can find your best match, look good, and feel great this season with a twist unique to your team! Here are five looks to put your performance on the map in 2018.
Keep reading...
Show less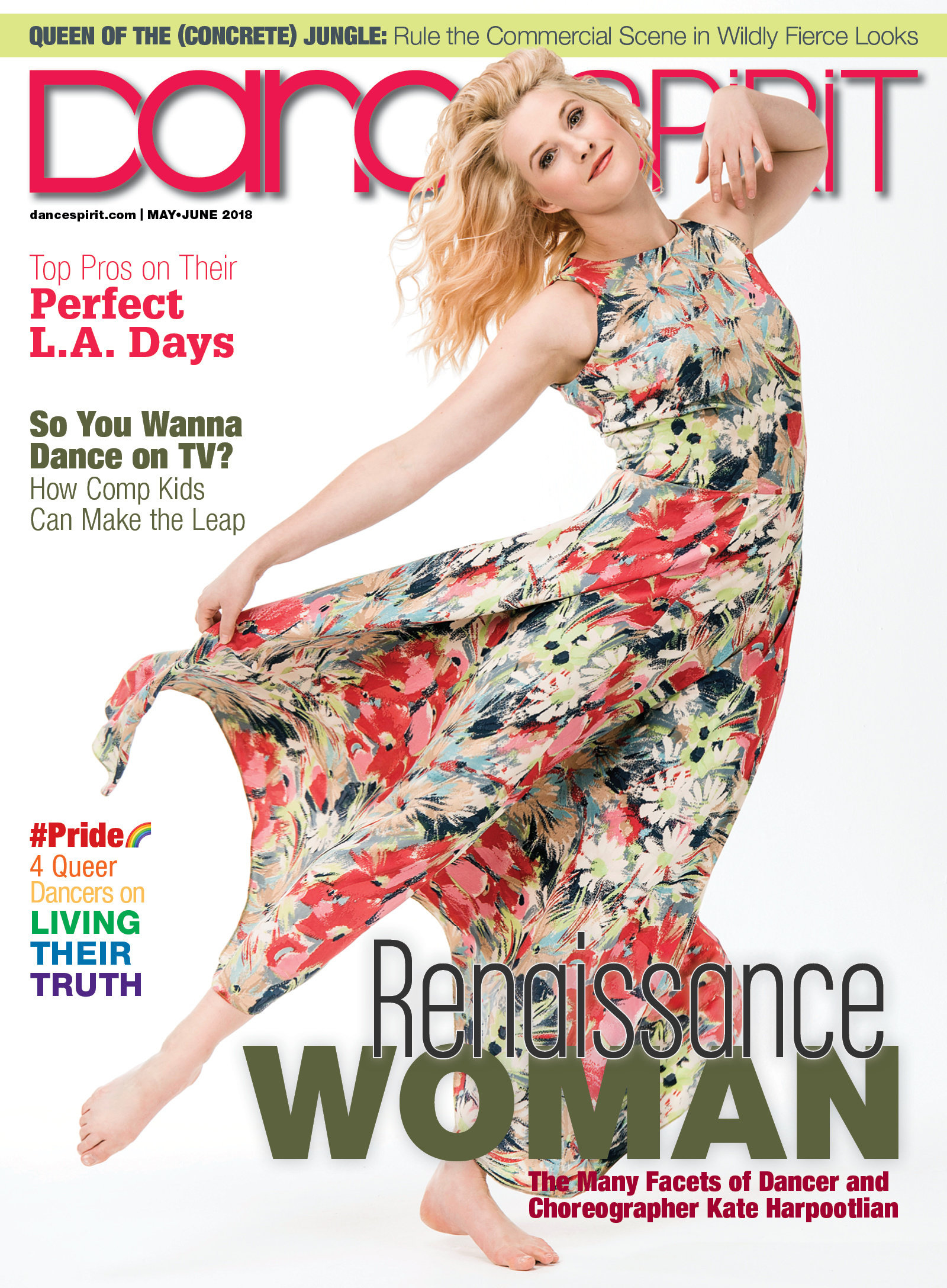 Get Dance Spirit in your inbox