Seven All-Star Choreographers on the College Teaching Circuit

Doug Varone leads a class held at Lehman College in the Bronx, NY. (Alex Springer, courtesy Varone)
Top dance programs attract top faculty—people who direct companies, tour the world and, most importantly, hire dancers. That's why we've rounded up a list of all-star choreographers who are particularly committed to teaching and mentoring undergrads. You're just as likely to encounter them in the classroom as you are to audition for them after you graduate. Get to know them, and then look for their names under your course listings this fall.
---
Doug Varone, director of Doug Varone and Dancers
Doug Varone and Dancers celebrates its 30th anniversary during the 2016/2017 season, making him a venerable presence in the American modern dance scene. While Varone continues to create for his own company, his choreography has also been performed by Batsheva Dance Company, Hubbard Street Dance Chicago, the Martha Graham Dance Company and others.
Find him at: Purchase College, State University of New York
Past college credentials: Varone has taught at dozens of colleges and universities—everywhere from the University of Akron to Skidmore College.
Why He loves working with college students: "They're learning new ways to accomplish tasks they thought they understood, and it's exciting to open creative doors for them.
The connection between the liberal and performing arts is vital to dancers' growth—that's key for me in a college community."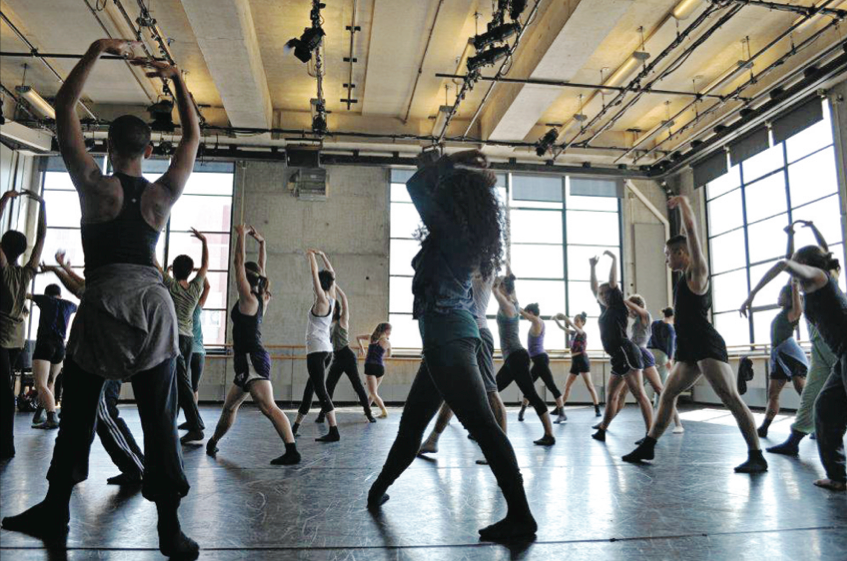 Sidra Bell and dancers in her class (photo by Gabrielle Garruppo, courtesy Bell)
Sidra Bell, director of Sidra Bell Dance New York
Sidra Bell Dance New York has performed Bell's introspective, precise choreography worldwide. She's been commissioned to set work on L.A.-based company BODYTRAFFIC, Visceral Dance Chicago and many other companies.
Find her at: Ball State University and University of the Arts
Past college credentials: The Juilliard School, Cornish College of the Arts, California State University, Long Beach, Harvard University
Why She loves working with college students: "College dancers create an electric environment. They're learning to stand on their technique while becoming better collaborators in the studio. It's truly gratifying to act as a mentor and guide as they tackle questions."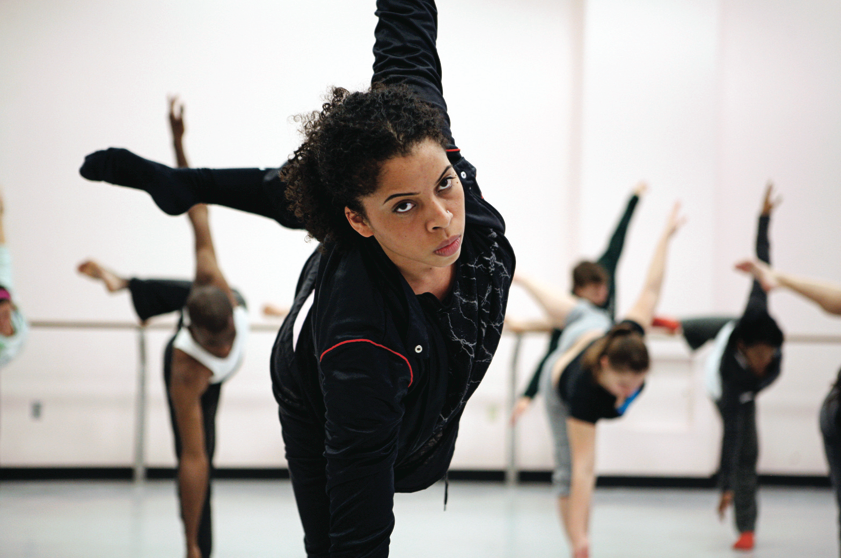 Jennifer Archibald (Alastair Christopher, courtesy Archibald)
Jennifer Archibald, director of Arch Dance Company
Arch Dance Company has toured everywhere from the John F. Kennedy Center for the Performing Arts to Jacob's Pillow Dance Festival, displaying Archibald's signature blend of hip hop and contemporary.
Find her at: Yale University and Barnard College
Past college credentials: Bates College, Columbia College Chicago, the University of South Florida
Why she loves working with college students: "At the college level, students who choose dance really want to be there. That enthusiasm allows room for growth."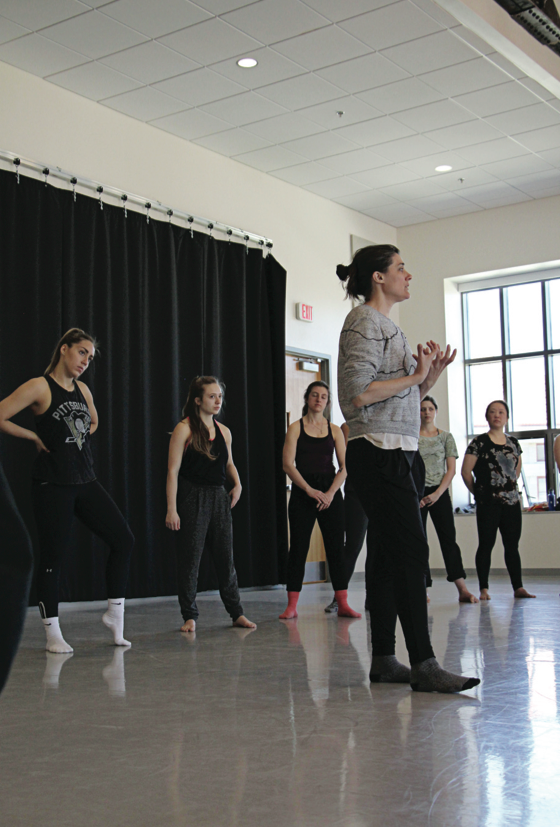 Driscoll working with students in class (Mark Oxier, courtesy Driscoll)
Faye Driscoll, independent choreographer
When she's not winning Bessie Awards or earning Guggenheim Fellowships, Driscoll tours her work internationally. She's currently developing Thank You For Coming: Play, part two of a three-part dance-theater piece that showcases her humorous approach to heavy issues. (Think alienation versus community.)
Find her at: Driscoll most recently held a fellowship at Wesleyan University.
Past college credentials: Ohio State University; Connecticut College; University of Colorado, Boulder
Why she loves working with college students: "College-level dancers use the academic environment to boldly cross disciplines. They're expanding the form."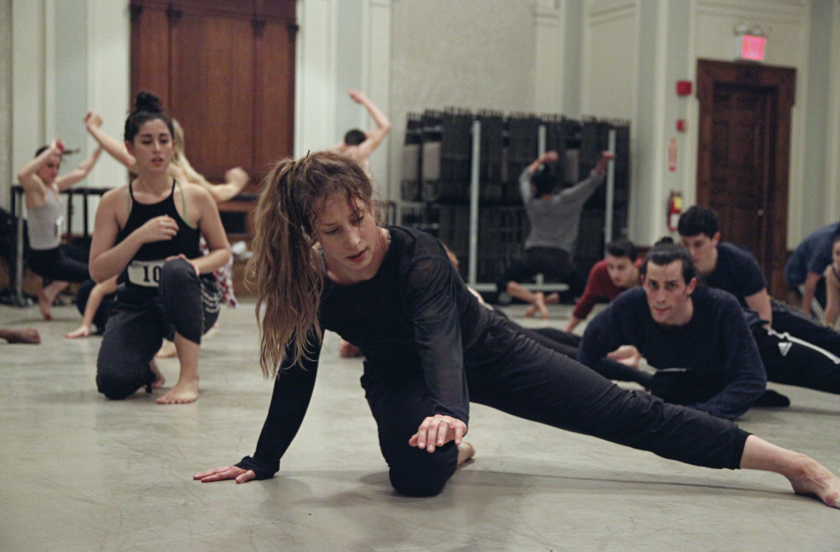 Shannon Gillen (David Flores, courtesy Gillen)
Shannon Gillen, director of VIM VIGOR
Shannon Gillen is known in Europe and NYC for her athletic and fearless dance-theater choreography. Though VIM VIGOR is a relatively young company (it was founded in 2014), Gillen has been teaching for years and has choreographed over 22 works since 2010.
Find her at: Purchase College, State University of New York
Past college credentials: New York University, Ailey/Fordham BFA Program, Alonzo King LINES Ballet at Dominican University of California
Why she loves working with college students: "College is an intense threshold of transformation, challenged by a natural impatience. I try to help students see the value of working toward future goals. I love how wild and flexible the mind of a dancer is at this age!"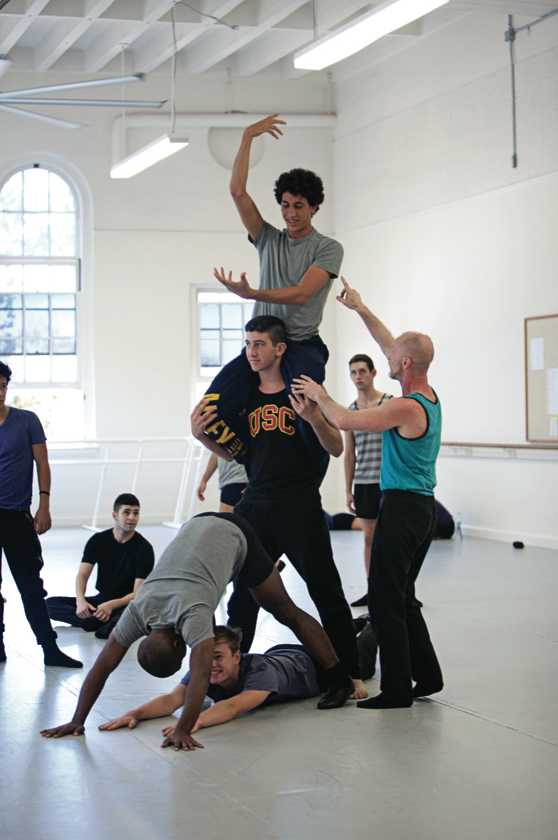 Patrick Corbin (in blue) coaching students at USC (Rose Eichenbaum, courtesy USC)
Patrick Corbin, Paul Taylor répétiteur and director of CorbinDances
After a nearly 40-year career, first as a ballet dancer and then as a member of Paul Taylor Dance Company, Corbin has plenty of experience to draw from as a director and stager of Taylor's work.
Find him at: University of Southern California
Past college credentials: University of California, Irvine; University of Michigan
Why he loves working with college students: "Incoming freshmen are poised to make great strides. I have the prospect of not only training dancers but shaping the kind of citizen they might become."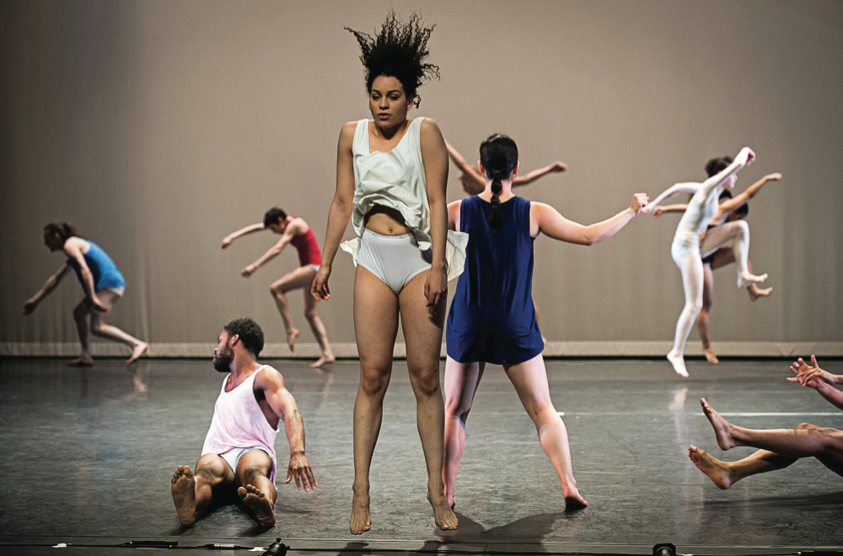 Yerushalmy's PICTOGRAMS (a 2014 ADF commission), performed here by Rutgers University students (Christopher Duggan, courtesy Yerushalmy)
Netta Yerushalmy, independent choreographer
Yerushalmy's experimental, imaginative work has been presented at famous downtown dance venues in NYC: La MaMa, Danspace Project, Movement Research and more. She's also collaborated, performed and taught internationally.
Find her at: Yerushalmy has an ongoing choreographic relationship with University of the Arts.
Past college credentials: University of Utah; Rutgers, The State University of New Jersey; The College at Brockport, State University of New York
Why she loves working with college students: "College students exude potential—they're thrilling to interact with. They don't hold back or get territorial, and they're intellectually hungry."
Artyon Celestine and Paige Glenn showing their lift skills (photo by Kristin Glenn, courtesy Glenn)
Yes, they're quite possibly the cutest dance duo since, well, ever. But put Paige Glenn and Artyon Celestine onstage, and it's immediately clear they mean business. That was apparent to millions across the country last summer, when Artyon and Paige's unbelievable extensions, fearless turning, and infectious energy propelled them to the quarterfinals of "America's Got Talent." They've also appeared (together or individually) on "Little Big Shots," "Lip Sync Battle Shorties," "The Ellen DeGeneres Show," and "Access Hollywood Live"—not to mention the competition titles they've won as a pair.
"Simon Cowell came backstage during 'AGT' and told us, 'Go out there and do your best. They're going to like you.' "—Artyon
Keep reading...
Show less
Popular
Apr. 02, 2018 10:14AM EST
Showstopper's National Finals Opening Number Performance
Showstopper has been making its impact on the dance world since 1978. Before then, dancers didn't have a stage to perform on, the opportunity to learn from peers, or a competitive outlet like most sports. Debbie Roberts recognized this missing piece in the dance community and that is how America's first and longest running dance competition, Showstopper, was born. Debbie taught dance for over 26 years and owned and operated her own dance studio for 20 years. She is now the owner and National Director of Showstopper, along side her husband, Dave Roberts. Dancer, teacher, business owner, author, and mother, Debbie has made dance her life's career.
Keep reading...
Show less
Lealand Eve
As a teenager, contemporary dancer Eveline Kleinjans felt like nothing she did was good enough. Auditioning for university dance programs paralyzed her: "I was so focused on every move I made and what people would think that I wasn't able to be free, to be myself," she says. And her intense perfectionism had real repercussions. "I'd get negative feedback saying, 'We don't see you.' "
Perfectionism is extremely common in the dance world, because dancers hold themselves to terrifically high standards. It's easy to get a little discouraged when you aren't improving as quickly as you want. But there's a difference between healthy self-criticism and an unhealthy obsession with perfection. How can you tell when your drive to be better has crossed the line—and what can you do to get back on track?
Keep reading...
Show less
Sarah Pippin assisting in a convention class at New York City Dance Alliance (courtesy NYCDA)
To her high school classmates, Sarah Pippin was a regular girl: a good student and a friendly face around campus. But on the weekends—at dance competitions and conventions across the country—Pippin was a bona fide celeb, adored by her fellow competitors and faculty members alike.
By the time she graduated high school, Pippin had racked up major accomplishments, including performances with Janet Jackson and Shaping Sound, a role on Dance Spirit's own reality series "Road to Nationals," titles such as New York City Dance Alliance's National Mini, Junior and Senior Outstanding Dancer, and, most recently, a college scholarship on behalf of Dance Magazine through the NYCDA Foundation.
There's no doubt that Pippin, now a freshman at The Juilliard School, is among a rising generation of competition and convention stars. And while "celebrity" isn't a term they'd give themselves, you know who they are. These dancers are adored by legions of real-life fans hoping to watch and dance alongside them, not to mention the thousands of social media followers ready to double-tap everything they post.
Being so popular on the circuit has its perks—traveling every weekend, internet fame, working with big-name choreographers—but it also comes with its share of struggles. Here's a peek at what it's really like at the top.
Keep reading...
Show less
Moira Shearer as Victoria Page in the 1948 film The Red Shoes
Q: "Why do you want to dance?"
A: "Why do you want to LIVE?"
Ahhh, so iconic! If you know those lines (slash, embody them on a daily basis), you're already a fan of the 1948 film The Red Shoes. The second line, as spoken by Red Shoes heroine Victoria Page, just perfectly captures the kind of crazy, all-consuming love so many of us feel for this incredible art form.
The Red Shoes turns 70 (!) this year. And Harper's Bazaar decided to celebrate that birthday in an oh-so-glamorous fashion: They decked out three of today's most beautiful ballerinas—American Ballet Theatre's Misty Copeland and Isabella Boylston and New York City Ballet's Tiler Peck—in gorgeous couture inspired by the film. (Obviously, Louboutins were involved.)
Keep reading...
Show less
Popular
Mar. 26, 2018 09:50AM EST
Winter is drawing to a close and you know what that means -- It's time to really kick this year into gear! Move U has done the research so you can find your best match, look good, and feel great this season with a twist unique to your team! Here are five looks to put your performance on the map in 2018.
Keep reading...
Show less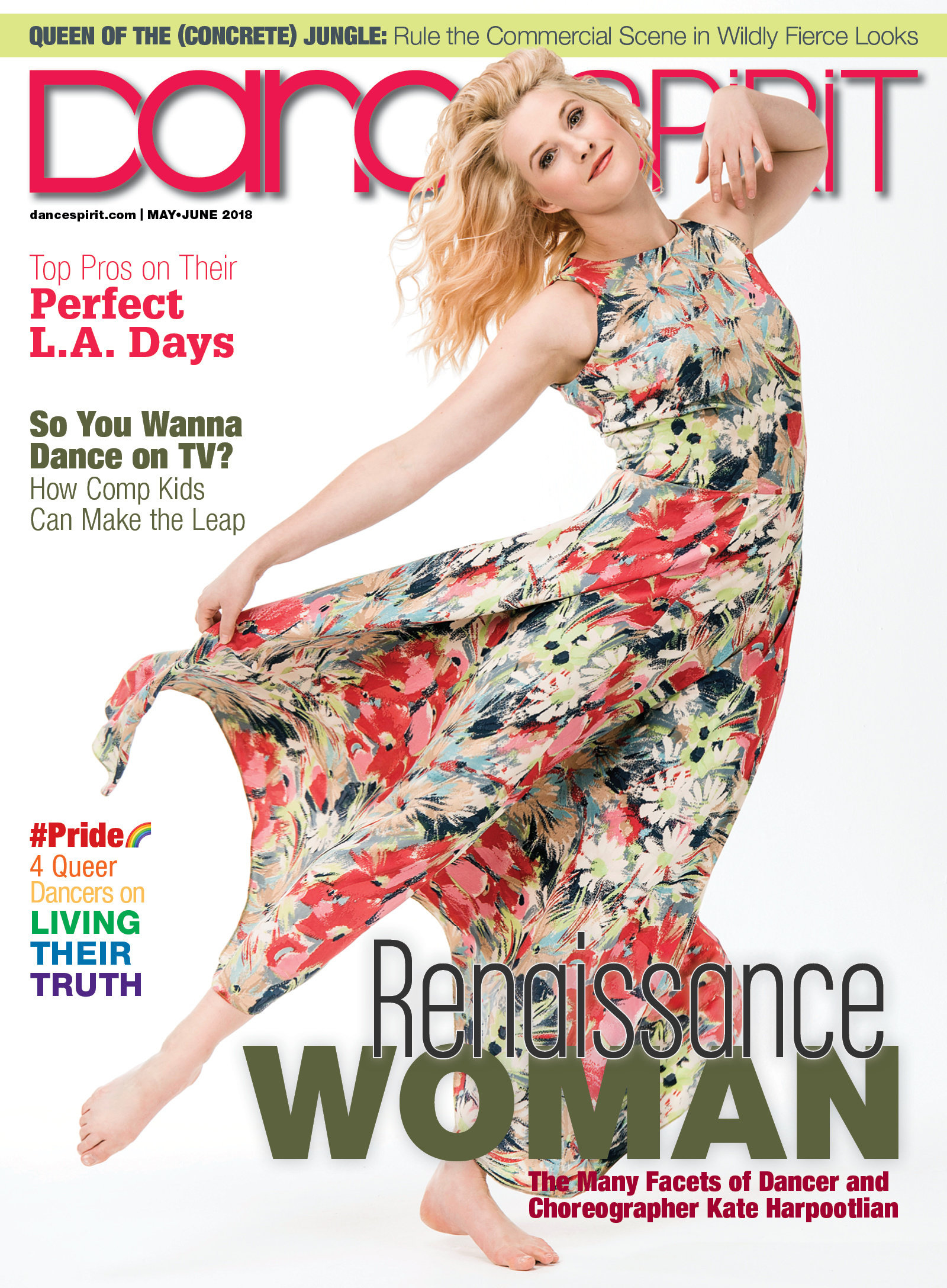 Get Dance Spirit in your inbox