Aug. 12, 2019 02:49PM EST
Steven Loch with fellow soloist Leah Merchant in William Forsythe's New Suite (Angela Sterling, courtesy Pacific Northwest Ballet)
Recently, there's been a noticeable push for more education and support surrounding mental illness. And while every industry can benefit from this shift, it's especially overdue in the dance world. "We need to get rid of the stigma," says Nadine Kaslow, a psychologist who works with the dancers of Atlanta Ballet. "The fact is, when you have an ankle injury, you go to a doctor; when you have anxiety, you should go to a therapist."
Kaslow emphasizes that most disorders are treatable and episodic, and if dancers get a proper diagnosis and therapy, they'll feel better—which in turn will improve their dancing. "There is no question that physical performance is linked to mental health," Kaslow says. "If your mental health is not in shape, you're at an increased risk for injury and won't perform optimally."
Mind
Aug. 05, 2019 10:35AM EST
"When I would get competitive over every little thing, my teachers would remind me that there is no perfect dancer out there," says ballet student Alina Taratorin. (Photo by Oliver Endahl, courtesy Taratorin)
Ballet dancer Alina Taratorin has struggled to control her competitive nature for years. "When I was younger," the 17-year-old Bayer Ballet Academy student says, "I would get so intimidated by the other dancers at competitions. If someone made a nasty face at me or did intimidating stretches, I would actually shake and fall onstage because of it." Her desire to win was strong, but rather than channeling that desire in a productive way, she'd attack herself. "I tend to overanalyze everything," she says. "I had to learn to control my own mind."
These days, Alina uses an array of mental tricks to perform at her peak without getting psyched out by the competition. Are you struggling with overly competitive tendencies? Try these tips from the experts to bring balance to your dancing life.
Mind
Jul. 08, 2019 04:06PM EST
As a dedicated dancer, you're probably pretty proud of the number of hours you spend in the studio. You may even feel guilty whenever you divert from your normal non-stop routine. But time spent outside the studio can actually be super beneficial for your dancing.
Here are seven non-dance activities that can help you become a better dancer.
Health & Body
Jun. 21, 2019 04:00PM EST
Getty Images
Dancers are naturally "in their heads" all the time—but not always in productive ways. Long days of receiving and applying corrections, taking class, and performing can get to even the most composed individuals. What should you do when you feel like your mind is just as busy as your rehearsal schedule? Try meditation. Dance Spirit turned to Adreanna Limbach, a head teacher at NYC-based meditation studio MNDFL, for a breakdown of this highly beneficial practice.
Mind
Apr. 26, 2019 04:49PM EST
Getty Images
Tackling an exercise regimen with focus and dedication can really pay off in your dance career, and there's a definite thrill associated with seeing your technique, strength, and stamina improve. But what happens when your drive morphs into something that's driving you? That's what exercise addiction feels like: a sense that you have to do more. "Exercise addiction controls you," says Diane Israel, a psychotherapist who specializes in body image and is an adjunct professor at Naropa University. Israel is also an exercise addiction survivor and a former world-class runner and triathlete. "It has a different quality than exercise that's joyful, and that you know is good for you," she says.
Mind
Apr. 19, 2019 07:00AM EST
After a string of ballet-company rejections, Jennifer Sydor (here in Laura Peterson's "Failure") found success in other areas of the dance world. (Stephen Delas Heras, courtesy Jennifer Sydor)
In her senior year at Butler University, Jennifer Sydor auditioned for more than a dozen regional ballet companies—and got a string of "no, thank you" responses. "I have an athletic build, and my movement quality isn't the typical ballet aesthetic," Sydor says. "But I'd been laser-focused on ballet. When I didn't get a ballet contract, I was heartbroken."
Her one job offer came from Kim Robards Dance, a small modern company based in Aurora, CO. After attending KRD's summer intensive, Sydor ended up accepting a yearlong position with the troupe. "I was relieved and happy to begin my career," she says. She's been working as a contemporary dancer ever since.
In the dance world, rejection is part of the package. That doesn't make it any more pleasant. But whether you didn't get the Nutcracker role of your dreams or you weren't picked for a job despite feeling like you aced the audition, you can emerge from even the most gut-wrenching "no" smarter and stronger.
Mind
Feb. 20, 2019 07:00AM EST
Getty Images
Nadine Kaslow, a psychologist who works with dancers at Atlanta Ballet, says one of the most common questions she's asked is, "What should I do if I think my friend has an eating disorder?" Research shows that, compared to the general population, dancers are three times more likely to suffer from eating disorders. Experts agree that early detection and treatment is crucial. Unfortunately, while adults—like teachers and studio directors—should be keeping an eye out for warning signs, the people most likely to first notice a dancer's issues with food are her friends at the barre.
So what do you do if you suspect a friend is suffering? You don't want to be accusatory, but you know eating disorders are cause for great concern. At the very least, Kaslow advises you to trust your instincts and do something, whether it's confronting your friend directly or speaking to an adult. "If you're worried about someone, you should take it seriously," she says. "You can't be a bystander—the longer somebody waits to get an eating disorder under control, the harder it is."
Mind
Dec. 31, 2018 10:00AM EST
Thinkstock
Yes, New Year's resolutions are still a thing! As obnoxious as it is to be constantly bombarded by "What's your New Year's resolution this year?," this goal-setting tradition can actually be the first step in making healthy changes that will help you improve as a dancer. But in order for those changes to occur you have to have a plan. That's where goal setting comes in. Well-thought-out goals will help set you up for success—so we've come up with a few ideas for you to adopt into your own list of of resolutions this year.
Health & Body
Apr. 01, 2014 12:00PM EST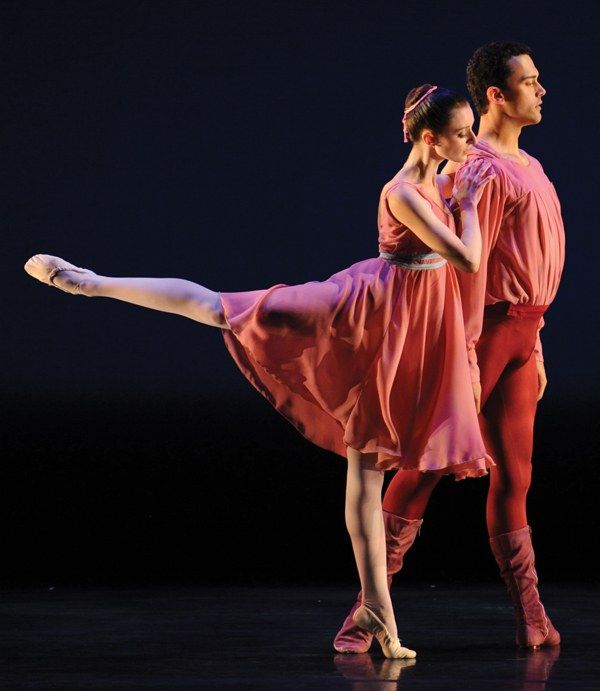 Metropolitan Ballet Academy & Company's Sara Vander Voort and Jonathan Tavares in Kanji Segawa's Viva (photo by Eduardo Patino)
You get all the lead roles and your teachers always ask you to demonstrate. You've taken top titles at competitions and have been singled out by star choreographers at conventions. It's been said that you're the best dancer at your studio or in your company. So now what?
Dancers strive for perfection—what we do can always be better. But sometimes it's hard to know how to push yourself when you've been put on a pedestal. Plus, how do you really know where you fall on the massive dance spectrum? You may be the best at your hometown studio, but where are you relative to the rest of the dance world? If you've found yourself in this situation, read on to see how to get the most comfortable and keep growing as a dancer.
Be Proactive
Talk to your coach, teacher or director about your goals. Nichole Savage of Savage Dance Company in Sykesville, MD, sits down with each of her dancers and comes up with individualized dance plans. "We talk about what classes they should be taking, what conventions they can go to and things that are going to help them succeed," she says. "There's always a way to stay enriched."
To push her best students, Savage might use them as demonstrators or send them into another class to assist. She also encourages these dancers to work outside their comfort zones. "If they're best at contemporary, I have them jump into a hip-hop or tap class," she says. Trying different genres and teachers will enhance your training by exposing you to new ways of working.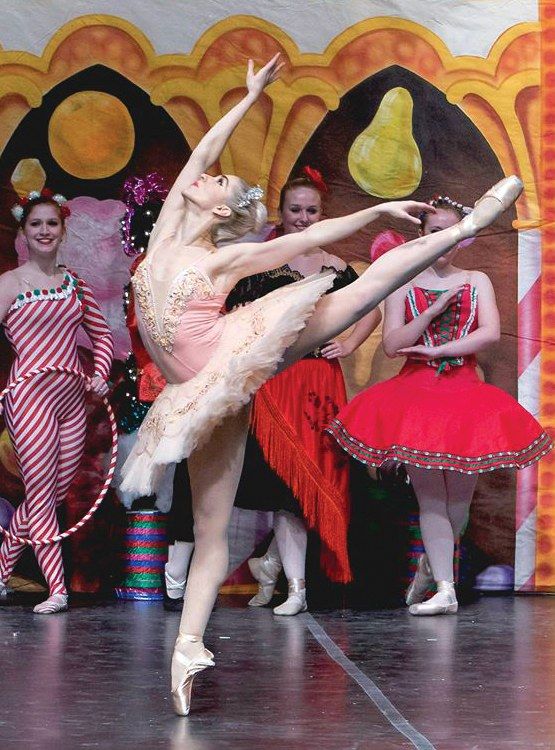 Adrienne Canterna in a performance of The Nutcracker (photo by XMB Photography)
Know When to Stay and When to Go
Whether or not you should move on to another studio or company is a big decision. If you're thriving with your current teacher or coach, there's no need to look elsewhere. "Students have to have confidence in their teacher to feel like they're in the right place," says Lisa Collins Vidnovic, director of Metropolitan Ballet Academy in Jenkintown, PA. Being the best dancer, wherever you are, isn't a sure sign that you should relocate. How you feel should be the determining factor. Are you challenged? Happy? Frustrated? Bored? "If you don't think you're getting what you need," Vidnovic says, "listen to your gut and try to find it someplace else."
For some people, switching schools can mean a step up in training. Katelyn Prominski, lead ballerina with the touring production of Flashdance The Musical, made the move after she graduated from high school. "I was at the top of my class and I wanted to have more of a challenge," she says. She left her local studio and went to San Francisco Ballet School, where she was introduced to more styles—and more competition. "I'd look at other dancers and appreciate their strengths. It gave me room to grow," she says.
Some dancers thrive at small local schools or with the benefit of extra private lessons. Adrienne Canterna, dancer with and choreographer and co-artistic director of the Bad Boys of Dance, got her early training at a small school in Maryland and supplemented it with private lessons. At 15, she won gold at the International Ballet Competition in Jackson, MS. "It just shows that you can win without going to a professional ballet school," she says.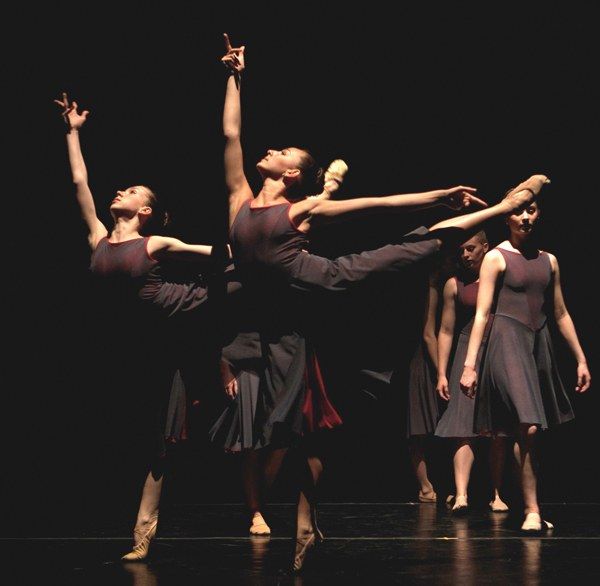 Metropolitan Ballet Academy & Company in Sarah Mettin's Fieldwork (photo by E.A. Kennedy III)
Stay Grounded
The dance world is full of amazing artists, and it's easy to lose sight of the big picture. "People run into problems because they get to be the best at their studio, and then they get to the real world and realize they're not the best anymore," says Canterna, who went on to train at the Kirov Academy of Ballet in Washington, D.C., after her win at Jackson. "It's tough." Keep a healthy perspective by watching as much dance as possible and going to master classes, workshops and conventions.
Savage warns her winning competitive dancers not to get full of themselves. "No matter how good you think you are, there's always someone better right around the corner," she says. Look at a dancer like Canterna: Even though she has a killer resumé, she doesn't let the success go to her head. She credits "good old-fashioned ballet class" for keeping her grounded. "I don't care if it's a simple class or a difficult one, you can never do it perfectly," she says. "Realizing how much you have to work on is really humbling—you see that there's still a place to go."
It's important to have confidence, but also to stay gracious. "Show up, work hard and be nice," advises Vidnovic. Along with talent and success comes the responsibility to set a good example. And remember that the dance world is small. You don't want to burn any bridges.
Health & Body
Sep. 01, 2013 01:59PM EST
Madi Thielman isn't fazed by the fact that her best friend is up next. (by Propix)
You've rehearsed your competition solo for months. But on the day of the event, who takes the title? Your best friend. Then, when you're both up for the lead in your studio's big performance, who gets it? She does. Your feelings toward her probably aren't very friendly anymore. You don't even want to talk to her, much less watch her perform and cheer her on. How can you fight these feelings—or avoid them entirely?
In the tight-knit dance world, it's common to have to compete against someone you're close to—at a dance competition, for a scholarship or for a coveted role in an upcoming show. Try these tricks to keep your friendship on track.
1. Put Your Friendship First
Lindsay Arnold and Witney Carson, both of "So You Think You Can Dance" Season 9 and "Dancing with the Stars," have gone head to head for years—first at ballroom, jazz, contemporary and hip-hop competitions growing up, and then, in 2012, on live TV. Throughout their years as dance rivals, they've remained close friends. What's their secret? "Friendship should come before competition, no matter what," Lindsay says. "Never sacrifice a good friend for the sake of winning."
Nadine Kaslow, a psychologist who works with dancers, agrees. "Talk with each other about the priority you're placing on your friendship," she says. "A good relationship can withstand challenges if you're committed to each other, and if you're honest and open in sharing your feelings."
2. Focus on Doing Your Best
"If you're feeling anxiety about competing against a friend, remember that first and foremost, you're competing against yourself," Kaslow says. It's more productive to focus on your own performance than to stress about your competitor's.
"I always tell my students not to worry about the competition, but to aim for their personal best," says Deborah Agrusa, director of Deborah's Stage Door Center for the Performing Arts in Rochester Hills, MI. If you're confident that you've given your best effort, you may find it easier to be happy if your friend gets the prize.
3. Push Each Other to Improve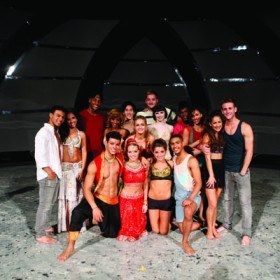 "SYTYCD" Season 9's Top 16, including Lindsay (center) and Witney (bottom row, second from left) (by Adam Rose/Fox)
For Lindsay and Witney, training together meant seeing each other's growth firsthand. "Having someone close to me who works as hard as Witney kept me motivated and pushed me throughout my dance career," Lindsay says.
Best friends Paige Moss and Madi Thielman, both 14, dance at The Dance Zone in Henderson, NV, and try to learn from each other's strengths. For example, "Paige has beautiful emotions when she performs," Madi says. "She always gets compliments about her facial expressions. I try to copy that." Paige, meanwhile, says Madi's achievements at competitions, including several scholarship wins, have pushed Paige to want to be better.
"Being surrounded by excellent people will help you to become a better dancer, performer and person," Agrusa says. "Aspire to be like your friend. You'll be better off because of each other."
4. Respect Each Other's Feelings
Losing hurts, even if you lose to someone you care about. While it's important to congratulate your BFF if she's excited about winning a role or title you wanted, your friendship should also mean being able to share your own pain and disappointment. If you end up on the losing side, "be patient with yourself," Kaslow says. "Seek support, either from your best friend or from other friends or family. If you let that pain fester, it will be harder to move past it."
If you won a competition or scholarship over your friend, try to understand how she's feeling. "She may need you to comfort her," Kaslow explains. "Or, she may ask you for some space. Respect that. Say, 'OK, let's talk again in a few days.' " Think about what you'd want from your friend if the roles were reversed.
5. Step Outside the Studio
Onstage and off, the dance world is naturally competitive. Get away from that atmosphere by spending time with your friend outside of dance. "It's always good to do social things beyond the dance setting," Kaslow says. Go shopping. See a movie. Talk about things you have in common that aren't dance-related.
"Witney and I hung out all the time," Lindsay remembers. "We were close because of dance, but the outside things were what really strengthened our relationship."
Even the most talented dancer won't win all the time or dance every principal role. Disappointments, when they come, will be easier to handle with a friend by your side. "In life, you're going to face losses, but you have to stay positive," Madi says. "Paige and I are grateful to have each other."
Health & Body
Get Dance Spirit in your inbox
Apr. 11, 2013 10:00AM EST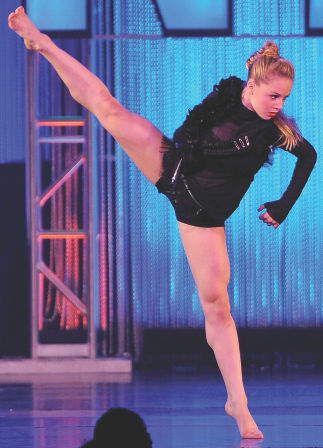 Alexia Meyer performing her title-winning solo at New York City Dance Alliance Nationals in 2012 (photos courtesy NYCDA)
For years, Alexia Meyer struggled with comparing herself to other dancers. "I would feel confident going into a competition, but as soon as I saw other dancers' abilities, I would second-guess what I was capable of," says Alexia, who just graduated high school. "My self-consciousness definitely hurt my performance. When I wasn't confident, I couldn't dance 100 percent." Alexia consistently placed among the top dancers at competitions, but never won at Nationals.
Then her studio, The Dance Club in Orem, UT, brought in performance psychology consultant Justin Su'a, who counsels elite athletes (including a few Olympians) and artists such as "Dancing with the Stars" pro Chelsie Hightower on improving mental skills for physical performance. Su'a led three group sessions at TDC. "He talked a lot about managing stress and fear, and getting rid of self-doubt," says TDC co-owner Allison Thornton. "All of our dancers were excited to try the techniques he offered, but Alexia really took his advice to heart." After the team sessions, Alexia kept meeting with Su'a one-on-one—and his advice worked. At 2012 Nationals, Alexia overcame her confidence issues and was named New York City Dance Alliance's Senior Female Outstanding Dancer.
How could a sports psychologist's methods improve your own performance? Here are five strategies you can take from the field, the pool and the rink to the studio and the stage.
Stop Negative Self-Talk
"Anytime you're being judged on your performance, it's easy to beat yourself up," Su'a says. The first steps in silencing the inner voice telling you you'll never be good enough are recognizing the thought and realizing you don't have to listen. "People think, If I have this thought, it must be true," he explains. "Believing that negative inner voice can lead to a physiological response that affects your performance."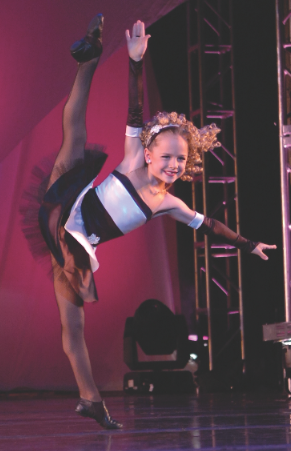 Alexia getting her start at NYCDA
Turn the tables by thinking about what you want to be saying to yourself before a performance or competition. For example, Su'a helped Alexia come up with "power statements" to repeat when she starts doubting herself or questioning her capabilities. "I say things like, 'I'm here to dance, and that's all I care about,' " Alexia says.
Use Imagery
Have you ever heard an athlete use the phrase "Be the ball"? Just as a soccer player might visualize the ball sailing past the goalie and into the net, dancers can visualize what they hope to do onstage. Picturing what you want to happen—rather than what you don't, like falling or messing up—can help you relax and let your training take over.
Dr. Kate Hays, a performance psychologist who works with athletes and dancers, uses both realistic and metaphorical imagery with her clients. "For Swan Lake," she explains, "realistic imagery would focus on the music and envisioning particular steps. Metaphorical imagery would be thinking about 'swan-ness'—being a swan rather than being a dancer." Try both types of imagery to see what resonates with you.
Breathe Through the Nerves
"Nerves aren't bad—they're your body's way of telling you it's show time," Su'a says. However, if your nerves affect your breathing, your performance can falter. "When your breathing becomes erratic in a high-stress situation, carbon dioxide gets trapped in your muscles and you get stiff," Su'a says. Slowing down your breathing can stop the cycle.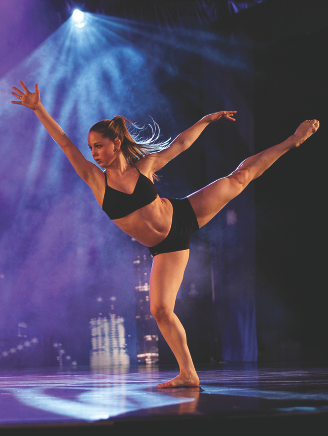 Alexia demonstrating during NYCDA convention classes. After winning the Senior Outstanding Dancer title at Nationals in 2012, Alexia began traveling with NYCDA as an assistant.
Hays teaches dancers and athletes a technique called diaphragmatic breathing, or belly breathing. To try it, put both hands on your stomach, middle fingers touching, and breathe in. Your fingers should separate at the depth of the inhale, showing that you're fully engaging your diaphragm, and your middle fingers should come back together on the exhale. You can also curl up on the floor in yoga's child's pose and feel the inhale expanding your back, just below your ribs. Breathing like this for several minutes can help you regulate tension and calm down.
Create a "Pre-game Ritual"
Athletes use pre-game rituals as a way to get into the competitive mindset, and you can do the same before performances. "There are a lot of uncontrollable factors about performing, and a pre-show routine can help you feel in control," Su'a says.
Hays adds, "What helps you feel most ready to be onstage? Do that, while avoiding things you know psych you out." You might need to be surrounded by friends, or be alone. You might do a set warm-up backstage before every show, or listen to a specific song over and over. Whatever it is, establish a routine and stick to it.
Remember Your Motivation
Whether you're hoping to dance with American Ballet Theatre or you want to play in the NBA, staying motivated is important. "Do you dance to win trophies, or because you love it?" Su'a asks. "It's easy to lose motivation if you forget why you do what you do. If you reconnect with your purpose, you can be more effective in your behavior."
For Alexia, thinking about her motivation for dancing helped her relax in stressful situations. "I remembered that I dance for myself and not for others," she says. "I can't let outside influences hurt my motivation for dancing."
Change doesn't often happen overnight. "Mental skills, like physical ones, take time to develop and practice," Su'a says. But if you're willing to train your mind just like you train your physical body, you can look forward to major benefits.
Health & Body
Aug. 10, 2012 02:06PM EST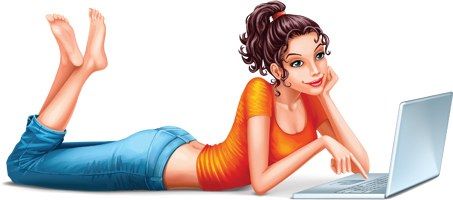 Last March, Kendall Shepherd, coach of the Lake Oswego High School dance team, led her group to competition victory. "We were thrilled to win for the second straight year," she says. But the enthusiasm quickly turned to disappointment. "We hadn't even left the arena before the backlash started. Within hours, my girls saw updates on Twitter about the unfairness of the competition, saying the trophies were awarded based on popularity, not dancing." The team's big day was tainted.
You've probably posted online about an accomplishment, whether it's a competition win or a pirouette record. You're riding high—until someone posts a negative response. You can get 50 compliments about your routine, but it only takes one mean-spirited comment to deflate your excitement. Dancers have a natural instinct to share their work, and everyone is entitled to his or her own opinion. But poor internet etiquette has an instant, hurtful impact. So what's appropriate online behavior? Read on.
Don't Stop Posting
Hannah Frederick, a student at Broadway Dance Center in NYC, knows the frustration of getting negative responses—but that doesn't stop her from posting performance videos online. "It's impossible to make destructive comments feel good," she says. "But when you shut yourself off to criticism, you stop growing."
You may worry about someone writing a nasty response to something you've put out there. But the internet is a fantastic forum for reaching a wide audience. "Today's online media give people powerful opportunities for feedback," says Stefan Becker, a licensed mental health therapist whose clinical work includes youth counseling. "When you post your performances, you have an instant audience." Hannah adds: "It's important to share what we can give the world. It takes courage, but it's worth it."
Master the Art of Humble Bragging
It's natural to want to share your victories, but there's a fine line between being proud of yourself and bragging. Instead of filling your news feed with posts like "Just did 10 pirouettes in class! I'm the new record holder at my studio!" try: "So thankful to my teacher for helping me reach my pirouette goal." Showing gratitude changes the tone of your post. Being humble makes you more likeable online, where it's hard to figure out a poster's tone.
Don't Feel the Need to Respond
When negative comments are made, it's hard to undo the damage, and harsh words are more likely to stick with you than happy ones. But don't take it too personally, and if you're receiving mean comments, the best thing to do is say nothing in return. "A negative remark is felt as an attack by the person on the receiving end," says psychologist Amy Stern Stoffelmayr. "If your response is defensive, that escalates negative feelings." Sometimes people just want a reaction, and a back-and-forth exchange fuels that fire. "The commenter feels attacked and responds, so it continues and builds emotional distress," Stoffelmayr says.
If you feel it's important or beneficial to respond, proceed with caution. Imagine you're face-to-face with the person you're writing back to. "Ask yourself if you'd make the same comment to them personally," Becker says. Then, wait 24 hours before you respond. "If you find yourself wanting to lash out, think about why you're feeling angry," Stoffelmayr says. Give yourself a chance to cool down, so your comments are thoughtful and not impulsive.
If You Want to Critique Someone Else
Maybe you're watching a friend's routine online and feel you can offer advice, or your cousin posted a photo of a wobbly arabesque and you've got the perfect tip to help her. Go ahead and comment—but choose your words wisely. "Online criticism is very public," Becker says. While constructive criticism is often appreciated, telling someone she "might want to speed up her spot to stay on the music during her fouettés" isn't the same as posting that she "stinks at turning."
Health & Body
Apr. 20, 2012 10:19AM EST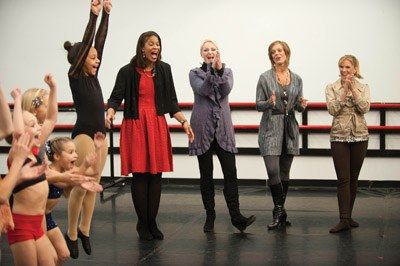 Would you rather have an over-involved parent like the ones on "Dance Moms," or a parent who doesn't acknowledge your love for dance? Finding a happy medium can be tough for both parties, but it's possible. (Photos by Scott Gries)
Fourteen-year-old Lauren* dreams of dancing professionally and opening her own studio. Unfortunately, Lauren's dad sees her future differently: "My father supports my dancing as a hobby, but not as a career," says Lauren, who has been dancing for 10 years and studies ballet, pointe, tap, jazz, modern, contemporary and hip hop. "He'd like me to have a job where I won't have to worry about how much money is in the bank. Even going to college for dance is completely out of the question for him. I've told him dance is the only thing I can picture myself pursuing, but he just doesn't understand."
Lauren's certainly not alone. Maybe your parents don't see dance as anything more than a hobby. Maybe they'd rather you studied to be a doctor or a lawyer, or maybe they just aren't interested in the arts.
"Studies show there are repercussions when people in the arts don't have parental support," says Dr. Linda Hamilton, a psychologist who works with dancers. "Mainly, there's a lot of self-doubt. If parents show no interest, they're basically saying what you care about isn't important." That disinterest can feel devastating, but it doesn't have to end your dance dreams. You can take steps to change your parents' minds while building a network of people who will provide the encouragement you need.
Accentuate the Positives
You love dance—but sheer enjoyment isn't the only perk. Emphasize to doubting parents how dance teaches you skills that you can take into any career. "Dance training can improve focus and concentration," Hamilton says. "You're developing a good work ethic and an openness to feedback. Dancers are people who want to be their best, and thus dance is a good training ground for any future profession. Plus, it's healthy!"
Despite these benefits, many parents worry that dance will interfere with academics—which means that even if school isn't your favorite thing, you need to show your parents you can keep your grades up. "The more you can do well in school and be focused, the more your parents can see the discipline and character you get from participating in the arts," says L.A.-based dance teacher Kim Hale.
If you're serious about dancing after high school, discuss with your parents the option of getting a college degree—either with a dance focus or in an academic discipline—while dancing. If your parents see that dancing doesn't mean being unprepared for the "real world," they might be more likely to support you now.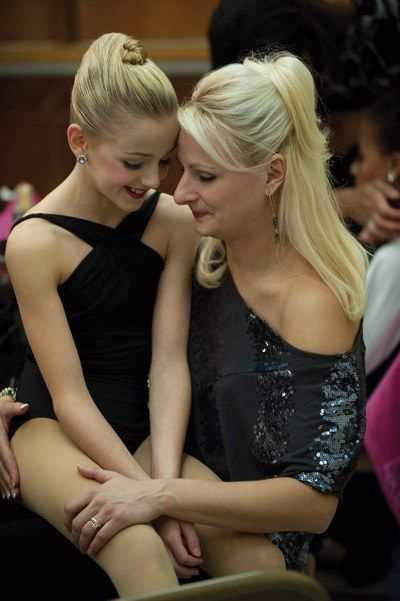 Chloe and her mom, Christi, spend time together backstage at a competition on "Dance Moms." It's OK if your parents can't be at each of your performances, but it's important that they support your passion—without being overbearing.
Educate Your Parents
Your parents might act unsupportive of your dancing simply because they don't "get" dance. The first thing to consider in this case is that your mom or dad might not even realize that this disinterest hurts you. If you haven't already, gently remind them how much it means to you to have them attend your performances and competitions. Then, spend some time educating them about what they'll see.
"There's so much dance in pop culture now," Hale says, "and you can show them examples of that and talk about how it relates to what you do." Find videos of dancers and companies that inspire you and share them with your parents. A little knowledge might be the key to taking them from disinterested to intrigued.
You might also have to show your parents the variety of dance education options and careers out there. "Parents don't always see dance as something that can take you places," Hale explains. To prove otherwise, research dance companies and jobs and present them to your parents, stressing the array of opportunities—from travel to grad school to community service—that dance can bring.
Find Support Elsewhere
Unfortunately, some parents won't change their minds about dance no matter how persuasive your arguments. Hale encountered this challenge in her own life—her parents removed her from dance classes in 8th grade, just as she was becoming serious about her training. "I'd never gotten a lot of support from them," she says. "But when I started having some problems in school, they took away dance as punishment." One of Hale's teachers stepped in, saying Hale was talented enough to be training at a more serious school, but Hale's mother was adamant: No more dance.
After high school, Hale reentered the dance world—entirely on her own. "I had to fight my way back," she says. "I applied for scholarship programs and cleaned toilets to get free classes. It was hard, but I knew that dance was what I was supposed to do." And even though her parents never came around to supporting dance, Hale wasn't alone: "I found my way to teachers who could encourage me," she says. "If you're in that situation, ask for guidance." Now, as a faculty member at Debbie Allen Dance Academy, Los Angeles County High School for the Arts, EDGE Performing Arts Center and others, Hale strives to be a voice of encouragement in her students' lives.
Hamilton agrees that having someone to support your artistic life is vital. "You need emotional backup from different areas if your parents aren't providing it," she says. "Surround yourself with people—adults and friends—who validate your love for dance."
Every parent/child relationship is different, and there's no one-size-fits-all approach
to dealing with an unsupportive parent. Approach the situation with respect for your parents' point of view. Most likely, they only want the best for you and just don't understand when dance is what's best.
"It's hard to decide whether I should do what will make my father happy, or what will make me happy," Lauren says. "But dance is how I express myself, and I can't imagine not doing it. Dance has been and will always be my passion."
Health & Body
Feb. 15, 2012 09:52AM EST
Illustration by Lealand Eve
Deirdre Lewis loved studying ballet and jazz as a young teen, but unlike many of her peers at Dance Workshop of Hanover in Massachusetts, "dance was not my life," she says. "I was a cheerleader, and was also very involved in school." As her non-dance activities took up more and more of her time, she started falling behind in dance. "Girls in my class were asked to join the studio's preprofessional company, and I wasn't. Plus, as the other girls got more involved with dance, they started to form stronger bonds with each other, which made me feel more left out."
Health & Body
Dec. 17, 2011 02:05PM EST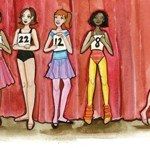 When Rylyn Juliano moved to NYC in October 2009, everything was going according to plan. She had graduated early from Syracuse University with a BFA. She had an agent, she was going to auditions and she was even getting callbacks.
But after a few months, her good fortune slowly started to shift. Not only did the callbacks dry up, but at auditions, she generally stopped getting noticed altogether. Rylyn's confidence was shaken, and that made her question herself as a dancer. "I was freaking out that I wasn't going to have a good audition before I even got there," she says. But, despite her emotional struggle, Rylyn didn't give up.
Finally, she reached a turning point when she messed up a very simple combination at an audition. It had been about four weeks since she'd been in class, mainly because of a lack of time and money. But as she observed the other dancers, she realized that her own technique had fallen behind. "I looked at their technique and said, 'I should be able to do that!' " she says. "Seeing them bumped up my game." She started budgeting for training and threw herself into ballet classes at The Ailey Extension and Broadway Dance Center. Now, nearly a year after what she calls "the slump"—she attended more than 90 auditions over a period of six months before she was offered her first job—she is dancing her dream role of Cassie in the touring production of A Chorus Line! Rylyn's slump taught her an important lesson—never stop training—and she'll draw on that knowledge throughout her career.
Whether you've been skipped over for a role you wanted, scored poorly at a competition or fallen flat on your derrière at an audition, you've most likely had a few setbacks of your own. They are a normal part of any dancer's life. But once you learn to cope with these inevitable disappointments, they can actually be valuable learning experiences. Here are five ways your losses can make you a better dancer.
You Learn Your Limitations and How to Work Around Them
"Having a realistic view of your abilities is helpful," says Dr. Toby Diamond, a Seattle-based psychologist who works with dancers at Pacific Northwest Ballet School. If you understand your strengths and weaknesses, you will be better equipped to manage your own training and career. You can use an unsuccessful audition or a poor competition score as an opportunity to be honest with yourself about what you need to work on. What are your weak areas? Perhaps you struggle with flexibility or your fouettés are wobbly. Ask a teacher or coach for feedback. If your issue is something that can't be fixed, like low arches, your teacher can help you learn to work around it.
You Learn to Accept Criticism and Use It to Your Advantage
Dancers are more able to accept criticism when their sense of self-worth isn't wrapped up in winning. And constructive criticism helps a dancer grow technically and artistically. When you get negative feedback, "it's OK to be hurt and upset and even go home and cry a little at first," says Diamond. But then you have to learn to use that criticism rather than ignore it. Keep a diary of the corrections you receive, and focus on recurring critiques during class. As you progress, you'll also be able to look back and appreciate how much you've improved. 
You Learn the Value of Hard Work
At age 13, Montana Efaw was selected as a finalist at a Monsters of Hip Hop event and found herself competing for a spot in an annual show the convention produces in L.A. "I was up against some of the best dancers out there at the time," she remembers. Unfortunately, she didn't make the show. Instead of giving up, Montana spent the next year training more intensely and in a wider variety of styles. Her work paid off: She was nominated again the following year and earned a place in the show. The discipline she developed after that setback has served her well throughout her career—today she dances for Lady Gaga!
"If you realistically face disappointment, you can use it as a springboard to work harder or take a different direction," says Diamond. "For example, if you keep falling out of a pirouette en dehors, instead of saying 'I can't do pirouettes,' you might get a teacher or a peer to watch you and help you figure out why you keep falling." 
You Learn That It's Not Always About You
After failing to land your dream role, it might feel like the world has ended. But over time you'll discover that casting decisions involve many factors beyond your control. " 'I have failed' is so bottom line," says Diamond. "There are many reasons why you might not have gotten the part." For example, a casting director may be looking for a certain ethnicity, height or body shape. Instead of dwelling on things you can't change, try to stay positive and look for roles that are a better fit for you. 
You Learn to Push Past Your Fear
Dancers who aren't afraid to fail are more likely to try new things. "People who take risks grow a good deal more than those who don't," Diamond says. "And how can you be an artist and not experiment?" Face your fears by trying a new dance style or taking class from a new teacher.
The next time you face a setback, remember that it's OK to cry and be frustrated. Just don't let those feelings keep you from facing your fears and stepping into the studio the next day with the discipline, perspective and open mind that will make you the best dancer you can be.
Health & Body