Misty Copeland Gets Animated on "Peg + Cat"
Is there any arena that trailblazing, boundary-breaking, all-around-awesome American Ballet Theatre principal Misty Copeland hasn't conquered? She's reached the tippity-top of the dance world; written one book and been the subject of another; launched her own dancewear line; tried her hand at acting (in the upcoming The Nutcracker and the Four Realms); and even helped design a Barbie doll in her likeness. And tonight—while the in-the-flesh Copeland will be busy with the opening night of American Ballet Theatre's fall season—an animated version of the celebrated ballerina will be guest-starring on the PBS Kids show "Peg + Cat."
If you're not up to speed on your cartoon programming, just know this: "Peg + Cat" is a) fantastic and b) a HUGE hit. It follows little Peg and her feline friend as they use their math and problem-solving skills to save the day—and tonight's episode, "The Dance Problem," centers on a ballet hopeful who has to overcome adversity to succeed. Sound familiar?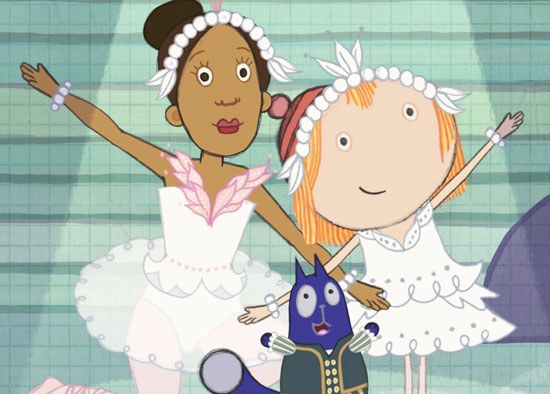 Copeland's animated alter-ego on "Peg + Cat" (PBS/The Fred Rogers Company)
Copeland appeared on "Good Morning America" today to talk about getting animated, getting married and getting onstage with ABT (her pre-show ritual includes a lot of Drake, apparently!). Watch the clip here—and be sure to catch Copeland's "Peg + Cat" episode tonight on PBS (local listings), and to catch Copeland onstage during ABT's fall season, which runs through October 30.