Must-Know Commercial Dance Terms
Choreographer Wynn Holmes (center) on set with Canadian band FOXTROTT, shooting the music video for "Shields" ( Gaelle Leroyer, courtesy Holmes)
Adagio. Marley. Rosin. Switch leap. You're more than familiar with a lot of theatrical-dance terminology. But do you know what an industrial is? A session fee? If you're looking to break into the world of commercial dance—think music videos, TV spots, promotional events—you'll need to learn, and fast. We asked some industry heavy-hitters to clue us in on what you'll need to know to book jobs and communicate like a pro on set.
---
Before the Job
You probably already know some of the terms you'll hear when trying to book a commercial job (auditions, callbacks and headshots, for example). But some types of commercial jobs, such as trade shows, might be new to you. Also, most commercial work is booked through an agent, which involves a language of its own. We had Lakey Wolff, a former agent with CESD Talent Agency in NYC, break it down.
Agent: Submits you for jobs and negotiates the terms and conditions of a booking in return for a percentage of your fee.
Book/release: "Booking" means you got the gig. If you've "been released," you didn't.
Breakdown: The description of what a project is looking for. Includes the specifications (also called "specs") for things like age, gender, ethnicity, height and type of dancer needed.
Casting director: In charge of running casting sessions.
Industrial: Video for nonbroadcast use. Examples include corporate sales materials, instructional clips and product demonstrations.
Trade show: Corporate event where dancers are involved in presentations or demonstrations.
On Set
Being on set for the first time can be exciting, but it can also be overwhelming. Wynn Holmes, a choreographer and dancer whose choreography credits include MTV, Nike and "So You Think You Can Dance" (Canada), filled us in on a few key terms you might hear.
Blocking: Running through a scene before filming to decide where the dance will happen, who will enter when, and where lighting and cameras will be placed.
Pro tip!
Blocking on set takes a lot longer than blocking in rehearsal, Holmes warns, so be patient!
Call sheet: The list of who will be required on set for each shot, as well as when and where scenes are scheduled.
Pro tip!
Holmes suggests always checking out the whole call sheet (not just looking for your name) to get a good idea of how the day on set will run.
Camera left/right: Similar to stage left/right: If you're facing the camera, camera left is your right.
Cheat: To turn slightly toward the camera. Cheat-away means to turn slightly away from the camera.
Crew: The production staff on set behind the scenes, including the gaffer (in charge of lighting) and director of photography.
Frame: The area in the shot. If you're "in the frame," you're being seen on camera.
Pickup shots: Extra shots that happen after the main shoot is finished. These might include detail or cutaway shots (to get a different view or angle).
Striking: Removing an object or prop from the set.
Talent: Dancers, actors, models—anyone who is appearing on camera.
Time Sheet: Officially known as the Performer's Work Report, it lists the names of all of the talent who worked on set that day, and notes when they arrived, went to wardrobe/hair and makeup, started and ended their meal breaks, and wrapped their day. The sheet is used to calculate payments at the end of production.
After the Job
Contracts for commercial jobs can be complicated, but understanding them will ensure you're treated fairly. Wolff always encourages dancers to read everything and consult with their agent before they sign. "It's OK to ask questions!"
Conflict: Work for the same type of client. For example, if you shoot an ad for one department store, booking work with another department store would be a conflict. "Exclusivity" means the client won't book you with a conflict in a certain category.
Holding fee: Compensation for not appearing in work for a competitive product. Once the company stops paying a holding fee, you're released from the conflict.
Release: A contract term which means you release your rights to the company hiring you. These can be specific to different "uses" (i.e., images, social media).
Pro tip!
Make sure to check what is included in the release and how long the company holds those rights.
Reshoot: An additional shoot (of an entire scene) after the original shoot wraps.
Residuals: What you're paid on top of the session fee if the show or commercial runs.
Session fee: What you're paid for the day of filming.
Stills: Photos taken during a shoot. These can be helpful in building your portfolio if you get permission from the producer to use them.
You can never go wrong with a classic black leotard. Discount Dance's long-sleeve mesh leo will add a sleek edge to your studio style. Pair it with tights and a skirt for ballet class, or layer some leggings and sweats for contemporary class. Enter below for your chance to win it!
Keep reading...
Show less
via @kyle_vanny on Instagram competing on World Of Dance
Kyle Van Newkirk is a tap dancer you probably remember from the premiere season of NBC's World of Dance. In case you missed it, he is also one of Showstopper's incredible convention teachers. What makes Kyle stand apart from some of today's other incredible tappers? He isn't afraid to change what tap means to his audience and even himself. This modern view of tap dancing is important because it shows us that tap dancers are just as versatile and dynamic as dancers of any other genre. We sat down with Kyle to get his advice on bringing tap dancing into the 21st century.
Keep reading...
Show less
What did I just hear you say? You think all dancers are weak and delicate? PLEASE SAUT DE CHAT OUT OF MY LIFE. (Giphy)
Sure, dancers definitely have some unique identifying characteristics. (We're all obsessed with Center Stage? FACT.) But we're also subjected to all kinds of annoying, inaccurate stereotyping. Here are 10 dancer stereotypes that we never want to hear again.
Keep reading...
Show less
University of Minnesota Dance Team (courtesy University of Minnesota)
They say there's no "I" in "team"—and nowhere is that truer than the world of college dance teams, where precision reigns, uniformity is key, and a single misstep from any given "I" can cost a group a championship trophy. So it's unsurprising that securing a spot on one of the best dance teams in the country is no easy feat.
Members of these highly athletic teams rehearse for hours every week—on top of academic classes and commitments—and perform at football and basketball games, annual concerts, and nationally televised competitions (hi, ESPN). And "no I" rule notwithstanding, each of these top teams is made up of highly trained, highly technical, highly hard-core individuals, who come together to create a ready-for-victory pack.
These six teams aren't one-off success stories—they're consistently strong, and earn the top spots at major competitions like UDA and NDA nearly every year. Up for the challenge? Here's what to know before you go to auditions.
Keep reading...
Show less
Jenna Johnson and Adam Rippon competing during the "DWTS: Athletes" finale. (Photo by Kelsey McNeal, courtesy ABC)
Last night was both the best and the worst night of "Dancing with the Stars: Athletes." The best, because one lean, mean, dancing machine of a couple got to take home the Mirrorball trophy. The worst, because we won't be able to tune in to "DWTS" each Monday to get our weekly dose of dance mania until the fall. But all good things must come to an end, and "DWTS: Athletes" was certainly one of the best seasons yet. The remaining three couples all brought their A-games to the dance floor for the finale, showcasing two dances: a traditional ballroom routine and a freestyle. Here's the final recap.
Keep reading...
Show less
May. 16, 2018 02:26PM EST
Ema Peter
The Glorya Kaufman International Dance Center is the 54,000 square foot home of the USC Glorya Kaufman School of Dance, one of the largest facilities dedicated to dance on a private university campus. Designed for their innovative new curriculum, that supports a range of dance styles, the school's staff designated Harlequin to provide wall-to-wall flooring for the large 3,500 square foot Performance Studio as well as five dance studios in their new state-of-the-art building.
Keep reading...
Show less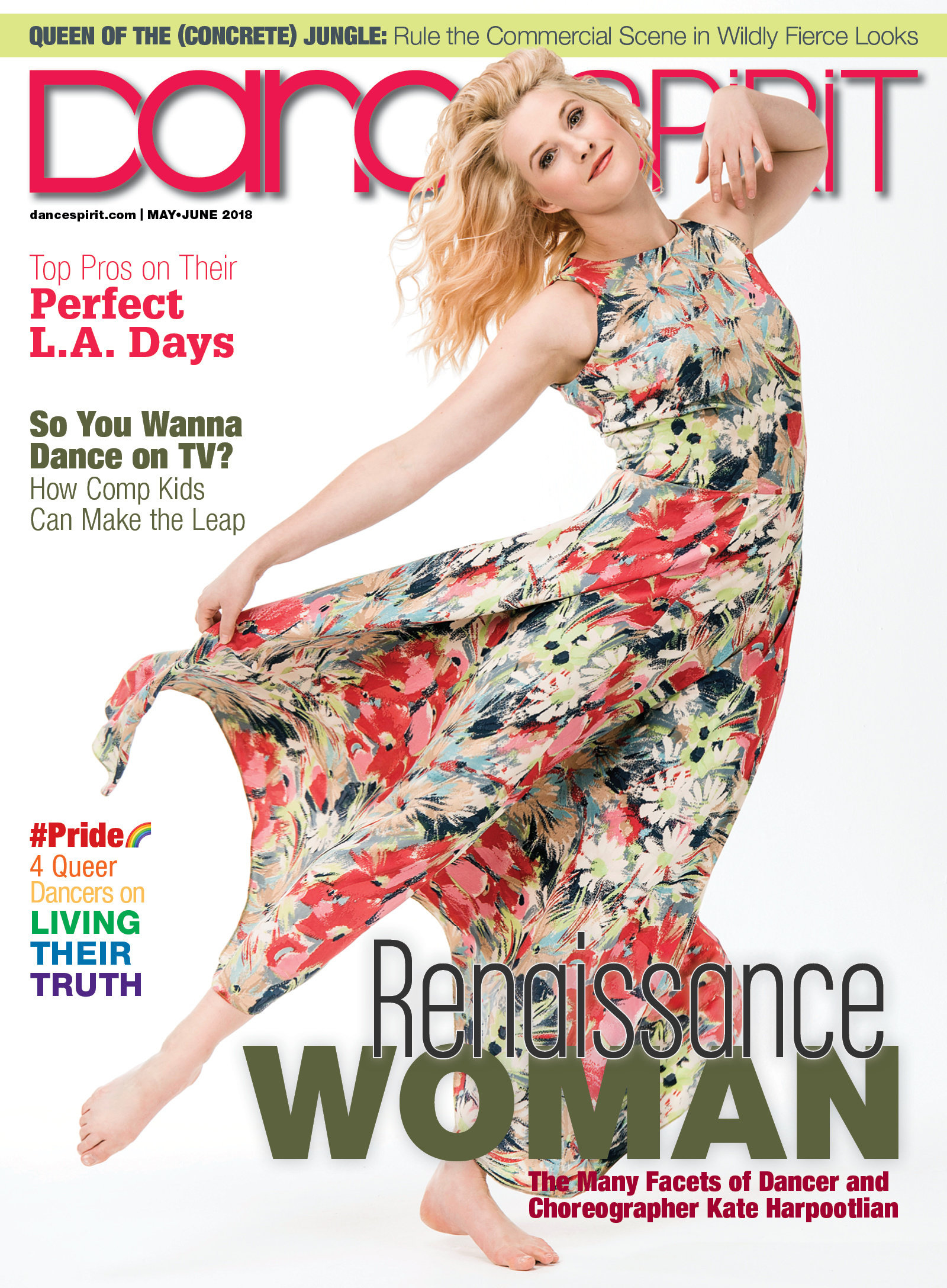 Get Dance Spirit in your inbox