Sep. 24, 2011 10:30AM EST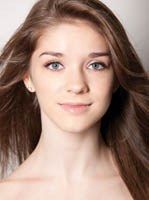 Cassie Trenary, photo by Rosalie O'Connor
At 18, most dancers are wrapping up their studio and high school careers and are getting ready to head off to college. Not Cassandra (Cassie) Trenary. Last spring, when she was 17, Cassie was called upon by American Ballet Theatre to perform with the prestigious company at the regal Metropolitan Opera House in NYC.
Cassie grew up in Lawrenceville, GA, and began training in ballet and tap at age 3 at Lawrenceville School of Ballet. At 10 she started performing with the school's company, Southern Ballet Theatre, and enrolled in jazz, hip hop and modern classes as well. When she was 12, Cassie attended an ABT summer workshop in Alabama and was selected as an ABT National Training Scholar. She spent the following four summers attending the ABT intensive in NYC, and in 2009 she was offered a position in the Jacqueline Kennedy Onassis School at ABT. Cassie was chosen as a YoungArts winner and joined ABT II before being offered an apprenticeship (and an eventual company contract) with ABT.  —Alison Feller
May 16, 2011
I'm terrified but excited—tonight, the ABT Spring Gala, marks my first performance with American Ballet Theatre and my last with the Jacqueline Kennedy Onassis School at ABT. I'll be performing in the Karelia March with the school and dancing as a swan in the corps de ballet for Swan Lake Act II with the main company. In a way, I'm graduating the school and becoming a member of ABT in one show.
I've been working with both the school and the company for three weeks, racing from one rehearsal to the next as I prepared to finish my life as a student and begin my life as a professional dancer. Trying to rehearse with the company and JKO was stressful at times, but after the show, I'll be able to focus on the company's Metropolitan Opera House season.
The Karelia March is the second number in the show, and the Swan Lake Act II pas de deux opens the second act. Karelia March is a new piece choreographed by Raymond Lukens. We learned it just three days before the gala!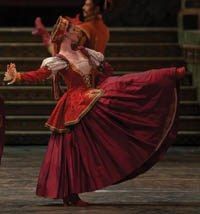 Cassie performing in "Swan Lake" Act III. Photo by Rosalie O'Connor.
Later that night
Performing the March was so fun, but it went by too fast. During our bows, I looked up to the balconies in awe at the sold-out venue. There is nothing like dancing on the stage at the Metropolitan Opera House.
During intermission, I raced backstage to change into my swan costume. Then I took my place onstage, heard the music beginning and felt the heavy breeze whoosh past me as the large curtain of the Met stage opened before me. "Don't screw up!" I kept repeating to myself. And I didn't! The show was a success and the after-party was a blast.
May 17, 2011
Today was the first company dress rehearsal for Don Quixote. I was nervous because it's the first time I'll be in all three acts of the ballet. Being in costume and interacting with everyone onstage really boosted my confidence for tomorrow's performance.
Later that day
Scratch that: I'm performing tonight! My alternate hurt her foot and she's scheduled to perform this weekend. She needs to rest, so my first performance will be a day early!
May 20, 2011
I have rehearsal for the czardas, a character dance in Coppélia, today, and then a break before the show tonight. I'm excited because Alina Cojocaru of The Royal Ballet is performing with ABT principal Jose Manuel Carreño! I can't believe I'm going to be onstage with them. I feel so privileged to be performing with these two incredible artists.
May 21, 2011
Today is a long day: company class followed by a 2 pm show and an 8 pm show. I'm excited because one of my dance teachers from home in Georgia is coming to the matinee performance! It's so nice being around someone from home, even if it's just for a short time.
May 24, 2011
I'm feeling pretty discouraged today. You know that class where it feels like you've never danced a day in your life? Well, that was class today.
But I don't have time to stress because I have Giselle rehearsal this afternoon. I'm so scared to perform as one of the wilis, who are the spirits of scorned young women who died before their wedding days. The wilis have a lot of material and I keep making little mistakes during rehearsals. I know I just need to learn from my mistakes and move on though.
At the end of the rehearsal, Maxim Beloserkovsky and Irina Dvorovenko, two ABT principals, came in to rehearse the Giselle Act II pas de deux. Watching them made me feel so much better. Everything looks so easy and beautiful. This is why I dance. I hope to make everyone feel as happy as I feel when I am dancing.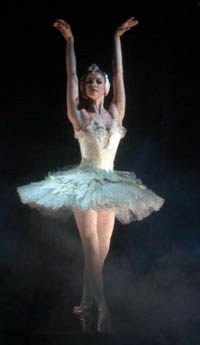 Cassie dancing the White Swan Vision in "Swan Lake." Photo by Rosalie O'Connor.
June 3, 2011
Tonight was Julie Kent's 25th anniversary performance. Standing backstage, I couldn't help but think how just a month ago I was a JKO student working with ABT II and now I'm here watching Julie Kent from backstage dancing as an ABT apprentice. This is my dream come true.
July 1, 2011
Today is the happiest day of my life! I just had a meeting with Kevin McKenzie and Victor Barbee and they offered me a permanent position in the company's corps de ballet. I can't believe it! I'm so grateful and excited. They told me they were impressed with my work since coming straight out of the school. I am a member of American Ballet Theatre!
July 9, 2011
It's officially the last day of the Met season. It went by so fast, though it feels like the Spring Gala was years ago. It's strange how practically living at the Metropolitan Opera House can manipulate your sense of time. It's been an intense eight-week period, but I survived my first Met season!
I gained so much as an artist throughout this experience. Being surrounded by this new group of people who are passionate about what they do has helped me to be less reserved with my dancing and artistry. I not only gained performance experience, I also gained a family. Everyone has been so kind, encouraging and supportive of me. I am so full of joy and know this experience was only the beginning of what I hope will be a long, happy, healthy and successful career with American Ballet Theatre.
After the Met season, Cassie packed her bags for her next ABT experience: touring L.A. and Japan!
Dancer to Dancer
Jun. 15, 2019 10:12AM EST
(From left) Darriel Johnakin, Diego Pasillas, and Emma Sutherland (all photos by Erin Baiano)
Congratulations to Dance Spirit's 2019 Cover Model Search finalists: Darriel Johnakin, Diego Pasillas, and Emma Sutherland! One of them will win a spot on Dance Spirit's Fall 2019 cover. Learn more about the dancers on their profile pages, and then vote for your favorite below. You can vote once a day now through July 15.
We also want you to get social! We'll be factoring social media likes and shares into our final tallies. Be sure to show your favorite finalist some love on Facebook, Instagram, and Twitter, sharing their profile pages and using the hashtag #DanceSpiritCMS.
Cover Model Search
Jun. 13, 2019 02:20PM EST
Photo by Erin Baiano
Imagine attending American Ballet Theatre's prestigious NYC summer intensive, training among classical ballet legends. Imagine taking the stage at New York City Dance Alliance Nationals, competing against some of the country's best contemporary dancers. Now, imagine doing both—at the same time.
Welcome to Madison Brown's world. This summer, she's in her third year as a National Training Scholar with ABT, while also competing for NYCDA's Teen Outstanding Dancer title. (She's already won Outstanding Dancer in the Mini and Junior categories.) The logistics are complicated—ABT's five-week intensive overlaps with the weeklong NYCDA Nationals, which translates to a lot of cabs back and forth across Manhattan—but Maddie is committed to making the most of each opportunity. "I love contemporary and ballet equally," she says. "While I'm able to do both, I want to do as much as I can."
Maddie has an expressive face, endless extensions, and a quiet command of the stage. She dances with remarkable maturity—a trait noted by none other than Jennifer Lopez, one of the judges on NBC's "World of Dance," on which Maddie competed in Season 2. Although Maddie didn't take home the show's top prize, she was proud to be the youngest remaining soloist when she was eliminated, and saw the whole experience as an opportunity to grow. After all, she's just getting started. Oh, that's right—did we mention Maddie's only 14?
Cover Story
Jun. 16, 2019 07:00AM EST
Corbin Bleu in rehearsal for "Kiss Me, Kate" (Jenny Anderson, courtesy Roundabout Theatre Company)
If you're a hardcore Broadway baby, today is the worst Sunday of the year. Why, you ask? The Tony Awards were last Sunday, so basically there's nothing to look forward to in life anymore—no James Corden being James Corden, no teary acceptance speeches from newly minted stars, no thrilling excerpts from the hottest new shows. Oh yeah, and there are 50 more Sundays to go before our humdrum lives are once again blessed with the next annual iteration of Broadway's biggest night.
Musical Theater