Meet 18-Year-Old Gianna Reisen, New York City Ballet's Youngest Choreographer
Gianna Reisen (left) rehearsing New York City Ballet corps dancer Emma Von Enck and NYCB apprentice Roman Mejia (photo by Erin Baiano, courtesy NYCB)
After most dancers graduate from The School of American Ballet they have lots of "firsts": first company contract, first performance with that company, and maybe even first solo role. But 2017 SAB grad Gianna Reisen is experiencing a different kind of "first" during her inaugural year in the professional ballet world: She's making her first choreographic debut at Lincoln Center. At just 18, Gianna Reisen is the youngest person ever to create a piece for the renowned New York City Ballet (NBD!). Her new work, Composer's Holiday, set to music by Lukas Foss, will premiere at the company's fall gala on September 28th.
Reisen impressed NYCB ballet master in chief Peter Martins with the ballets she made for SAB's Student Choreography Workshop and The New York Choreographic Institute, prompting Martins to invite her to create a piece for the main company. And though the pressure of such a proposal would intimidate even the most seasoned choreographer, Reisen's pragmatic poise about the whole thing assures us that she's up to the task.
---
Between juggling an apprenticeship at Dresden Semperoper Ballett in Germany and rehearsing dancers in NYC, Reisen's had a busy summer. And though the role of choreographer wasn't a path she expected to pursue professionally, Reisen's eager to make her mark. Check out our interview with Reisen to find out what inspires this dance-making prodigy.
What do you enjoy most about choreographing?
My favorite part is definitely being able to create something that's completely yours. Being a dancer, you create art with your body, but as a choreographer, you can translate your thoughts and emotions on other bodies. When you're a dancer, you're told what to do, but when you become a choreographer you're the boss. I think that's also the hardest part—being in control of other people, rather than other people being in control of you.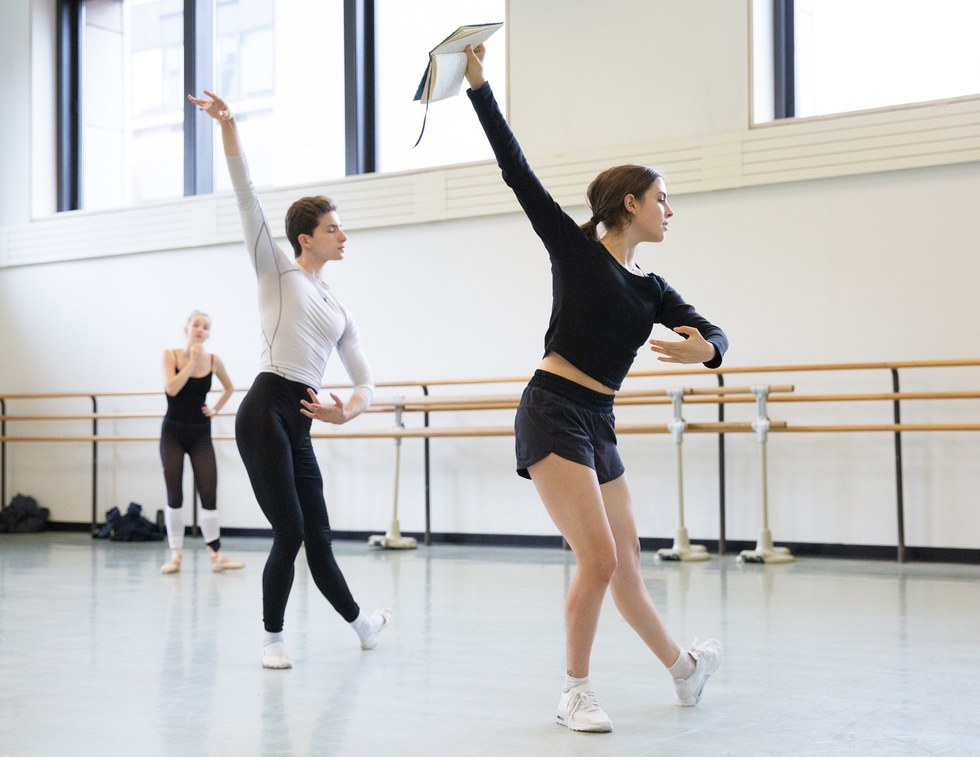 Reisen rehearsing NYCB corps de ballet dancer Ghaleb Kayali (photo by Baiano, courtesy NYCB)
How does it feel to be the youngest choreographer to create something for NYCB?
It's a lot of pressure to be the youngest. There are a lot of eyes on me and interest in my work because I'm so young. It's hard being young, too, because there's that fear that you're not going to be taken as seriously as the more seasoned choreographers. This is the third ballet I've choreographed, so I don't have as much experience as most. But I'm grateful for the experience, and that NYCB has given me the opportunity to pursue this path.
What inspires your choreography?
My inspiration comes immediately from the music. When I hear a piece of music, I feel it. I can't choreograph to music I don't enjoy or don't find interesting. After that, I'm in my head conceptualizing the movement. Converting the concept to real life is the fun part.
For this ballet in particular, my inspiration comes from human movements. I'm trying to achieve a human quality within the dancing. It'll be interesting to see it come to life onstage.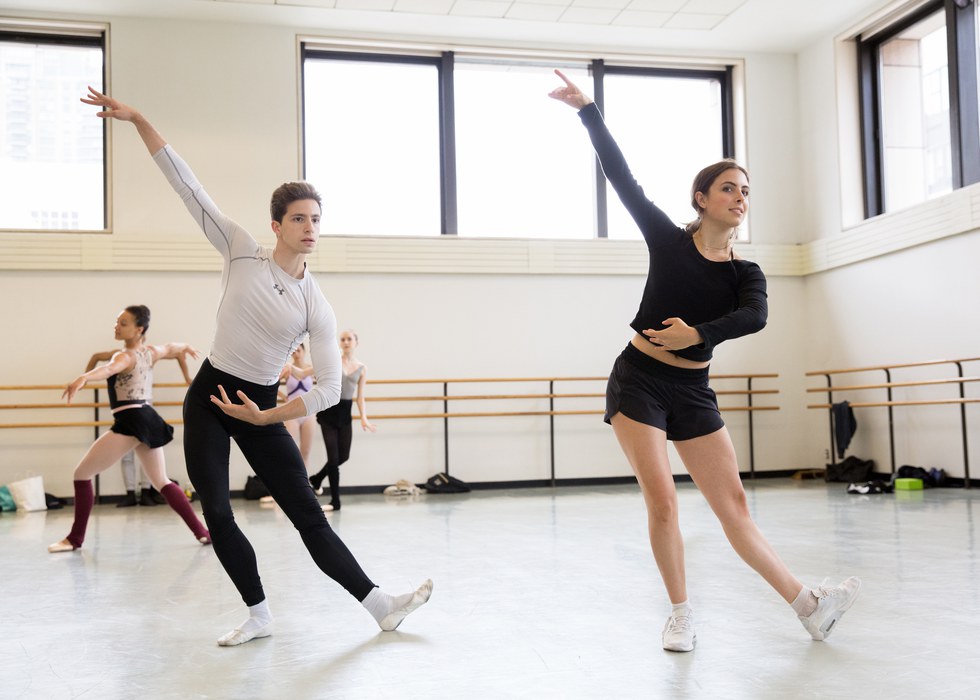 Reisen rehearsing Kayali (photo by Baiano, courtesy NYCB)
What advice would you give younger dancers who are interested in choreography?
I think that any dancer who has an interest in choreography should try it. I find that dancers avoid choreographing because they're afraid they aren't going to be able to think of anything new or be good enough. Bite the bullet, and find a place where you can choreograph. See if you like it.
Where do you see yourself in the next five years?
I'm hoping to pursue a career as a ballet dancer and a choreographer. I know it will be challenging, but it's doable. Honestly, two years ago I would never have thought I'd be choreographing for NYCB, so anything is possible.
Fraser dancing in the NYC Subway (photo by Underground NYC, courtesy Fraser)
Paige Fraser has performed on world-class stages and alongside Beyoncé—yet some of her most meaningful dance moments happened in tiny classrooms on a small island 1,000 miles from America. This past spring, Fraser, who's danced with Ailey II and is a founding member of Visceral Dance Chicago, teamed up with the non-profit Milk Carton on a String to bring dance to underprivileged children in Haiti. Fraser taught daily ballet and modern dance classes and used YouTube videos and social media to introduce the students to other aspects of dance they hadn't been exposed to.
Now, Fraser plans to continue to use dance to give back through her own newly-funded non-profit, The Paige Fraser Foundation. But instead of traveling outside the country, Fraiser will be helping kids in her childhood home: the Bronx. She wants her foundation to assist aspiring dancers no matter their color or abilities.
Read our interview with the dancer and do-gooder—and discover the life-changing diagnosis that inspired her to help other dancers achieve their dreams.
Keep reading...
Show less
via @kyle_vanny on Instagram competing on World Of Dance
Kyle Van Newkirk is a tap dancer you probably remember from the premiere season of NBC's World of Dance. In case you missed it, he is also one of Showstopper's incredible convention teachers. What makes Kyle stand apart from some of today's other incredible tappers? He isn't afraid to change what tap means to his audience and even himself. This modern view of tap dancing is important because it shows us that tap dancers are just as versatile and dynamic as dancers of any other genre. We sat down with Kyle to get his advice on bringing tap dancing into the 21st century.
Keep reading...
Show less
What did I just hear you say? You think all dancers are weak and delicate? PLEASE SAUT DE CHAT OUT OF MY LIFE. (Giphy)
Sure, dancers definitely have some unique identifying characteristics. (We're all obsessed with Center Stage? FACT.) But we're also subjected to all kinds of annoying, inaccurate stereotyping. Here are 10 dancer stereotypes that we never want to hear again.
Keep reading...
Show less
University of Minnesota Dance Team (courtesy University of Minnesota)
They say there's no "I" in "team"—and nowhere is that truer than the world of college dance teams, where precision reigns, uniformity is key, and a single misstep from any given "I" can cost a group a championship trophy. So it's unsurprising that securing a spot on one of the best dance teams in the country is no easy feat.
Members of these highly athletic teams rehearse for hours every week—on top of academic classes and commitments—and perform at football and basketball games, annual concerts, and nationally televised competitions (hi, ESPN). And "no I" rule notwithstanding, each of these top teams is made up of highly trained, highly technical, highly hard-core individuals, who come together to create a ready-for-victory pack.
These six teams aren't one-off success stories—they're consistently strong, and earn the top spots at major competitions like UDA and NDA nearly every year. Up for the challenge? Here's what to know before you go to auditions.
Keep reading...
Show less
You can never go wrong with a classic black leotard. Discount Dance's long-sleeve mesh leo will add a sleek edge to your studio style. Pair it with tights and a skirt for ballet class, or layer some leggings and sweats for contemporary class. Enter below for your chance to win it!
Keep reading...
Show less
May. 16, 2018 02:26PM EST
Ema Peter
The Glorya Kaufman International Dance Center is the 54,000 square foot home of the USC Glorya Kaufman School of Dance, one of the largest facilities dedicated to dance on a private university campus. Designed for their innovative new curriculum, that supports a range of dance styles, the school's staff designated Harlequin to provide wall-to-wall flooring for the large 3,500 square foot Performance Studio as well as five dance studios in their new state-of-the-art building.
Keep reading...
Show less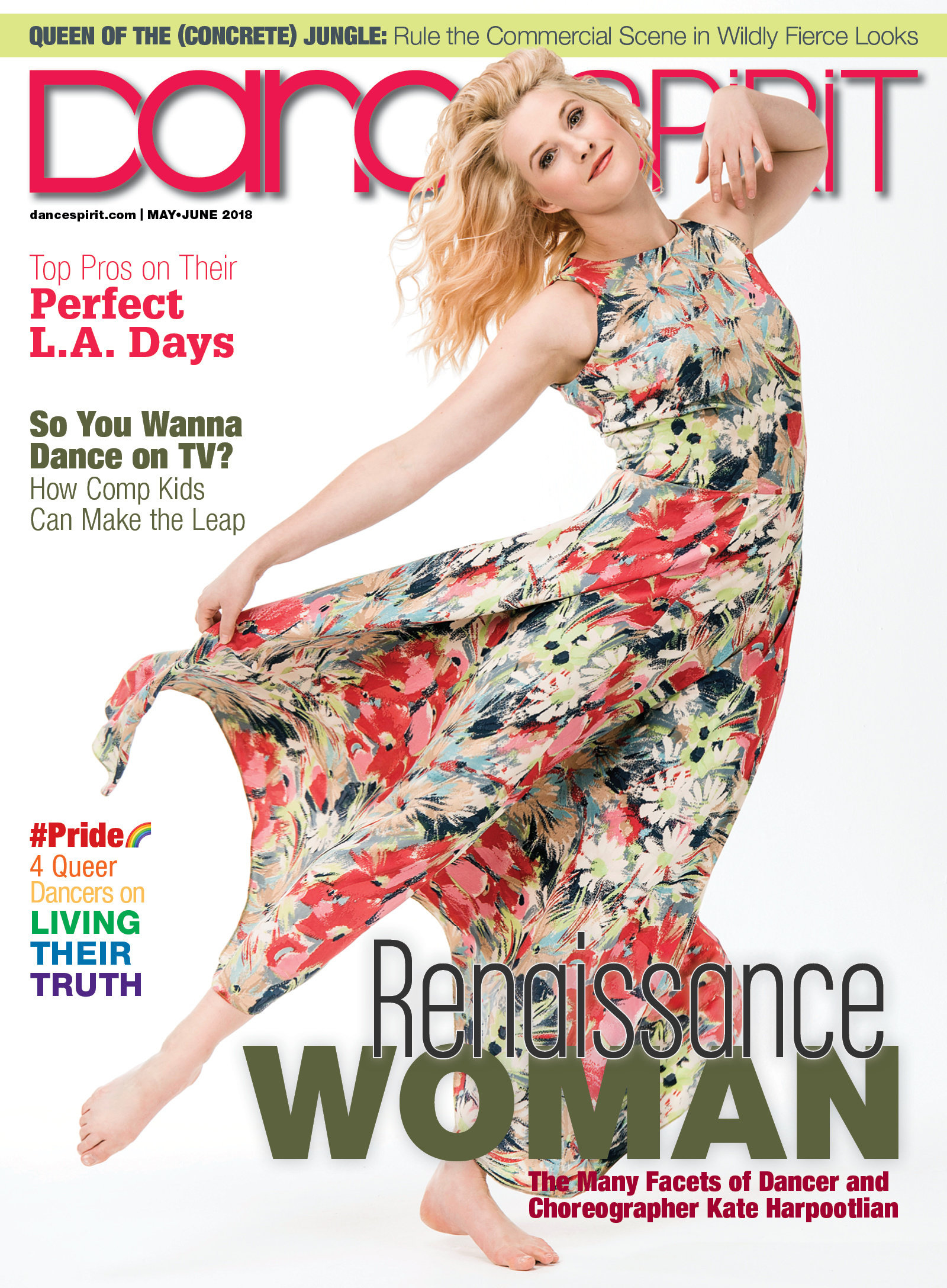 Get Dance Spirit in your inbox