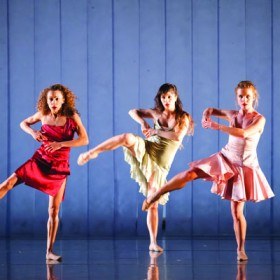 Anne Zivolich, Natasha Adorlee Johnson, Maggie Stack (by Margo Moritz)
You're doing a pirouette exercise in class, whipping out three or four turns to the right side. It feels easy (and fun!). But then the teacher makes you go to the left. All of a sudden, you're an uncoordinated mess, struggling to squeak out a double turn. How can the two sides be so different?
One-sidedness is a problem that affects even the most seasoned pros. Maybe you jump higher off your right foot than your left; maybe you can touch your nose with your right leg but barely lift your left leg above 90 degrees. It's weird—and frustrating. But there are ways to get your "bad" side to feel much better.
Know That It's Natural
All people are one-sided to a certain extent. "We have an innate sense of coordination," says Darius Barnes, who danced in the Broadway show Memphis. "Even little kids have sides that feel more natural to them." Consider the way your body is structured. If one of your hips is tighter, for example, you'll be less flexible on that side. If one of your ankles is hypermobile, it's probably also weaker and less stable than its sturdy opposite.
Get Uncomfortable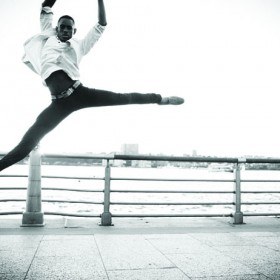 Barnes knows that even though his sissones may feel better to one side, dancers "have to be comfortable being uncomfortable." (by Christine Jean Chambers)
Dancers like to work on things that feel good, but just because doing a mean you can ignore the other side. "When I was a young bunhead, I kept practicing things on my good side because it was fun," admits Maggie Stack, a dancer at ODC/Dance in San Francisco. "But as I got more experienced, I realized the importance of nurturing the things that didn't come as easily." Barnes agrees: "You have to be comfortable being uncomfortable."
Practice doesn't always make perfect, but it certainly helps. Try working on your "bad" side first, like doing 32 fouetté turns to the left (if you're a righty) before going the other way. You'll be less tired and more likely to locate and fix any problems. Also, ask your teacher if you can start class with your right hand on the barre once in a while. You can give fresh attention to the left working leg, instead of always getting to that side last.
Try Something Else
If you've already been practicing things to your bad side, pat yourself on the back. But if doing so has left you frustrated, it might help to take a break and try something else.
Laura Graham, ballet master at Dresden Semperoper Ballett in Germany, suggests trying a class in a style outside your specialty to help improve your coordination. "It'll let you find your natural sense of movement before you're constricted by a specific technique," she says. If you're a ballet dancer, for example, take up tap or jazz. Their emphasis on rhythm and timing can be especially helpful for pirouettes: Frequently dancers have trouble turning on their bad sides because their spot is too slow, or because they're not bringing their second arm around fast enough.
Cross-training can also help strengthen and equalize both sides of the body. "You learn how to balance everything out when you do a new type of exercise," Stack says. She bikes to and from work every day and does yoga and Pilates at least once a week. Biking has helped her balance out her strength because of its even, repetitive motion. She focuses on engaging her abdominals and the muscles around her pelvis when she rides.
Disguise It
Remember that dance is partly an art of illusion. All dancers have weaknesses; the pros just learn how to hide them. Stack turns better to the left, for example, but you'd never know it. "I try to make my movement quality interesting even when I feel like something's awkward," she says. To disguise a troublesome step, play with the musicality or accents of a phrase. The audience might notice a quirky rhythm and not see that the step itself is a little bit off.
You can also watch other dancers to see how they've mastered your problem step. How do they approach it? If you can't reverse a combination, do it next to someone who can.
In the end, remember that your best weapon against one-sidedness is confidence. Your left penchée might not reach the six o'clock mark you can hit on your right, but if you dance with conviction, nobody in the audience will notice.
American Ballet Theatre principal dancers Sarah Lane and Daniil Simkin (courtesy ABT)
Last May, we told you about a special exhibition of the Mark Ryden artwork that sparked Alexei Ratmansky's sweet-treat of a ballet, Whipped Cream. Well, hold on to your tiaras, bunheads, because there's a brand-new exhibit featuring actual costumes from this megahit production. The Nutcracker's Land of Sweets has some serious competition!
Keep reading...
Show less
via @kyle_vanny on Instagram competing on World Of Dance
Kyle Van Newkirk is a tap dancer you probably remember from the premiere season of NBC's World of Dance. In case you missed it, he is also one of Showstopper's incredible convention teachers. What makes Kyle stand apart from some of today's other incredible tappers? He isn't afraid to change what tap means to his audience and even himself. This modern view of tap dancing is important because it shows us that tap dancers are just as versatile and dynamic as dancers of any other genre. We sat down with Kyle to get his advice on bringing tap dancing into the 21st century.
Keep reading...
Show less
How To
Oct. 01, 2010 04:55PM EST
(Nathan Sayers)
Turnout—a combination of rotational flexibility and the strength to properly hold that rotation—is the foundation of ballet. But it's also a source of frustration for many dancers. After all, not everyone (actually, hardly anyone) is born with 180-degree rotation. "When I first started dancing, my hip flexors were strong, but I was forcing my turnout without using the right muscles," remembers Amanda Cobb, a former dancer with The Washington Ballet.
The good news is that it's possible to both improve your turnout and to dance beautifully with less-than-perfect rotation. But there's a lot of misinformation out there about how turnout works and why it's important. To help separate fact from fiction, DS asked the experts to disprove six turnout myths.
Keep reading...
Show less
University of Minnesota Dance Team (courtesy University of Minnesota)
They say there's no "I" in "team"—and nowhere is that truer than the world of college dance teams, where precision reigns, uniformity is key, and a single misstep from any given "I" can cost a group a championship trophy. So it's unsurprising that securing a spot on one of the best dance teams in the country is no easy feat.
Members of these highly athletic teams rehearse for hours every week—on top of academic classes and commitments—and perform at football and basketball games, annual concerts, and nationally televised competitions (hi, ESPN). And "no I" rule notwithstanding, each of these top teams is made up of highly trained, highly technical, highly hard-core individuals, who come together to create a ready-for-victory pack.
These six teams aren't one-off success stories—they're consistently strong, and earn the top spots at major competitions like UDA and NDA nearly every year. Up for the challenge? Here's what to know before you go to auditions.
Keep reading...
Show less
Lol, same. (Screenshot via YouTube)
Picture this: You've scored tickets to Ellen DeGeneres' hit show, "Ellen." The day has come, the show is as hysterical as ever, Ellen is debating the biggest hot-button issue since the blue/black or white/gold dress, "Laurel vs. Yanny" (side note: it's LAUREL, people), and tWitch is killing it over at the DJ booth, as always. Ellen decides it's the perfect time to single out an audience member and, lo and behold, that person is "SYTYCD" champ ( and December 2017 cover star!) Lex Ishimoto.
Keep reading...
Show less
May. 16, 2018 02:26PM EST
Ema Peter
The Glorya Kaufman International Dance Center is the 54,000 square foot home of the USC Glorya Kaufman School of Dance, one of the largest facilities dedicated to dance on a private university campus. Designed for their innovative new curriculum, that supports a range of dance styles, the school's staff designated Harlequin to provide wall-to-wall flooring for the large 3,500 square foot Performance Studio as well as five dance studios in their new state-of-the-art building.
Keep reading...
Show less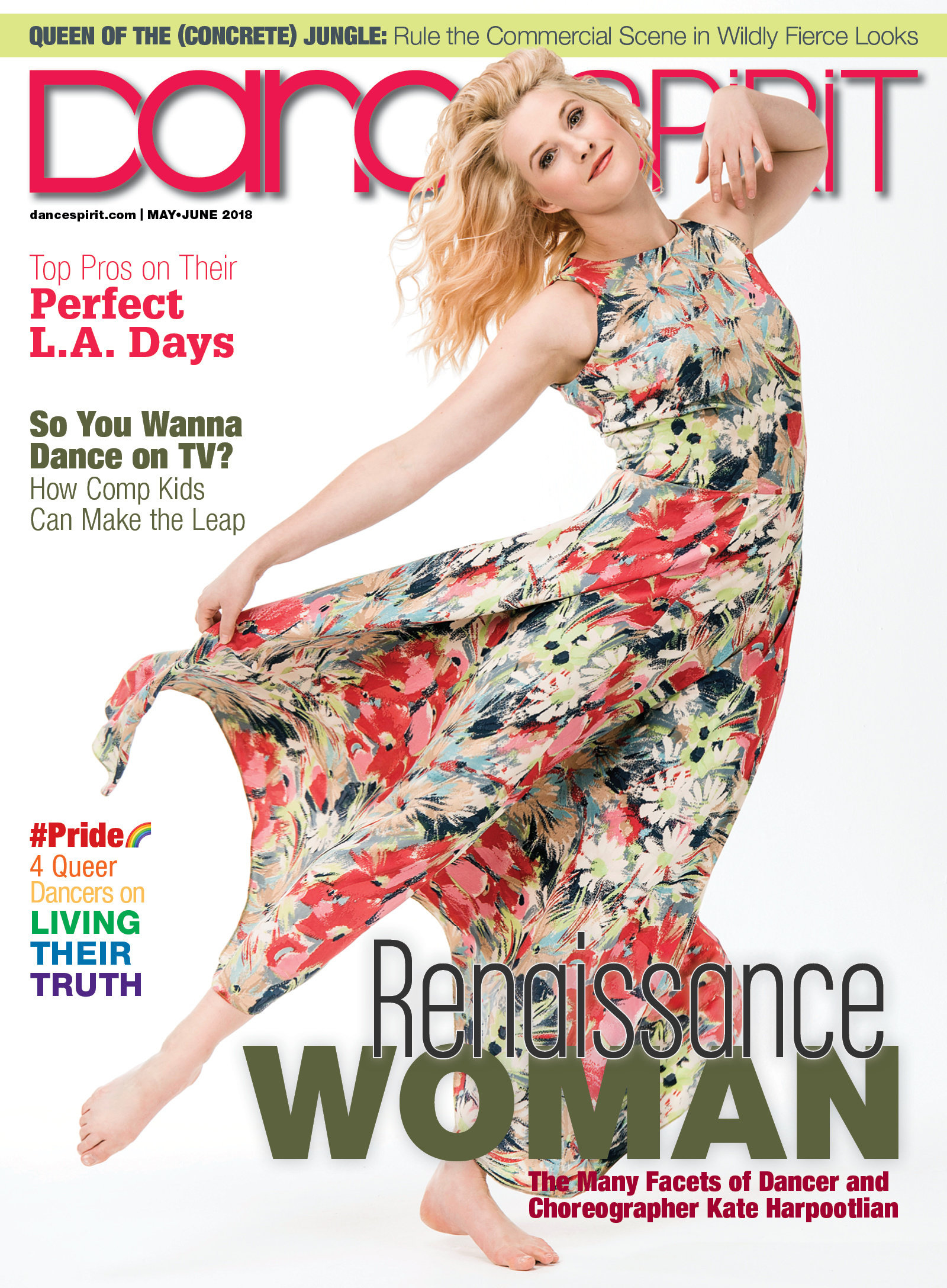 Get Dance Spirit in your inbox