Jun. 29, 2016 07:00AM EST
NYCB + PUMA = A Match Made In Dance Heaven
Breaking news, bunheads! Sportswear company PUMA just announced they're teaming up with New York City Ballet as the company's official activewear partner. PUMA has made it a goal to gain some ground in the women's training category, as well as in arts and culture, so this partnership definitely makes sense for them. And we're loving it for NYCB as well. Why? Let us count the ways.
Olivia Boisson, Savannah Lowery, Mimi Staker, Meagan Mann and Unity Phelan, PUMA x NYCB. (Photo by Erin Baiano)
The partnership is giving major credit to hard-working ballerinas everywhere.
We adore the way that PUMA is praising the athleticism of ballet, and the effort that ballerinas put toward their craft each and every day. In the age old "Is dance a sport?" debate, it looks like PUMA is team "dance is definitely a sport," calling the NYCB ladies some of the most "talented athletes in the world." Also in the campaign, PUMA states that the dancers "are true athletes who train, rehearse and perform up to 12 hours a day." Yes, yes and yes. We dance nerds have always known how much hard work goes into ballet, but it's nice to get a little recognition once in a while.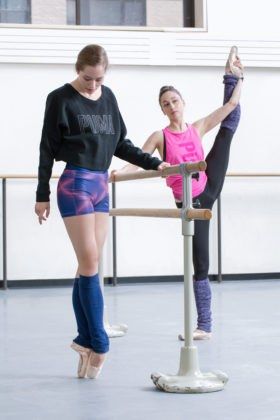 Unity Phelan and Meagan Mann, PUMA x NYCB. (Photo by Erin Baiano)
2. More athletic wear for dancers, yay!
As part of the partnership, PUMA is providing rehearsal clothes for NYCB's dancers. But the really cool thing is that the dancers will be able to provide feedback to PUMA after trying their products. (What they liked, what they'd change, what works for dancers and what just doesn't.) Long-term, we're thinking this will lead to even more athletic wear pieces designed with dance in mind, both for in-studio rehearsals and for cross-training purposes outside of the studio.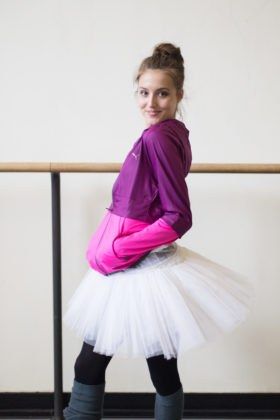 Mimi Staker, PUMA x NYCB. (Photo by Erin Baiano)
3. We'll get to see beautiful ballet dancers in advertisements across the country.
We love a good dance-themed ad. (Okay we'll admit, we're still trying to forget about this one. But when done right and cast with pro dancers, like this one and this one, we can't get enough.) As part of this new partnership, PUMA is going to feature NYCB dancers in their marketing campaigns (aka in print and digital ads). The first batch includes Savannah Lowery, Olivia Boisson, Meagan Mann, Unity Phelan and Mimi Staker posed in a rehearsal-like setting. The pictures feel super real and relatable, just like a bunch of girls hanging out before ballet class (except, well, they're NYCB girls). Look for the ads starting in October of this year.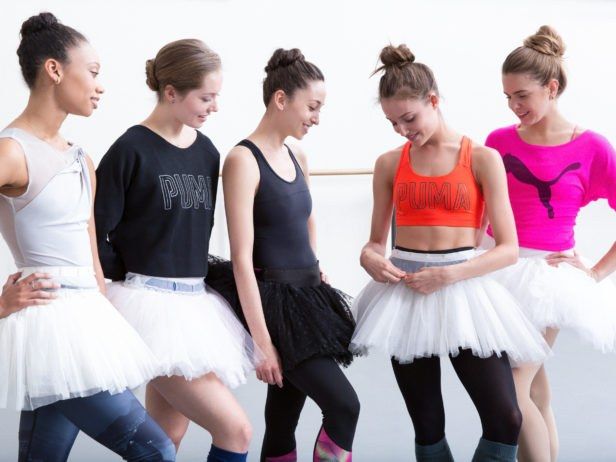 Olivia Boisson, Unity Phelan, Meagan Mann, Mimi Staker and Savannah Lowery, PUMA x NYCB. (Photo by Erin Baiano)
Dance News
Jun. 15, 2019 10:12AM EST
(From left) Darriel Johnakin, Diego Pasillas, and Emma Sutherland (all photos by Erin Baiano)
Congratulations to Dance Spirit's 2019 Cover Model Search finalists: Darriel Johnakin, Diego Pasillas, and Emma Sutherland! One of them will win a spot on Dance Spirit's Fall 2019 cover. Learn more about the dancers on their profile pages, and then vote for your favorite below. You can vote once a day now through July 15.
We also want you to get social! We'll be factoring social media likes and shares into our final tallies. Be sure to show your favorite finalist some love on Facebook, Instagram, and Twitter, sharing their profile pages and using the hashtag #DanceSpiritCMS.
Cover Model Search
Jun. 17, 2019 04:05PM EST
Jun. 13, 2019 02:20PM EST
Photo by Erin Baiano
Imagine attending American Ballet Theatre's prestigious NYC summer intensive, training among classical ballet legends. Imagine taking the stage at New York City Dance Alliance Nationals, competing against some of the country's best contemporary dancers. Now, imagine doing both—at the same time.
Welcome to Madison Brown's world. This summer, she's in her third year as a National Training Scholar with ABT, while also competing for NYCDA's Teen Outstanding Dancer title. (She's already won Outstanding Dancer in the Mini and Junior categories.) The logistics are complicated—ABT's five-week intensive overlaps with the weeklong NYCDA Nationals, which translates to a lot of cabs back and forth across Manhattan—but Maddie is committed to making the most of each opportunity. "I love contemporary and ballet equally," she says. "While I'm able to do both, I want to do as much as I can."
Maddie has an expressive face, endless extensions, and a quiet command of the stage. She dances with remarkable maturity—a trait noted by none other than Jennifer Lopez, one of the judges on NBC's "World of Dance," on which Maddie competed in Season 2. Although Maddie didn't take home the show's top prize, she was proud to be the youngest remaining soloist when she was eliminated, and saw the whole experience as an opportunity to grow. After all, she's just getting started. Oh, that's right—did we mention Maddie's only 14?
Cover Story