Sep. 24, 2014 12:49PM EST
NYCB's Fall Gala-Slash-Fashion Show
For the past few years, New York City Ballet galas have been alllll about fashion, showcasing not only dance premieres but also custom-made costumes by some of the world's top designers. Last night's fall gala was no exception: We got three premieres (by Troy Schumacher, Liam Scarlett and Justin Peck) and four sets of new designer costumes (by Carolina Herrera, Thom Browne, Sarah Burton and Mary Katrantzou).
We also got the one and only SJP in this AMAZING gown by Katrantzou—let us take a moment to soak in its gorgeousness: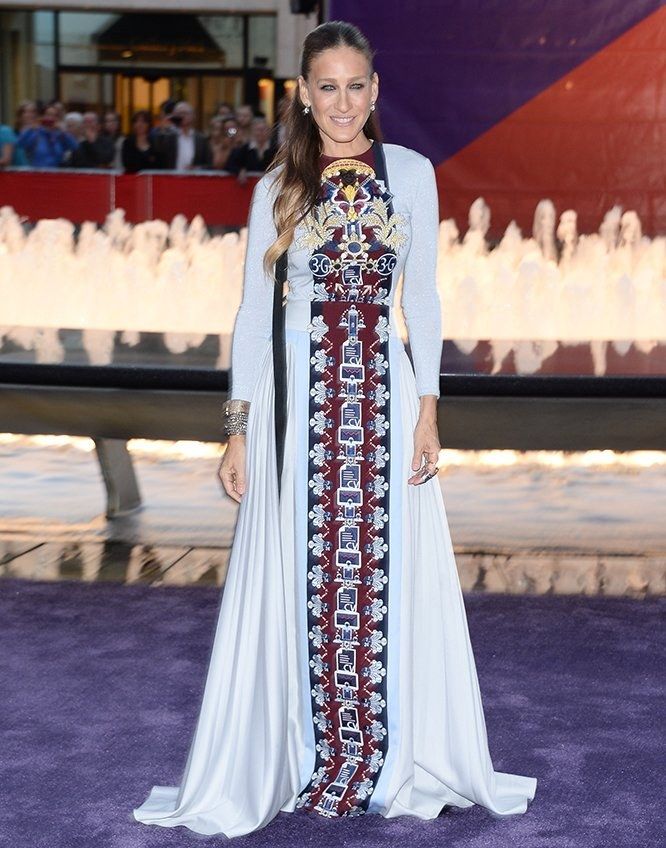 Photo Evan Agostini/Invision/AP
These galas raise interesting questions about the relationship between dance and dance costuming. While costumes can make or break a ballet (more on that in our November costume issue!), normally, the choreography comes first, and the clothing later on. At these galas, though, it seems like the costumes are frequently the starting point, with choreographers shaping their visions around the designers'. And I think sometimes that can make things trickier than usual.
Case in point: Corps dancer Schumacher's premiere, Clearing Dawn. Schumacher has his own company, BalletCollective, which has been getting kind of fantastic reviews, so I was excited to see this piece, his first for NYCB. And the opening moment didn't disappoint: The five dancers shuffled onstage in hugely oversized overcoats—which, in a beautifully surreal twist, rose from their shoulders and ascended to the rafters, where they hovered for the rest of the ballet. Their disappearance revealed Browne's schoolgirl-chic costumes—classically Browne-esque shrunken jackets and pleated skirts and knee shorts—and the contrast was kind of delightful: Immediately, we saw the dancers as children, free from the weight of adult responsibilities...or, you know, something along those lines. The problem was that the schoolkids theme seemed to bog Schumacher down. While there were some spectacular daredevil passages for Ashley Bouder (goodness, that girl is ALWAYS on fire) and Andrew Veyette, things got real literal, real quick: We saw playground fights and anything-you-can-do-I-can-do-better showdowns straight out of Matilda. I think Schumacher has a good choreographic mind—it just might be the kind of mind that works better when left to its own devices. (I can't wait to see what he's cooking up for his own company, which has a performance in NYC at the end of October.)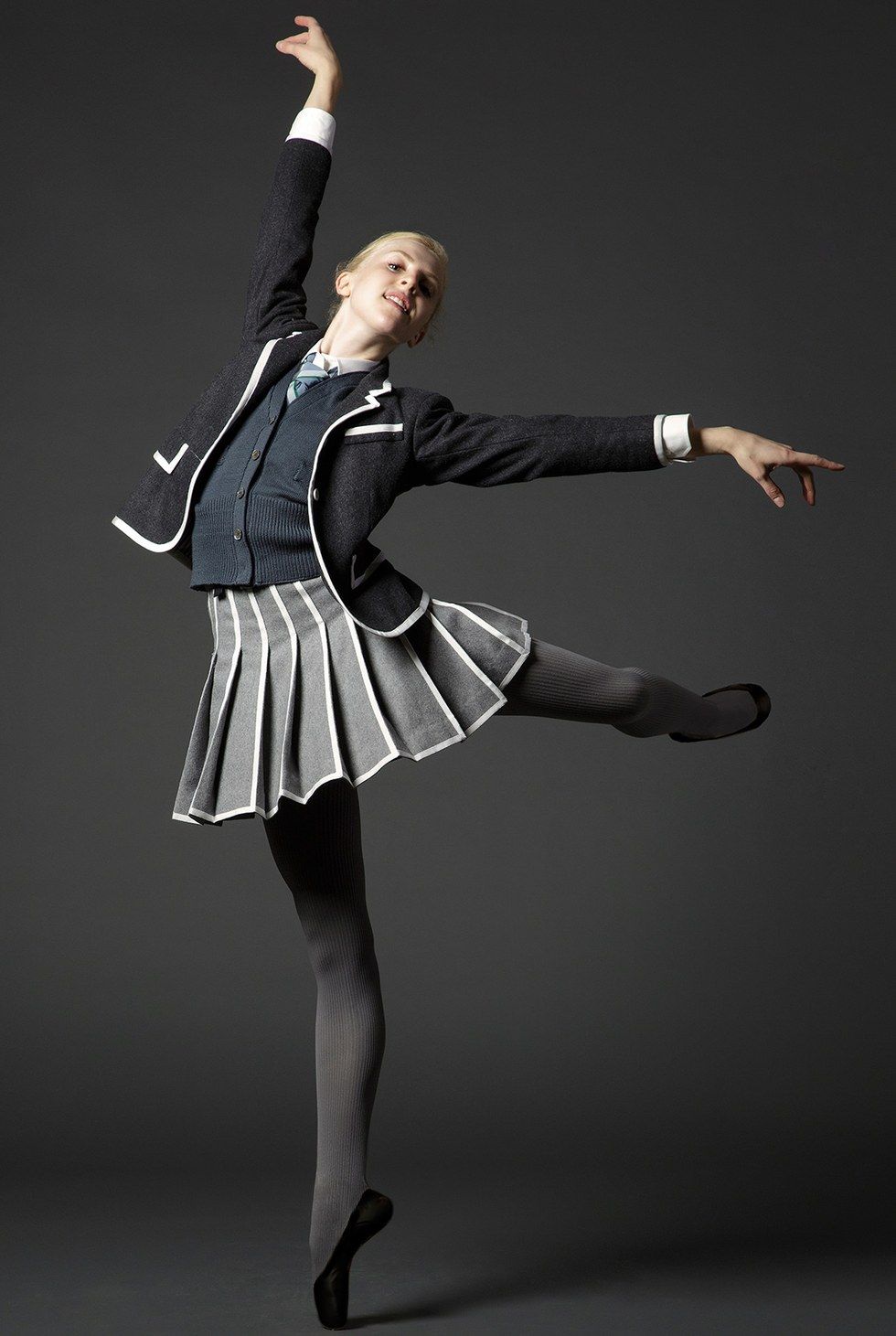 Claire Kretzschmar in costume for Clearing Dawn (photo Erin Baiano/style.com)
Liam Scarlett's Funérailles—a pas de deux for my favorite ballet couple, Tiler Peck and Robert Fairchild—also took a lot of cues from its Burton costumes. But Scarlett was able to mesh the choreography and the design in a way that allowed both to shine. Maybe that's because Burton gave him truly gorgeous costumes to work with: a strapless brocaded ballgown with a huge ombré skirt for Peck, and a matching coat for Fairchild. Immediately things felt very bodice-rippy, very Interview with the Vampire, and Scarlett crafted a dark, seductive pas de deux that amplified the gothic mood. Unsurprisingly, Peck and Fairchild danced the heck out of it, and their natural chemistry made the whole thing delicious.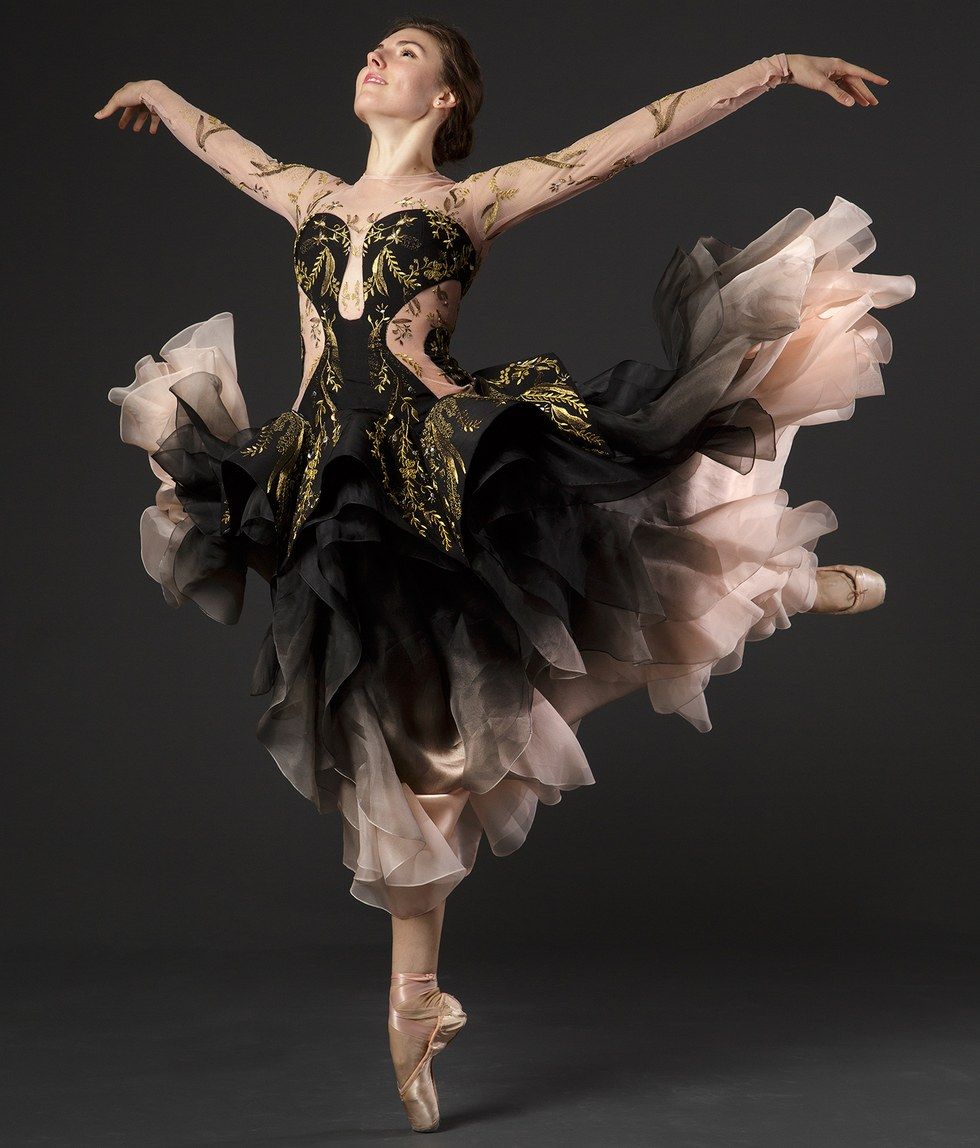 Tiler Peck in costume for Funérailles (photo Erin Baiano/style.com)
Justin Peck hasn't made a bad ballet yet—and that's saying a lot of a 27-year-old who's choreographed more than 20 ballets. This is a guy who's established a distinct choreographic language, but that language seems to take on a different accent in each piece. We've seen him as a playful experimenter in Year of the Rabbit, a dry analytic in In Creases, an epic poet in the 40-minute Everywhere We Go. Last night's premiere, Belles-Lettres, showed him as a swooning romantic—who knew? Katrantzou's appliquéd costumes made the women into 1920s nymphs and the men into harlequins, and Peck responded with a parade of pas de deux that swung from soft and tender to violently passionate. Anthony Huxley, the only man not coupled up, became a kind of court jester, or maybe a narrator—a vaguely tragic outsider, in any case, wishing for a love of his own. And framing all that romance was Peck's signature geometry—abstract daisy chains and kaleidoscopic patterns that lent a bit of coolness to a piece that could easily have overheated. It was an enchanting ending to a mixed-bag of a night.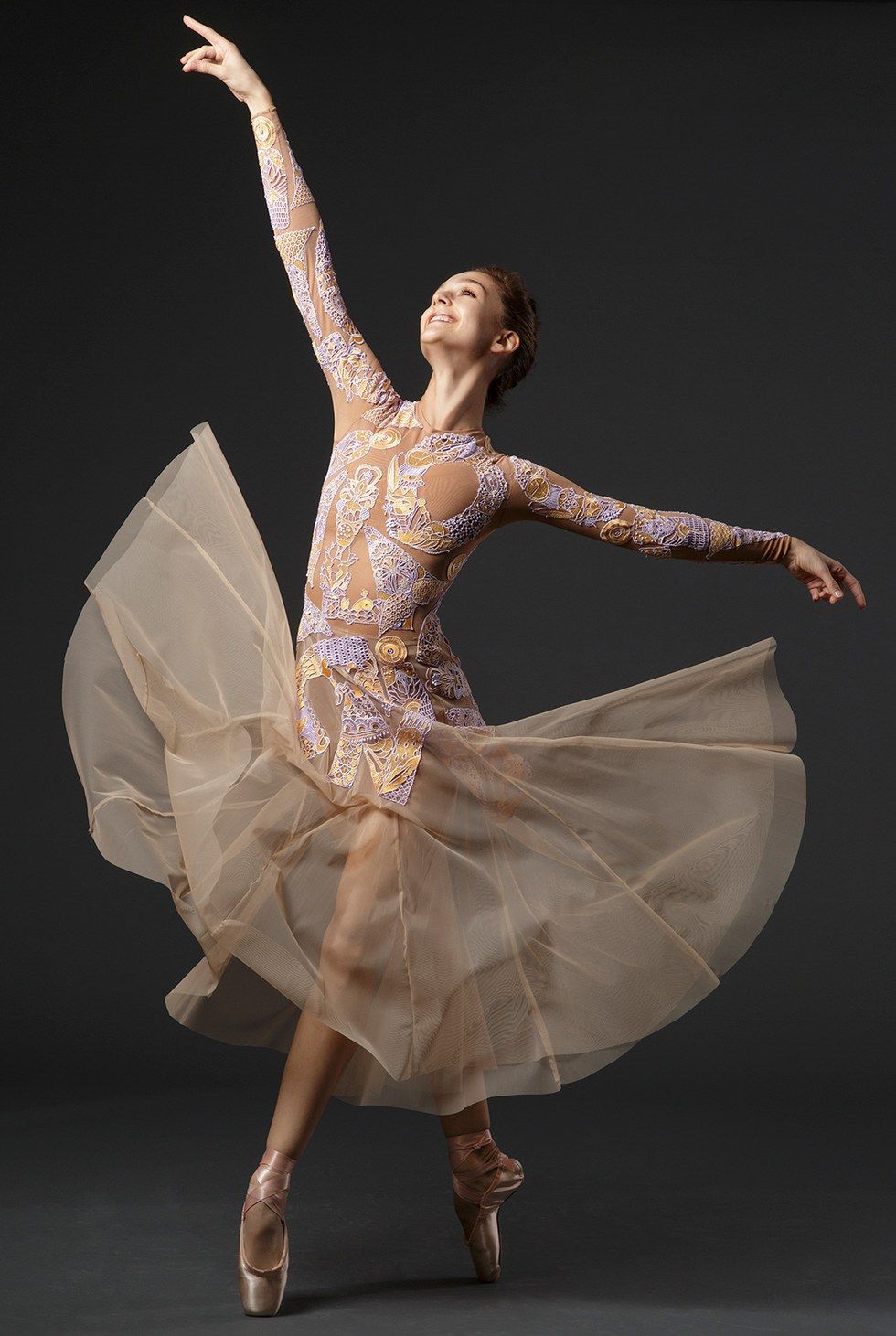 Lauren Lovette in costume for Belles-Letres (photo Erin Baiano/style.com)
Successful or not, partnerships between choreographers and fashion designers are always fascinating to see in action—and NYCB's on-it media department made a lovely video documenting the collaborative process for this gala. Take a look!
Dance News
Jun. 15, 2019 10:12AM EST
(From left) Darriel Johnakin, Diego Pasillas, and Emma Sutherland (all photos by Erin Baiano)
Congratulations to Dance Spirit's 2019 Cover Model Search finalists: Darriel Johnakin, Diego Pasillas, and Emma Sutherland! One of them will win a spot on Dance Spirit's Fall 2019 cover. Learn more about the dancers on their profile pages, and then vote for your favorite below. You can vote once a day now through July 15.
We also want you to get social! We'll be factoring social media likes and shares into our final tallies. Be sure to show your favorite finalist some love on Facebook, Instagram, and Twitter, sharing their profile pages and using the hashtag #DanceSpiritCMS.
Cover Model Search
Jun. 13, 2019 02:20PM EST
Photo by Erin Baiano
Imagine attending American Ballet Theatre's prestigious NYC summer intensive, training among classical ballet legends. Imagine taking the stage at New York City Dance Alliance Nationals, competing against some of the country's best contemporary dancers. Now, imagine doing both—at the same time.
Welcome to Madison Brown's world. This summer, she's in her third year as a National Training Scholar with ABT, while also competing for NYCDA's Teen Outstanding Dancer title. (She's already won Outstanding Dancer in the Mini and Junior categories.) The logistics are complicated—ABT's five-week intensive overlaps with the weeklong NYCDA Nationals, which translates to a lot of cabs back and forth across Manhattan—but Maddie is committed to making the most of each opportunity. "I love contemporary and ballet equally," she says. "While I'm able to do both, I want to do as much as I can."
Maddie has an expressive face, endless extensions, and a quiet command of the stage. She dances with remarkable maturity—a trait noted by none other than Jennifer Lopez, one of the judges on NBC's "World of Dance," on which Maddie competed in Season 2. Although Maddie didn't take home the show's top prize, she was proud to be the youngest remaining soloist when she was eliminated, and saw the whole experience as an opportunity to grow. After all, she's just getting started. Oh, that's right—did we mention Maddie's only 14?
Cover Story
Jun. 16, 2019 07:00AM EST
Corbin Bleu in rehearsal for "Kiss Me, Kate" (Jenny Anderson, courtesy Roundabout Theatre Company)
If you're a hardcore Broadway baby, today is the worst Sunday of the year. Why, you ask? The Tony Awards were last Sunday, so basically there's nothing to look forward to in life anymore—no James Corden being James Corden, no teary acceptance speeches from newly minted stars, no thrilling excerpts from the hottest new shows. Oh yeah, and there are 50 more Sundays to go before our humdrum lives are once again blessed with the next annual iteration of Broadway's biggest night.
Musical Theater