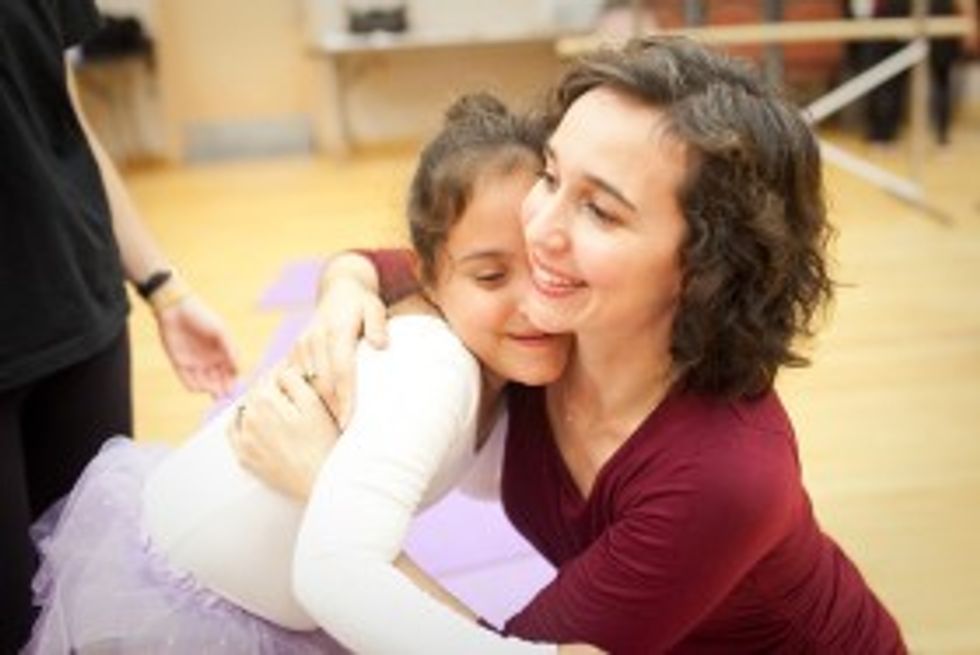 Ringer with a Dancing Dreams student (photo via Dancing Dreams)
Pretty much every little girl dreams of taking ballet classes. But for children with disabilities, the path to the dance studio can be rocky.
That's where Dancing Dreams comes in. Founded in 2002 by Joann Ferrara, a pediatric physical therapist with a ballet background, the non-profit organization gives children with physical and medical challenges the opportunity to dance.
Each of the program's aspiring primas is assigned a "dance helper," a high school student who helps her during classes and performances. And while there's a voluntary contribution for classes, no child is ever turned away from Dancing Dreams because she can't afford to pay.
The original Dancing Dreams headquarters is in Queens, NY. But next Monday, they'll have a ribbon-cutting ceremony at their new Manhattan location, in the Museum of the City of New York. DS talked to New York City Ballet principal Jenifer Ringer, who serves as Dancing Dreams' artistic consultant, about the expansion and what makes this program so special.
Dance Spirit: How did you get involved with Dancing Dreams?
Jenifer Ringer: I first saw one of their performances in 2007. I couldn't get over the joy that beamed out from the kids. They had such a light in their faces when they danced. And also the relationships they had with their helpers—it was really moving. Afterwards, I got to know Joann. We fell out of touch after a while, but a few years later, when I got that bad review in the New York Times, Joann contacted me again. It turned out the Dancing Dreams girls were really upset by the review, and they wrote all these letters in my defense. It was pretty amazing! At that point, Joann asked me if I'd be willing to participate in some of their classes, and of course I said yes.
DS: Why is the new Manhattan location an important step for the organization?
JR: This will be Dancing Dreams' first expansion from its original location. And that means one more group of girls will have access to dance. I think Joann wants to take the program nationwide. I hope someday there'll be a Dancing Dreams school in every city in America.
DS: What are your most inspiring Dancing Dreams memories?
JR: I have two favorite memories. First, the last time I went out there, I taught the girls the opening movements of George Balanchine's Serenade, which is a gorgeous ballet. They learned those initial arm movements, and it was amazing to see them do it, the beauty of the way they carried their arms and heads—just the happiness shining out of them. It was as moving for me to watch them do it as would have been to see NYCB dancers perform it. The other memory I have is from their most recent performance, a couple of weeks ago. I got there early and went backstage to help the girls with their makeup and make some of their buns. It's the little things, like their excitement about the fact that they could pick out their own eyeshadow colors, that get to me. It was fun to share in their excitement.
DS: What makes this cause especially dear to you?
JR: I think for me, now that I'm older, I've come back to that idea of dancing just for the love of dance. So often we get caught up in making everything perfect, and you lose that sense of joy that everyone starts out with. Everyone should have the chance to experience the joy of moving to music, and it's really special to watch these girls get that opportunity. It's a transformative thing. And that's what's so healing and inspiring about the program, not just for the girls but for everyone who's involved with it.