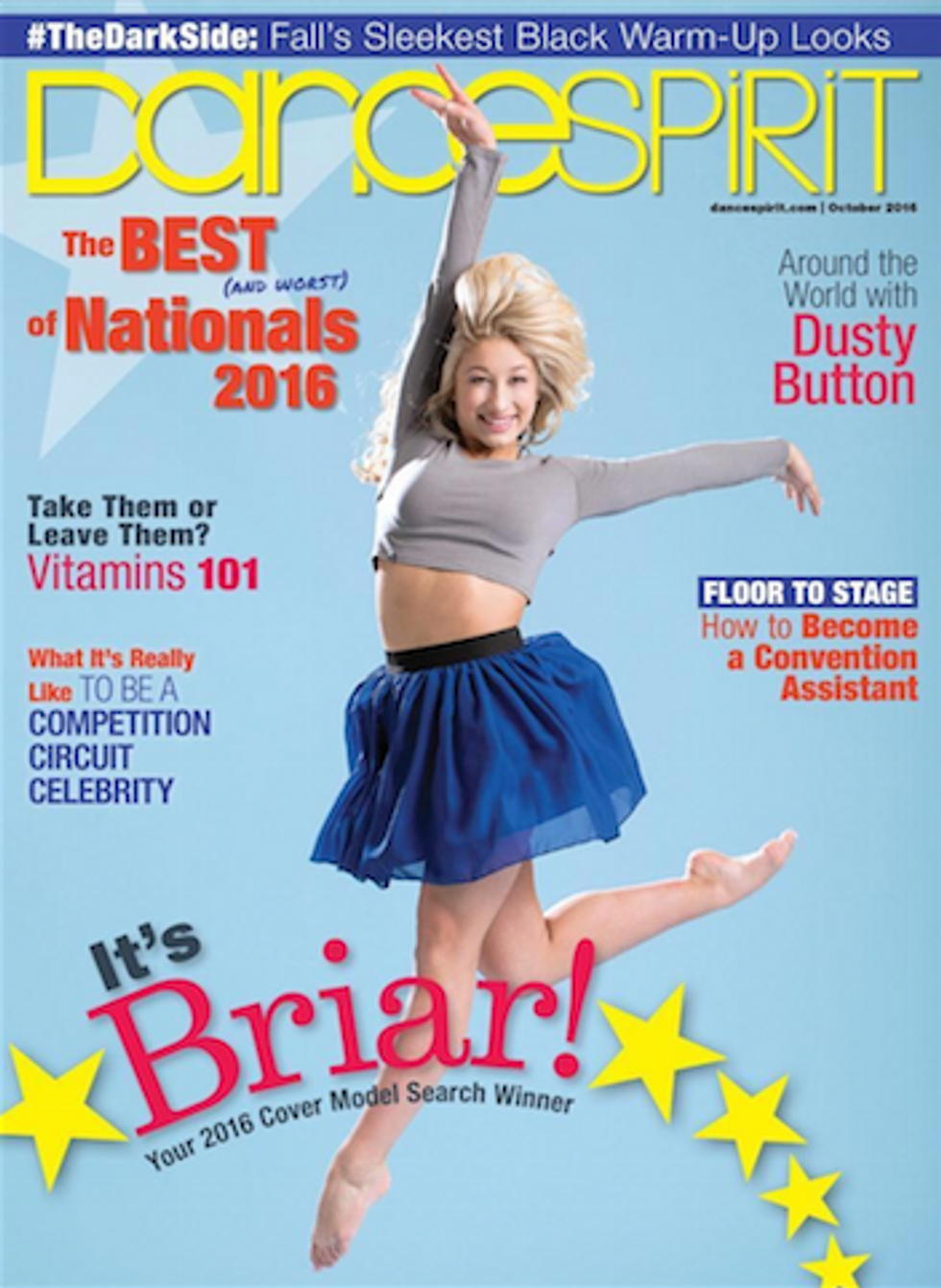 Brilliantly Briar
Briar Nolet is your 2016 Cover Model Search Winner!
Love for the Runners-Up
Why you voted for Kerrynton Jones and Tatiana Melendez.
Strength in Numbers
The beauty of dancing in an ensemble.
In Her Shoes
Following ballerina Dusty Button.
#Trending
The best (and worst) of Nationals 2016.
Views from the Top
What's it really like to be a comp circuit celebrity?
Beat Burnout
Take action now to prevent a mid-season slump.
Assistant Aspirations
How to make the leap from convention attendee to assistant.
Dance Spirit's 2016-2017 Competition & Convention Guide
Info on this season's must-attend events.
Up Front: Buzz
The scoop on the Hamilton documentary and Broadway's newest show Holiday Inn.
Up Front: The Dirt
Ballet West dancer (and Breaking Pointe star) Allison DeBona.
Letter to My Teenage Self
Shaping Sound co-founder Teddy Forance.
Dear Katie
Kathryn Morgan answers your pressing dance questions.
Diary
Savannah Gaillard's weekends at the NYU Future Dancers and Dancemakers program.
Body Buzz
Light bedtime snacks that'll keep you full; what your nerve pain really means.
Fitness
A trio of ankle exercises to combat injury.
Nutrition
Everything you need to know about taking vitamins.
Fashion
Dramatic ensembles to keep you warm and looking chic.
Style Lab
Patterned pieces to release your inner wild-child.
Spotlight: Modern
Perfecting Graham technique means focusing on your hands.
College Corner
How to balance it all: homework, rehearsals and even a social life.
You Should Know
Ballerina-in-training Leili Rackow.