Dec. 08, 2011 11:52AM EST
Oh What a Night: The 2011 Dance Magazine Awards
We were lucky enough to snag a seat at the Dance Magazine Awards on Monday night. The annual event honored five amazing members of the dance community this year, and what an awesome show it was--we laughed, we cried (multiple times!), we saw all kinds of dance celebs, and we came away feeling our love for this crazy art form renewed and strengthened.
Here are our top 5 moments, one for each honoree:
-The always-hilarious Mikhail Baryshnikov presenting to dance medicine pioneer Dr. William Hamilton: "Just my standing up here in front of you is the best testament to Bill's expertise."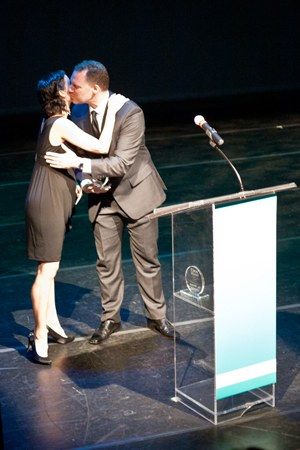 -Lovely New York City Ballet principal Jenifer Ringerrevealing her baby bump--it's her second child with husband James Fayette, who presented her award. (Close runner-up: Fayette's story about the rather dirty joke Ringer told that won his heart.)
-Genius choreographer Alexei Ratmansky talking about seeing Balanchine's ballets for the first time: "They spoke to my eyes, my mind, and my heart." (Runner-up: His description of his dancer wife's gorgeous legs, which first inspired him to choreograph. Adorable.)
-Modern dance legend Yvonne Rainer talking about her early days studying with Martha Graham, who told Rainer, "You will only find your turnout when you accept yourself as a woman" (!!). Rainer then cracked: "Well, neither of those things ever happened."
-Broadway luminary Kathleen Marshall's giddy, pitch-perfect tap choreography for the title number of Anything Goes--we saw a video of phenom Sutton Foster (who presented Marshall's award) and the show's ensemble absolutely killing it. Perfection.
Want more? Click here to watch highlights from the evening.
Jun. 15, 2019 10:12AM EST
(From left) Darriel Johnakin, Diego Pasillas, and Emma Sutherland (all photos by Erin Baiano)
Congratulations to Dance Spirit's 2019 Cover Model Search finalists: Darriel Johnakin, Diego Pasillas, and Emma Sutherland! One of them will win a spot on Dance Spirit's Fall 2019 cover. Learn more about the dancers on their profile pages, and then vote for your favorite below. You can vote once a day now through July 15.
We also want you to get social! We'll be factoring social media likes and shares into our final tallies. Be sure to show your favorite finalist some love on Facebook, Instagram, and Twitter, sharing their profile pages and using the hashtag #DanceSpiritCMS.
Cover Model Search
Jun. 17, 2019 04:05PM EST
Jun. 13, 2019 02:20PM EST
Photo by Erin Baiano
Imagine attending American Ballet Theatre's prestigious NYC summer intensive, training among classical ballet legends. Imagine taking the stage at New York City Dance Alliance Nationals, competing against some of the country's best contemporary dancers. Now, imagine doing both—at the same time.
Welcome to Madison Brown's world. This summer, she's in her third year as a National Training Scholar with ABT, while also competing for NYCDA's Teen Outstanding Dancer title. (She's already won Outstanding Dancer in the Mini and Junior categories.) The logistics are complicated—ABT's five-week intensive overlaps with the weeklong NYCDA Nationals, which translates to a lot of cabs back and forth across Manhattan—but Maddie is committed to making the most of each opportunity. "I love contemporary and ballet equally," she says. "While I'm able to do both, I want to do as much as I can."
Maddie has an expressive face, endless extensions, and a quiet command of the stage. She dances with remarkable maturity—a trait noted by none other than Jennifer Lopez, one of the judges on NBC's "World of Dance," on which Maddie competed in Season 2. Although Maddie didn't take home the show's top prize, she was proud to be the youngest remaining soloist when she was eliminated, and saw the whole experience as an opportunity to grow. After all, she's just getting started. Oh, that's right—did we mention Maddie's only 14?
Cover Story