Mar. 23, 2017 01:15PM EST
On Tour with Shaping Sound
Shaping Sound Dance Company first debuted its full-length production That's Where I'll Be Waiting in 2013. Two years later, the contemporary show—with explosive energy from co-choreographers Travis Wall, Nick Lazzarini, Teddy Forance and Kyle Robinson, and dancers like Jaimie Goodwin, Chantel Aguirre and Amy Yakima—is still going strong, earning nightly standing ovations. What's it like touring with one of the most popular dance productions around? Dance Spirit asked longtime company member Kate Harpootlian (whom you'll recognize from "So You Think You Can Dance" Season 12 Team Stage!) to keep a diary for a week on Shaping Sound's 2014–15 tour. —Jenny Ouellette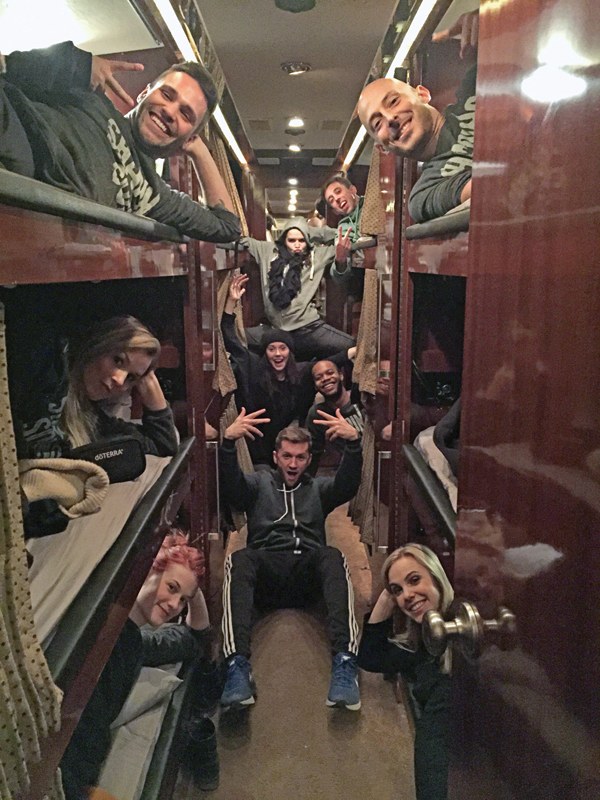 Kate Harpootlian (lower left) on the tour bus with Shaping Sound Dance Company (photo courtesy Harpootlian)
January 23: Last Rehearsal in L.A.
I was really excited to get back into rehearsals for the second half of Shaping Sound's second tour. Once in L.A., we had four days to regroup, which is usually pretty fun. I've known most of the dancers since I was teenager, so getting together is like a big family reunion.
This time, though, the week got serious after our company's morning ballet class. One of the show's dancers, Matthew Peacock, found out he'd been booked as the assistant choreographer for Madonna's Grammy performance. It's an amazing opportunity for Matthew, but it means one of our understudies, Rory Freeman, will now be taking over his part. Our limited four-day rehearsal period—which we've had to do without props, since they're in Texas already—has been pretty hectic. Rory is a rock star, though, and our last run-through went smoothly.
January 27: Tech in Fort Worth, TX
Today we flew from L.A. to Fort Worth—and we didn't waste much time before going to the theater for tech. Once we were onstage, with the lights, costumes and props (!), it really sank in that tour was starting. Our set features walls that we climb up and fall off. We move them around ourselves during the show, and remembering to lock or unlock the walls while we're performing isn't easy. So a thorough tech is absolutely necessary.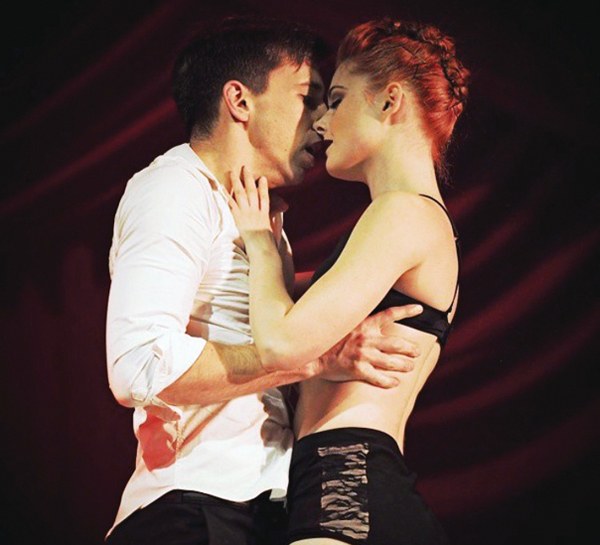 With fellow Shaping Sound dancer Ben Susak (courtesy Harpootlian)
January 28: Opening Night in Fort Worth
Tonight's performance was electric. My favorite part of the show is the duet I perform with Ben Susak in the "Wild Is the Wind" section. We have a great connection and we both really get into character. We also tend to change little things up each show, which keeps the piece fresh for us, even though we've danced it so many times. After each performance, we always do a meet-and-greet in the lobby. I love getting to speak with fans, but tonight was especially magical: My dad was there to give me a big hug!
January 29: Tulsa, OK
The grueling tour schedule has begun! We checked in to our Tulsa hotel around 4:30 am, disoriented and exhausted after our overnight drive. Believe it or not, though, it felt great to be back on the tour bus! Sometimes we're driving for up to 12 hours at a time, and, for that reason, the bus has become one of our favorite places to hang out. We usually eat dinner and watch our most recent performance while we wait for the crew to load out—and we also love playing Catch Phrase. Our competitive group gets pretty rowdy!
Luckily, we were able to go back to sleep once we arrived at the hotel, and I felt pretty good when I woke up around 10 am. I grabbed a couple of dancers for breakfast and hit the hotel gym with Channing Cooke.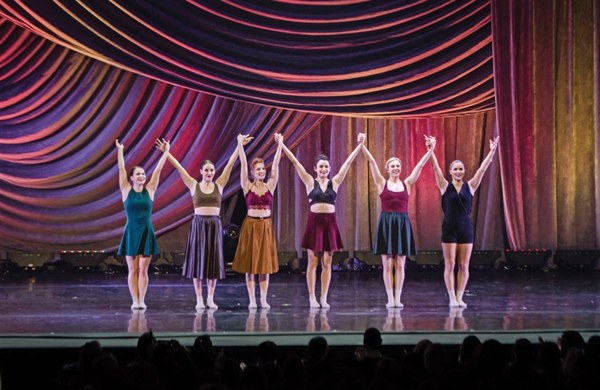 Harpootlian (third from left) during a Shaping Sound curtain call (photo courtesy Shaping Sound)
We had a 4:30 pm call time, but first we had to load all our stuff back on the bus since we'll be leaving right after the show. Three hours before every show (our call), the company meets for notes, info about our next tour stop and to get our lighting and spacing cues. An hour and 15 minutes before curtain, we take a company ballet class. Then I put my costume on, and five minutes before curtain, we regroup onstage for our company's pre-show ritual: After some words of encouragement, we take a few deep breaths. Our last exhale—a long "ahhh" sound—turns into a yell. Then we do a shake-off counting down from 8, and when we get to 1, someone shouts out "Shaping Sound" and we do a loud group clap. We like to think the better the clap is, the better the performance will be. It must have worked tonight!
February 1–2: Skokie, IL
After a four-show run in Kansas City, MO, and Minneapolis, MN, we finally have a couple days off. Some of the company stayed in Minneapolis, but the rest of us arrived to a full-on blizzard here in Skokie. It gave us a good reason to stay inside and rest.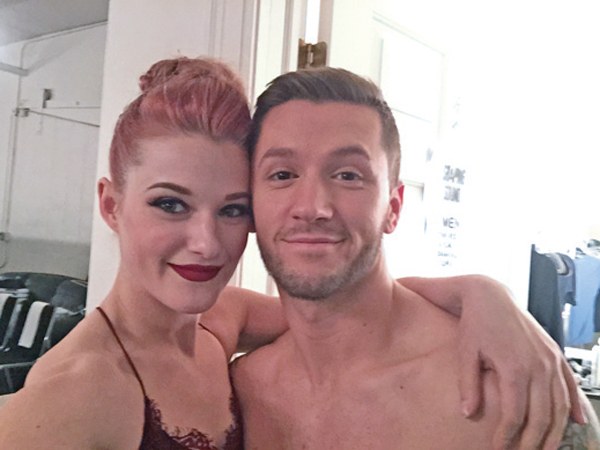 Harpootlian with Travis Wall (photo courtesy Harpootlian)
Monday in Skokie was bright and sunny, so I went into Chicago to take ballet class at the Lou Conte Dance Studio—home of Hubbard Street Dance Chicago. Then I headed to the hotel to take a quick rest before teaching a master class with Ben and Channing. I guess it wasn't much of a day off, but I love teaching. Plus, I got to reward myself afterwards by exploring Chicago one of my favorite ways—through my stomach! A lovely dinner with Travis and Nick was the perfect way to end this first week.
Shaping Sound's 2015–16 tour kicks off this month in Escondido, CA, and runs through February. Visit shapingsoundco.com/tour for details.
via YouTube
Keep reading...
Show less
via @kyle_vanny on Instagram competing on World Of Dance
Kyle Van Newkirk is a tap dancer you probably remember from the premiere season of NBC's World of Dance. In case you missed it, he is also one of Showstopper's incredible convention teachers. What makes Kyle stand apart from some of today's other incredible tappers? He isn't afraid to change what tap means to his audience and even himself. This modern view of tap dancing is important because it shows us that tap dancers are just as versatile and dynamic as dancers of any other genre. We sat down with Kyle to get his advice on bringing tap dancing into the 21st century.
Keep reading...
Show less
What did I just hear you say? You think all dancers are weak and delicate? PLEASE SAUT DE CHAT OUT OF MY LIFE. (Giphy)
Sure, dancers definitely have some unique identifying characteristics. (We're all obsessed with Center Stage? FACT.) But we're also subjected to all kinds of annoying, inaccurate stereotyping. Here are 10 dancer stereotypes that we never want to hear again.
Keep reading...
Show less
University of Minnesota Dance Team (courtesy University of Minnesota)
They say there's no "I" in "team"—and nowhere is that truer than the world of college dance teams, where precision reigns, uniformity is key, and a single misstep from any given "I" can cost a group a championship trophy. So it's unsurprising that securing a spot on one of the best dance teams in the country is no easy feat.
Members of these highly athletic teams rehearse for hours every week—on top of academic classes and commitments—and perform at football and basketball games, annual concerts, and nationally televised competitions (hi, ESPN). And "no I" rule notwithstanding, each of these top teams is made up of highly trained, highly technical, highly hard-core individuals, who come together to create a ready-for-victory pack.
These six teams aren't one-off success stories—they're consistently strong, and earn the top spots at major competitions like UDA and NDA nearly every year. Up for the challenge? Here's what to know before you go to auditions.
Keep reading...
Show less
They got to live out their dreams onstage with Jackson during last night's Billboard Awards. (NBC)
When Janet Jackson puts out a call for new dancers, basically the ENTIRE WORLD responds. More than 75,000 people entered Jackson's epic #DanceWithJanet contest, announced earlier this spring, which let hopefuls from around the globe audition via social media for a chance to perform with the icon.
So, out of those tens of thousands, who became the newest members of the #JTribe? Meet Phillip Galbert and L'Vala "Lala" Moss, the winners of the competition. Last night, they joined Janet onstage at the Billboard Music Awards. And they more than earned their place in the spotlight.
Keep reading...
Show less
May. 16, 2018 02:26PM EST
Ema Peter
The Glorya Kaufman International Dance Center is the 54,000 square foot home of the USC Glorya Kaufman School of Dance, one of the largest facilities dedicated to dance on a private university campus. Designed for their innovative new curriculum, that supports a range of dance styles, the school's staff designated Harlequin to provide wall-to-wall flooring for the large 3,500 square foot Performance Studio as well as five dance studios in their new state-of-the-art building.
Keep reading...
Show less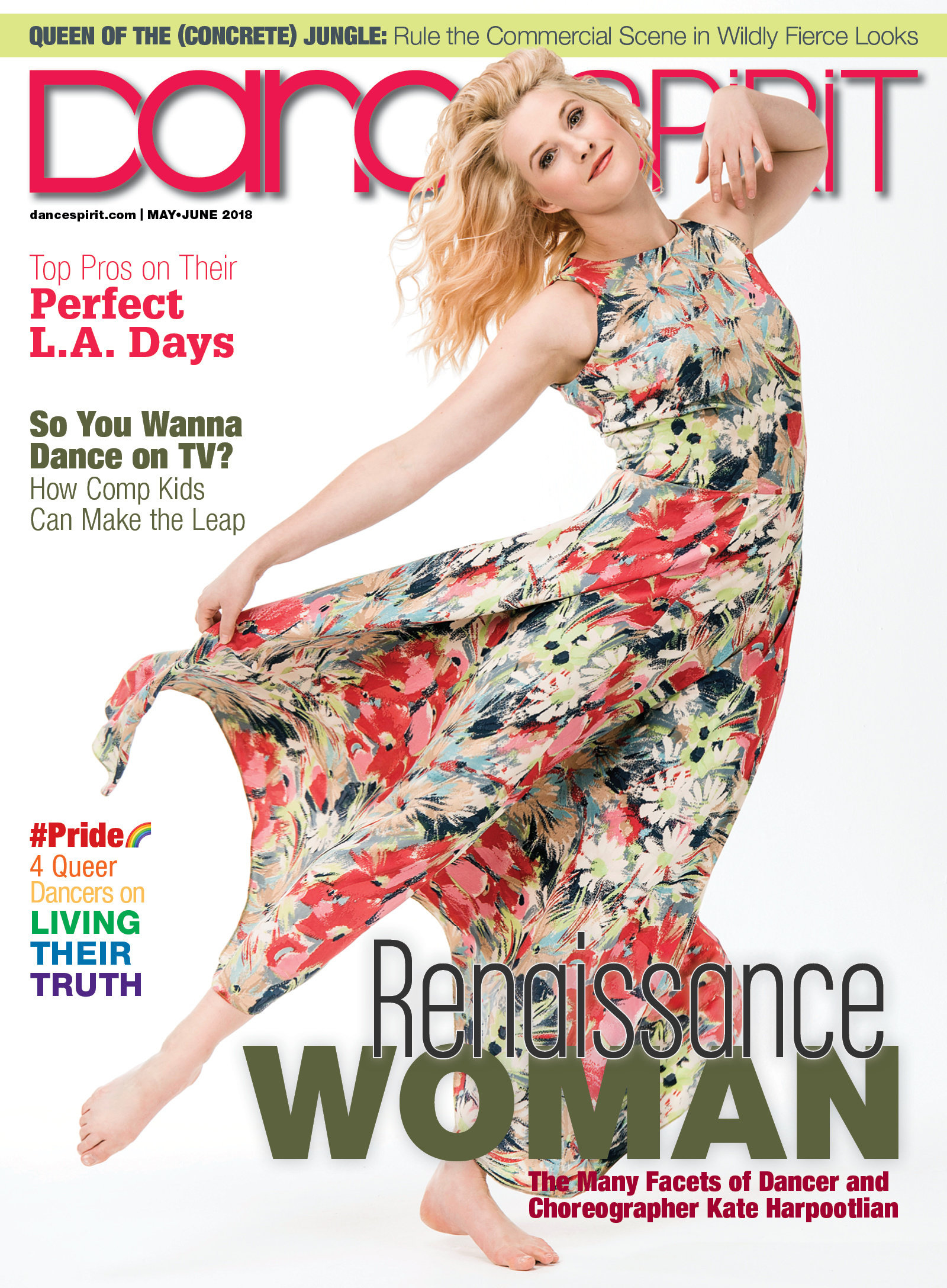 Get Dance Spirit in your inbox