Apr. 08, 2013 01:50PM EST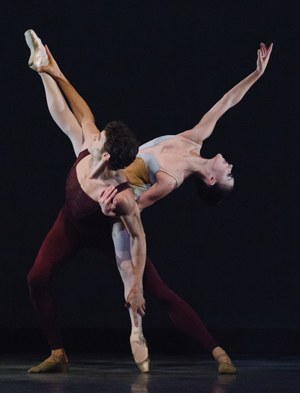 With Yann Trividic in Liturgy (by Kyle Froman)
Miami City Ballet principal Patricia Delgado seems to glow softly from within, radiating warmth and charm onstage. Add to that her crisp, refined technique, and the result is a performer who's captivating in everything from classical full-length ballets to the George Balanchine works that form the backbone of MCB's repertoire.
Born and raised in Miami, Delgado trained at Liana Navarro and Vivian Tobio Ballet School and Miami City Ballet School before joining MCB as an apprentice in 2000. By 2007 she'd become both an audience favorite and a principal dancer, and she continues to add more ballets to her impressively diverse arsenal. Catch her in action this month in Florida, where she'll perform in MCB's "Broadway and Ballet" program. —Margaret Fuhrer
Dear Young Patricia,
Right now all you want is to be a ballerina, but you are only at the beginning of a beautiful journey of self-discovery.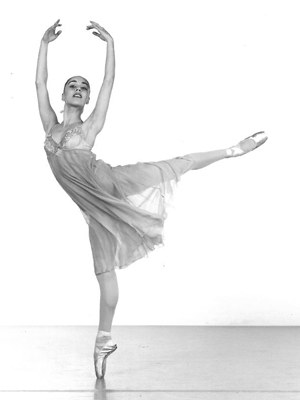 As a teenager
Being a dancer is full of unbelievable highs and difficult lows. Try not to compare yourself to others, because in the long run your imperfections are what make you special. Instead, admire and respect your fellow peers and look to older dancers for inspiration. 
Remember that there is life outside the ballet world. Reading, meditating, traveling and writing will enhance you as an artist. Finding a balance between your family and friends and your craft will help you stay grounded. Appreciate your loved ones' support. It takes a lot of dedication and sacrifice to uphold your commitment to dance!
Take care of your body. It's important to realize at this age that it should be treated nicely. Treasure every ballet class, rehearsal and performance, because each one is an incredible gift. Sharing yourself with others through movement is one of the most fulfilling and gratifying forms of expression.
Have courage when you are faced with disappointments and challenges. Time heals all; just keep believing in yourself. And trust that the words of wisdom from your teachers and mentors will all make perfect sense one day!
Love and courage,
Patricia
Giphy
The news is out, and we couldn't be more excited: Olympic figure skater/performer of gorgeous Benji Schwimmer choreography/patron saint of sequins/all-around fabulous human Adam Rippon will appear on the upcoming athletes-only "Dancing with the Stars" cycle! Even better, he's been paired with one of our fave pros, Jenna Johnson—the ultimate #dreamteam.
Our Rippon obsession is so real. And that means that in the days since the "DWTS" cast announcement, our minds have been busy imagining all the routines we know Adam and Jenna could slay. Here are 5 numbers that'd totally impress the judges. ("DWTS" producers: You're welcome.)
A Jive to "Stitches" by Shawn Mendes, Ideally with a Cameo by Shawn Mendes
We already know that Rippon has his eye on the adorable singer (whom he met for the first time at the Oscars, as one does)—so why not play matchmaker, "DWTS" producers? We're picturing Rippon in hospital gear with Johnson as his ER doc ("stitches," see what we did there?), and if Mendes wants to show up dressed as a nurse for a jiving trio, we're 1000 percent here for it!

A Broadway Jazz Number to "Carrying the Banner" from "Newsies"
Adam and Broadway go together like Ultra Clutch hairspray and comp kids: It's a perfect pairing. And how cute would he be in a newsboy cap? If Rippon he can pull out a bunch of fouettés on a pape like Ryan Steele (see above)—which, given that fouettés are a distant cousin of skating's scratch spin, seems likely—even better.
A Gorgeous "Greatest Showman"-Themed Waltz—Trapeze Optional
Rippon as Zac Efron and and Johnson as Zendaya, waltzing along to "Rewrite the Stars"? YES. And maybe, just maybe, some aerial acrobatics? YAAAAAS.
A Heartbreaking Travis Wall Contemporary Piece to a Sam Smith Ballad
Adam's worked with Travis. Jenna's worked with Travis. You KNOW this combination would be on point. Add a painfully gorgeous song like Sam Smith's "Too Good at Goodbyes" to the mix, and you're bound to have the judges ugly-face crying.
A "DWTS" Version of #Beychella
Based on his Spotify playlist, it's clear that Rippon's part of the #Beyhive (same). So a Beyoncé-themed number is, obviously, a necessity. "Love on Top?" "Run the World?" "Flawless?" We honestly don't care which song he and Johnson choose, as long as Rippon gets to go full #Beychella in his own bedazzled yellow sweatshirt and knee-high fringe boots.
Popular
Apr. 02, 2018 10:14AM EST
Showstopper's National Finals Opening Number Performance
Showstopper has been making its impact on the dance world since 1978. Before then, dancers didn't have a stage to perform on, the opportunity to learn from peers, or a competitive outlet like most sports. Debbie Roberts recognized this missing piece in the dance community and that is how America's first and longest running dance competition, Showstopper, was born. Debbie taught dance for over 26 years and owned and operated her own dance studio for 20 years. She is now the owner and National Director of Showstopper, along side her husband, Dave Roberts. Dancer, teacher, business owner, author, and mother, Debbie has made dance her life's career.
Keep reading...
Show less
Apr. 17, 2018 10:27AM EST
Oh, hi, EVERYBODY. (Screenshots via YouTube)
Sometimes, you hear talk about an upcoming class video and it sounds too good to be real. Wait: Todrick Hall made a track featuring RuPaul, and then Todrick personally asked Brian Friedman to choreograph it, and then Brian got Maddie and Charlize and Jade and Kaycee and Sean and Gabe and Larsen and Bailey to come out for the class? I just...that can't be right. Can it?
It is right, friends. It is SO RIGHT.
Keep reading...
Show less
A-DAM RIP-PON [clap, clap, clap clap clap] (with his equally gorgeous partner Jenna Johnson; Craig Sjodin/ABC)
Team USA is totally taking over "Dancing with the Stars" this season! Casting for the upcoming athletes-only "DWTS" cycle, which kicks off April 30, was just announced. And the roster includes a whole bunch of Olympic favorites—including not one, not two, but three figure-skating standouts.
Keep reading...
Show less
Photo by Ken Browar/Deborah Ory of NYC Dance Project, courtesy NYC Dance Project
Alvin Ailey American Dance Theater's Fana Tesfagiorgis captivates audiences with her ethereal grace and powerful, commanding technique. A Madison, WI, native, she began training in ballet at Ballet Madison at age 5, and also studied at Interlochen Arts Academy during high school. Later, she graduated from the Ailey/Fordham program with a BFA in dance and a minor in journalism, and danced with companies including Ailey II, Continuum, Footprints, and Nimbus Dance Works. She joined AAADT in 2013. Catch her dancing with the company June 13–17 during its Lincoln Center season. —Courtney Bowers
Keep reading...
Show less
Popular
Mar. 26, 2018 09:50AM EST
Winter is drawing to a close and you know what that means -- It's time to really kick this year into gear! Move U has done the research so you can find your best match, look good, and feel great this season with a twist unique to your team! Here are five looks to put your performance on the map in 2018.
Keep reading...
Show less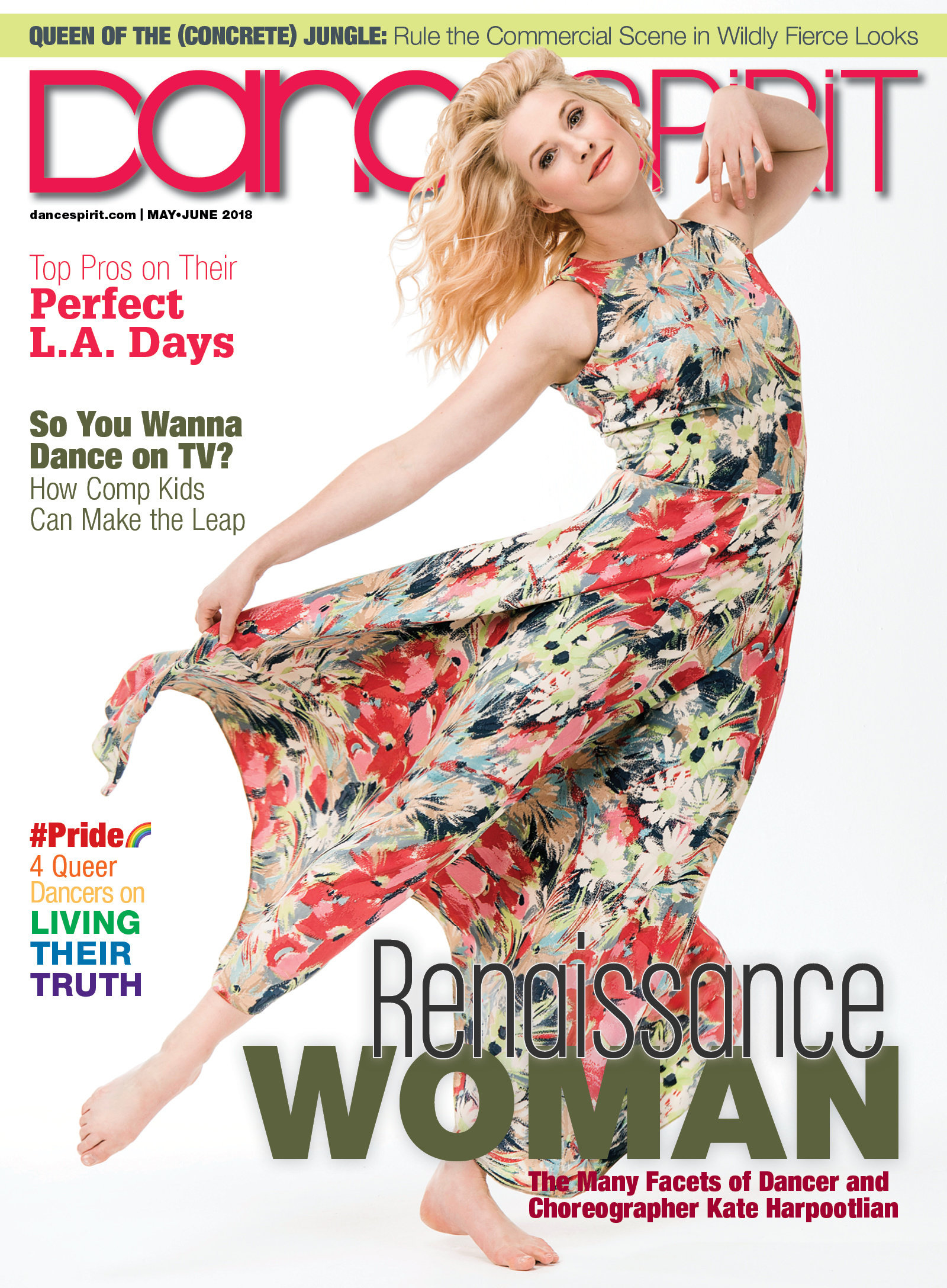 Get Dance Spirit in your inbox