Oct. 01, 2013 03:30PM EST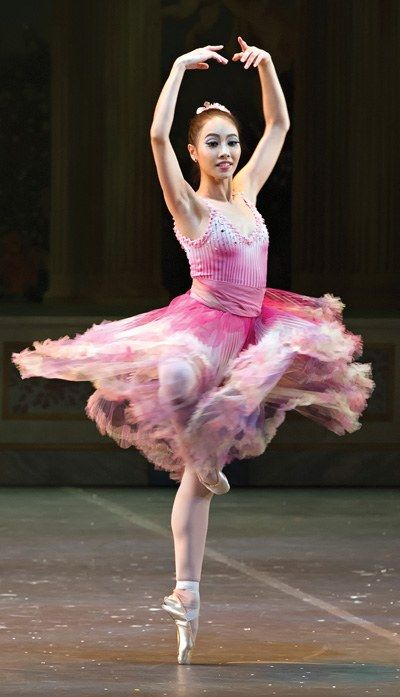 Seo Hye Han in Boston Ballet's The Nutcracker (by Gene Schiavone)
It's the end of class, and you're whipping through a diagonal of piqué turns. You spin across the floor as fast as your body can move, propelled by the thrilling coda music. Everything feels great—until you finish, and your teacher gives you a long list of corrections. Apparently, your piqués didn't look as good as they felt.
Piqué turns can be one of the most fun steps in classical ballet. But because the mechanics of the turn are simple compared to other types of pirouettes, it can be tempting to go for quantity (speed and multiples) instead of quality. Take the time to polish the smaller details of the turn. Soon you'll be flying across the floor and looking clean and precise.
The Nuts and Bolts
Whether you're new to ballet or you've been studying for years, it never hurts to break piqué turns down into their basic components. Doing so will make you conscious of maintaining correct technique and placement every step of the way.
Larissa Ponomarenko, ballet master at Boston Ballet, suggests starting in a good plié with your body weight over the supporting leg, so the push onto demi-pointe or pointe is well controlled. "Your hips should travel from the supporting leg over to the working leg in one smooth movement," she says. "And the piqué should happen on a straight leg. If you're going to the right, the right heel and the top of the right leg lead the turn." The left arm, left shoulder, left side of your rib cage and left hip should stay in line with each other, helping to bring your body around.
As you reach the halfway point of the turn, keep your shoulders down and neck relaxed as you spot your head. At this point your arms should arrive in a neat first position. Your left foot should stay attached to the right supporting leg just above the back of the knee. During the last quarter of the turn, the left foot should remain attached to the leg for as long as possible as it slides down toward the floor.
Piqué Troubleshooting
The most common problems with piqué turns are easily fixed—with some extra attention. If you tend to piqué onto a bent knee, or let it relax during the transition between turns, try thinking of having a "peg leg"—one that never bends, and a foot that never stops pointing when you're on pointe. "If you're hyper-extended, it's a bit more difficult to get over your leg when it's truly straight," says Frances Chung, principal at San Francisco Ballet. "You have to really step out and use your back foot to plié and push as far as possible."
Do you lift your hip as you bring your foot into retiré? Make sure your knee doesn't rise higher than the crease of your hip. "You want a high retiré without compromising your hip placement and throwing off your balance," says Chung. "I try to relax my hip as much as possible and draw just my toe up."
If you have trouble spotting and tend to get dizzy, make sure you have a clear object to focus on each time you bring your head around, and think about fully relaxing your neck. "Imagine you're disconnecting your head from your body," says Callie Manning, principal soloist at Miami City Ballet. "Think of your head as one thing and your body as something else, instead of them all going together to the same place."
Taking It to the Next Level
Once you've mastered basic piqué turns, you can add a greater degree of difficulty by throwing in some doubles and varying your direction or speed. "When I do a double, I bring my foot to retiré as soon as possible to make sure I can fit both turns in time with the music, and I spot twice in a clear rhythm," says Chung. Manning thinks of not stepping too far out when she does a double piqué turn. "You have to almost stop your forward momentum or else you'll start falling out of the second turn," she says. To piqué very fast, Manning lowers her leg into a coupé position, rather than retiré, and keeps her arms out to the side—both of which save time in a quick string of turns. She also thinks of darting rapidly onto pointe.
You can change up your port de bras, too. When Chung does a string of piqué turns, she'll keep her arms in demi-seconde for the singles and then snap them into first position for the doubles to add a little visual interest. You can also try turning with your hands on your hips—which might remind you to keep your hips down, too—or your arms in fourth position. Usually dancers lift the right arm (if they're turning to the right) because it helps pull up the supporting side.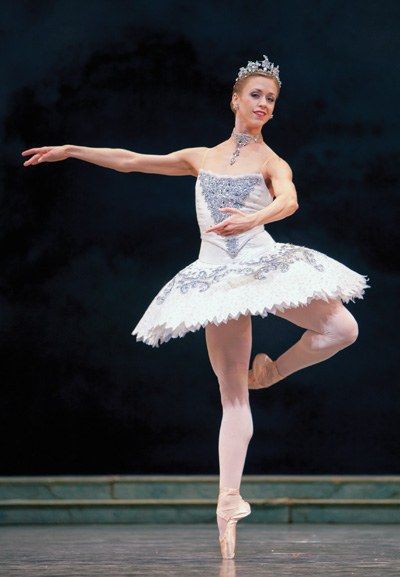 Pacific Northwest Ballet's Lesley Rausch in The Sleeping Beauty (by Angela Sterling)
Different Piqués for Each Ballet
How you approach piqué turns should vary from one ballet to the next. They can be used to help develop a character, or danced as a pure reflection of the music. Here are a few well-known piqué passages and advice on how you can make them speak.
In the Act I solo from Giselle, Giselle's circle of piqué turns reflects her joyous nature and love for Albrecht. "She is on the cloud of love, on a cushion of air!" says Boston Ballet ballet master Larissa Ponomarenko. "Those piqué turns have to travel a lot to reflect that, with a bit of a spring onto the working leg."
In Gamzatti's wedding solo from La Bayadère, the double piqué turns should be grand and wide, with a voluptuous quality. "They describe her sensual beauty, as well as the wit and confidence of her high-class upbringing," says Ponomarenko.
In George Balanchine's Serenade, the corps of women piqué in unison in a circle, showing the pulse of the music. "You have to spot the person in front of you and maintain distance, or else there's a huge traffic jam," says Miami City Ballet's Callie Manning. "It's not about you, but about the whole stage looking the same."
Ballet
Jun. 15, 2019 10:12AM EST
(From left) Darriel Johnakin, Diego Pasillas, and Emma Sutherland (all photos by Erin Baiano)
Congratulations to Dance Spirit's 2019 Cover Model Search finalists: Darriel Johnakin, Diego Pasillas, and Emma Sutherland! One of them will win a spot on Dance Spirit's Fall 2019 cover. Learn more about the dancers on their profile pages, and then vote for your favorite below. You can vote once a day now through July 15.
We also want you to get social! We'll be factoring social media likes and shares into our final tallies. Be sure to show your favorite finalist some love on Facebook, Instagram, and Twitter, sharing their profile pages and using the hashtag #DanceSpiritCMS.
Cover Model Search
Jun. 13, 2019 02:20PM EST
Photo by Erin Baiano
Imagine attending American Ballet Theatre's prestigious NYC summer intensive, training among classical ballet legends. Imagine taking the stage at New York City Dance Alliance Nationals, competing against some of the country's best contemporary dancers. Now, imagine doing both—at the same time.
Welcome to Madison Brown's world. This summer, she's in her third year as a National Training Scholar with ABT, while also competing for NYCDA's Teen Outstanding Dancer title. (She's already won Outstanding Dancer in the Mini and Junior categories.) The logistics are complicated—ABT's five-week intensive overlaps with the weeklong NYCDA Nationals, which translates to a lot of cabs back and forth across Manhattan—but Maddie is committed to making the most of each opportunity. "I love contemporary and ballet equally," she says. "While I'm able to do both, I want to do as much as I can."
Maddie has an expressive face, endless extensions, and a quiet command of the stage. She dances with remarkable maturity—a trait noted by none other than Jennifer Lopez, one of the judges on NBC's "World of Dance," on which Maddie competed in Season 2. Although Maddie didn't take home the show's top prize, she was proud to be the youngest remaining soloist when she was eliminated, and saw the whole experience as an opportunity to grow. After all, she's just getting started. Oh, that's right—did we mention Maddie's only 14?
Cover Story
Jun. 16, 2019 07:00AM EST
Corbin Bleu in rehearsal for "Kiss Me, Kate" (Jenny Anderson, courtesy Roundabout Theatre Company)
If you're a hardcore Broadway baby, today is the worst Sunday of the year. Why, you ask? The Tony Awards were last Sunday, so basically there's nothing to look forward to in life anymore—no James Corden being James Corden, no teary acceptance speeches from newly minted stars, no thrilling excerpts from the hottest new shows. Oh yeah, and there are 50 more Sundays to go before our humdrum lives are once again blessed with the next annual iteration of Broadway's biggest night.
Musical Theater