Mar. 01, 2015 03:00PM EST
When Your Period Disappears
Nobody likes having a period. It's messy, it's often painful and it doesn't go well with a leotard and tights. But as much of a nuisance as your monthly visitor may be, not getting it can be an indication of a serious issue. "A period is about much more than just bleeding once a month—it indicates that your body is functioning normally," says Dr. Dana Gossett, chief of gynecology at Northwestern Memorial Hospital in Chicago. "Missing a period tells us something important about your underlying health."
The technical term for the absence of menstrual periods is amenorrhea, which refers to two situations: not starting to menstruate when you're of age (primary amenorrhea) and missing your periods after you've started menstruating (secondary amenorrhea). Do you fit either of these descriptions? Read on to learn why your period may have disappeared, and what you can do to get it back.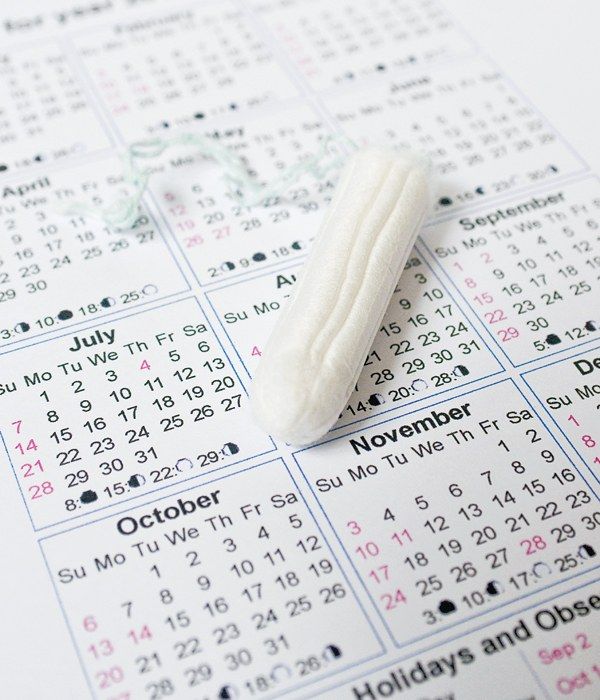 (Photo by WZFS1S/Thinkstock)
Should I Be Worried?
If you haven't had a period yet, but all your friends have, it doesn't necessarily mean anything is wrong. The "normal" time for a girl to get her first period varies widely—from 9 to 16 years old—and athletes are often on the later end of the spectrum. "When a dancer shows other signs of puberty—such as the development of breasts and pubic hair—we don't worry about a lack of period until age 16," Gossett says. "Without them, we begin to worry at age 14."
When it comes to secondary amenorrhea, Gossett says you should see a doctor if it's been six months since your last period. But, she adds, periods are generally pretty irregular for the first two years after puberty, and that's perfectly normal. It's also possible to miss a period due to stress, which is fine as long as it doesn't become a regular problem.
Why Does This Happen?
Amenorrhea can have a variety of causes. The issue might be a hormonal imbalance stemming from the thyroid or pituitary glands, or a problem with the reproductive system (like a physical blockage in the entry to the vagina). In very rare cases, it's caused by a chromosomal abnormality.
Most of the time, however, low body weight is the culprit in dancers. When a girl is about 10 percent under the normal body weight for her height, periods may stop—a warning from her body that she's not healthy enough to maintain a pregnancy. In dancers, it's frequently part of what's known as the female athlete triad: 1) a girl's body weight is low; 2) her periods have stopped (or never started); and 3) her bone density is low.
Why Should I Care Right Now?
"Many girls are actually glad to not have their period," says Dr. Nadine Kaslow, a psychologist who works with Atlanta Ballet dancers. "There's a lot of pressure for dancers to be thin, so it's easy to prioritize keeping your weight down. But girls need to be mindful that amenorrhea has potential for both short-term and long-term consequences."
Down the road, amenorrhea can lead to osteoporosis. But dancers with amenorrhea due to low body weight don't have to wait until they're 50 to see serious issues occur. "If amenorrhea is caused by a lack of nutrition, it can mean an increased risk of bone injuries, like fractures," warns Dr. Joey Fernandez, an internal medicine physician at the Harkness Center for Dance Injuries in NYC.
How Do I Fix It?
The first step is to visit a doctor. If the problem is hormonal, you may need to take a medication to get things back on track. And irregularities in the reproductive system, such as an obstruction to the vaginal opening, could mean minor surgery. If your amenorrhea is due to a lack of nutrition, you may have to work with a doctor and nutritionist to remedy the situation.
Fernandez points out that getting your period back doesn't necessarily mean gaining weight. "It might just take an adjustment in your meal timing or in your distribution of calories throughout the day to balance your energy needs," he says. "Of course, if a dancer is severely underweight or has an eating disorder like anorexia, it can be very important for her to gain some weight."
In some cases, an otherwise healthy dancer can lead such a rigorous lifestyle that her body fat percentage is too low for estrogen production. (Fat cells are partially responsible for estrogen synthesis.) "Then we worry about long-term implications, since estrogen is an important hormone for bone health and many other things," Gossett says. In those cases, Gossett may prescribe an oral contraceptive or birth control pill to replace lost estrogen.
In the end, you'll be glad to repack a few tampons in your dance bag. Sure, periods can be a drag, but it's nice to have a monthly reminder that your dancer body is in excellent shape.
Health & Body
Jun. 15, 2019 10:12AM EST
(From left) Darriel Johnakin, Diego Pasillas, and Emma Sutherland (all photos by Erin Baiano)
Congratulations to Dance Spirit's 2019 Cover Model Search finalists: Darriel Johnakin, Diego Pasillas, and Emma Sutherland! One of them will win a spot on Dance Spirit's Fall 2019 cover. Learn more about the dancers on their profile pages, and then vote for your favorite below. You can vote once a day now through July 15.
We also want you to get social! We'll be factoring social media likes and shares into our final tallies. Be sure to show your favorite finalist some love on Facebook, Instagram, and Twitter, sharing their profile pages and using the hashtag #DanceSpiritCMS.
Cover Model Search
Jun. 13, 2019 02:20PM EST
Photo by Erin Baiano
Imagine attending American Ballet Theatre's prestigious NYC summer intensive, training among classical ballet legends. Imagine taking the stage at New York City Dance Alliance Nationals, competing against some of the country's best contemporary dancers. Now, imagine doing both—at the same time.
Welcome to Madison Brown's world. This summer, she's in her third year as a National Training Scholar with ABT, while also competing for NYCDA's Teen Outstanding Dancer title. (She's already won Outstanding Dancer in the Mini and Junior categories.) The logistics are complicated—ABT's five-week intensive overlaps with the weeklong NYCDA Nationals, which translates to a lot of cabs back and forth across Manhattan—but Maddie is committed to making the most of each opportunity. "I love contemporary and ballet equally," she says. "While I'm able to do both, I want to do as much as I can."
Maddie has an expressive face, endless extensions, and a quiet command of the stage. She dances with remarkable maturity—a trait noted by none other than Jennifer Lopez, one of the judges on NBC's "World of Dance," on which Maddie competed in Season 2. Although Maddie didn't take home the show's top prize, she was proud to be the youngest remaining soloist when she was eliminated, and saw the whole experience as an opportunity to grow. After all, she's just getting started. Oh, that's right—did we mention Maddie's only 14?
Cover Story
Jun. 16, 2019 07:00AM EST
Corbin Bleu in rehearsal for "Kiss Me, Kate" (Jenny Anderson, courtesy Roundabout Theatre Company)
If you're a hardcore Broadway baby, today is the worst Sunday of the year. Why, you ask? The Tony Awards were last Sunday, so basically there's nothing to look forward to in life anymore—no James Corden being James Corden, no teary acceptance speeches from newly minted stars, no thrilling excerpts from the hottest new shows. Oh yeah, and there are 50 more Sundays to go before our humdrum lives are once again blessed with the next annual iteration of Broadway's biggest night.
Musical Theater