May. 04, 2018 11:10AM EST
9 Period Mythbusting Facts Every Dancer Needs to Know
Thinkstock
Can my tampon get lost up there after one too many rehearsals? Should I skip cross-training in the pool during Aunt Flo's visit? Does missing a period mean I'm dangerously underweight? When it comes to menstruation, everybody has an opinion—but few have the facts. We asked the experts to debunk common myths about that time of the month, so you can get back to focusing on dance.
---
MYTH: If you're not careful, menstrual cups or tampons might get lost in your body.
FACT: Gynecologist Julie Levitt, MD, of Northwestern Memorial Hospital in Chicago, assures that while it may sometimes be difficult to remove a tampon or menstrual cup, it can always be done. "The vagina is a closed space," she says. "Most girls can reach the end of their vaginas with the tip of their index finger."
If you lose track of your tampon's string or can't reach your menstrual cup with your fingers, try lying down and pulling your knees back and to the sides (think grand plié)—then search for it in a circular motion with two fingers. The more relaxed you are, the better. If you're really struggling after a few hours, call your doctor.
MYTH: There's no way to make your period lighter or shorter.
FACT: While it's true that some girls are prone to heavier or longer periods than others, Levitt says, "You aren't stuck with the periods that your mother or mother nature gave you." Popping an NSAID (aspirin or ibuprofen) the day before you're scheduled to start your period can make it lighter, shorter, and less painful. Staying hydrated and eating foods rich in calcium and fiber may also help. If your periods last longer than eight days, you're using more than six tampons or pads per day, or you're experiencing debilitating cramps, your doctor may prescribe a form of birth control to make menstruation feel more manageable.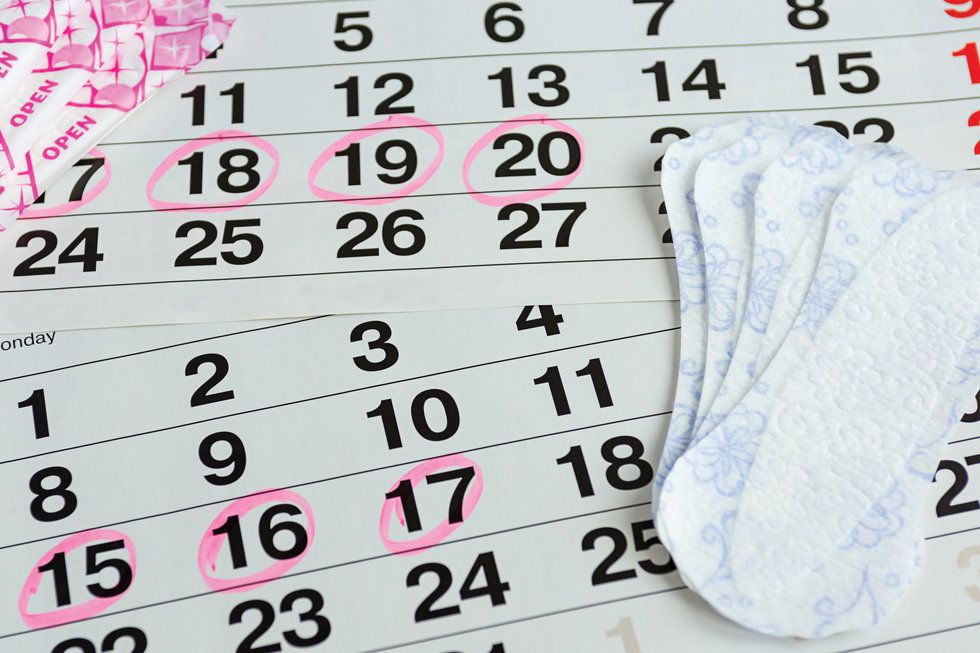 Thinkstock
MYTH: Irregular periods as a teen mean health problems—or infertility—later.
FACT: Most will experience somewhat irregular periods for the first few years after their period begins, so this is usually nothing to worry about. And normal cycles look different for each girl, ranging from every 21 to every 35 days, and lasting from 2 to 7 days.
If your period disappears for more than three months, it could indicate that your body mass index (BMI) has dropped to an unhealthy level—all too common among dancers. NY-State-based gynecologist Alyssa Dweck, MD, co-author of The Complete A to Z for Your V, warns that if you lose your period for a year or more, "long-term consequences include osteoporosis, vaginal dryness, or infertility."
MYTH: You can't get pregnant during your period.
FACT: This is technically true, but things aren't always what they seem. "You can get pregnant during what you think is your period, but actually isn't," Dweck cautions. "In a normal cycle, your period comes after you ovulate. If you don't get pregnant, your uterine lining sheds. But plenty of women, especially those with irregular cycles, bleed without having ovulated beforehand. It looks like a period but technically isn't one, so pregnancy is possible." To be safe, always use protection—no matter where you are in your cycle.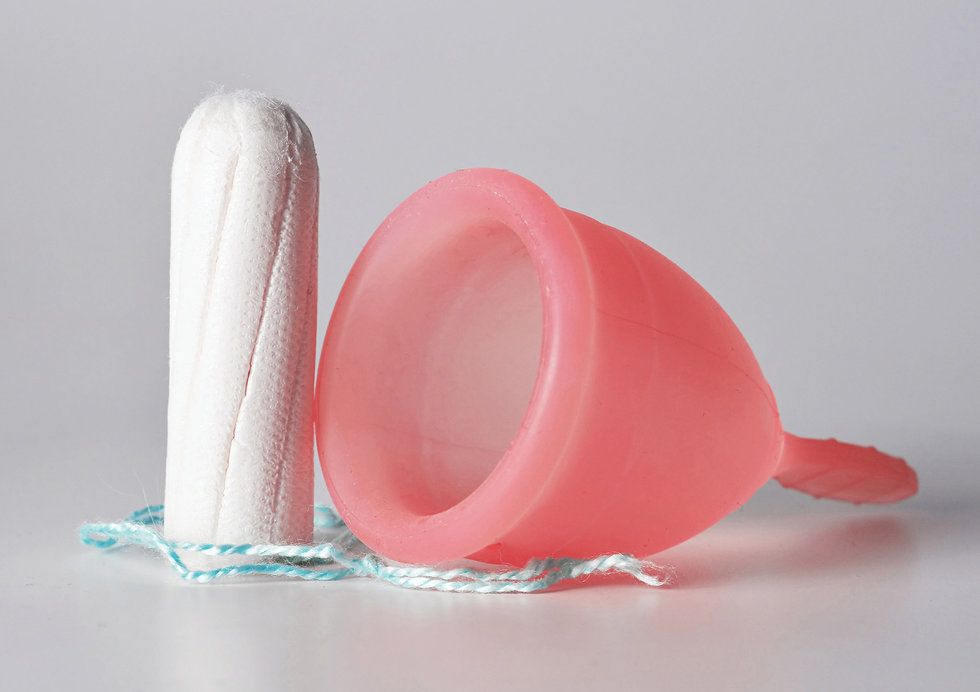 Thinkstock
MYTH: Tampons are so uncomfortable.
FACT: When a tampon is inserted correctly—as far into the vagina as it will go—you won't notice it's there. If you're in pain, Dweck advises telling your doctor, since you may have an underlying anatomic condition, like fibroids, endometriosis, or an ovarian cyst. Itching or burning sensations may be the sign of an allergy or sensitivity to the brand or fragrance of the feminine product you're using. Dry tampons may be uncomfortable to insert and remove, so use the lowest absorbency that still offers enough protection (i.e., light tampons on your lightest days).
MYTH: Leave your tampon in overnight, and you're destined for an infection.
FACT: Nowadays, doctors suggest changing a tampon after eight hours—so the average night's sleep is perfectly safe. If you're forgetful, Levitt suggests leaving the wrapper next to your sink at night as a reminder in the morning. "Even if you forget your tampon is in place and it remains inside for another day, infection is extremely rare," she says.
MYTH: See a clot? Something's wrong!
FACT: It's not uncommon to notice thicker clumps during your period. They may be blood that congealed before exiting the vagina, or tissue from the lining of the uterus. But Dweck warns that persistent (more than the first few days) or large (bigger than a quarter) clots could indicate a problem, and should be checked out by your gynecologist.
MYTH: Eventually, my entire class will be synced up.
FACT: More often than not, being period pals with the girls next to you at the barre is just a coincidence: "The menstrual cycle is under stronger personal factors (like hormones) than outside influences (like pheromones released by roommates)," Levitt says.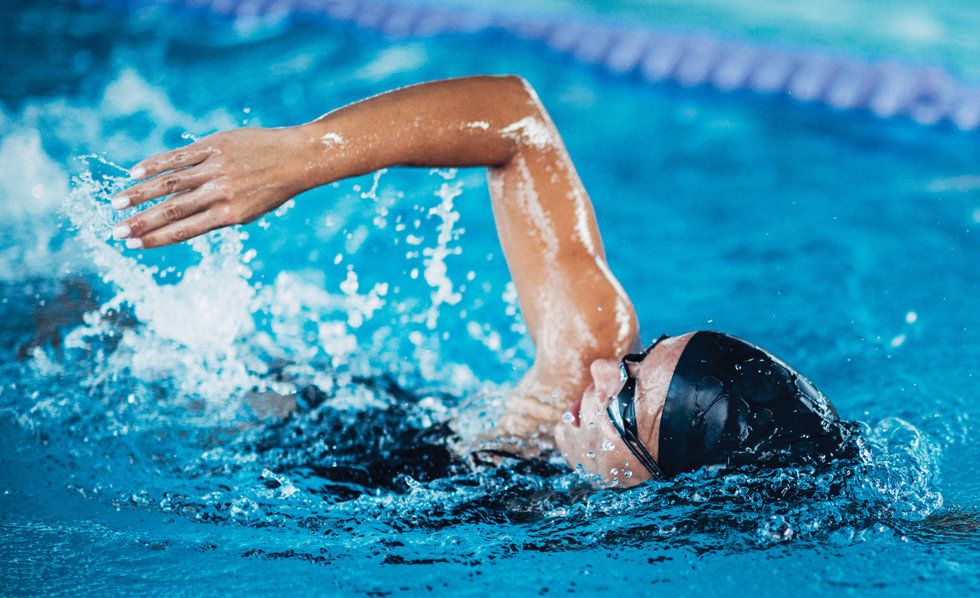 Thinkstock
MYTH: No swimming allowed during your period.
FACT: "Unless you're concerned about a shark attack, no worries!" jokes Dweck, who assures there's no risk in taking a dip during that time of the month. Pads get soaked in water, but a tampon or menstrual cup offers protection. To keep the tampon string dry, tuck it into your vaginal opening before diving in, and Dweck recommends changing your tampon once you're out of the water. (FYI, there have been no documented shark attacks due to period blood.)
A version of this story appeared in the May/June 2018 issue of Dance Spirit with the title "Menstrual Mythbusting."
Related Articles Around the Web
From Your Site Articles
Health & Body
Jun. 15, 2019 10:12AM EST
(From left) Darriel Johnakin, Diego Pasillas, and Emma Sutherland (all photos by Erin Baiano)
Congratulations to Dance Spirit's 2019 Cover Model Search finalists: Darriel Johnakin, Diego Pasillas, and Emma Sutherland! One of them will win a spot on Dance Spirit's Fall 2019 cover. Learn more about the dancers on their profile pages, and then vote for your favorite below. You can vote once a day now through July 15.
We also want you to get social! We'll be factoring social media likes and shares into our final tallies. Be sure to show your favorite finalist some love on Facebook, Instagram, and Twitter, sharing their profile pages and using the hashtag #DanceSpiritCMS.
Cover Model Search
Jun. 13, 2019 02:20PM EST
Photo by Erin Baiano
Imagine attending American Ballet Theatre's prestigious NYC summer intensive, training among classical ballet legends. Imagine taking the stage at New York City Dance Alliance Nationals, competing against some of the country's best contemporary dancers. Now, imagine doing both—at the same time.
Welcome to Madison Brown's world. This summer, she's in her third year as a National Training Scholar with ABT, while also competing for NYCDA's Teen Outstanding Dancer title. (She's already won Outstanding Dancer in the Mini and Junior categories.) The logistics are complicated—ABT's five-week intensive overlaps with the weeklong NYCDA Nationals, which translates to a lot of cabs back and forth across Manhattan—but Maddie is committed to making the most of each opportunity. "I love contemporary and ballet equally," she says. "While I'm able to do both, I want to do as much as I can."
Maddie has an expressive face, endless extensions, and a quiet command of the stage. She dances with remarkable maturity—a trait noted by none other than Jennifer Lopez, one of the judges on NBC's "World of Dance," on which Maddie competed in Season 2. Although Maddie didn't take home the show's top prize, she was proud to be the youngest remaining soloist when she was eliminated, and saw the whole experience as an opportunity to grow. After all, she's just getting started. Oh, that's right—did we mention Maddie's only 14?
Cover Story
Jun. 16, 2019 07:00AM EST
Corbin Bleu in rehearsal for "Kiss Me, Kate" (Jenny Anderson, courtesy Roundabout Theatre Company)
If you're a hardcore Broadway baby, today is the worst Sunday of the year. Why, you ask? The Tony Awards were last Sunday, so basically there's nothing to look forward to in life anymore—no James Corden being James Corden, no teary acceptance speeches from newly minted stars, no thrilling excerpts from the hottest new shows. Oh yeah, and there are 50 more Sundays to go before our humdrum lives are once again blessed with the next annual iteration of Broadway's biggest night.
Musical Theater