How To
Jan. 30, 2017 03:08PM EST
Thinkstock
Every ballet dancer has a pointe shoe prep process that's akin to a sacred ritual. And while some modifications are meant to make feet look prettier, the most critical tricks help those precious shoes last as long as possible—because at $60 to $100 a pop, they have to. We rounded up some of the best hacks to get your shoes through the intensity of Nutcracker season.
---
Keep 'Em Dry
Moisture is the worst enemy of pointe shoes, and your sweaty feet start to break down those boots from the moment you put them on. Richmond Ballet artistic associate and school director Judy Jacob says taking the time to make sure your shoes dry out is the most effective and inexpensive way to make them last.
To get your shoes completely dry, try to rotate between pairs. "Students probably won't have five pairs of shoes, like professionals do," Jacob acknowledges, "but try to keep two pairs going at any given time." She recommends storing your shoes in a mesh bag, which promotes air circulation. If you only have one pair, using a blow dryer on them at the end of the day can help. Jacob has students who put cedar wood blocks in their shoes at the end of the day, too, because cedar draws out moisture. (The pleasant cedar smell is a nice bonus.)
Unless you're required to, don't pancake your shoes—the water on the pancake sponge will make your box and shank break down more quickly. And if you have to color your shoes for a role, use dye sparingly, to avoid overwetting.
Mix 'Em Up
Another cheap way to save your shoes, Jacob says, is to rotate them from one foot to the other after each wearing. That won't work for every dancer—if one of your feet is significantly larger than the other, for example, it's a no-go. But if you can swing it, rotating shoes between feet will keep you from wearing the same pressure points over and over, extending the life of the pair. Jacob recommends marking each shoe with a number or symbol, so you can easily keep track of your rotations.
Glue 'Em Good
For many years, dancers used wood shellac to harden the boxes and shanks of their shoes. And while some dancers still swear by that old standby, Jet glue has become a newer favorite. Originally created for building model airplanes, Jet glue is fast-drying and leaves shoes harder than shellac does.
But proceed with caution: Once you apply Jet glue, there's no way to remove it, and it can dramatically alter the shape of your shoe and the way it breaks in. Pittsburgh Ballet Theatre corps member Marisa Grywalski, who's a big fan of Jet glue, is careful to use it only on the insides of her Freeds (castle maker)—if applied to the outside satin, it can create a slippery situation. "I put it inside the shoe at the bottom of the tip, and then around the top like I'm making a little cup in the box," she says. "Then I glue on either side of the shank, until just below the place I like my shoe to break." Grywalski reapplies glue when her shoes start to soften, which can sometimes get her through one more rehearsal or show.
Sew 'Em Up
Always wearing through your box? Give darning a try. Grywalski has come to rely on darning to make her shoes last, because it keeps her from breaking down the platform and box around her big toe too quickly.
Darning is tricky at first, and it requires a bit of a time commitment, but it gets easier—and quicker—with practice. When Grywalski first started darning, it took her two hours to do both shoes; these days, she can complete a pair in 30 minutes. You can darn your shoes two ways: either by simply whip-stitching around the platform with thick thread, or by stitching your leftover drawstring cord to the crown of the platform. Grywalski likes the drawstring method, because she finds it softens less over time.
It'll take a while to figure out exactly where to position your darning stitches, so be patient. "It's just trial and error," Grywalski says. "If you don't like it at first, it might be because the darning is in a weird spot."
Sofia Wylie (photo by Dave Brewer, courtesy Disney Channel)
Last week Disney Channel star Sofia Wylie released a behind-the-scenes look at the making of her YouTube dance series. Along with some stellar dancing, the video shows the dance community featured in her "4k Dance Series" and the things they've learned from being a part of the dance project. And though the project features dance, we love that it also emphasizes supporting and building up fellow dancers.

Keep reading...
Show less
Popular
Apr. 02, 2018 10:14AM EST
Showstopper's National Finals Opening Number Performance
Showstopper has been making its impact on the dance world since 1978. Before then, dancers didn't have a stage to perform on, the opportunity to learn from peers, or a competitive outlet like most sports. Debbie Roberts recognized this missing piece in the dance community and that is how America's first and longest running dance competition, Showstopper, was born. Debbie taught dance for over 26 years and owned and operated her own dance studio for 20 years. She is now the owner and National Director of Showstopper, along side her husband, Dave Roberts. Dancer, teacher, business owner, author, and mother, Debbie has made dance her life's career.
Keep reading...
Show less
Apr. 17, 2018 10:27AM EST
Oh, hi, EVERYBODY. (Screenshots via YouTube)
Sometimes, you hear talk about an upcoming class video and it sounds too good to be real. Wait: Todrick Hall made a track featuring RuPaul, and then Todrick personally asked Brian Friedman to choreograph it, and then Brian got Maddie and Charlize and Jade and Kaycee and Sean and Gabe and Larsen and Bailey to come out for the class? I just...that can't be right. Can it?
It is right, friends. It is SO RIGHT.
Keep reading...
Show less
A-DAM RIP-PON [clap, clap, clap clap clap] (with his equally gorgeous partner Jenna Johnson; Craig Sjodin/ABC)
Team USA is totally taking over "Dancing with the Stars" this season! Casting for the upcoming athletes-only "DWTS" cycle, which kicks off April 30, was just announced. And the roster includes a whole bunch of Olympic favorites—including not one, not two, but three figure-skating standouts.
Keep reading...
Show less
Apr. 20, 2018 11:58AM EST
Popular
Mar. 26, 2018 09:50AM EST
Winter is drawing to a close and you know what that means -- It's time to really kick this year into gear! Move U has done the research so you can find your best match, look good, and feel great this season with a twist unique to your team! Here are five looks to put your performance on the map in 2018.
Keep reading...
Show less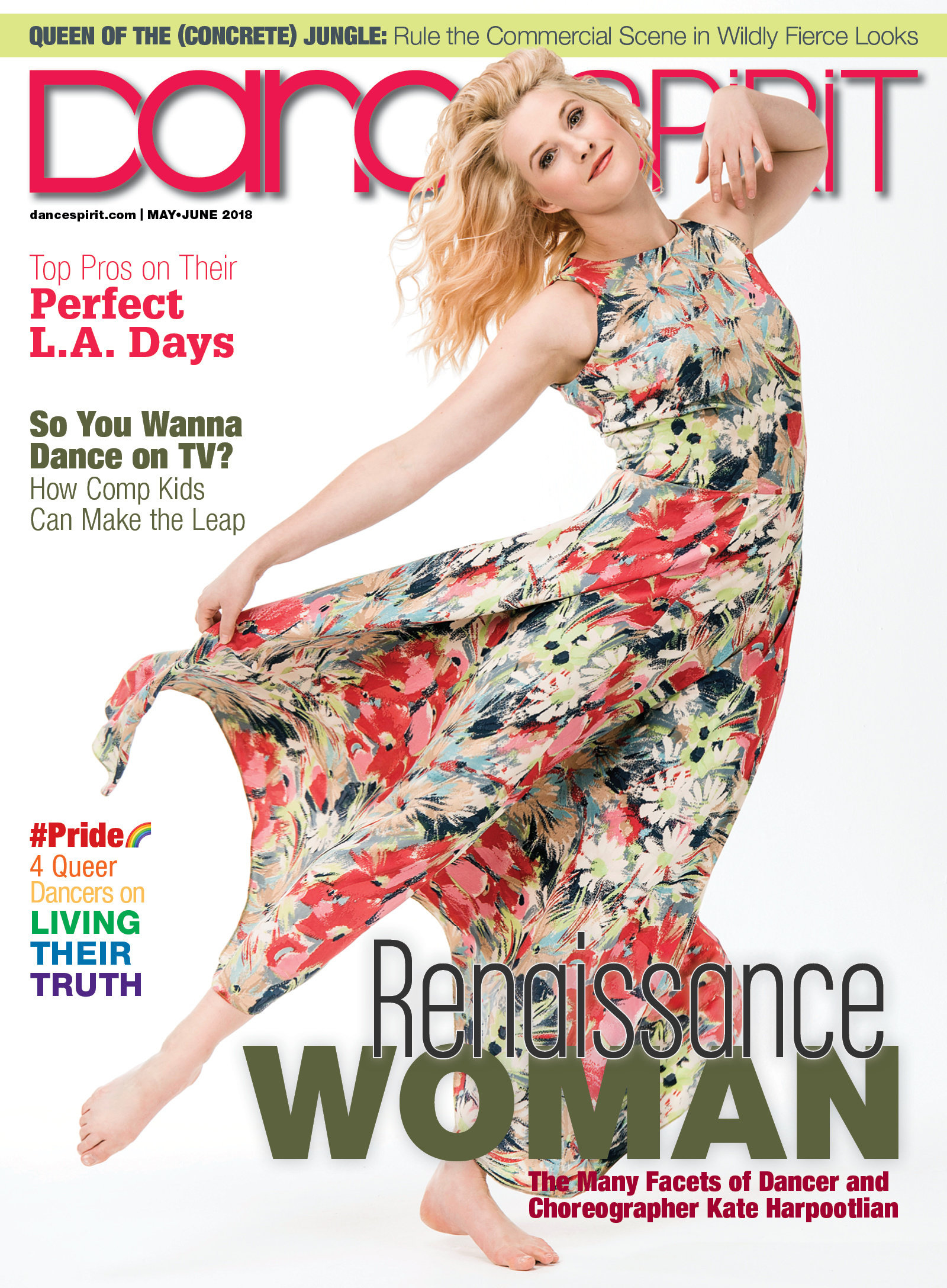 Get Dance Spirit in your inbox