How To
May. 11, 2017 04:04PM EST
Kansas City Ballet's Kelsey Hellebuyck with her trusty gel pads (courtesy Kansas City Ballet)
Kansas City Ballet's Kelsey Hellebuyck cringes when she thinks back to her first few months in pointe shoes. "I started out wearing no padding," she remembers. "I had all these open blisters, so then I tried paper towels." But the towels would shred, and her blisters just got worse. After a lot of trial and error, Hellebuyck found that a thin gel padding took some pressure off her foot and still let her toes feel the edge of the shoe. "It was definitely a learning curve," she says.

It can take years—and many blisters!—to find the right pointe shoe padding for your unique feet. But that's not for lack of choices, from old-school lambswool to high-tech gel pads. Here's a breakdown of popular padding options that might give you some new ideas—and, hopefully, happier toes.

---
Lambswool

Pros: This traditional padding eases friction, and helps fill negative space in your shoe if some of your toes are shorter than others. "You want to have even pressure on all the toes," says Kelly Agnew, a teacher at Houston Ballet Academy. It also helps absorb perspiration, and can be washed, puffed back up and reused. "I'm a fan of lambswool because it tends not to get as smelly," Agnew says.
Cons: Loose lambswool might move in your shoe and bunch in places you don't want. "You can overstuff the shoe and
cut off circulation to the toes, making it difficult to feel your foot," says Agnew. And lambswool pads, which are filled with coarse, fluffy wool, sometimes have stitching that can feel bulky and irritating.

Gel Pads

Pros: Gel pads are usually thin and lightweight, and can be washed. "A lot of girls feel that gel pads are the most comfortable solution," says Patrice Heston, professional shoe fitter and co-owner of the Dancewear Center in Kirkland, WA. There are a variety of shape and thickness options available. Some gel pads only have gel on top and on the tip, so you can feel the floor; some have a flared shape that's good for wider feet, and some have a narrower shape for slender feet; some have long sides that will ease pressure on bunions.

Cons: "Silicone gel pads trap a lot of moisture," Heston says. "That can lead to toenail fungus or athlete's foot"—and, inevitably, to a smelly situation. Most gel pads also have side seams, which can be bothersome, and some have padding under the metatarsals, which can make it hard to feel the floor.

Paper Towels

Pros: Paper towels do one job, and they do it well: They reduce friction. "You'll learn to lift your weight out of your shoes quicker if you don't have super-cushy padding," Heston says. Paper towels are also less expensive than other types of padding, especially if you buy rolls in bulk. And since you throw out the towels after each wear, there's no stink factor.

Cons: Paper shreds easily, particularly after it absorbs some perspiration. "You also have to fold a new one up each time, instead of using a pre-shaped pad," Hellebuyck says. The paper towel might move around in your shoe and give you less control than a gel pad. And it's not the most environmentally friendly option.
Nothing!

Pros: You can feel the shoe, and the floor, as much as possible.

Cons: There's no buffer between you and the shoe, which can cause problems like blisters, corns and bruised toenails. "I don't think it's wise for younger students to start with nothing, because their toes aren't toughened up yet," Agnew says. "And some dancers never get to the point where they can just tape their toes and go."

That's not all, folks: There are tons of other options out there, including cotton balls, dish rags, foam toe caps and the toes of socks. (Some creative dancer is probably inventing a new type of padding right this minute.) What's most important to remember is that the shoe shouldn't determine the padding—the way your foot fits into the shoe should. "Everyone's toes are shaped differently," Heston says. "Some people need more padding and some need less. But you shouldn't be miserable!"
via YouTube
Keep reading...
Show less
via @kyle_vanny on Instagram competing on World Of Dance
Kyle Van Newkirk is a tap dancer you probably remember from the premiere season of NBC's World of Dance. In case you missed it, he is also one of Showstopper's incredible convention teachers. What makes Kyle stand apart from some of today's other incredible tappers? He isn't afraid to change what tap means to his audience and even himself. This modern view of tap dancing is important because it shows us that tap dancers are just as versatile and dynamic as dancers of any other genre. We sat down with Kyle to get his advice on bringing tap dancing into the 21st century.
Keep reading...
Show less
What did I just hear you say? You think all dancers are weak and delicate? PLEASE SAUT DE CHAT OUT OF MY LIFE. (Giphy)
Sure, dancers definitely have some unique identifying characteristics. (We're all obsessed with Center Stage? FACT.) But we're also subjected to all kinds of annoying, inaccurate stereotyping. Here are 10 dancer stereotypes that we never want to hear again.
Keep reading...
Show less
University of Minnesota Dance Team (courtesy University of Minnesota)
They say there's no "I" in "team"—and nowhere is that truer than the world of college dance teams, where precision reigns, uniformity is key, and a single misstep from any given "I" can cost a group a championship trophy. So it's unsurprising that securing a spot on one of the best dance teams in the country is no easy feat.
Members of these highly athletic teams rehearse for hours every week—on top of academic classes and commitments—and perform at football and basketball games, annual concerts, and nationally televised competitions (hi, ESPN). And "no I" rule notwithstanding, each of these top teams is made up of highly trained, highly technical, highly hard-core individuals, who come together to create a ready-for-victory pack.
These six teams aren't one-off success stories—they're consistently strong, and earn the top spots at major competitions like UDA and NDA nearly every year. Up for the challenge? Here's what to know before you go to auditions.
Keep reading...
Show less
They got to live out their dreams onstage with Jackson during last night's Billboard Awards. (NBC)
When Janet Jackson puts out a call for new dancers, basically the ENTIRE WORLD responds. More than 75,000 people entered Jackson's epic #DanceWithJanet contest, announced earlier this spring, which let hopefuls from around the globe audition via social media for a chance to perform with the icon.
So, out of those tens of thousands, who became the newest members of the #JTribe? Meet Phillip Galbert and L'Vala "Lala" Moss, the winners of the competition. Last night, they joined Janet onstage at the Billboard Music Awards. And they more than earned their place in the spotlight.
Keep reading...
Show less
May. 16, 2018 02:26PM EST
Ema Peter
The Glorya Kaufman International Dance Center is the 54,000 square foot home of the USC Glorya Kaufman School of Dance, one of the largest facilities dedicated to dance on a private university campus. Designed for their innovative new curriculum, that supports a range of dance styles, the school's staff designated Harlequin to provide wall-to-wall flooring for the large 3,500 square foot Performance Studio as well as five dance studios in their new state-of-the-art building.
Keep reading...
Show less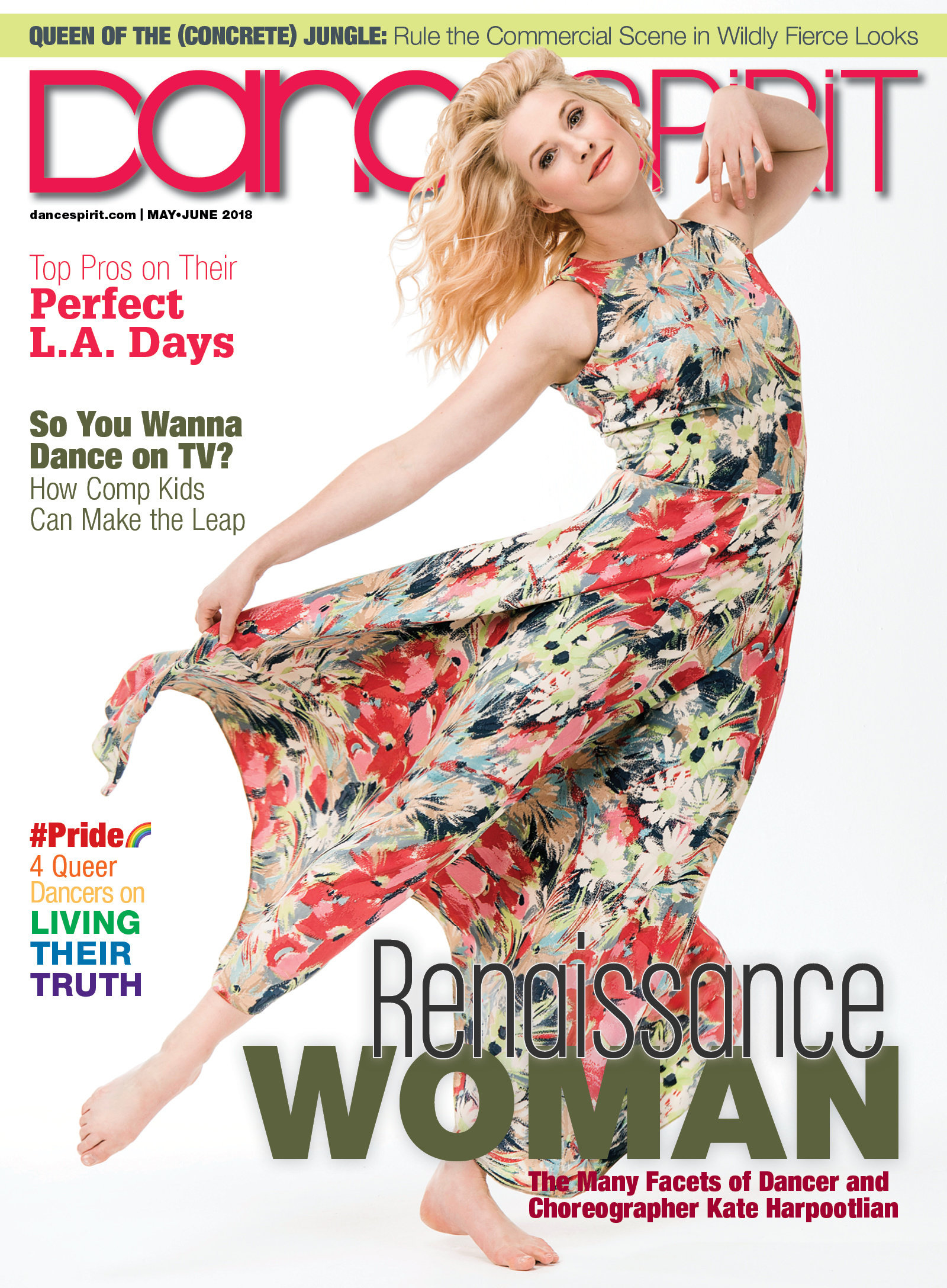 Get Dance Spirit in your inbox