Mar. 01, 2015 11:24PM EST
Miko Fogarty doesn't buckle under pressure. Competing at the Moscow International Ballet Competition, one of the most prestigious dance events in the world? No sweat. Dealing when, en route to that competition, the airline loses her luggage, leaving her stranded with little more than her pointe shoes? Not a problem. Coping after the live orchestra botches her music during the same competition's final round? All in a day's work. Through everything, Miko kept her cool with the self-assurance of a seasoned professional—and ended up winning the gold medal.
Of course, it wasn't just her level head that earned her the 2013 Moscow IBC'S top prize. Miko has pirouettes and extension to spare, though she avoids flash in favor of pristine classicism. Her turns are musical and perfectly placed, her développés beautifully controlled. Her confidence and artistic maturity make you forget she's still a teenager.
Miko's passionate commitment to ballet first turned heads in the 2011 Youth America Grand Prix documentary First Position, filmed when Miko was just 12. Since then, she's blossomed into an artist, winning medals—and fans—around the globe. She's handled it all with poise, allowing the world into her whirlwind life through her website, social media and various dancewear endorsements. As a result, she's achieved a level of fame most professional dancers only dream of. This spring, as 17-year-old Miko auditions for companies, all eyes will be watching to see where she ends up.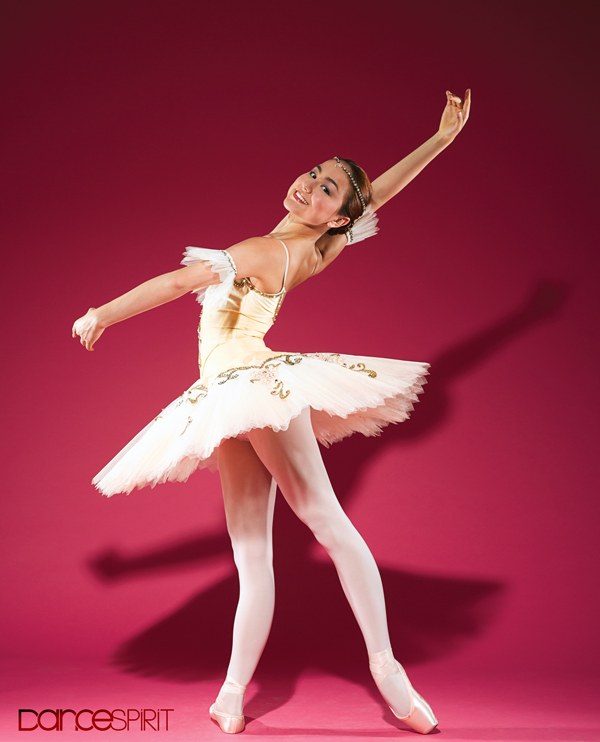 (Photo by Nathan Sayers)
The Determined Competitor
Born in London, Miko is part Swiss, part British and part Japanese. But she's really a California girl: Her family moved to Berkeley, CA, when she was 2. At 4 she started taking ballet—and instantly decided to become a dancer. "Even at my preschool graduation I was saying, 'When I grow up, I want to be a ballerina,' " she says.
By age 11, she was training every day with Viktor Kabaniaev at the Diablo Ballet Apprentice Program and attending summer programs at the Royal Ballet School in London. In seventh grade, she traded public school for homeschooling to accommodate her busy ballet schedule. That's also when she started competing more frequently. "Some people don't like competitions, but they've been really beneficial for me," Miko says. "You can meet people and network, and they're also good for stage experience and learning how to handle nerves."
During the 2009 YAGP finals in NYC, a filmmaker named Bess Kargman popped into the theater just as Miko took the stage. Miko's strong performance inspired Kargman to direct First Position, a documentary that follows seven contestants as they prepare for YAGP—and she asked Miko (and Miko's younger brother, Jules) to be in it.
It took two years for First Position to make it to theaters. But once the film dropped, Miko became something of a celebrity. "I'd be somewhere random—at an airport or on a bus—and someone would say, 'Are you from that dance film?' " she says. "It was kind of cool, because even some professional dancers knew about me!" And her success on the competition scene in the wake of the film earned her even more fans. Since turning 15, Miko has scooped up the gold in Moscow, won silver and bronze medals at two Varna International Ballet Competitions and earned the Best Swiss Candidate at the 2013 Prix de Lausanne.
The Dedicated Student
Shortly after the film came out, Miko and her mother moved to Indianapolis, IN, so Miko could study at the Indiana Ballet Conservatory, a Vaganova-based school she discovered during a YAGP regional competition. (Her dad and brother stayed behind in California.) "I was looking for a female coach and realized that there were some really good teachers in Indiana," she says, noting that faculty members Tatiana Pali, Alyona Yakovleva-Randall and Alexei Moskalenko have helped her polish her technique. Miko also spends one month each year training with Japanese teacher Jinushi Kaoru while visiting her grandmother in Osaka, Japan.
While Miko has been offered opportunities to attend large company schools, she's made a conscious choice to complete her training in Indiana. "I wouldn't have had as many performance opportunities if I'd gone to a larger school," she says. "Plus, I get a lot more individualized attention here, which has helped me improve faster."
These days, Miko's schedule is packed with schoolwork, technique classes and rehearsals for competitions or performances. "It's rare to find someone so passionate so young," says Pali, noting that Miko often comes in on her own time to practice. "Because of her pure desire to thrive, she'll work and work until she gets it right."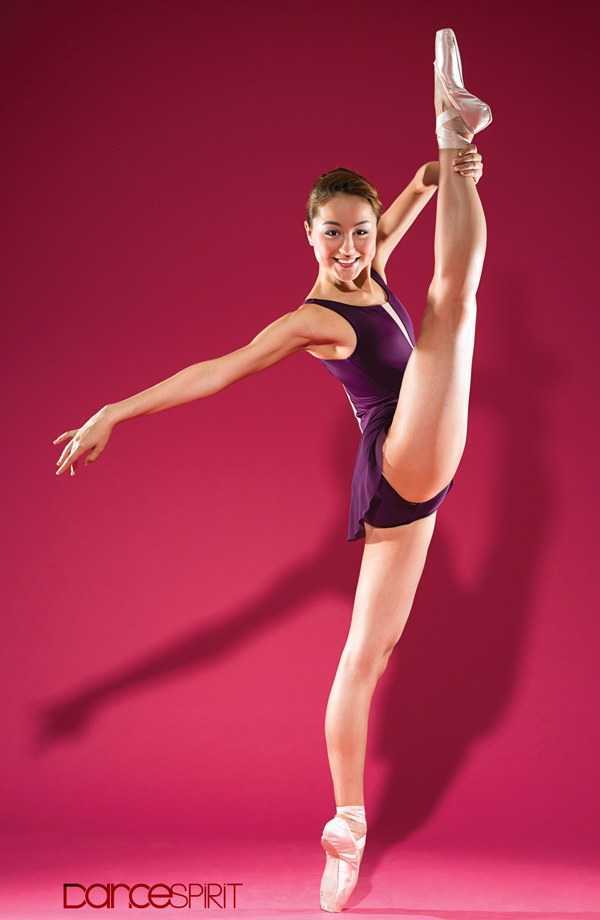 (Photo by Nathan Sayers)
The Social Media Maven
Like any 17-year-old, Miko is pretty much addicted to her smartphone. But her social media savvy has actually given her career a huge boost. "At first I used to just post pictures of my life," she says. "Then I started getting a lot of followers because of the movie and my YouTube channel. Now I use Instagram to connect with them—I message a lot of people back." Miko divvies up social media responsibilities with her mom, posting to Instagram, Twitter and Facebook while her mother manages her YouTube channel. "To have a voice in the world is really cool," she says. "I like being able to show ballet to other teenagers who may not have experienced it."
Recently, she's gone beyond social media to connect with fans, launching her own website, mikofogarty.com, and signing endorsement deals with Gaynor Minden, Discount Dance Supply and Cloud & Victory. "During photo shoots I always try to keep her from pushing too hard," says C&V owner Min Tan. "But she's a perfectionist! She comes in with a great attitude and wants to make sure she nails it. That speaks volumes about the type of person she is."
The Aspiring Professional
As for company auditions, Miko has her eyes on Europe—though she's still weighing her options. "I really like the choreographers over there," she says. "And it intrigues me how much art is part of the larger culture." She's planning to meet with company directors at the Prix de Lausanne this summer.
Chances are, those directors are well aware of her already. "She'd be an asset to any company," Pali says. "She's talented and hard-working enough to be a leading ballerina."
Where Does She Get Those Gorgeous Tutus?
Miko's tutus are handmade in Japan by Ishida Costume. "I absolutely love their designs," she says. "They're amazing at ombré styles."
Fast Facts
Birthday: May 23, 1997
Favorite food: mangoes, either frozen or dried. "I also really like natto, which is from Japan. It's fermented soybeans that you mix with soy sauce. A lot of Western people hate it—my dad can't stand it—but I can't get enough!"
Weirdest food she's ever eaten: "We ate roasted grasshoppers when we were on vacation in Mexico. They were pretty nasty."
Favorite way to unwind: "When I go back to California, my dad and I always go camping, which is really relaxing."
Dance idols: Her list includes Uliana Lopatkina, Alina Cojocaru, Sylvie Guillem and Marianela Nuñez. But she admires all kinds of dancers, not just stars. "If someone's just loving what they're doing or helping other people, that really inspires me."
Dream role: Aurora in The Sleeping Beauty. "That was the ballet that inspired me to dance when I was 4. I love the music so much. Plus, Aurora was my favorite Disney princess."
Three must-have items on a desert island: her phone (and access to WiFi, of course), sunscreen and a hat
Gala-vanting
Miko has been lucky enough to perform at galas in Japan, Peru, Taiwan, Moscow and Bulgaria, as well as all over the U.S. Dancing alongside some of the ballet world's biggest stars, she says, is a total thrill—and an invaluable learning experience. "It's fascinating to see how different professional dancers prepare and perform their pieces," she says. "I find it really inspiring and educational—and it makes me fall in love with ballet all over again."
Sofia Wylie (photo by Dave Brewer, courtesy Disney Channel)
Last week Disney Channel star Sofia Wylie released a behind-the-scenes look at the making of her YouTube dance series. Along with some stellar dancing, the video shows the dance community featured in her "4k Dance Series" and the things they've learned from being a part of the dance project. And though the project features dance, we love that it also emphasizes supporting and building up fellow dancers.

Keep reading...
Show less
Popular
Apr. 02, 2018 10:14AM EST
Showstopper's National Finals Opening Number Performance
Showstopper has been making its impact on the dance world since 1978. Before then, dancers didn't have a stage to perform on, the opportunity to learn from peers, or a competitive outlet like most sports. Debbie Roberts recognized this missing piece in the dance community and that is how America's first and longest running dance competition, Showstopper, was born. Debbie taught dance for over 26 years and owned and operated her own dance studio for 20 years. She is now the owner and National Director of Showstopper, along side her husband, Dave Roberts. Dancer, teacher, business owner, author, and mother, Debbie has made dance her life's career.
Keep reading...
Show less
Apr. 17, 2018 10:27AM EST
Oh, hi, EVERYBODY. (Screenshots via YouTube)
Sometimes, you hear talk about an upcoming class video and it sounds too good to be real. Wait: Todrick Hall made a track featuring RuPaul, and then Todrick personally asked Brian Friedman to choreograph it, and then Brian got Maddie and Charlize and Jade and Kaycee and Sean and Gabe and Larsen and Bailey to come out for the class? I just...that can't be right. Can it?
It is right, friends. It is SO RIGHT.
Keep reading...
Show less
A-DAM RIP-PON [clap, clap, clap clap clap] (with his equally gorgeous partner Jenna Johnson; Craig Sjodin/ABC)
Team USA is totally taking over "Dancing with the Stars" this season! Casting for the upcoming athletes-only "DWTS" cycle, which kicks off April 30, was just announced. And the roster includes a whole bunch of Olympic favorites—including not one, not two, but three figure-skating standouts.
Keep reading...
Show less
Apr. 20, 2018 11:58AM EST
Popular
Mar. 26, 2018 09:50AM EST
Winter is drawing to a close and you know what that means -- It's time to really kick this year into gear! Move U has done the research so you can find your best match, look good, and feel great this season with a twist unique to your team! Here are five looks to put your performance on the map in 2018.
Keep reading...
Show less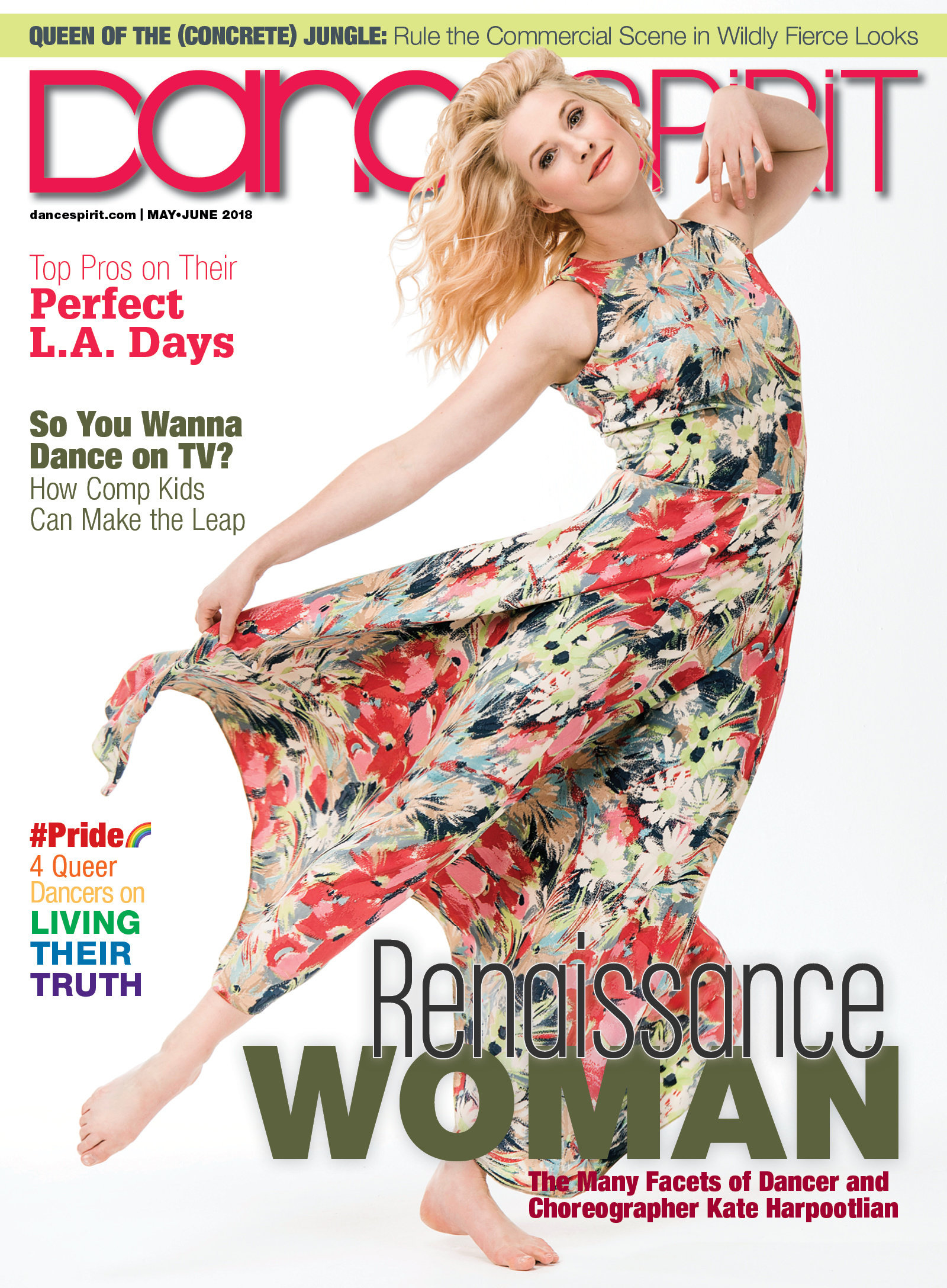 Get Dance Spirit in your inbox